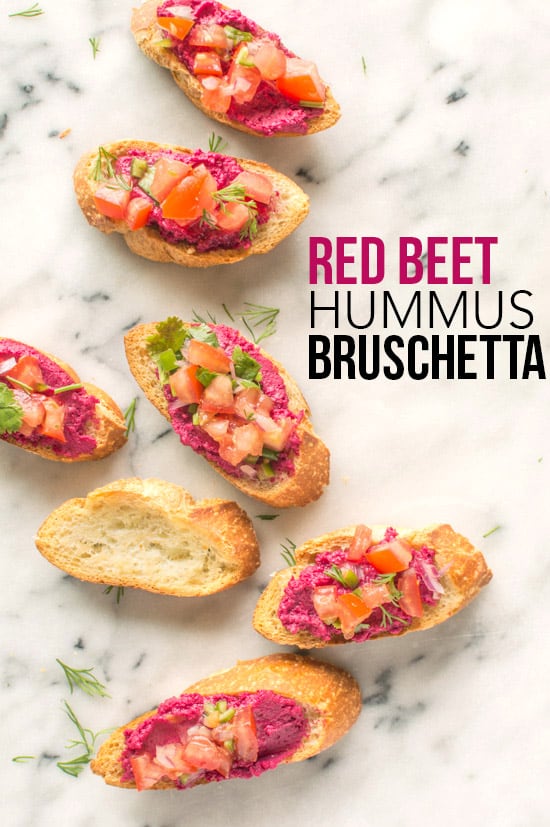 Quick show of hands, how many of you buy canned beans? There's no shame in that because I do it all the time. That or we can all cower in shame together.
My kitchen is in a constant state of panic. I usually have three things going on the stove, something probably burning in the oven, and 10,000 ingredients to chop. There's no time to worry about beans simmering on the stove. Praise the genius who invented the slow cooker because the beans can just work their magic all by themselves.
Slow cooked chickpeas. You heard me right. And it's a great thing.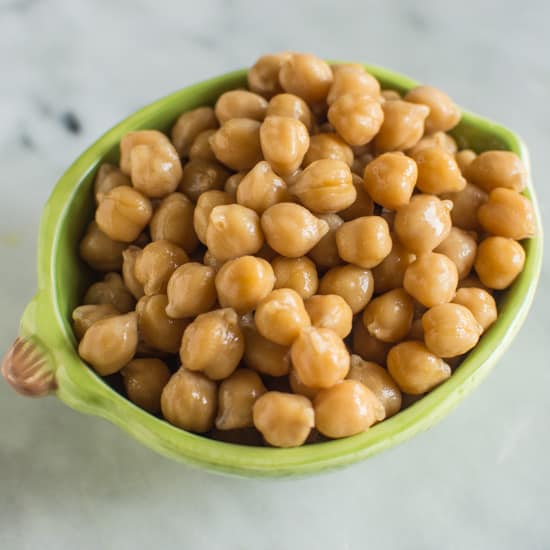 When I asked you on Facebook about featuring a slow cooker chickpea recipe on here, you were all about it! So here's my end of the bargain to you.
These chickpeas are beyond better than the canned stuff. They're:
Tastier
Fresher
Crunchier
They're TFC.
Am I weird for thinking that canned chickpeas are a bit too mushy and bland? Quite frankly the canned goods don't do much to make my salads any sexier. These beans though…where do I even begin? They have a natural crunch and they're infused with the broth that they're cooked in. But enough talk, let's get ready to make them.
First, we're going to give a pound of chickpeas a quick bath and drain out all the water.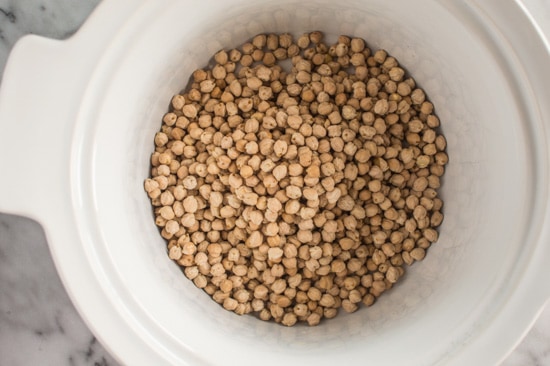 Then, we fill the slow cooker with 6 cups of vegetable stock, or whatever stock you prefer. Add a teaspoon of salt and some bay leaves for flavor. Set it on low for 8 hours, and that's it!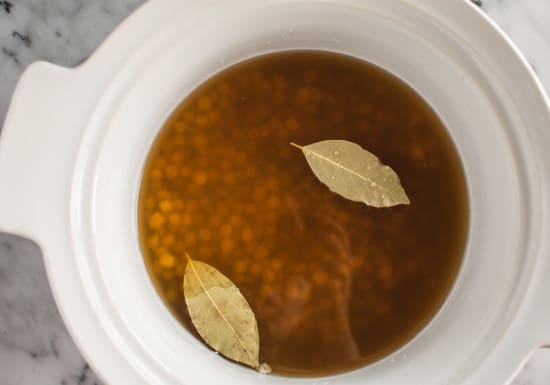 Perfectly cooked chickpeas—about 6 cups total. You'll notice that there's still some broth left. Make sure to save it! It is the one of the best stock bases I've used for a soup. I'll show you how to do that next week.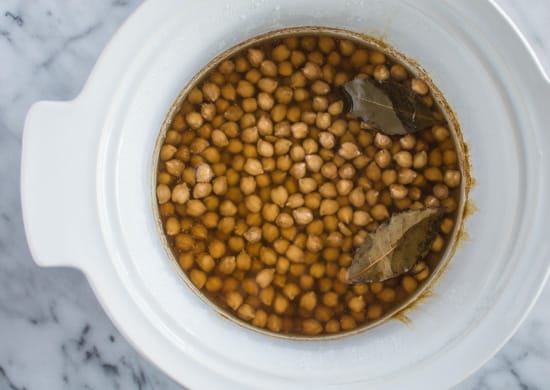 But for now, let's make a hummus.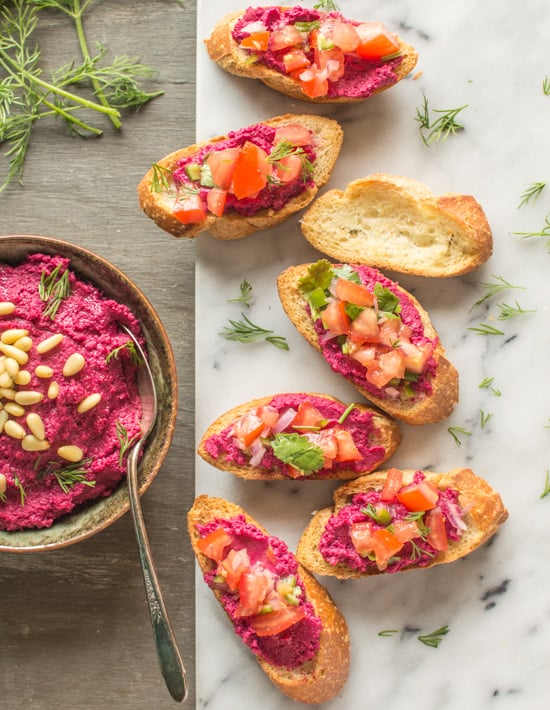 I've been buying so much red beet hummus lately that I thought it was about time to make my own. I can't get over it's lovely hue and slightly sweet flavor. Serve the hummus as a bruschetta or dip your favorite vegetables in this magenta wonder. You can't go wrong with this one!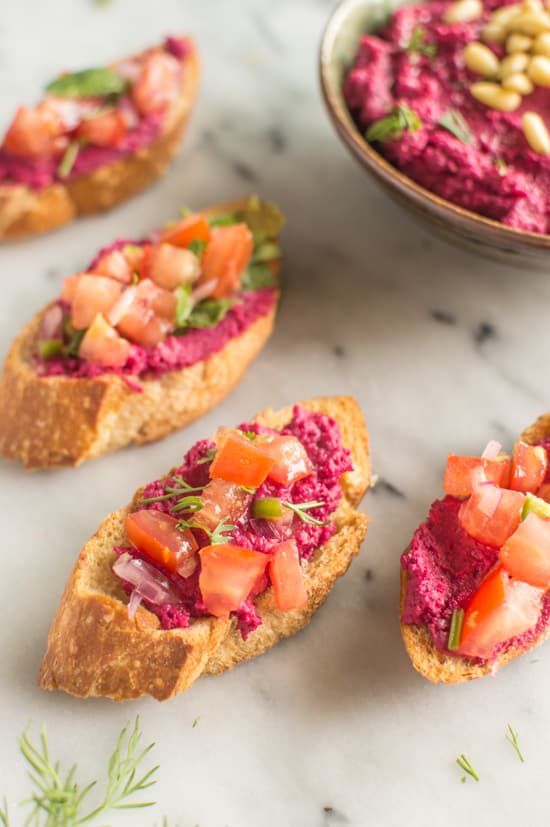 Red Beet Hummus Bruschetta
Serves 10
Ingredients
Red Beet Hummus
2

cups

(340g) slow-cooked chickpeas (see note on how to cook them)

2.5

ounces

(70g) cooked red beets (about one and a half small beets)

6

tablespoons

water

2

tablespoons

olive oil

2 to 3

tablespoons

lemon juice

,

adjust to taste

1

tablespoon

tahini

1

teaspoon

sea salt

1/2

teaspoon

onion powder

pine nuts for topping

,

optional

chopped fresh dill for garnish

,

optional
Bruschetta
1

French baguette

olive oil for brushing

1 to 2

cloves

of garlic

salsa for topping
Instructions
Blend all the hummus ingredients in a food processor until smooth. Set aside.

Preheat oven to 350 degrees F (175 degrees C).

Slice the baguette to 1/2-inch slices. Lightly brush each slice with olive oil. Line the brushetta on a baking sheet and bake for about 10 to 15 minutes, or until they start to brown. When the bread is cool enough to handle, rub the garlic on each slice of toasted bread to give it more flavor.

Smear each slice of toasted bread with some hummus and top with salsa.

Serve immediately. Store any hummus in an airtight container for up to a week.
Notes
To make the slow cooker chickpeas, a one-pound (450g) of chickpeas. Pour the rinsed chickpeas into the slow cooker. Add 6 cups of vegetable stock (or your favorite broth), 1 teaspoon of salt, and 2 bay leaves. Set the slow cooker on low for 8 hours. Be sure to save any leftover broth for another dish!
The slow cooker chickpeas will last in the refrigerator for 4 or 5 days. You can also freeze the chickpeas if you don't think you can use all 6 cups of it in a few days. It's a lot, I know.
Did you make this recipe?
Tag @hellolisalin or leave a star rating and comment on the blog!
Looking for more dip ideas?