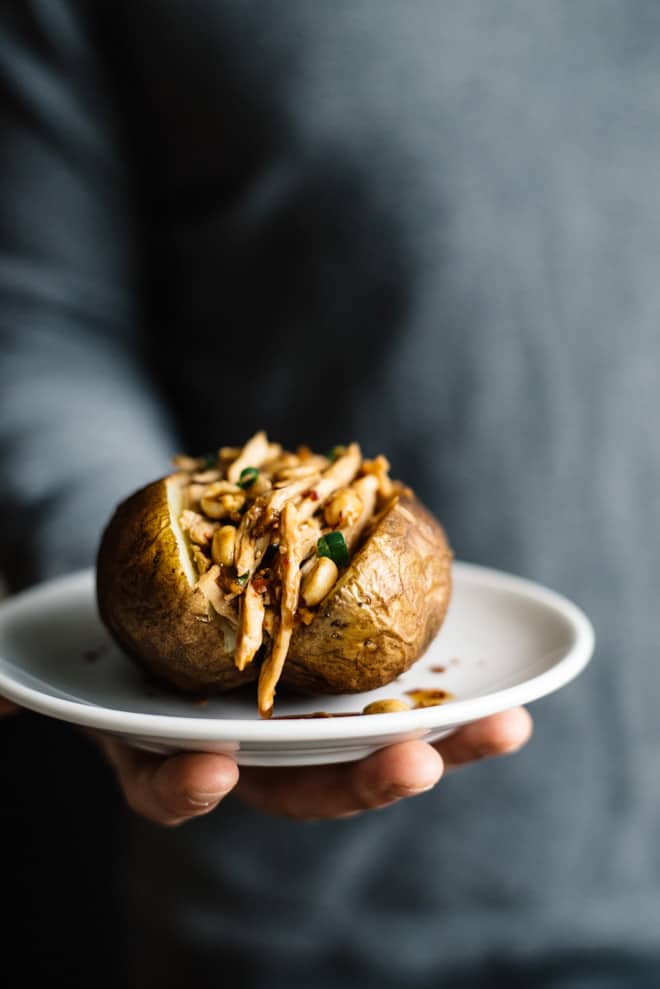 Sadly, my date with the Chinese takeout boxes never happened. Instead, I cooked us some kung pao chicken stuffed in baked potatoes. Two comfort foods coming together to form the perfect symphony of flavor. You're welcome.
I'm sharing a russet potato and sweet potato version of this recipe because I couldn't decide which one I enjoyed more! So I'll leave the decision up to you. Both are just as easy to make and equally delicious. Now let's take care of those cravings . . .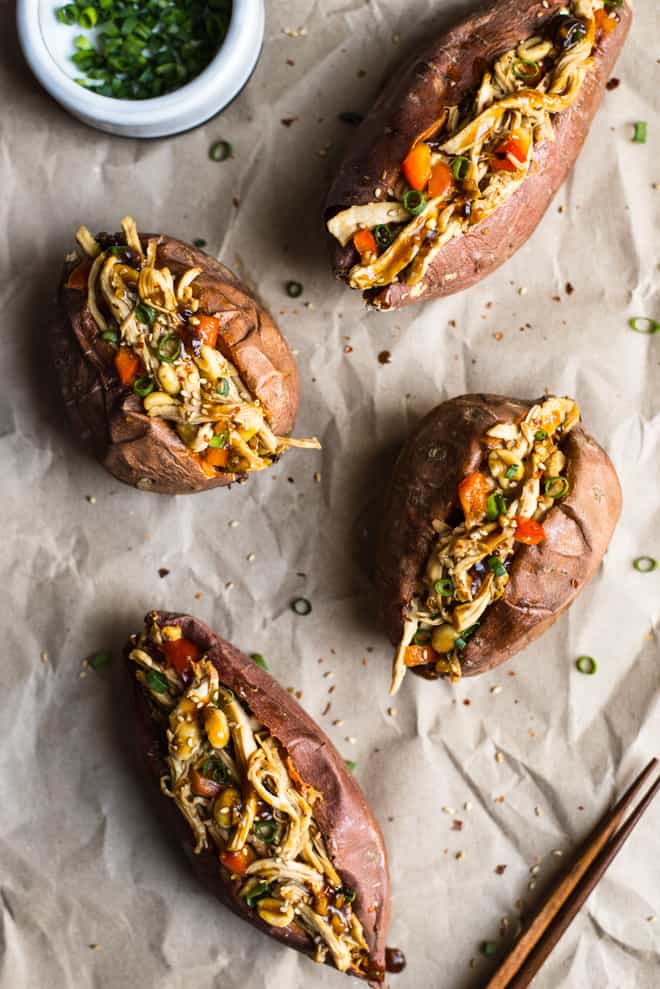 MASTER MY MISTAKES / COOKING NOTES
A Healthier Kung Pao Chicken: This recipe is adapted from my kung pao chicken nachos. I made the sauce even healthier by using less sweetener and less sodium. Hooray healthy Chinese food!
Baking Sweet Potatoes: If you decide to make the sweet potato version of this recipe, be sure to line your baking pan or sheet with foil. Sweet potatoes release its sugars when it bakes, which is quite sticky and tends to drip to the bottom of the pan. Save yourself from an extra cleaning session by lining your pans.
Cook the Sauce Last: The sauce in this recipe uses potato starch as a thickening agent. When the sauce cools, you'll notice that it congeals very quickly. Try not to prepare the sauce until the potatoes are nearly done baking. If the sauce congeals before you are ready to add the chicken, add a few tablespoons of water and heat it up again. You can also substitute the potato starch with corn starch.
A Note on Cooking Wines: Traditionally, kung pao chicken is prepared with shaoxing wine, which is available in most Asian supermarkets. However, they come in very big bottles, and I don't blame you if you're hesitant to buy it. In this recipe, I used sherry wine, which is a good substitute. If you don't have any cooking wines on hand, feel free to skip that ingredient entirely. The sauce won't have as much depth in flavor but will still taste great.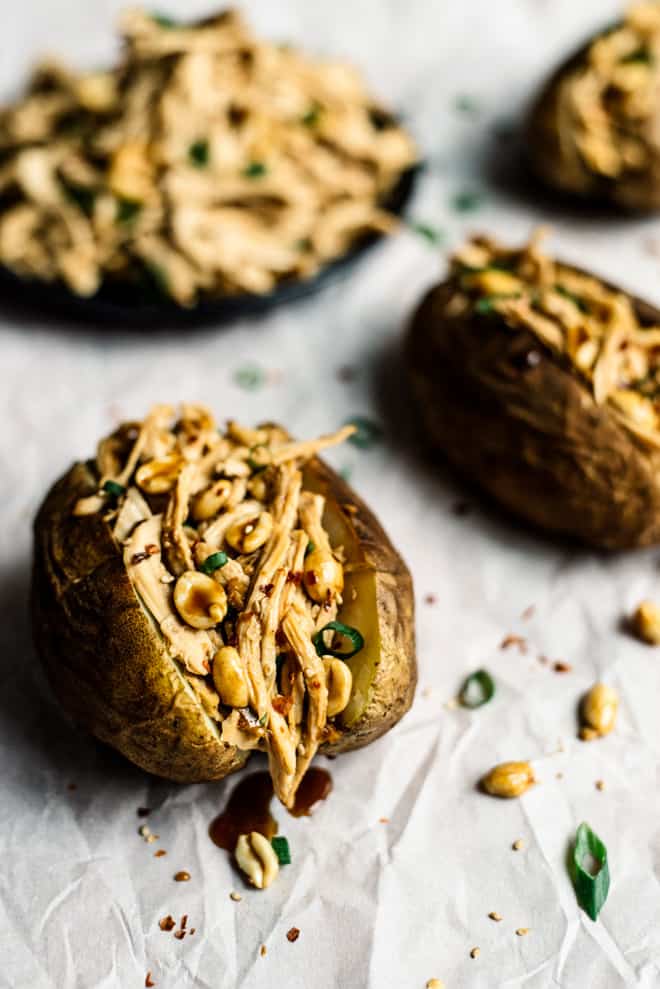 If you try this recipe, let me know how it goes by leaving a comment or sending me a message! Or take a photo of the food and tag me on Instagram so that I can give you a fist bump! I love seeing your creations!
Kung Pao Chicken Stuffed Potatoes, Two Ways
Ingredients
5

medium russet potatoes or sweet potatoes

1

lb

(450g) boneless skinless chicken breasts

1/2

tsp

sea salt

1/2

TBS

olive oil

2

cloves

garlic

,

minced

2

tsp

minced ginger

1/4 to 1/2

tsp

red pepper flakes

1/2

cup

+ 2 TBS (150ml) water

1/4

cup

+ 1 TBS (75ml) low-sodium tamari sauce

,

or use soy sauce if not gluten free

2

TBS

agave syrup

1 1/2

tsp

cooking sherry wine

,

optional

2

tsp

potato starch

,

cornstarch works also

1/4

cup

(35g) dry roasted peanuts
Instructions
Cook Potatoes: Preheat oven to 425 degrees F (220 degrees C). Line baking pan or sheet with foil, if cooking sweet potatoes. Pierce each potato with a fork several times. Place potatoes on baking pan and bake for 45 to 60 minutes, depending on how big they are. You should be able to cut through the potatoes easily. I used potatoes that were about 7 to 8 ounces (200 to 225 grams), and they cooked in about 45 minutes.

Cook Chicken: Place chicken in a medium saucepan. Sprinkle salt on top and add water to cover chicken by about an inch. Bring water to boil. Reduce heat to medium or medium-low, and let chicken simmer for about 10 to 15 minutes. The chicken is ready when it is no longer pink in the middle or when your meat thermometer reads 165 degrees F (75 degrees C) at the thickest part. Let chicken cool on a plate and shred it using two forks or with your hands.

Prepare Sauce: Mix 1/2 cup water, tamari sauce, agave, and sherry together. In another bowl, stir potato starch with 2 tablespoons water. Heat oil in a sauté pan over medium-high heat. Add garlic and ginger and cook for a minute. Add red pepper flakes and tamari sauce mixture and let it cook for 1 to 2 minutes. The sauce should bubble vigorously. Give potato starch mixture a quick stir and add to the pan. The sauce should start clumping up. Stir sauce for another minute. Add chicken and peanuts to pan and coat sauce over them. Turn off heat.

Cut open each potato in half and fill it with the kung pao chicken. Top with sliced green onions and sesame seeds, if you like.
Did you make this recipe?
Tag @hellolisalin or leave a star rating and comment on the blog!