Today's chicken tetrazzini recipe is sponsored by House Foods!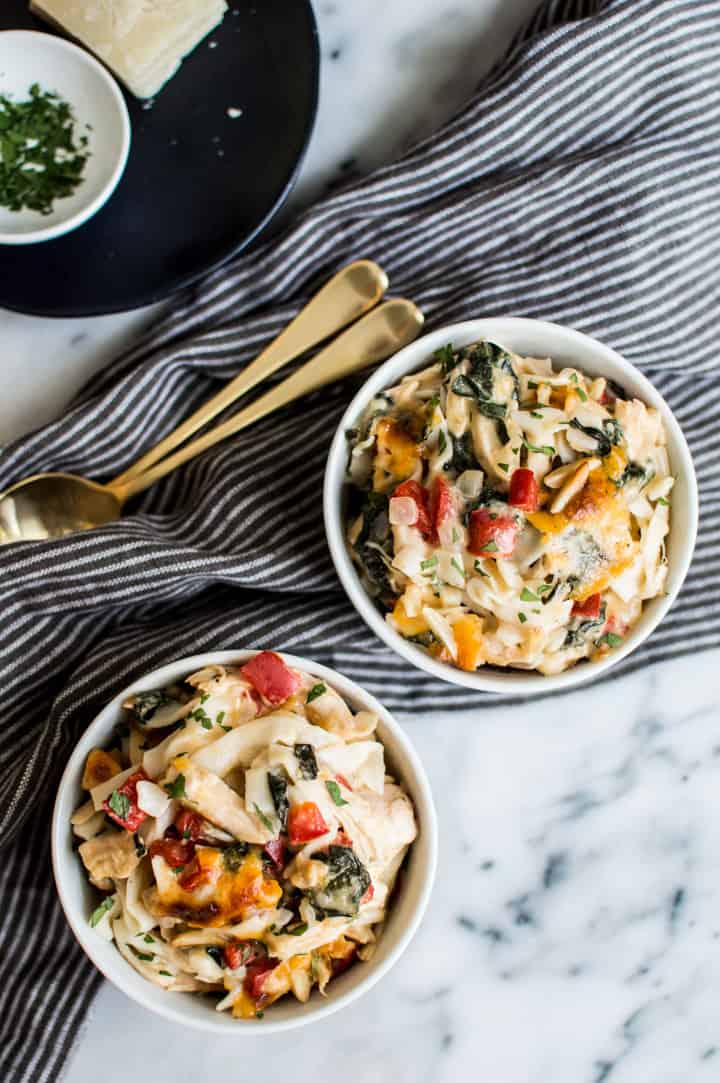 Being a cashier came with a bunch of perks:
I flexed my mental math muscles every day;
I drank all the coffee I wanted for free (which is the equivalent of living in heaven for college students); and
I got discounted food from the food court. It was sweet.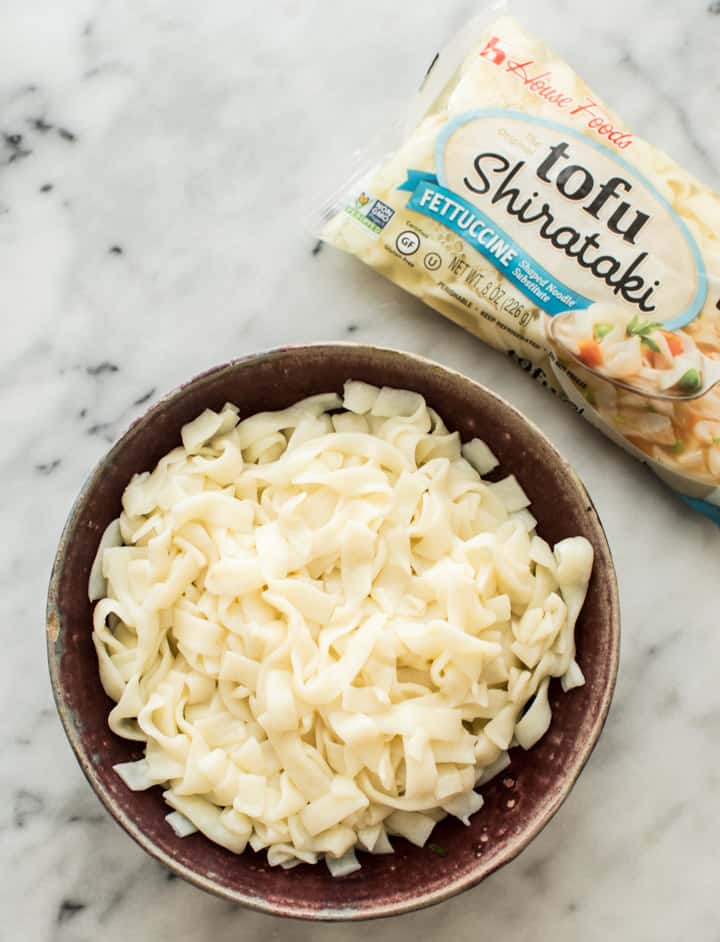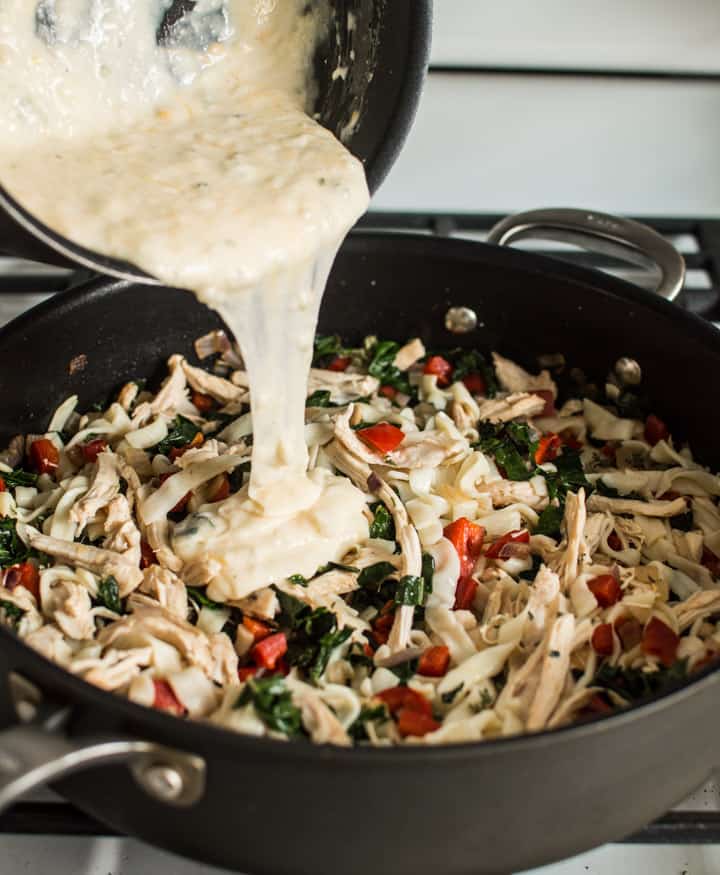 One of my favorite things to eat was the chicken tetrazzini. Carbs, cheese, meat all in one dish—how can you say "no" to that? It was definitely one of my guilty pleasures though. I never dared to make chicken tetrazzini at home because I knew how much calories into that dish! Until now . . .

I created a lighter version of the dish by substituting pasta with tofu shirataki noodles. You may recall that I made a Vietnamese Tofu Shirataki Salad with Chicken several months ago, and I want to show you how you can use it to lighten up your casseroles, too! Each serving of tofu shirataki is 10 calories and 3 grams of carbs, which means we can go to town with the cheese in this chicken tetrazzini without the guilt!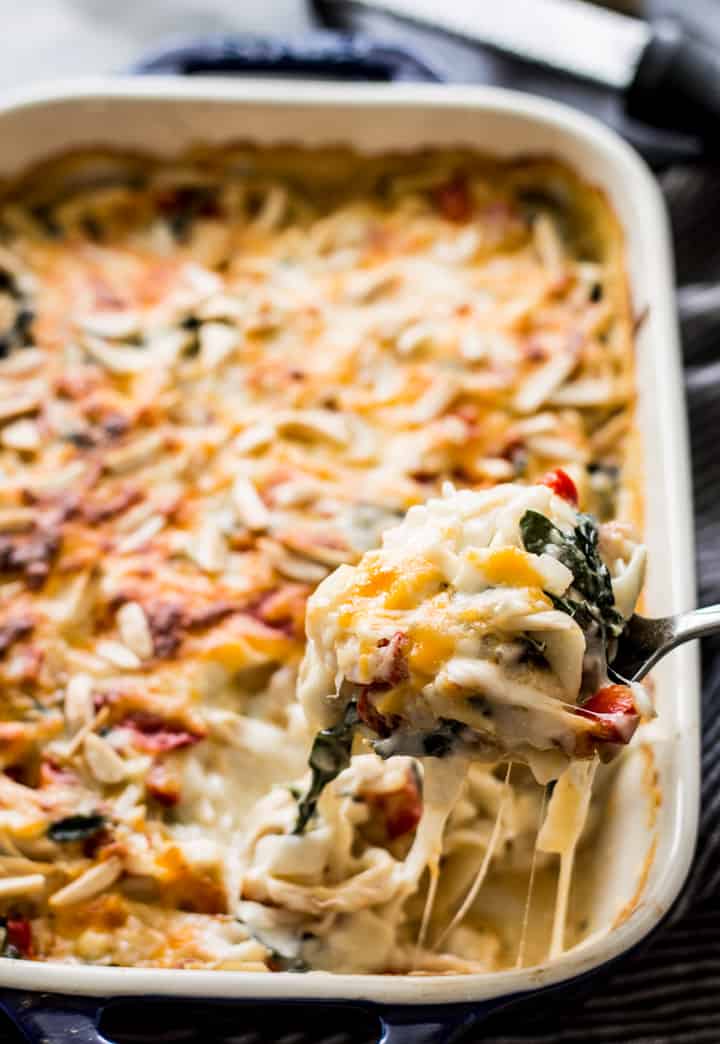 I've made three batches of this dish in the last week, and the hubs and I clean them out every single time!
MASTER LISA'S MISTAKES (AKA COOKING NOTES)
The way I create the creamy base is very different from the traditional way of cooking chicken tetrazzini. Usually, you melt some butter and mix in flour create a roux. I didn't want to use butter here, as we're getting plenty of fat from the cheese. Instead, I boiled milk and added flour to the milk. Be careful when boiling milk—I burned some while testing the recipe! Remember to boil it in medium heat and stir occasionally as it is boiling.
I tried versions of this dish with and without wine, and I prefer wine in the casserole. However, it is not essential. If you don't want to use wine, just use a total of 3/4 cup of water.
I added almonds because I found it added a nice natural crunch to the dish. Feel free to use bread crumbs instead.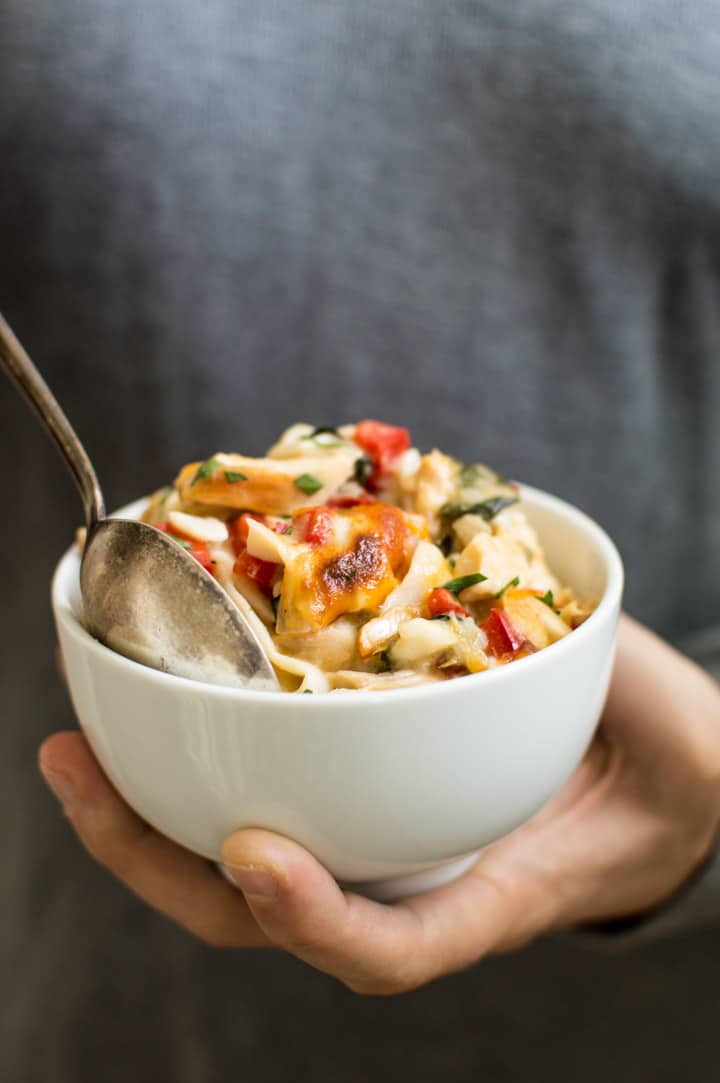 Low-Carb Chicken Tetrazzini
A rich, cheesy chicken tetrazzini without all the carbs! This dish uses tofu shirataki noodles instead of pasta, and it's the perfect gluten-free weeknight meal! Serves 4 generous portions or 6 side portions.
Ingredients
8

oz

(225g) cooked chicken breasts, shredded

2

8-oz packages

of House Foods tofu shirataki fettuccini*

1 1/2

TBS

olive oil

1

small red onion

,

finely diced

2

cloves

garlic

,

minced

1

large red pepper

,

diced

3

cups

chopped kale

,

about 3 large handfuls

1

cup

(240ml) low-fat milk (I used 2% milk)

1/2

cup

(120ml) water

1/4

cup

(60ml) dry white wine (optional)**

3

TBS

gluten-free flour blend

,

or all-purpose flour

1 1/3

cups

(4 oz) cheese (I used part-skim mozzarella and mild cheddar)

2

tsp

fresh thyme

salt and pepper to taste

3

TBS

slivered almonds for topping

,

optional

chopped parsley for garnish

,

optional
Instructions
Preheat oven to 400 degrees F (205 degrees C). Grease a 2-quart baking dish with oil or cooking spray. Set aside.

Drain the liquid in the tofu shirataki packages and rinse noodles under cool water. Drain and try your best to squeeze out excess water. Place the noodles in a bowl. Using kitchen shears, cut the noodles about 5 or 6 times so that they're smaller pieces. You can also chop the noodles on a chopping board, but I find using kitchen shears is easier.

In a large sauté pan, heat 1 1/2 tablespoons of olive oil over medium-high heat. When the pan is hot, add onions and cook them for about 2 minutes, or until the onions start to turn translucent. Add the garlic and cook for about 30 seconds. Add in red peppers, kale, and a generous pinch of salt. Sauté until the kale begins to wilt. Turn off the heat, and stir in the chicken and tofu shirataki. Set aside.

In a medium saucepan, heat the milk over medium heat. Stir milk occasionally to keep it from burning.

When the milk starts to boil, whisk in the flour and try to break up the clumps. Reduce heat to a medium-low. The milk should start to thicken. Add in water and wine (if using), and whisk together. If you're not using wine, just add more water. Let mixture simmer and stir constantly. You want it to reach the consistency of a thick chowder. Turn off the heat. Stir in 1 cup of cheese, fresh thyme, a generous pinch of salt, and pepper. The creamy sauce should be quite thick by now.

Pour the creamy mixture into the sauté pan with the vegetables, chicken, and shirataki. Stir until well incorporated. Pour everything into prepared baking dish. Top with remaining 1/3 cup of cheese and almonds.

Bake for 20 to 25 minutes, or until the casserole starts to brown, and the cheese is bubbling. You can also stick the casserole in the broiler for 3 to 4 minutes to get extra browning on the top.

Let cool for 5 minutes before serving. Sprinkle chopped parsley for garnish. If you still want more cheese, feel free to grate some parmesan on top.

Refrigerate leftovers in an airtight container for a few days.
Notes
1. You can also make this dish with regular pasta. Add about 2 to 3 cups of cooked pasta in place of the tofu shirataki.[br][br]2.*If you're not using white wine, use 3/4 cup of water total for the dish. The white wine adds a nice flavor to the dish but is not necessary.[br][br]3. Be careful not to burn the milk when you're boiling it! Remember to stir it occasionally until it boils.
Did you make this recipe?
Tag @hellolisalin or leave a star rating and comment on the blog!
If you make this recipe, be sure to tag me on Instagram, Facebook, or Twitter and use #hnbeats!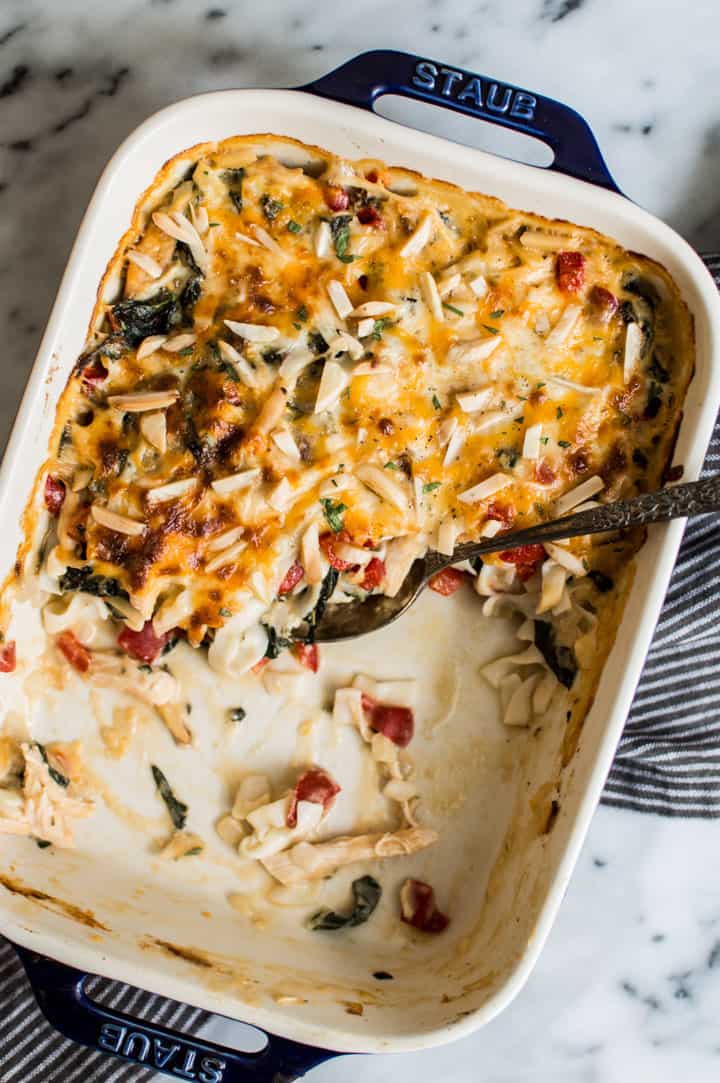 Thank you House Foods for sponsoring this post!