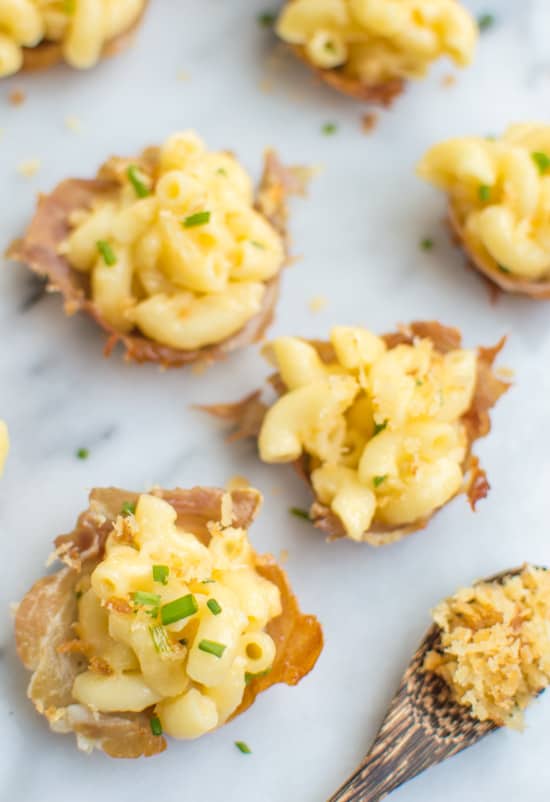 Let's talk fancy mac and cheese, like the baked mac and cheese with truffle oil that The Monk's Kettle used to serve. So decadent, so over the top, so gastropub.
When serving mac and cheese at a party, we want to skip the stuff from the box because we're better than that. We may have to grate our own cheese during the preparation, but I think we're all up for it here. Are you ready for these macaroni and cheese prosciutto bites?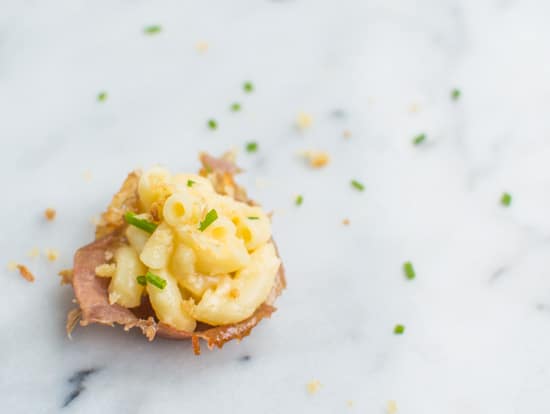 I was a bit stuck on ideas when I was brainstorming one of my friendsgiving parties several weekends ago. Thank goodness for the internet because it led me to this intriguing prosciutto-wrapped macaroni and cheese cups on CHOW. First of all, they're fancy. Baking mac and cheese into prosciutto: genius. Second, they're portable. We always start off polite and proper at the beginning of a party, using plates to eat and stifling any tiny burp that might come our way. But by hour four, we ditch the plates and let those belches out uninhibited. Making finger food is key for these types of gatherings where heavy grazing is to be expected among the party. Sorry, I have no solution for the belches.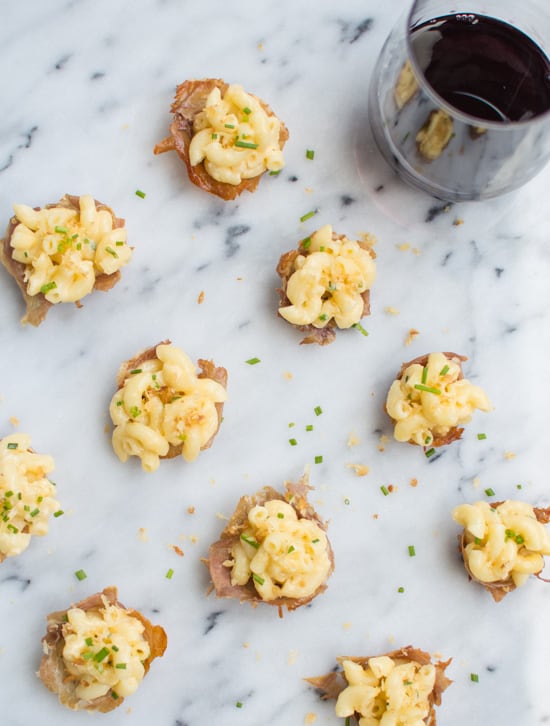 When I made these mac and cheese bites again, I made several modifications. Apart from tweaking the ingredients list, I also changed the way the bites are prepared. With the original recipe, I laid a small piece of prosciutto inside a muffin pan, topped it with some cooked mac and cheese and panko bread crumbs and baked it for another 25 minutes. I thought that the additional baking was unnecessary, dried out the mac and cheese, and made the panko mushy. This time, I baked the prosciutto cups on their own, filled it with the good stuff, and skipped the second cooking period. I thought the texture of everything was so much better!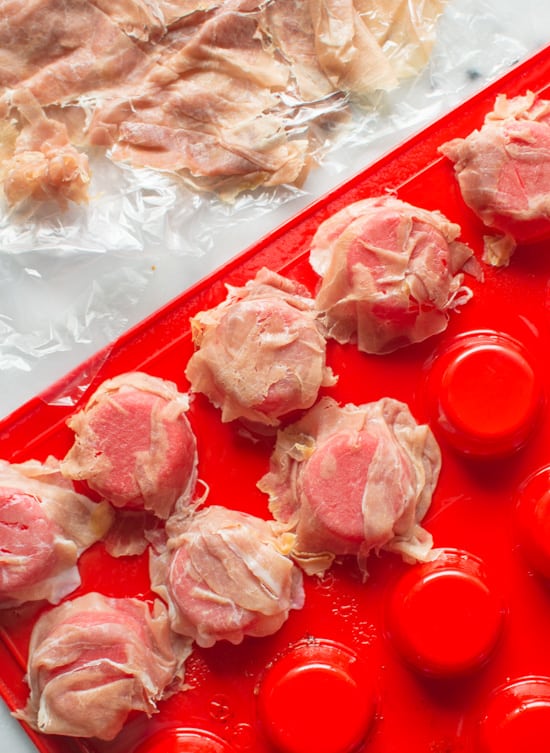 To make the prosciutto cups, I flipped over a muffin pan, and laid a piece of prosciutto on top. Call me adventurous for using the other side of the muffin pan! Because the prosciutto is so thin, there will tears when you lay it on top of the muffin moulds, but it's no big deal. The mac and cheese won't all through the cracks. Prosciutto loves to shrivel up when it meets the heat, so we want to cover up those muffin moulds very well. I also wanted to make single-bite appetizers, so I pulled out my mini muffin pan for this endeavor. This recipe can be easily made with a regular muffin pan. Same great taste!
On a random note, I know that I should greatly appreciate the rain in California now, but how the heck am I supposed to take photos for the blog when it is raining EVERY SINGLE DAY! I had to take these bites outdoors because the lighting conditions were so bad in my apartment. Food blogger problems.
Macaroni and Cheese Prosciutto Bites
Makes around 48 mini bites, about 24 bigger bites if you use a larger muffin pan.
Ingredients
1/2 to 2/3

lbs

(225g to 300g) thinly sliced prosciutto

8

oz

(225g) elbow pasta

2

TBS

butter

1/3

cup

(15g) panko bread crumbs

1 1/4

cups

(300ml) low-fat milk (I used 2% milk)

1

+ 1/2 TBS all-purpose flour

1 1/2

cups

(110g) shredded gruyere cheese

3/4

cup

(55g) shredded extra-sharp cheddar cheese

salt and pepper to taste

3

TBS

chopped chives
Instructions
Preheat oven to 350 degrees F (175 degrees C). Flip a 24-cup mini muffin pan over. Spray the surface with cooking spray. You can also use a regular 12-cup muffin pan.

Chop the strips of prosciutto into thirds and cover each of the muffin moulds with each piece of prosciutto. Make sure that the prosciutto is covering the moulds pretty tightly. Some prosciutto pieces will tear, but that's okay. Bake for 10 to 15 minutes. The prosciutto will shrink after it's baked, but they'll still hold a good amount of macaroni and cheese.

While the prosciutto is baking, cook the elbow pasta according to package instructions. Turn the heat off when the pasta is cooked through. I like to leave the pasta in the hot water so that it plumps up more, but you can drain it if you like your pasta al dente.

In a small saucepan, heat the butter. When it is melted, add the panko bread crumbs and stir until well incorporated. Reduce the heat to medium low, and cook the panko for a few more minutes, or until it is golden brown.

In a small pot, heat the milk over medium-high heat until small bubbles form. Reduce the heat to medium-low. Stir in the all-purpose flour, making sure to stir the liquid constantly to prevent the flour from clumping up too much. Mix in the cheese, salt and pepper, and turn off the heat. I added only a small pinch of salt because the prosciutto was already quite salty. Stir in the chives. Let the mac and cheese cool for at least 5 minutes before assembling the bites.

To assemble, take one of the prosciutto cups, spoon some mac and cheese on top, and sprinkle on some panko.

Serve immediately.
Notes
1. Adapted from the Prosciutto Wrapped Macaroni and Cheese Cups on chow.com.[br][br]2. I baked the prosciutto cups in 2 batches. Also, feel free to drain some of the grease from the baked prosciutto by lining them up over a paper towel. [br][br]3. Feel free to make these bites with bacon instead! I suggest using a larger muffin pan for that.
Did you make this recipe?
Tag @hellolisalin or leave a star rating and comment on the blog!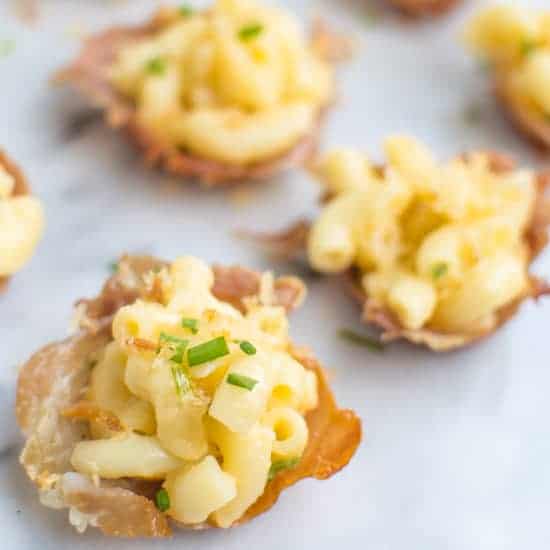 What's the fanciest mac and cheese you've ever had?