I sense that we're getting a bit confused right now. I've broken out the thin fall jackets, whipped up a number of pumpkin recipes, and stocked my produce basket with an array of root vegetables and winter squash. Yet the Bay Area weather decided to throw me a curveball, one hot curveball. It's so hot in my apartment that the coconut oil in my pantry has turned to liquid. I'm also positive that my skin has turned a few shades darker just walking under the sun the last few days.
When the weather gets hot, the last thing you would want to do is to bake. Am I wrong? But when it's someone's birthday, you have no excuses. You go bake that cake even if it means you'll melt in the kitchen. That's exactly what I did.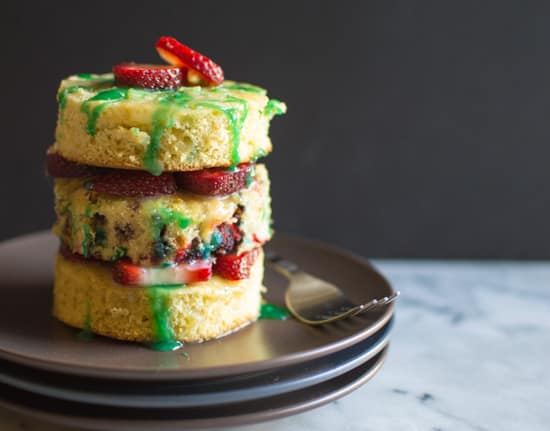 I must admit I wasn't entirely prepared to make a birthday cake. I was too distracted by my recently acquired sprinkles. SPRINKLES! And when I say sprinkles, I mean the 5 containers of stars, pumpkins, colored sugar crystals, and small balls that I have tucked away in the pantry. I was so excited about those dang sprinkles that I forgot about buying ingredients to frost the cake. Hence the bright green chocolate sauce.
Let me just put it out there that this sauce looks a bit like absinthe, which to some people might be an amazing thing. But it's actually green mint baking chips by Guittard. This all began when I realized that I didn't have any ingredients for frosting. True, I could have opted to just serve a naked cake, but that would be no different from me serving a flattened out muffin and calling it a birthday cake. A birthday cake needs and craves garnishes.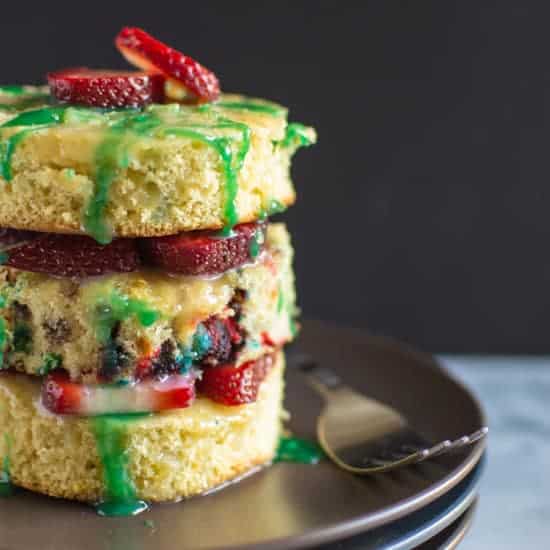 Enter the bright green mint sauce. As luck would have it, I had anything but plain-old chocolate chips around the house. That's where the green mint chips step in. When I stirred this emerald green sauce for the cake, I suddenly realized that the sauce would turn the cake into a Frankenstein. To make sure that I didn't turn this cake into a ghoulish surprise, I dug up all the white chocolate chips I could find and made another sauce to top each layer.
The vanilla cake is based on the cake for two recipe by Molly of My Name is Yeh. That cake (and quite frankly all her recipes) looked so good, I thought it would be perfect for this occasion. Of course, if you're more sensible than I am, you'll frost this cake with actual whipped cream or icing.
Mini Birthday Cake with Mint Sauce
Serves 2-3.
Ingredients
Cake
3/4

cup

+ 2 TBS

,

110g cake flour

1

tsp

baking powder

1/2

tsp

baking soda

pinch

of salt

2

large eggs

1/3

cup

(70g) sugar

1/3

cup

(80ml) vegetable oil

1/4

cup

(60ml) milk (I used 2% milk)

3

tsp

pure vanilla extract

2

TBS

sprinkles

,

optional

7

large strawberries

,

sliced
Mint Sauce
1/4

cup

(60ml) full-fat coconut milk

2

TBS

green mint chips
White Chocolate Sauce
1/2

cup

(120ml) full-fat coconut milk

1/4

cup

(85g) white chocolate chips
Instructions
Preheat oven to 350 degrees F. Grease 2 loaf pans and line the bottom with parchment paper. I cut a piece of parchment paper that was the same width as the bottom of my loaf pan but long enough to go over the edges of the pan.

In a medium bowl, sift together the flour, baking powder, and baking soda. Add in a pinch of salt.

In another bowl, whisk together the eggs, sugar, oil, milk, and vanilla. Mix the wet and dry ingredients together.

Pour half the batter into a loaf pan. Mix the sprinkles with the remaining batter, and pour it into the other loaf pan. NOTE: Because the baking time of this cake was so quick, I baked the cake in two batches, and used the same loaf pan.

Bake for 12 to 18 minutes or until a toothpick comes out clean.

Let the cake cool for about 5 minutes. Lift the cake out of the pan by pulling on the parchment paper, and transfer to a cooling rack.

Prepare the mint sauce by warming the coconut milk in a saucepan until the milk bubbles. Turn off the heat, and stir in the mint chips until the chips melt completely. Repeat these steps with the white chips to create the white chocolate sauce.

Once the cake is completely cool, level off the top of the cake. Cut it with a 3-inch biscuit cutter or just cut it down the middle into small rectangles.

To assemble the cake, spoon some white chocolate sauce on top of a piece of cake and top with sliced strawberries. Repeat for the remaining layers. I stopped at three layers for this cake, but you should be able to make a 4-layer cake. Drizzle the green mint sauce over the cake. Enjoy!
Did you make this recipe?
Tag @hellolisalin or leave a star rating and comment on the blog!
TELL ME: What is your favorite kind of cake?