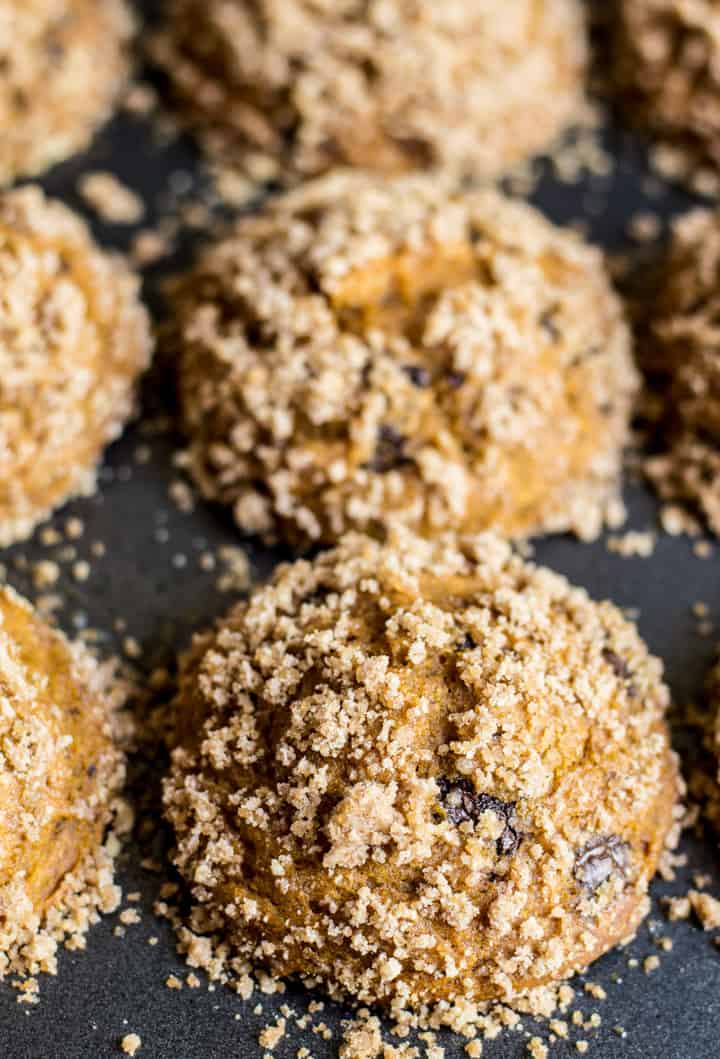 Do you remember the first time you ate something with pumpkin in it? I do! Well, sort of. I must have been 8 or 9, and my sister brought home a Sara Lee pumpkin pie. Or was it a pie from Safeway? Maybe it was from Cala Foods back when Cala was still a thing. No, I think it was a Sara Lee. Sorry, I always get all caught up in minute details.
One small bite was all it took to convince me that the orange thing called a pumpkin was something special. (Coincidentally, that was also the day I discovered that I love cinnamon, BIG time.) Ever since that first sliver of pumpkin pie, I've become a borderline fanatical huge fan of anything with pumpkin.
We're quickly approaching that time of the year when no one will judge you for adding 4 cans of pumpkin puree to your shopping cart. Let's get ready for that. We always aim to be ahead of the game here.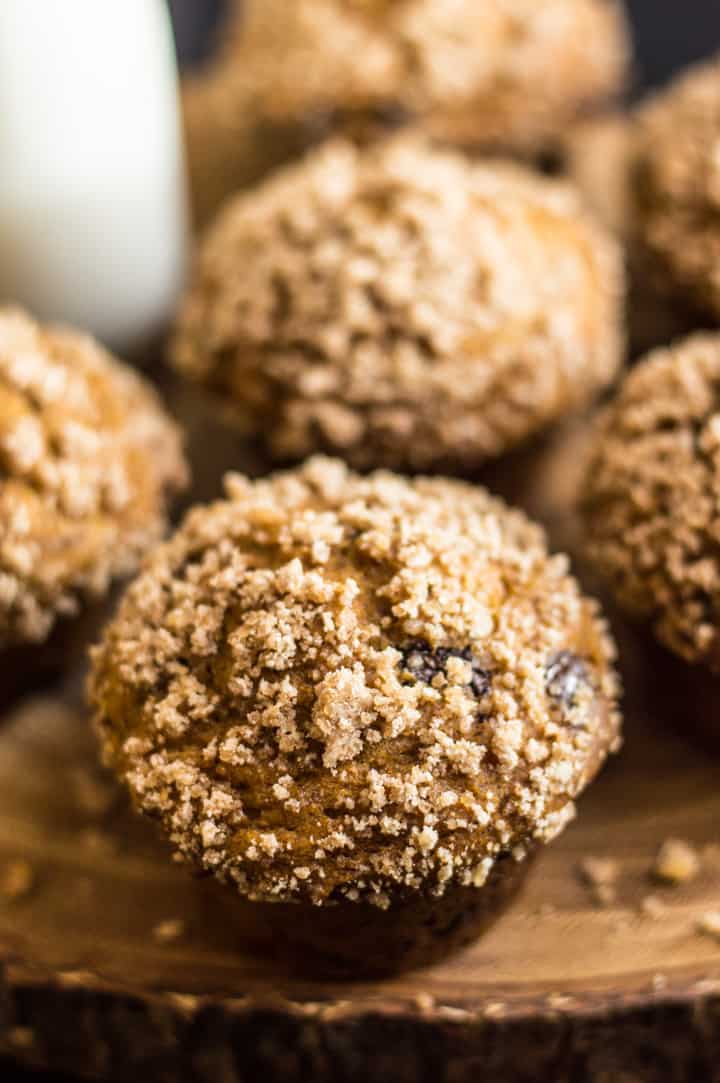 Friends, I can probably sit here all day and pick off the crumb topping on these muffins. It has a phenomenal crunch because I used turbinado sugar in the crumb. Even if you're not ready for pumpkin muffins yet, at the very least, sprinkle turbinado on your next batch of muffins. It'll be a game changer.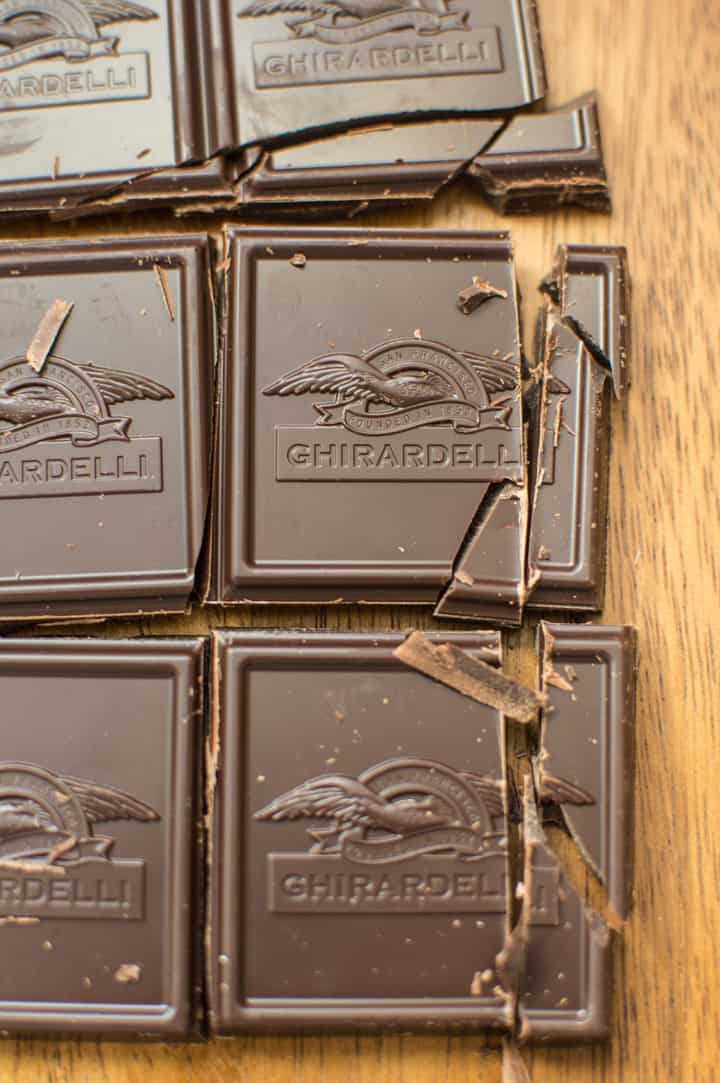 To make these muffins extra special, I folded in some chopped up bittersweet chocolate. I love using Ghirardelli's chocolate baking bars for my baked goods because of their consistent taste and quality. (Examples of my love for their baking products: Green Tea Cupcakes or Double Chocolate Almond Cookies.) Plus, Ghirardelli is based in San Francisco, which as you all know, is near and dear to my heart.
PUMPKIN MUFFIN COOKING NOTES
For this recipe, it's a good idea to mix the dry and wet ingredients in two separate bowls before combining them together. The first time I made these, I was lazy and tried to do everything in one bowl. The batter ended up being a bit clumpy and way too thick.
With the first test batch, I used 1 cup of pumpkin puree instead of 3/4 of a cup. The muffins had a deeper orange hue. If you want the muffins to look more orange, use 1 cup of pumpkin puree.
I also tried a batch with some almond flour in it, and the muffins were more dense. I prefer the fluffier version that I have in the recipe below.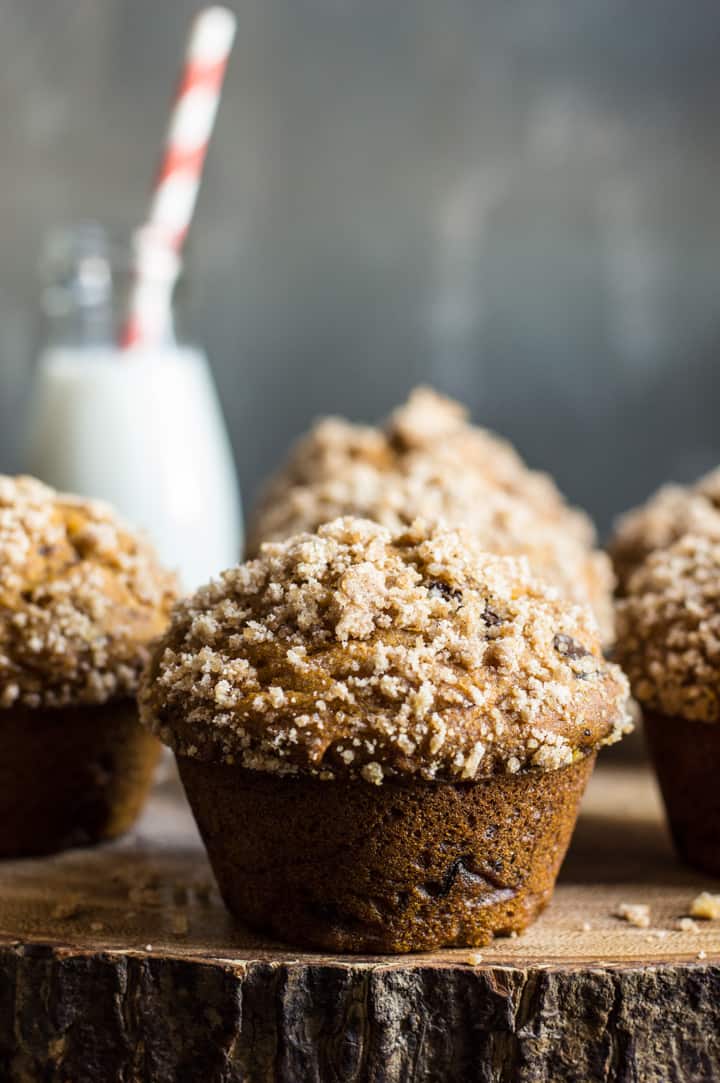 Pumpkin Crumb Muffins with Chocolate
These moist, fluffy pumpkin muffins are just what you need to get you going in the morning. The prep is very simple, and they're gluten-free! Makes 9 large muffins or 10 standard muffins.
Ingredients
Muffins
cooking spray or oil for greasing pan

210

grams

(1 1/2 cups + 2 tablespoons) gluten-free baking blend

,

see note 1

2

teaspoons

ground cinnamon

1

teaspoon

ground ginger

1/2

teaspoon

ground nutmeg

1/2

teaspoon

ground allspice

1

teaspoon

baking powder

1

teaspoon

baking soda

1/2

teaspoon

salt

180

grams

(3/4 cup) pumpkin puree

,

(make sure it's not the pumpkin pie blend)

155

milliliters

(2/3 cup) whole milk

220

grams

(220g) (1/2 cup) honey

,

(or any sweetener)

70

grams

(1/3 cup) coconut oil

,

melted (olive oil also works)

2

large eggs

1

teaspoon

pure vanilla extract

115

grams

(115g) (4 ounces) bittersweet chocolate baking bar,

roughly chopped
Crumb Topping
1

tablespoon

unsalted butter

,

melted

2

tablespoons

gluten-free flour blend

2 1/2

tablespoons

turbinado sugar

1/2

teaspoon

cinnamon
Instructions
Preheat oven to 350ºF (175ºC). Grease 9 or 10 muffin cups in your pan. If you want larger muffins, grease 9 cups. Set pan aside.

In a medium bowl, mix flour, cinnamon, ginger, nutmeg, allspice, baking powder, baking soda, and salt together. In a larger bowl, mix pumpkin, milk, honey, oil, eggs, and vanilla. Gradually incorporate dry ingredients to the pumpkin mixture. I like adding my flour in batches: I add about 1/3 of the flour, stir until ingredients are combined, and repeat 2 more times. Fold in chopped chocolate chunks.

Fill 9 muffin cups to the top, or 10 cups 3/4 of the way full.

Wipe down the bowl you used for dry ingredients and add the ingredients for the crumb topping. Using your hands, break up the butter and mix the ingredients together. The mixture should look and feel like wet sand. Sprinkle crumb topping on all the muffin cups.

Bake for 24 to 26 minutes, or until the edges of the muffin tops are slightly browned.

Let the muffins cool in the pan for 5 minutes before taking them out to cool on a plate or rack. Store muffins in an airtight container in room temperature for a few days or freeze them for a few months.
Notes
I used the gluten-free flour blend from Minimalist Baker, and I LOVED how texture of the muffins turned out. I added 2 teaspoons of xanthum gum to the blend for binding purposes. If you're not quite committed to making your own gluten-free flour, no problem! Bob's Red Mill's Gluten-Free 1-to-1 Baking Flour works too. If you are not gluten free, whole wheat pastry flour or all-purpose flour works with this recipe.
If you don't care for the crumb, at the very least, you should sprinkle a bit of turbinado sugar on top of the muffins. They add a phenomenal crunchy texture.
Did you make this recipe?
Tag @hellolisalin or leave a star rating and comment on the blog!