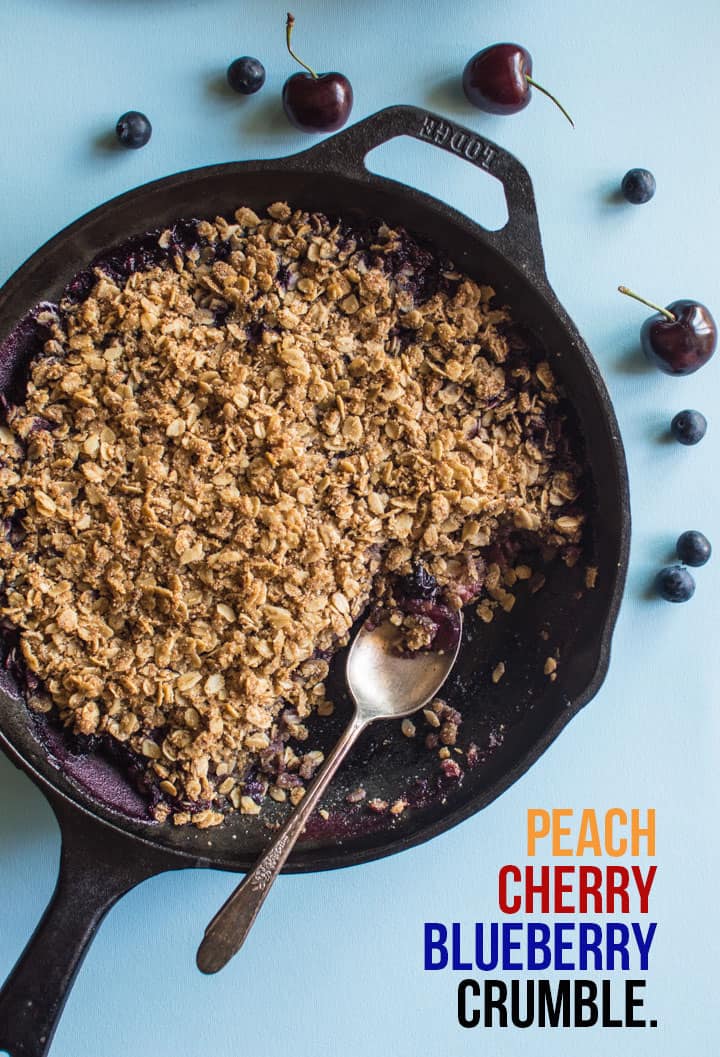 Me? My weekend was full of learning important life lessons.
First, I need to keep my hubris in check. A friend of mine asked me to sign up for the Spartan Race in San Francisco, and I said yes without actually researching what physical torture I'm about to put my body through. My thought process: I work out several times a week, so I should be able to complete everything. Hubris.
It finally dawned on me yesterday that I should look up a video on the obstacle course. Um, W H O A. Within a few minutes, I saw people jumping over walls and swinging through monkey bars. I think my heart stopped when I saw that rope climbing was involved too.
Little-known fact, but rope climbing traumatized me during middle school. I had to stand in front of the whole class as they witnessed my sorry attempts to gather what little upper body strength I had and lurch myself upwards. I didn't even make it above the bottom knot. I could feel my classmates' reproachful stares burn through my gym clothes. If there was an emoji that could sum up my feelings, it would be one with super red cheeks, way rosier than my normal hue.
Gah, what did I get myself into? It's okay. Keep calm and put the kettle on.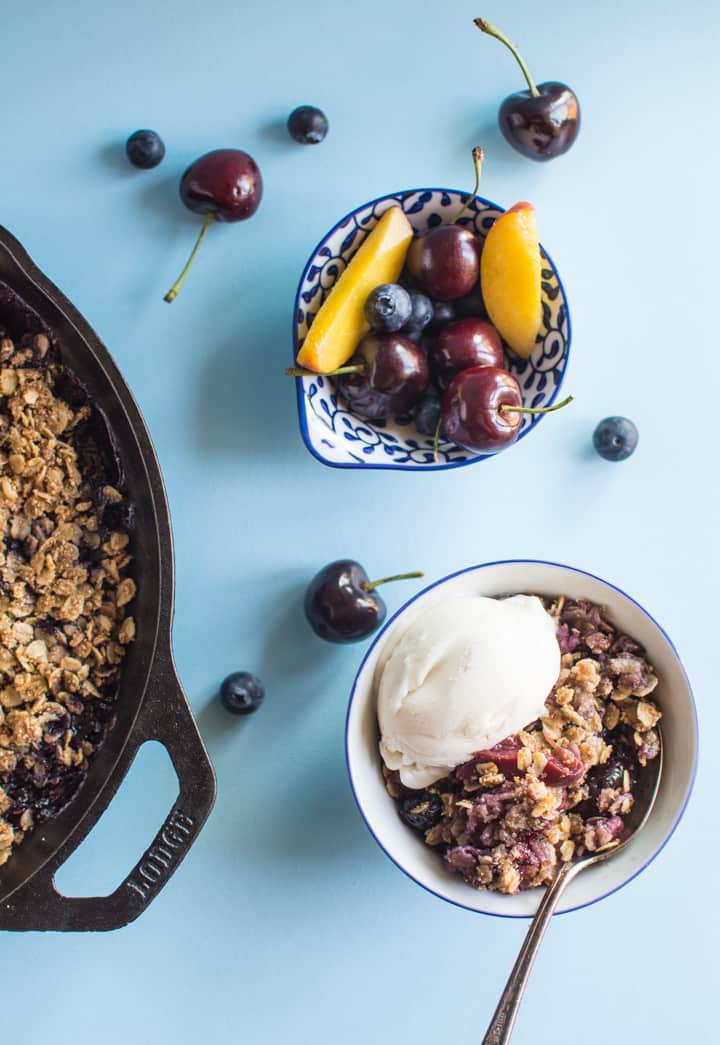 Another thing I learned this weekend: macaron baking ain't easy. Sarah and I learned the hard way. Between figuring out whether the egg whites were whipped enough to trying not to burn those things, macarons are quite possibly the most finicky thing I've ever baked. We're determined to get it right, though, so stay tuned for part deux!
After a weekend of poor decision-making and getting spanked by French baking, I consoled myself with something sweet. Something sweet and simple.
This is the time of the year when we give spring and summer fruits a huge hug. So let's make a crumble with them. We're going to start with some pretty fruits. Sprinkle in lemon zest and ground cardamom to the party.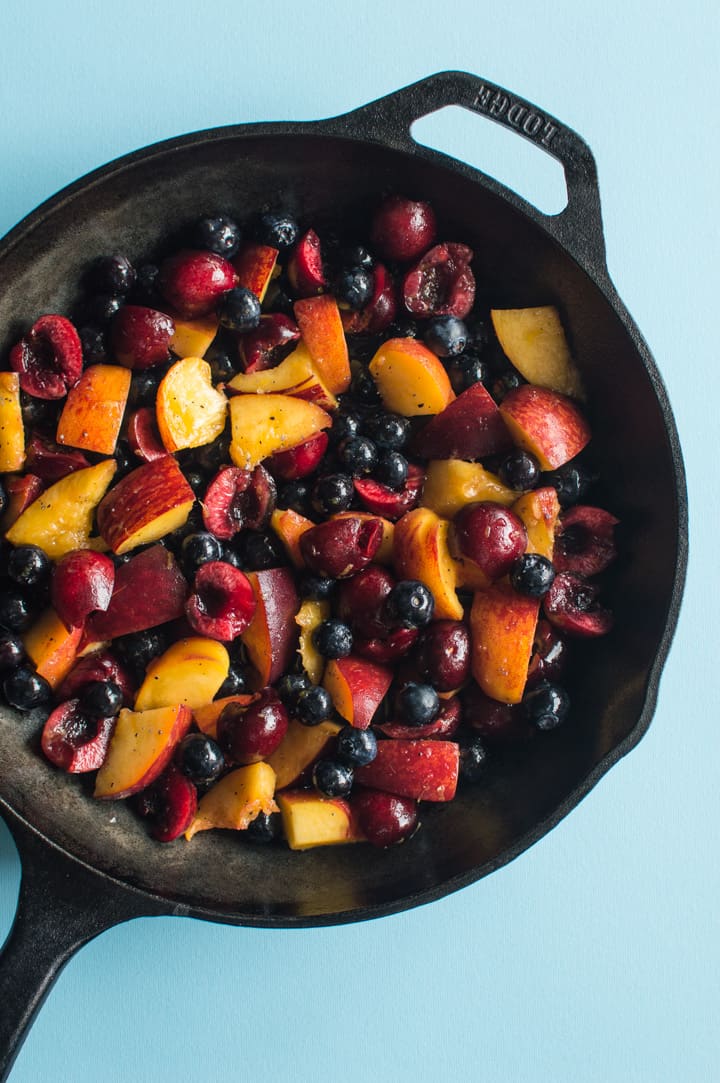 Then, the crumble. It's full of wholesome oats, almond flour, coconut oil, cinnamon, nutmeg, and muscovado sugar. (<— Wait, what? Sugar that sounds like an avocado?) Muscovado is just like regular brown sugar but it's a coarser and comes refined or partially refined. Remember how I'm trying to consume less refined sugar? That's where the muscovado comes in. But, of course, you can always use regular brown sugar instead.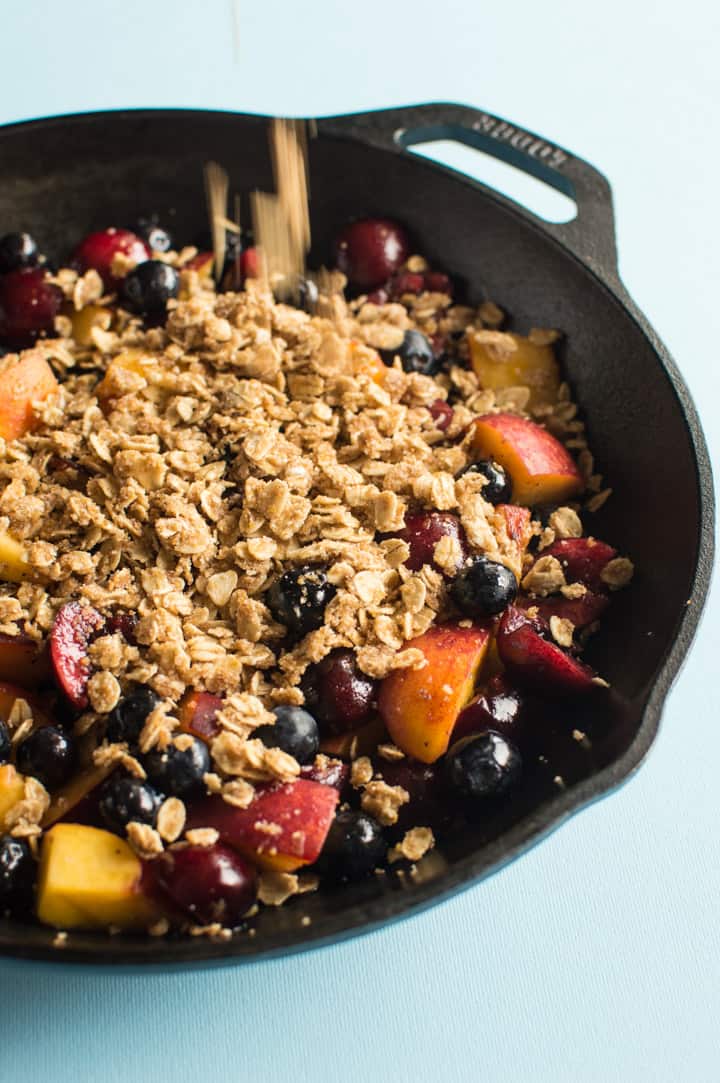 This crumble is
light
crisp
spring-summery
fruity
amazing with a scoop of ice cream.
Make yourself a batch, and let's dig in!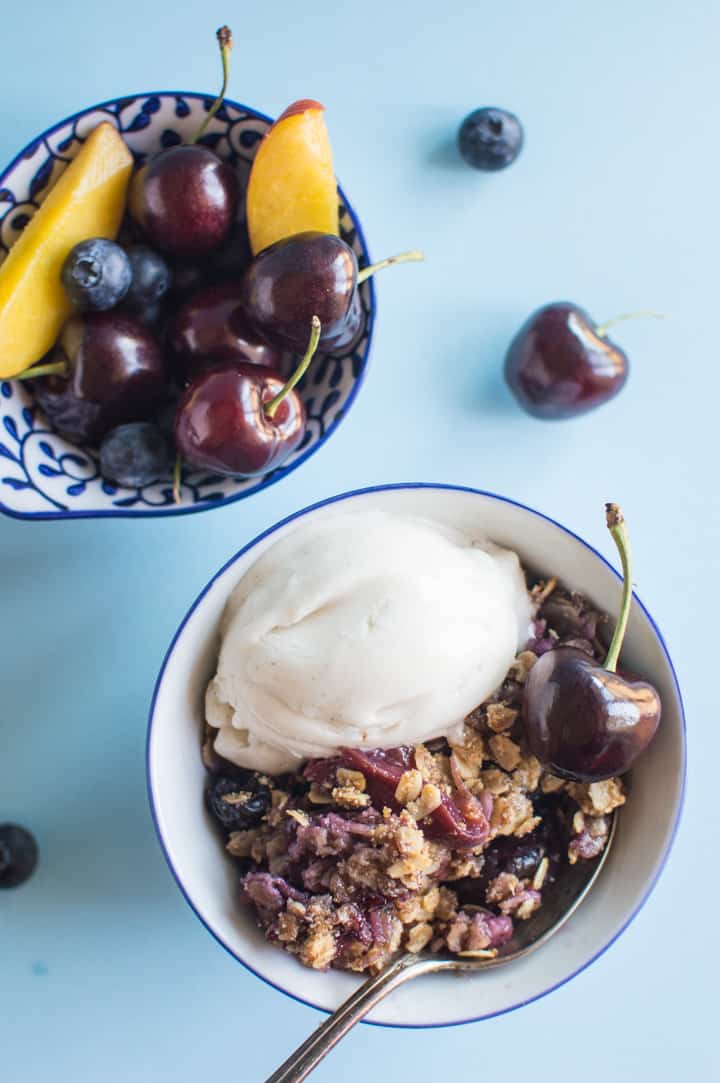 Peach Cherry and Blueberry Crumble
Juicy peaches, cherries, and blueberries are topped with a light, crisp oatmeal streusel. Add a scoop of ice cream on the side, and you'll have the ultimate summer treat! Serves 4 to 6.
Ingredients
Fruit Filling
2

medium peaches

,

pitted and chopped (about 8oz./225g)

1

cup

pitted and halved cherries,

about 150g

1/2

cup

blueberries

,

100g

2

TBS

lemon juice

zest from 1/2 lemon

1

TBS

maple syrup

1/2

tsp

freshly ground cardamom

,

optional
Oat Streusel
1 1/3

cups

(125g) rolled oats

1/2

cup

(55g) almond flour

1/4

cup

(60g) light muscovado sugar (or sub with light brown sugar)

5

TBS

coconut oil

,

melted

1/2

tsp

cinnamon

1/4

tsp

freshly ground nutmeg

pinch

of salt
Instructions
Preheat oven to 350 degrees F (175 degrees C). Spray a cast-iron skillet or a pie dish with cooking spray.

In a medium bowl, toss the fruit filling ingredients. Spread the fruit in the skillet or pie dish.

In another medium bowl, mix the oat streusel ingredients together. I used my hands to mix and squeeze the ingredients together, so that I can get more clumps in the topping. Spread oat mixture over the fruit until the entire surface is covered.

Bake for 40 to 45 minutes, or until the fruit juices are bubbling.

Let cool for a few minutes before serving. Enjoy with some ice cream!
Notes
1. Loosely adapted from Green Kitchen Stories.[br][br]2. You can use frozen fruit to make the crumble. Just be sure to thaw the fruits and make sure that you squeeze out the excess water in the fruits.[br][br]3. To melt coconut oil, I usually stick it in the microwave for 20 seconds.
Did you make this recipe?
Tag @hellolisalin or leave a star rating and comment on the blog!