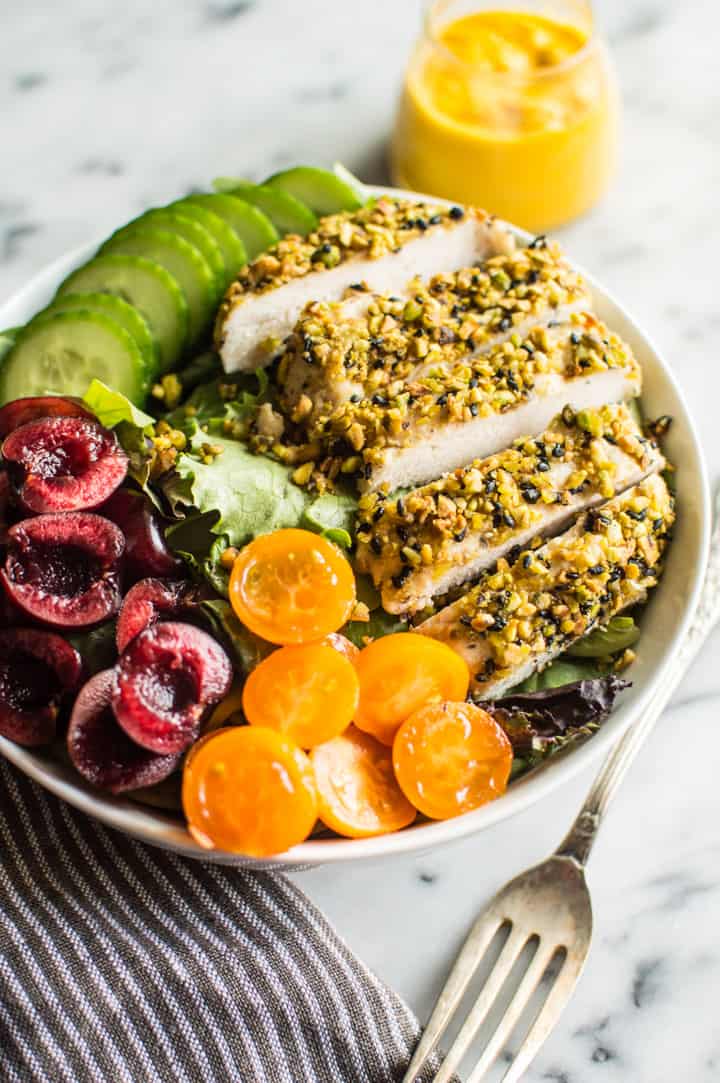 To preface, here's my distinguished "gardening" résumé:
Sprouted peas successfully for a school project in third grade.
Helped friend plant-sit a mini jade tree for a summer (while neglecting my landlord's plant).
Poured a bucket of water onto my mother's garden once.
Clearly, I have no green thumb. My expectations for project #HNBGardenNow were low. Three months in, my chives and lemon thyme that I got from Good Eggs (<— LOVE them, by the way) are going strong, even after 5 days of neglect when I was out in Alaska. My Thai basil from the farmers market on the other hand . . . Let's just say it's seen better days. Much better days.
I'm still working on this whole green thumb thing.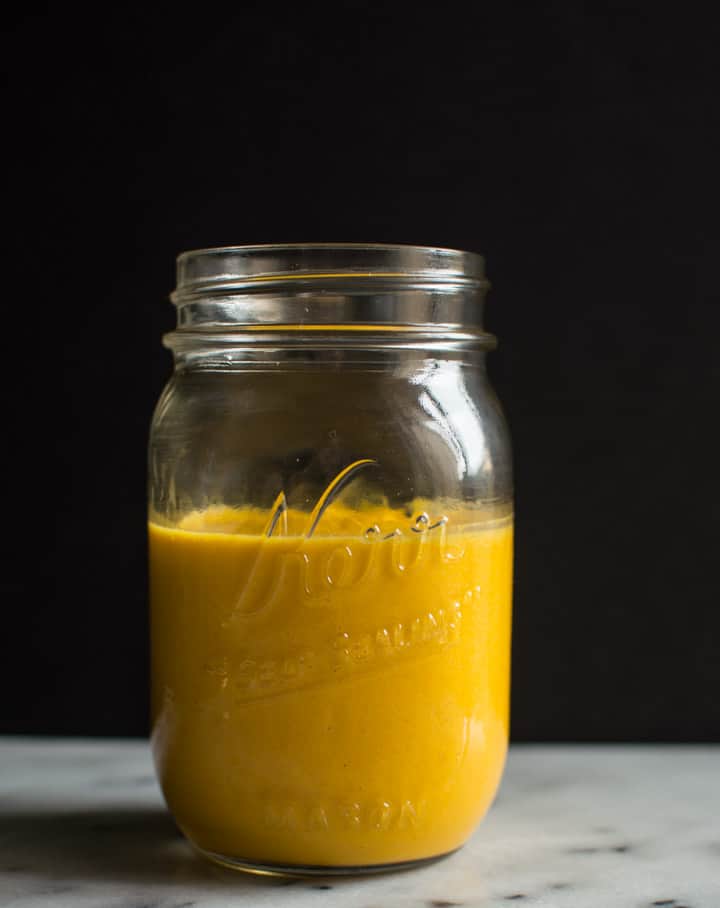 This month's theme for The Recipe Redux is fresh produce from the farmers' market or from our gardens. Maybe when I actually have a patch of gardening area to play with, I'll get to make a salad with my homegrown ingredients. For now, the farmers' market will have to do.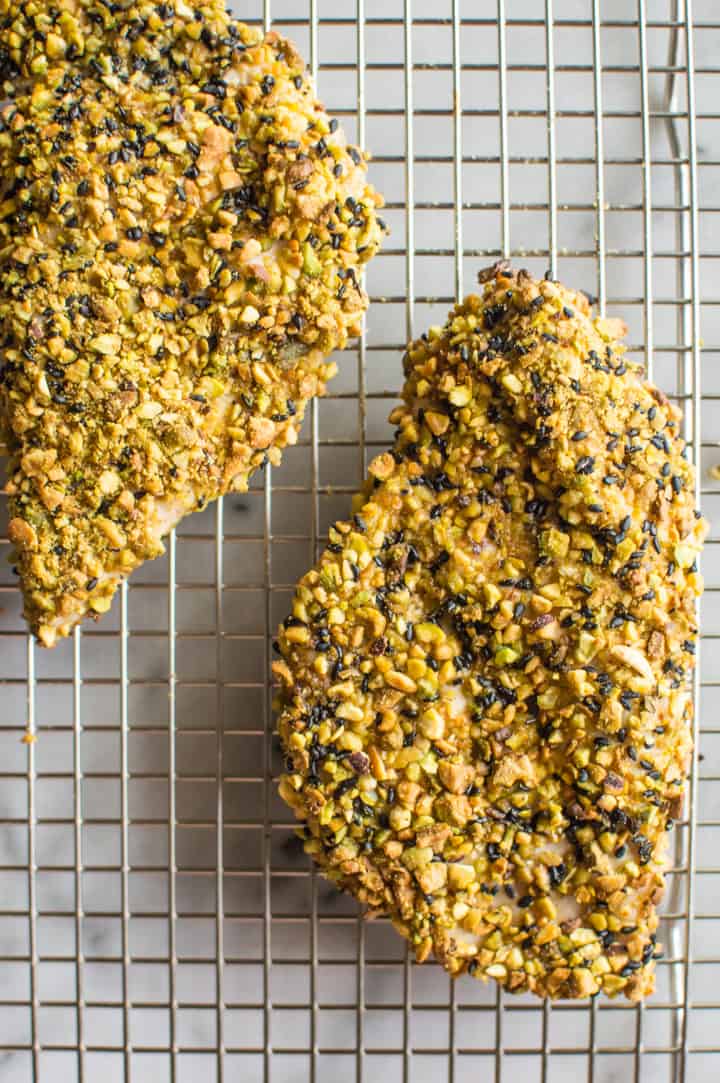 I paired some of my favorite seasonal fruits and vegetables in this salad with a pistachio-crusted chicken. I've been eating a ton of grilled chicken lately so I wanted to switch things up by covering the chicken in a whole lotta nuts and a sprinkling of sesame seeds. It looks like a lot of effort, but trust me, it's simple. All you need to do is blitz some nuts and press the chicken breasts on top of the crushed nuts. Easy peasy elegant meal at your finger tips.
Enjoy!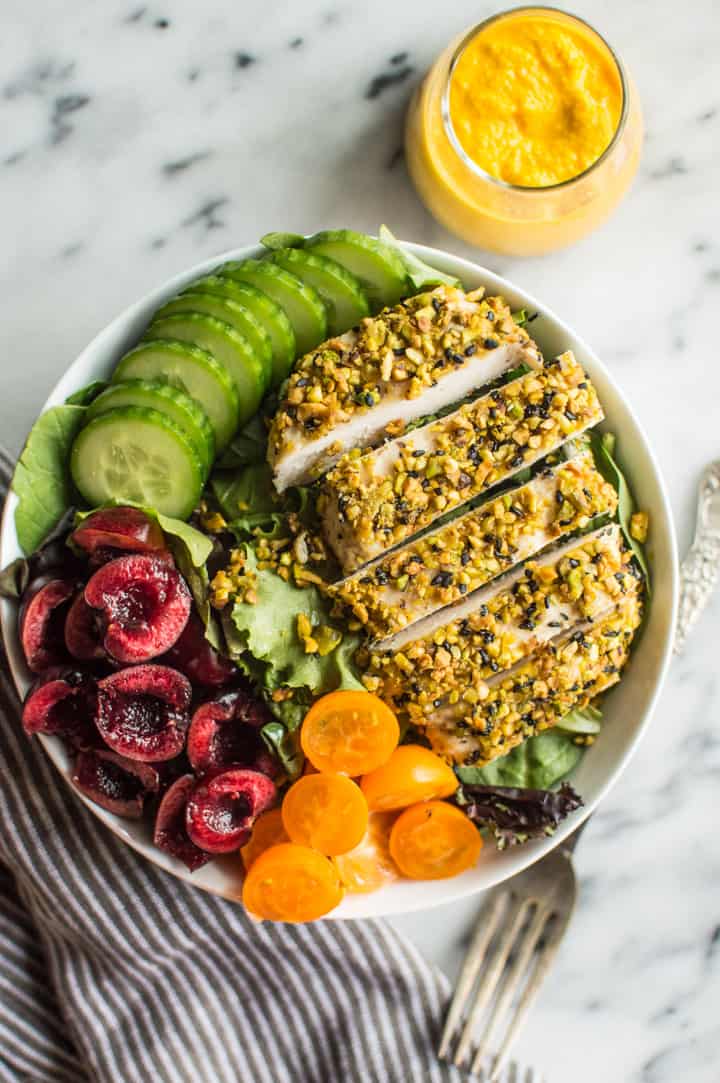 Pistachio-Crusted Chicken Salad with Carrot Ginger Dressing
This pistachio-crusted chicken looks fancy, but it is very easy to make! It's great with the carrot ginger dressing and your favorite summer fruits and vegetables! Ready in 30 minutes! Serves 3 to 4.
Ingredients
Pistachio-Crusted Chicken
1 to 1 1/2

lbs

(450 to 680g) chicken breasts

3/4

cups

(90g) pistachios

2

TBS

black sesame seeds

,

regular sesame seeds work too

1/2

tsp

granulated garlic

salt for seasoning chicken
Carrot Ginger Dressing
1

large carrot

1/2

TBS

freshly grated ginger

1

TBS

chopped shallots

6

TBS

water

2

TBS

cashew cream

1

TBS

olive oil

1

TBS

coconut aminos

1 1/2

tsp

lemon juice

1

garlic clove

1/2 to 1

tsp

salt

,

to taste
Salad
6

cups

mixed greens

1 1/2

cups

pitted cherries

3

persian cucumbers

1 1/2

cups

cherry tomatoes

,

sliced
Instructions
Preheat oven to 400 degrees F (205 degrees C). Line a baking sheet with a silicone mat, foil, or parchment paper. Set an iron wrack on top of the baking sheet.

Pat dry the chicken breasts. Cover the chicken breasts with plastic wrap. Using a meat mallet, flatten the breasts. This helps ensure even cooking. I used 2 large chicken breasts, so I chopped each piece in half. Sprinkle some granulated garlic and salt onto each breast.

Place pistachios in a food processor and blitz until you no longer see big pistachio pieces. It should look like small pistachio crumbs. Pour pistachios onto a large plate. Mix in sesame seeds.

Place a piece of chicken on the pistachios and press down slightly so that the pistachios stick. Do the same for the other side and make sure to cover all sides of the chicken with the nuts and seeds. Repeat for remaining chicken pieces. Place crusted chicken on top of iron rack and bake for 18 to 20 minutes.

While the chicken is baking, prepare the dressing. Place all ingredients in a high-speed blender and blitz until you get a creamy mixture. The dressing will be a little thick. Add more water if you want a thinner consistency.

When the chicken has fully cooked, let it rest for 5 to 10 minutes before slicing into strips. Serve with salad greens, cherries, cucumbers, cherry tomatoes, and dressing. Refrigerate dressing for up to a week.
Notes
1. Pistachio-crusted chicken adapted from Rachael Ray. [br][br]2. If you're not concerned about whether the dressing is paleo, you can substitute the coconut aminos with low-sodium soy sauce.
Did you make this recipe?
Tag @hellolisalin or leave a star rating and comment on the blog!
NOTE: This post contains affiliate links.