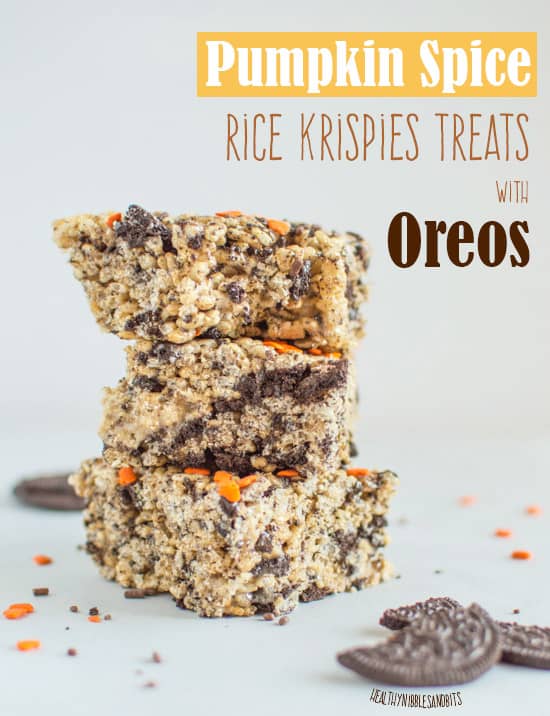 I know Snap, Krackle, and Pop very well. As a kid, I saved my quarters and flipped couch cushions for coins just so I could buy a block of those marshmallowy delights wrapped in a light blue foil wrap. What child doesn't like rice krispies treats? That loud crunch, overly sweet marshmallows, and the crunchy-to-gooey textural contrast are the makings of an unforgettable sugar high inducing snack. Whenever I bought one of those crispy rice squares, I quickly devoured it in rapture.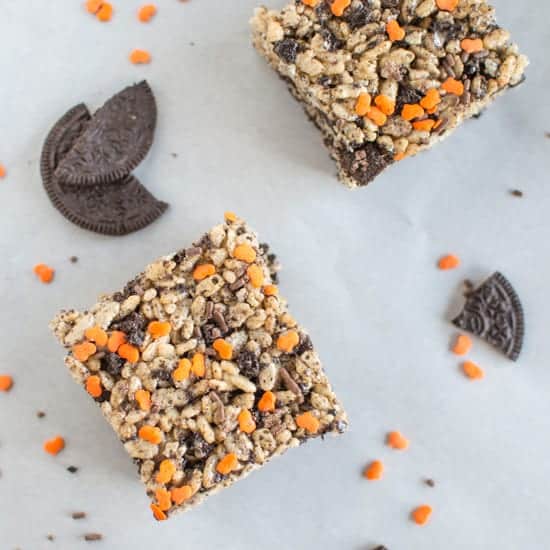 I'm going to attend a family gathering this weekend, and there will be a bunch of youngins' in attendance. In a perfect world, they would go crazy for my acorn squash soup or a fall salad, but let's not fool ourselves. All they want is sugar. Sugar, sugar, and more sugar. Actually, the adults crave a bit of sugar at parties, too.
These pumpkin spice rice krispies with Oreos will be a crowd pleaser, don't you think?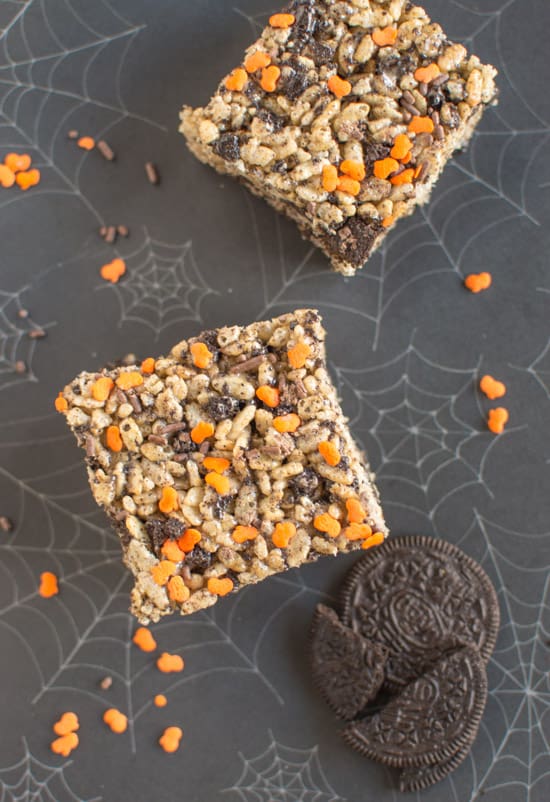 While we're on the subject of Oreos, are you a cream or a cookie kind of person?
Me? I think the cookie is far superior. I will take an Oreo, cut it in half, and scrape off the cream just so I can enjoy my cookie unadulterated by the white stuff. One of my old roommates used to look at me with disapproval when I removed the cream with surgical precision. She even refused to share one of her Trader Joe's Candy Cane Joe-Joe's with me because she knew about my ways. In the words of Michelle Tanner from Full House, "How Rude!"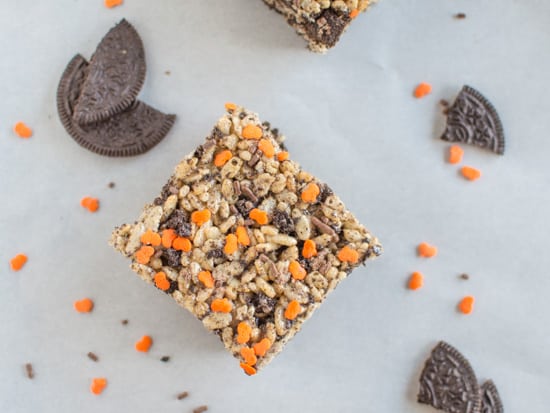 I don't know about you, but I can never pry open an Oreo cookie gracefully. In the commercials, you often see people twisting open the Oreos with ease, both cookies still in tact. Whenever I try to do the same, all I end up with are broken pieces of Oreos and a ton of crumbs. Perhaps I need to work on those Oreo twisting skills.
To make these delicious treats, here's what you'll need: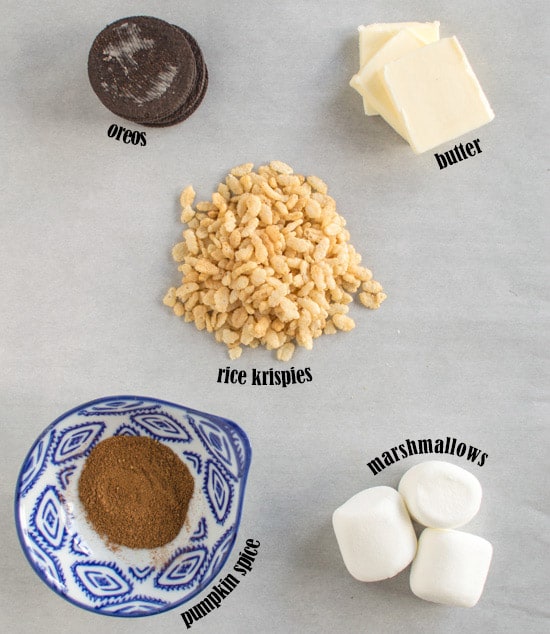 Pumpkin Spice Rice Krispies Treats with Oreos
Makes 12 large squares or 24 smaller pieces.
Ingredients
3

TBS

butter

1

10-oz bag

(~280g) marshmallows

1 1/4

tsp

pumpkin spice

28

Oreos

,

or any chocolate biscuit*

4 1/2

cups

(135g) rice krispies cereal

pumpkin sprinkles

,

optional
Instructions
Grease a 9×13 or 8×11 baking dish with natural cooking spray or oil. The 8×11 dish will yield thicker rice krispies. Set aside.

In a saucepan, melt the butter over medium-low heat. Once the butter is melted, add the marshmallows. Stir constantly to prevent the marshmallows from burning. Keep stirring until the marshmallows are almost completely melted. It's ok if you still see a few puffy peaks in there. Remove from heat and mix in the pumpkin spice.

Let the melted marshmallows cool to room temperature for 20 minutes. The cereal turns soggy quickly when you mix it with hot substances (no fun). When you let the marshmallows cool off, the rice krispies treats can stay crispy for a longer period.

While the marshmallow mixture is cooling, take the Oreos, and slice it in half with a knife. Scrape off the cream. Eat it, toss it, do whatever you want with the extra cream. Place all the cookies in a large sealable plastic bag. Crush the cookies by hitting them with a pot, a meat pounder, or anything else you can find in the kitchen. Let out your day's stress.

Mix the crushed Oreos with the rice krispies in a large bowl. Empty the marshmallow mixture into the bowl, and combine everything together. I found it easiest to use two wooden spoons for this step.

Pour the mixture into the prepared baking dish. Cut a piece of parchment paper about the size of the baking dish, and use it to help you pack the mixture into a solid block. You can also use a greased spatula. Add sprinkles on top if you like.

Let the rice krispies set for another 30 minutes and cut them into squares.

Store them in an airtight container in room temperature for a few days. Enjoy!
Notes
*I used reduced fat Oreos because I think they're slightly crunchier than regular Oreos.
Did you make this recipe?
Tag @hellolisalin or leave a star rating and comment on the blog!
Did you enjoy rice krispies as a kid?