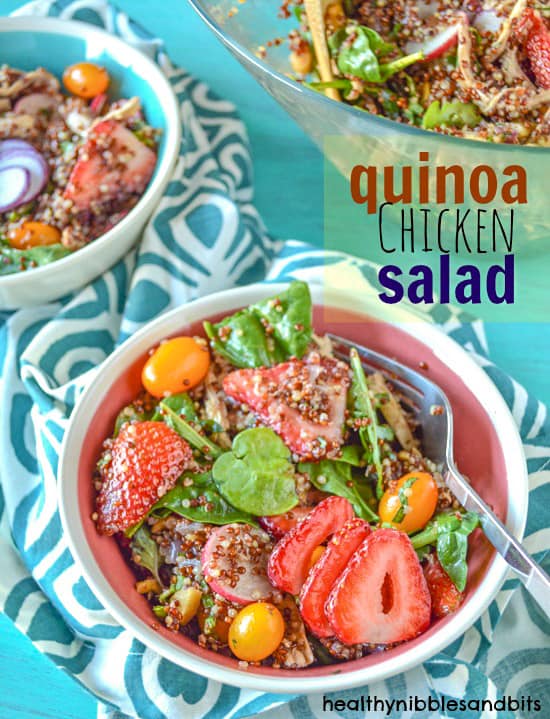 I may be harping on this a lot lately, but I am absolutely loving the summertime fruits and vegetables that are popping up in my farmers market. That place is quite dangerous for me because I sample relentlessly and buy nearly everything that I try. At the end of every trip, I leave with at least 2 big bags of produce, no cash, and a big smile on my face. I'm not even exaggerating.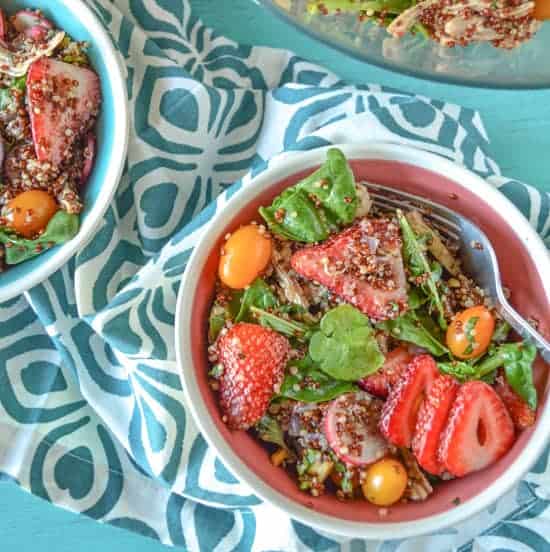 Whenever the weather gets warmer I crave food that is a bit more refreshing to the palette. Big salads are going to be on heavy rotation for the next few months.
Over the weekend, I made a main-dish salad using summer ingredients. California Walnuts is hosting a Virtual Salad Party, where food bloggers cook and review recipes by three featured chefs. For my selection, I chose a quinoa-chicken salad with toasted walnuts, grapes, and arugula recipe by Aida Mollenkamp. I made several adjustments to the original recipe. Grapes aren't in season here yet, so I added strawberries and yellow plum tomatoes to give sweetness to the salad. The recipe also called for chopped celery, but I prefer sliced radishes for extra crunch in my salads. I also incorporated freshly chopped basil and mixed arugula with baby spinach. I simply didn't feel like eating too many bitter greens this time.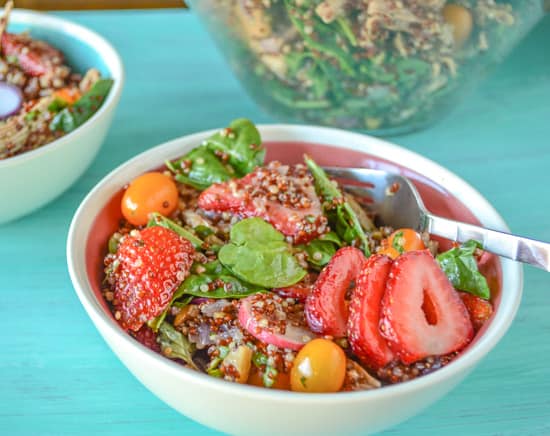 I absolutely loved the taste of this salad. Although the flavors were quite simple, I found that the balsamic vinegar and fresh basil complimented each other very well. I also enjoyed the different textures of the ingredients in the salad.
Oh, and did I mentioned the chopped toasted walnuts? Recently, I have been adding chopped toasted walnuts to everything—on top of salads, oatmeal, or breakfast yogurt. Toasting the walnuts brings out more nutty flavors and removes some of that filmy and bitter aftertaste that I find when eating raw walnuts. Try adding some toasted chopped walnuts to your next salad. You won't regret it, I promise!
Quinoa Chicken Salad
Packed with fruits and vegetables, this simple quinoa chicken salad is filled with the best flavors of summer. Perfect as a main or side dish!
Ingredients
1

cup

(125g) walnut halves

1

pound

(454g) chicken breasts

4

cups

(946ml) water

1

tsp

salt

5

TBS

olive oil

,

divided

1

medium red onion

,

diced

1 1/2

cups

(270g) uncooked quinoa

,

rinsed

2 1/2

cups

(590ml) chicken stock

2

cups

(330g) strawberries

,

sliced

1

cup

(100g) radishes

,

sliced

1

cup

(100g) yellow grape tomatoes

3

sprigs fresh basil

,

leaves finely chopped

5

TBS

balsamic vinegar

2

cups

arugula

,

about 2 large handfuls

2

cups

baby spinach

,

2 about large handfuls

freshly ground black pepper
Instructions
Preheat the oven to 350ºF (~177ºC). Line a baking sheet with parchment paper or a silicone mat. Pour the walnuts onto the baking sheet and spread it to a single layer. Bake for 10-12 minutes. When the walnuts are cool enough to handle, chop them.

Prepare the quinoa. Heat 3 tablespoons of olive oil in a large sauté pan over medium-high heat. Once the pan is heated, pour the onions into the pan and stir. When the onions turn translucent (about 2-3 minutes), add the quinoa and stir.

Once the quinoa starts popping in the sauté pan (about 2 minutes), add the chicken broth and a pinch of salt. Let the quinoa cook uncovered for about 12 to 15 minutes so that it turns al dente.

Once it is cooked, spread the quinoa onto a baking sheet or baking pan to cool. I poured the quinoa in a 9×13-inch baking pan and stuck it in the freezer for 15 minutes speed up the cooling.

While the quinoa is cooking, prepare the chicken. Place the chicken and salt in a medium saucepan and fill it with the water, making sure there is enough to cover the chicken completely. Bring the water to boil over medium-high heat. Once the water boils, simmer at medium heat for about 15-20 minutes. Cut the chicken to make sure it is cooked through, and set it aside. When it is cool enough to handle, shred the chicken by pulling it apart with your hands. Mix the chicken with 1 tablespoon of olive oil.

In a large bowl, mix the chicken, quinoa, chopped walnuts, balsamic vinegar, a tablespoon of olive oil, and basil together. Fold in the strawberries, radishes, arugula, and baby spinach. Serve with a bit of freshly ground black pepper.

Refrigerate any leftovers in an airtight container.
Did you make this recipe?
Tag @hellolisalin or leave a star rating and comment on the blog!