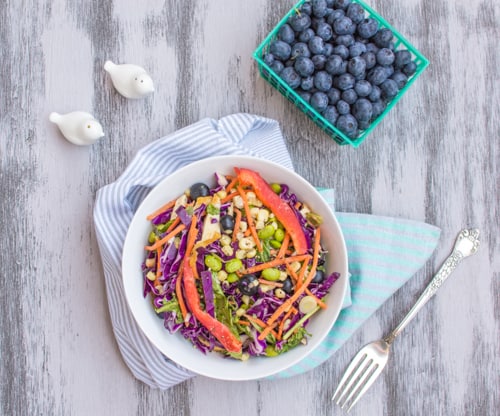 Corn, corn, corn. I'm loving all the fresh corn on the cob that I'm seeing everywhere. The trouble is, cooking with fresh corn kernels is a messy affair.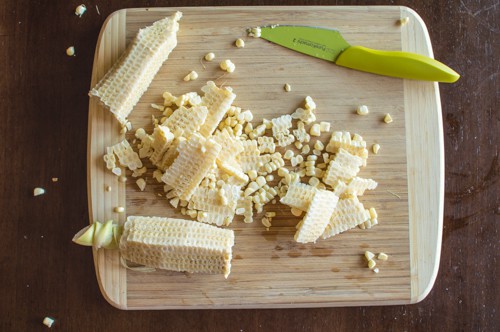 I like snapping the ear of corn in half before running it through with a paring knife. Then, the fun begins.
I try my best to contain the madness of flying corn kernels when I'm cutting corn from the cob, yet there's always a few stubborn kernels that like to run away. See photo above. Most of the time, they end up on my kitchen floor, and I won't notice until I have stepped on them. Oops.
But the taste and texture of fresh corn is beyond compare. Fresh corn > frozen corn. Don't try to convince me otherwise.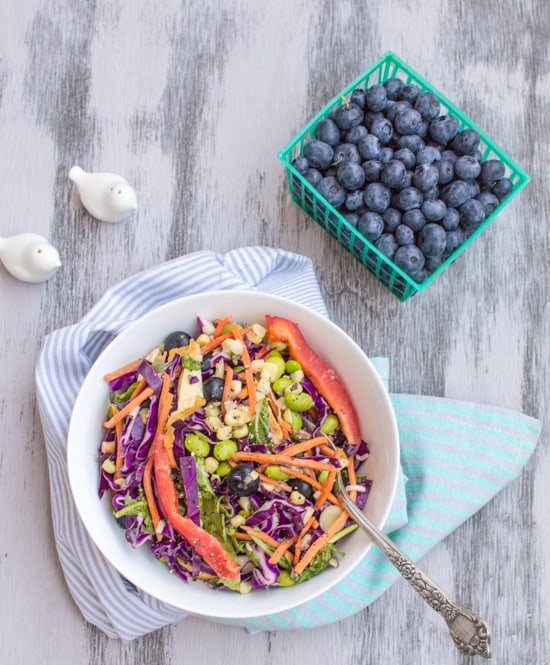 It was my niece's birthday yesterday (oh my gosh, she's 11 already!), and my sister hosted a family dinner at her house. I don't know about you, but my family gatherings are ALL ABOUT FOOD. Dumplings, chicken, vegetables, chow mein, Chinese-style barbecue, you name it. My mother always insists on preparing more food than we ever need. We're talking at least 10 dishes on the table before she's satisfied.
There's never a formal "dinner" time in my family. Right when I walk into the house, there will be some sort of finger food ready to eat. My mother would think something is wrong if I didn't grab something and shove it into my mouth within 10 minutes. I suppose many mothers are the same way.
In anticipation of a heavy night of eating, I decided to make a light rainbow salad for lunch. I might as well get my 5 servings of fruits and vegetables in one meal!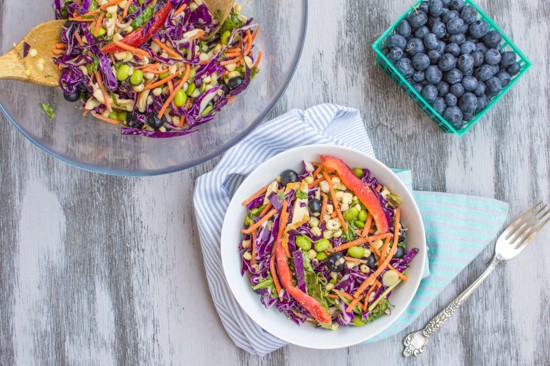 I decided to toss the salad in a light peanut vinaigrette, which is inspired by the Asian Style Spicy Peanut Vinaigrette at Trader Joe's. I love the nutty notes that the vinaigrette added to the salad!
Rainbow Salad with Peanut Vinaigrette
Ingredients
Rainbow Salad
1 1/4

cups

(140g) fresh white corn kernels (on ear of corn)

1

cup

(130g) frozen shelled edamame

3

cups

(220g) shredded red cabbage

2

cups

(95g) shredded carrots

1

cup

(140g) blueberries

2

cups

(75g) mixed greens

1/2

large red pepper

,

sliced

1/2

pound

(227g) chicken breast, shredded

1

green onion

,

finely chopped
Peanut Vinaigrette
1 1/2

TBS

creamy peanut butter

5

tsp

rice vinegar

5

tsp

water

1/2

tsp

sesame oil

2

tsp

honey

1/2

tsp

onion powder

1/2

tsp

garlic powder

pinch

of salt

pinch

of cayenne pepper
Instructions
Place the corn in a microwave-safe bowl with a tiny pinch of salt. Cook it in the microwave for 45 seconds. Stir the corn and continue cooking it at 30-second increments until the corn starts to turn yellow.

Place the edamame in a microwave-safe bowl and cook for 1 minute. Stir the edamame and cook the edamame at 30-second intervals until they are thoroughly warm. Let the corn and edamame cool for 5 minutes before mixing it in the salad.

Mix all the ingredients for the rainbow salad in a large bowl.

In a small bowl, mix all the peanut vinaigrette ingredients together. Pour it into the salad and mix well.

Refrigerate any leftovers in an airtight container. Enjoy!
Did you make this recipe?
Tag @hellolisalin or leave a star rating and comment on the blog!