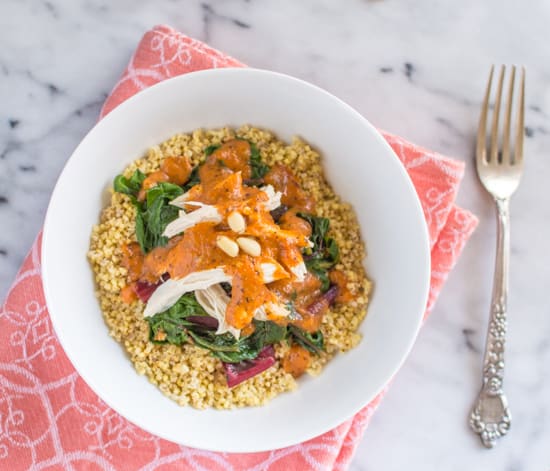 I've been feeling a bit saucy lately. Well, with my food at least. At the moment, my snack of choice is a nice piece of toasted bread with 3 different types of spreads slathered on top. Every bite of that toast is a flavor explosion. Of course, this latest obsession with sauced-up toast has carried over to my dinner.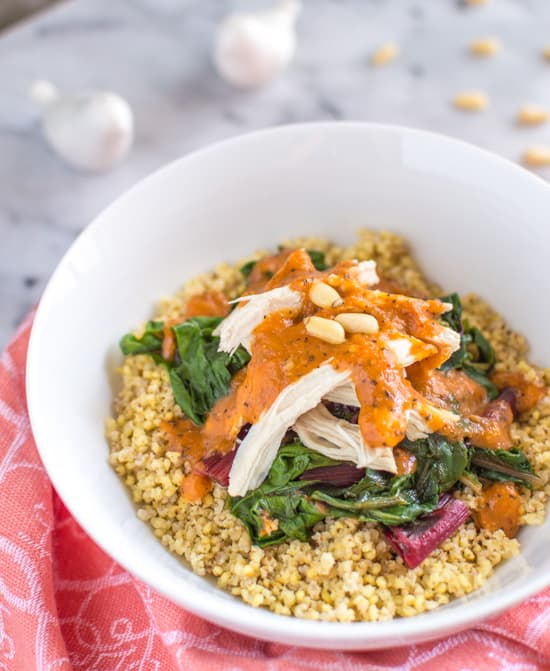 I must admit, I've never actually made a successful roasted red pepper sauce from scratch before. In the past, I used jarred roasted red peppers to make sauces. I don't know if it's just me, but I always detect a weird bitter taste with store-bought roasted red peppers. I've powered through many different brands, and the results were always the same. Does anyone have the same problem?
Then, I tried broiling red peppers from my oven, only to discover that I don't actually know how to operate the broiler properly. In my apartment, I have one of those cheap electric stoves with weird hot spots throughout the oven. Let me tell ya, those electric burners are the bane of my existence, especially when I'm trying to carry on with my food blogging duties. But we all make do with what we've got, right?
I found a recipe on Minimalist Baker for a Roasted Red Pepper Sauce that looked fabulous, so I thought I'd give it a whirl. Instead of broiling red peppers (a big challenge for me), the recipe suggested roasting them at 500 degrees F (260 degrees C) for 25 to 30 minutes. Roasting the peppers at such a high temperature brought a beautiful char to them. Guess I won't need to tackle broiling in my oven—yet.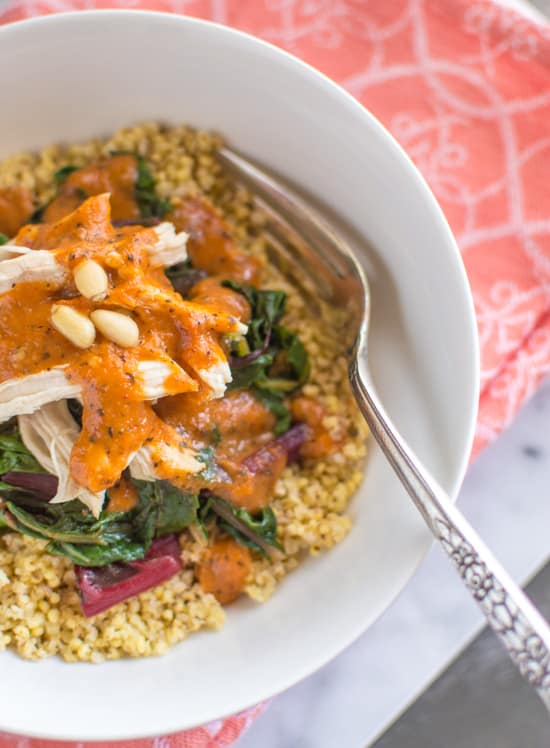 In other news, I managed to drag my legs through a 9-mile run this weekend! By far my longest run yet. I felt excellent after the first mile, but when I got to mile 7, I WAS DYING. My left calf muscle was tightening, and I felt like I was putting too much pressure on my right knee. The little engine that could? That was me Somehow, I managed to maintain a pace of under 10 minutes per mile even after I threw in some hill work. For the actual half-marathon, my goal is to average under 11 minutes/mile. All I need to do now is to trick my mind into thinking that I can do it!
And yes, there were copious amounts of chocolate consumption that night. I've got to treat myself after reaching these mini goals!
Roasted Red Pepper Millet Bowl
Ingredients
Roasted Red Pepper Sauce
2

large red peppers

2

TBS

olive oil

1/2

large red onion

,

sliced

4

cloves

of garlic

,

minced or pressed

1 1/2

cups

(355ml) almond milk

1 1/2

TBS

cornstarch

1

TBS

dried basil

1

TBS

dried oregano

2 1/2

tsp

sea salt

,

add more to taste

1/3

cup

(~40g) shredded Gruyère cheese

1

tsp

cayenne pepper

,

optional
Millet
1

cup

millet

2

cups

water

pinch

of salt
Swiss Chard
1

bunch of swiss chard (~1 lb/450g)

,

rinsed and roughly chopped

1/2

red onion

,

sliced

1 1/2

TBS

olive oil
Other Toppings
1

lb/450g

cooked chicken breast

,

shredded

pine seeds for garnish

,

optional
Instructions
Preheat the oven to 500 degrees F (260 degrees C). Line a baking sheet with foil. Rinse the red peppers and dry them with a towel. Bake the red peppers for 22-25 minutes, or until the outer skin is charred.

As the peppers are roasting, cook the millet. Toast the millet in a saucepan for 4-5 minutes over medium-high heat. When you start to hear popping, turn down the heat a little, and stir the millet constantly so that it doesn't burn.

Pour in the two cups of water and a pinch of salt, and bring the water to boil. When the water is nearly evaporated, cover the saucepan with a lid, turn down the heat to medium-low, and let the millet continue cooking until the water is completely evaporated. This should take a few more minutes. Turn off the heat and leave the saucepan covered until you are ready to serve it.

When the peppers are done roasting, cover the peppers with foil for 10 minutes to let it set. When the peppers are cool enough to handle, remove the outer skin, the stem, and the seeds.

Sauté the onions over a small skillet with 2 tablespoons of olive oil. When the onions start to brown, add the minced garlic, and let them cook until the onions start to turn translucent.

Blend all the ingredients for the sauce together, except for the last two. Thicken the sauce by pouring it into a saucepan and heating it on medium-low heat. When the sauce starts to bubble, mix in the Gruyère and cayenne pepper. Turn off the heat.

Heat a large sauté pan with 1 and 1/2 tablespoons of olive oil to cook the swiss chard. When the pan is hot, add the chopped swiss chard and cook covered for a few minutes.

Serve the dish by mixing some of the millet, swiss chard, chicken, and the sauce together. Top with pine nuts for garnish.
Did you make this recipe?
Tag @hellolisalin or leave a star rating and comment on the blog!