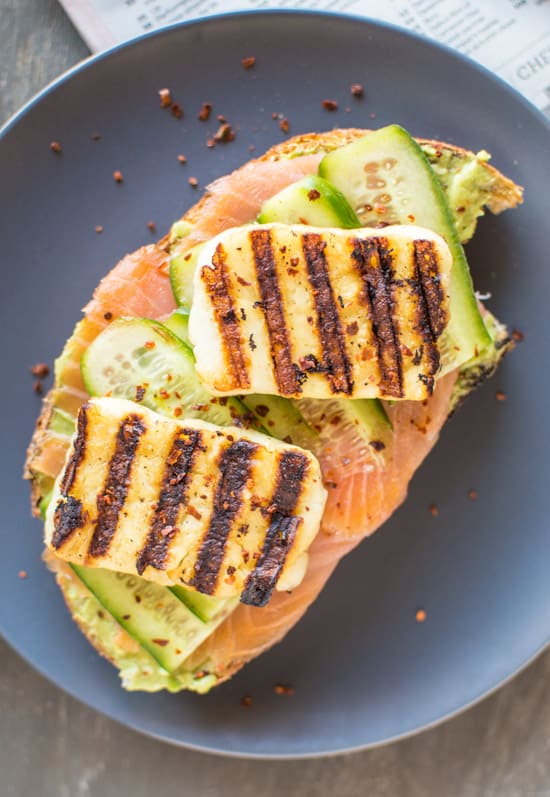 Rituals. We all have them. Some of us wake up at the crack of dawn to meditate. Some of us won't speak in the morning until we've had several sips of piping hot coffee. Others brush their hair 100 times before going to bed. Whatever it may be, we all do little things to keep us grounded.
I have a little weekend ritual: tea and puzzles. I roll over in the morning, bundle up in my sweats, stumble to grab the Sunday paper, make a cup of tea, and prepare to be entertained for an hour.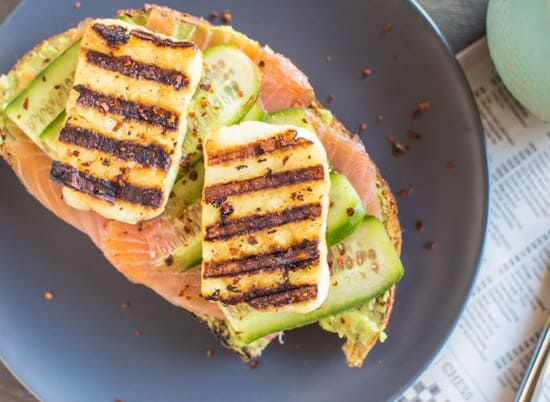 But before the puzzles comes the coupons. You may not know this, but I'm a huge coupon clipper. Back in the day, we got coupon booklets from big chain supermarkets like Safeway in the mail every month. You won't believe how excited I got when those booklets arrived. I'd spend 30 minutes pouring over that 40-something page booklet, circling and clipping coupons that looked good for the family. Then, I waved those coupons in Mama Lin's face, telling her that she needed to buy paper towels that month so she could save $3 on a 6-pack.
It's tough to break old habits. To this day, I still pour over pages of coupons in the Sunday paper just to find that 55-cent savings on my next bag of nuts.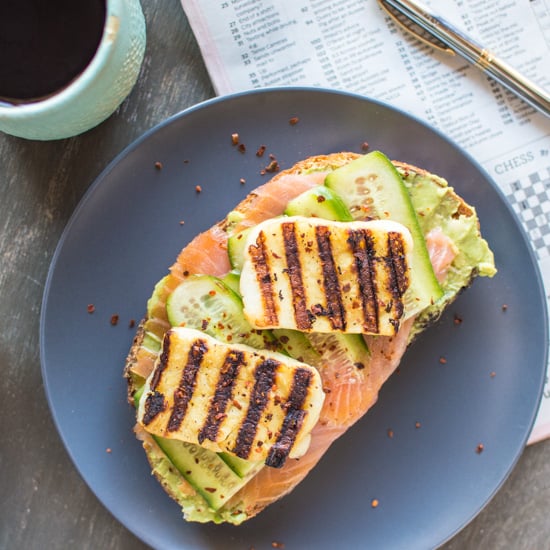 After the coupons come the puzzles. Crosswords, jumble, sudoku, cryptograms—anything that involves filling in blank spaces, I'm on it. To sustain my energy for this hour-long puzzle bonanza, I need a good, hearty breakfast. Nothing says a hearty breakfast like smoked salmon with grilled halloumi and a rich smattering of avocado on sourdough toast. Am I right?
Truth be told, I was a late boomer to smoked salmon. The soft texture threw me off for the longest time. But a few years ago, I had it on some toast with eggs, and it awakened my senses to the beauty that is smoked salmon. Now, I can't get enough of it.
Boy, did this toast nourish my brain cells while I was working on my puzzles last Sunday!
Smoked Salmon and Grilled Halloumi Avocado Toast
Ingredients
4

half-inch slices of halloumi

1

tsp

olive oil

2

slices

of sourdough bread

1

small avocado

dukkah

,

optional

3

oz

smoked salmon

1

persian cucumber

,

thinly sliced and cut in half

aleppo pepper or red pepper flakes

,

optional
Instructions
Using a brush, spread the olive oil on all sides of the halloumi. One teaspoon of olive oil should be enough. Heat a grill pan over medium-high heat. Once the pan is hot, lay all 4 slices of halloumi on the pan. Grill the first side for about 3 minutes, then flip it over and grill the other side for 2 minutes. Remove from heat.

Toast the bread. Mash the avocado, and spread half of the mix on each slice of bread. Sprinkle some dukkah on the avocado if you like.

Layer half of smoked salmon on each slice. Then, layer the sliced cucumber and grilled halloumi on top. Sprinkle pepper flakes if you want some spice.

Best served immediately!
Did you make this recipe?
Tag @hellolisalin or leave a star rating and comment on the blog!
Looking for more fancy toast ideas?