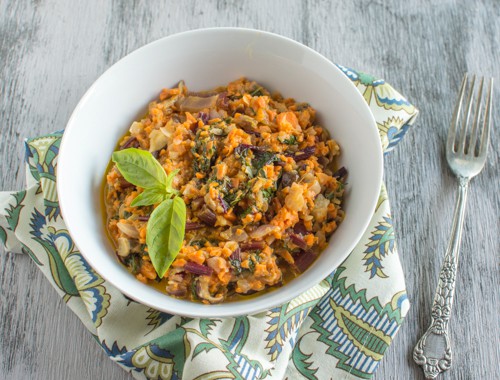 Since I was young, my mother occasionally cooked stir fries and added some sliced pieces of "vegetable fruit" in the dish. It sounds like a bit of an oxymoron, right? I mean, how can something be a vegetable and a fruit at the same time? I suppose some people may argue that tomatoes are both a vegetable and a fruit, but I don't know where I stand in the debate.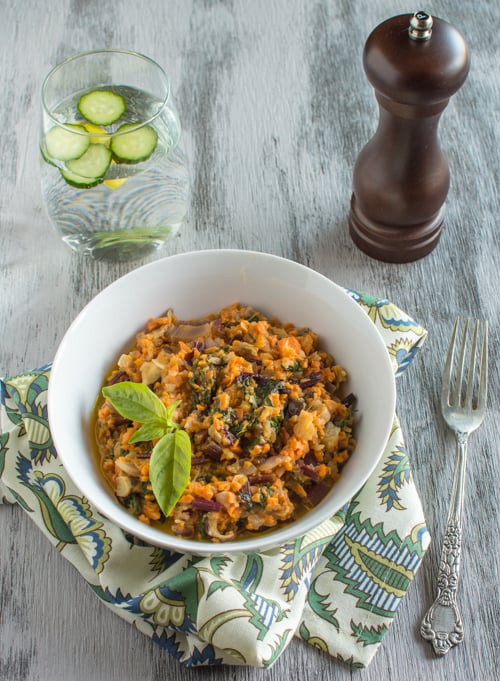 For the longest time, I never knew the English word for this "vegetable fruit." Come to think of it, there are still many varieties of vegetables and fish that I only know how to say in Cantonese. Isn't that funny?
It wasn't until I was taking a stroll in a farmers market when I saw those funny green globes with stems growing out of it and realized, "vegetable fruits" = kohlrabi! Well, I didn't know how to pronounce the word the first time I saw it, mind you, but I got around to that eventually.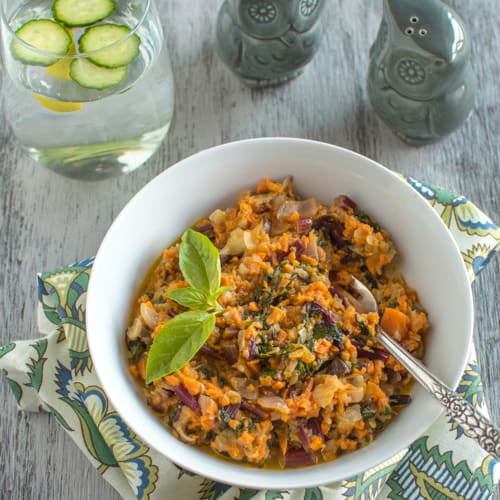 If you remember my post on radish greens, you'll know that I try to be resourceful with the vegetables I get at the farmers market. Often times, bunches of beets are sold with their greens attached, and I often get the question from family and friends about how to prepare beet greens. My default answer is always to treat beet greens like swiss chard. Anything you can think to include swiss chard in, beet greens should work also. For this dish, I decided to use the greens from a handsome bunch of beets, chopped it up, and mixed it into the risotto for an extra dose of vegetables.
Sweet Potato & Kohlrabi Risotto
Ingredients
1

very large sweet potato

,

~21oz/600g

2

medium kohlrabi

,

15.5oz/430g

2

TBS

olive oil

1/2

large yellow onion

,

chopped

4

cloves

garlic

,

minced or pressed

1/4

cup

60ml dry white wine (Pinot gris, Pinot grigio, or Sauvignon blanc works well)

1 1/4

cups

(300ml) vegetable stock

1 1/2

tsp

salt

10.5

oz/300g

beet greens

,

rinsed

4

oz/115g

mushrooms

,

rinsed and sliced

6

large basil leaves

,

chopped

1/2

cup

(56g) shredded mozzarella cheese (or substitute with vegan cheese)

1/2

cup

(56g) shredded parmesan cheese (or substitute with vegan cheese)

freshly ground pepper

,

optional
Instructions
Peel the sweet potato and chop into small cubes. Pulse the sweet potato in a food processor until it turns into tiny bits (just like rice). Pour the chopped bits into a medium bowl.

Peel the tough exterior of the kohlrabi and chop it into small cubes. Pulse the kohlrabi in the food processor until it turns into tiny bits as well.

Cut off the stems from the beet greens, and chop the stems and the leaves separately. I like to separate the leaves from the stems because I cook the stems longer.

Heat the olive oil in a large skillet over medium-high heat. When the pan is hot, add the onions and stir until the they start to turn translucent. Add the garlic and stir for a minute.

Add in the sweet potatoes and kohlrabi "rice" into the skillet. Sauté for about 2-3 minutes and add the white wine. Once the wine starts absorbing, add the vegetable stock and salt. Reduce the heat to medium-low, and stir in the stalks of the beet greens.

When the stock starts to boil, stir in the beet green leaves, mushrooms, and chopped basil. Let everything cook for another 3-4 minutes, or until the beet greens start to wilt, and the mushrooms have shrunken.

Turn off the heat and mix in the shredded cheeses. Serve with some ground pepper.

Refrigerate leftovers in an air-tight container.
Notes
If you don't have any wine around the house, just substitute the wine with more vegetable stock.
Did you make this recipe?
Tag @hellolisalin or leave a star rating and comment on the blog!