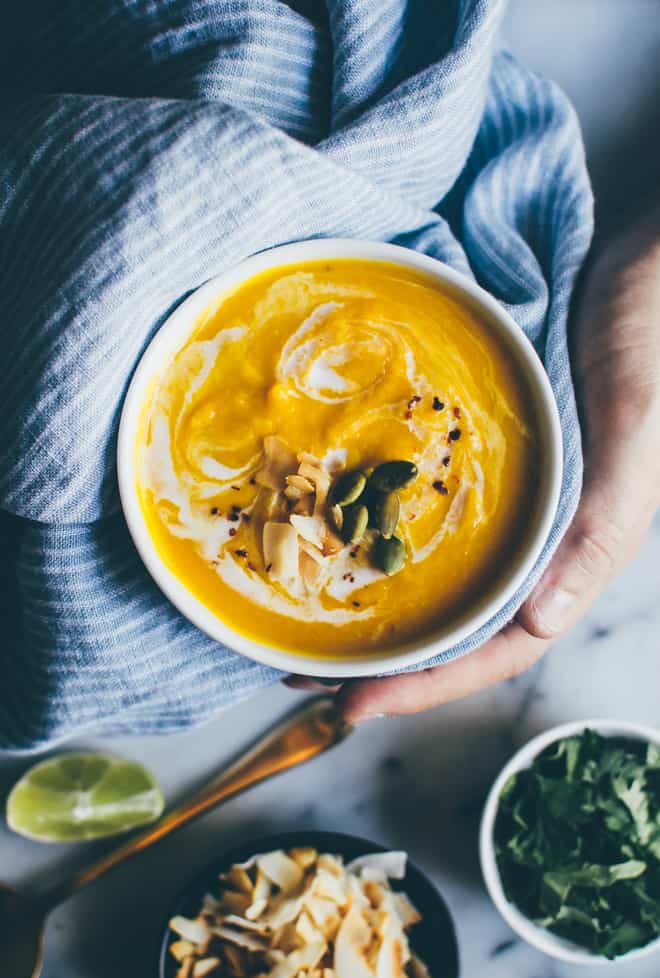 A big thanks to The Soyfoods Council for sponsoring this Thai Spiced Butternut Squash Soup post! I was asked to participate in the #soyinspired campaign as a member of the Healthy Aperture Blogger Network. 
For the past few days, I've been huddled underneath my crocheted blanket, surrounded by a sea of crumpled tissues and empty mugs. You would think that it's the middle of winter here. Alas, it still feels like summer in Sacramento with climes in the mid-80s. It's just that time of the year again when my immune system breaks down and I start becoming susceptible to all kinds of germs and bugs. Ick.
Being sidelined over the weekend, I had plenty of time to map out all the blog/life things I need to accomplish over the next few months. Holy tamales, it dawned on me that the year is almost over, and I'm going to have to start planning for the holidays before I know it. I need to start testing recipes for those big gatherings!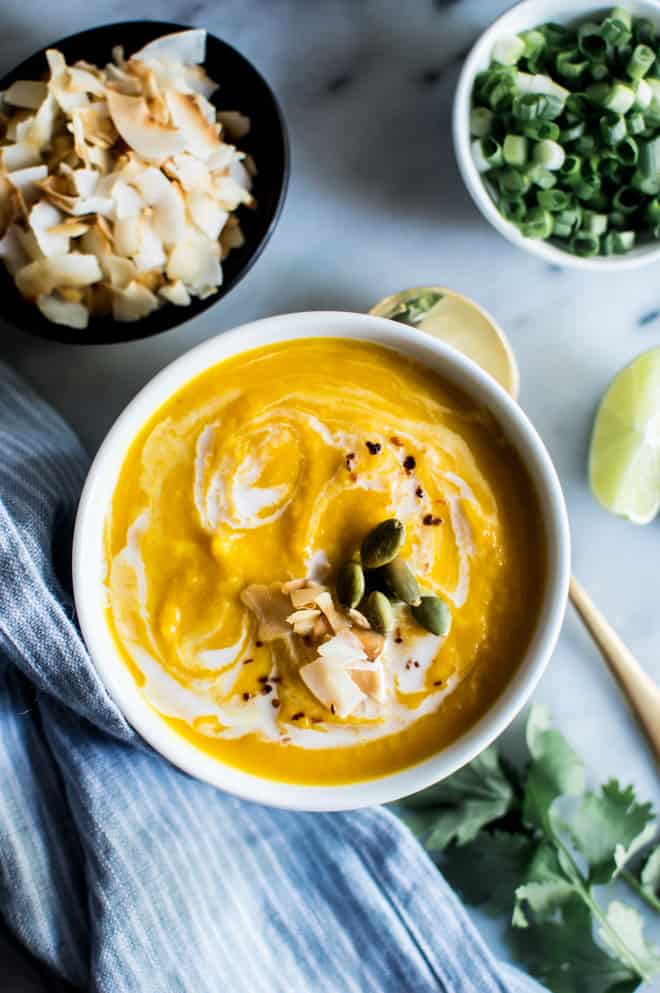 That's where this soup comes in. The spicy and sour Thai flavors may be unexpected in a butternut squash soup, but they work so well here. I added plain soy milk here to give the soup more creaminess and protein. Whenever I make vegan soups like this one, I love using soy milk to add creaminess to the dish. The flavor of soy milk is very neutral, so it is great for a variety of soups.
This soup was the perfect comfort food for me this weekend, and I can imagine my friends lapping it up when I make it for our gatherings. If you're serving the soup for a group, you can also set up a toppings bar (similar to the one below) so that your guests can mix in whatever add-ins they want.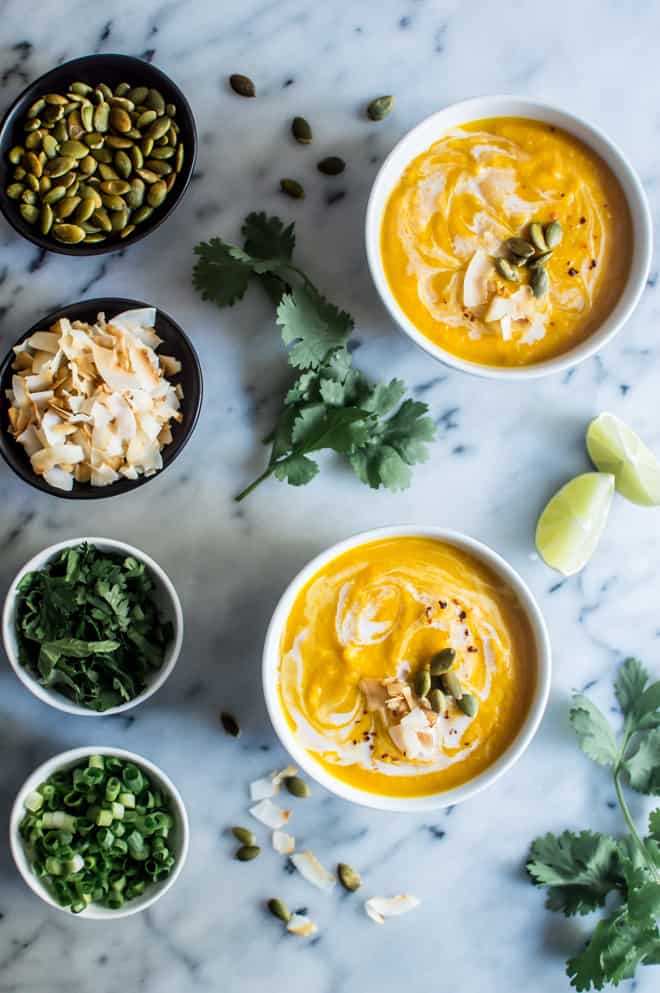 For this soup, I recommend buying a squash that's about 3 pounds in weight. You'll end up with a bit of extra butternut squash flesh, and that's exactly what we want for a cookie recipe that I'll be sharing later this week!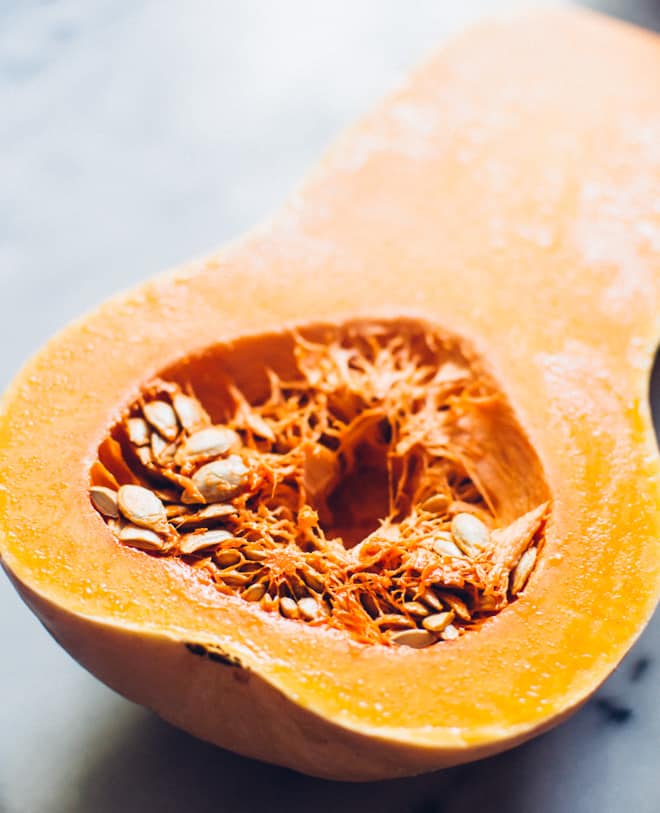 MASTER MY MISTAKES + COOKING NOTES
Cutting Butternut Squash: Hacking into a butternut squash can be tricky, especially if you are trying to seesaw your way through the squash with a dull knife. I've done that so many times in the past, and I was always afraid of losing a finger along the way. Using a good sharp knife makes a huge difference. Just chop off a bit of the top, stand the squash upright, and cut the squash down the middle.
Thick or Thin Soup: This recipe makes a pretty thick and creamy soup. I've tried another version using 3 1/2 cups of vegetable broth, and the soup was much thinner. You may need to add a bit more salt if you cook with more broth.
Think You Can Handle the Heat? Use 3 Thai chilis instead of 2 and puree it with the rest of the soup.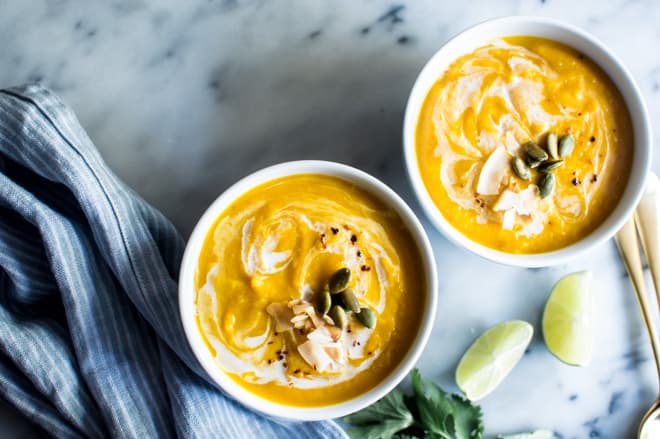 KITCHEN TIP: HOW TO PEEL & CUT BUTTERNUT SQUASH
Lisa Lin
Thai-Spiced Butternut Squash Soup
This spicy and sour Thai-Spiced Butternut Squash Soup is a great easy vegan appetizer! Serves 4.
5 minPrep Time
20 minCook Time
25 minTotal Time
Ingredients
2 TBS olive oil
2 Thai chilis, sliced in half lengthwise
1 small onion (about 130g), diced
3 cloves garlic, sliced
1 TBS peeled grated ginger
3 stalks lemongrass
3 cups (660g) cooked butternut squash flesh*
2 1/2 cups vegetable broth
1 cup plain soy milk
salt to taste (I used about 1 1/2 teaspoons)
1 teaspoon turmeric (optional)
juice of one lime (about 2 tablespoons)

Optional Toppings

coconut milk
toasted coconut
toasted pumpkin seeds
chopped cilantro
chopped green onions
Instructions
Peel the outer leaves of the lemongrass stalk until you get to the tender center. Slice the lemongrass thinly. Set aside.
Heat the oil in a heavy-bottomed pot over medium-low heat. Add the onions and garlic and let them cook for about 4 minutes, until the onions turn translucent. Make sure that the heat isn't too high so that the onions and garlic don't burn. Add the ginger and lemongrass and cook for another minute.
Add the vegetable broth, Bring heat up to a medium-high. Once the stock to boils, add butternut squash, soy milk, salt and turmeric (if you're using it), and bring soup to boil again. Add lime juice and give everything a good stir. Turn off the heat.
Using an immersion blender, blend the soup until smooth. Alternatively, you can scoop everything into a blender and blitz until smooth.
Serve soup with coconut milk, toasted coconut, pumpkin seeds, cilantro, and green onions if you like.
Notes
Roasting Butternut Squash: For this soup, you're going to want pick a squash that is about 3 pounds. Cut the squash in half, dig out the seeds, and rub 1/2 tablespoon of olive oil onto each half. Bake at 350 degrees F (175 degrees C) for 45 to 55 minutes, or until the squash is easily pierced with a fork. Scoop out the butternut squash flesh for the soup. You'll end up with a bit more squash than you need for the soup. Save the remainder for the a gluten-free butternut squash cookie recipe that's coming soon!
7.6.4
495
https://healthynibblesandbits.com/thai-spiced-creamy-butternut-squash-soup/