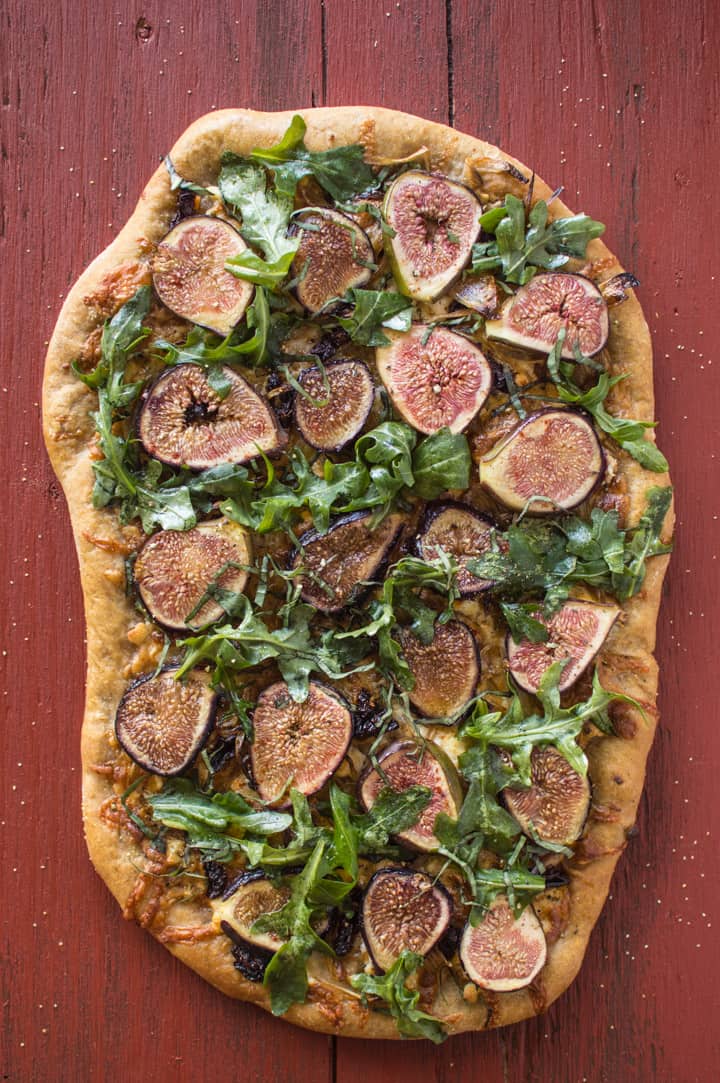 There's so many things that I wish I could do better in the kitchen.
I wish I could:
bake a 3-layer cake, garnished with the prettiest rosettes;
brew my own kombucha;
cook a decent meal without turning the kitchen into a pig sty;
fashion the soupiest, most slurp-worthy Shanghai dumplings from scratch; and
roll out an even pizza dough.
I won't sugar coat this—I suck at shaping thin crust pizza dough with my hands. There's no denying it. I try to give the dough nothing but TLC, yet this is what always happens: I end up with dough that's way too thick on the edges and thin spots all over the center. Quite frankly, it usually looks more like I'm making focaccia instead of a pizza.
Well, I tried a new trick this time that worked like a charm. I used a rolling pin.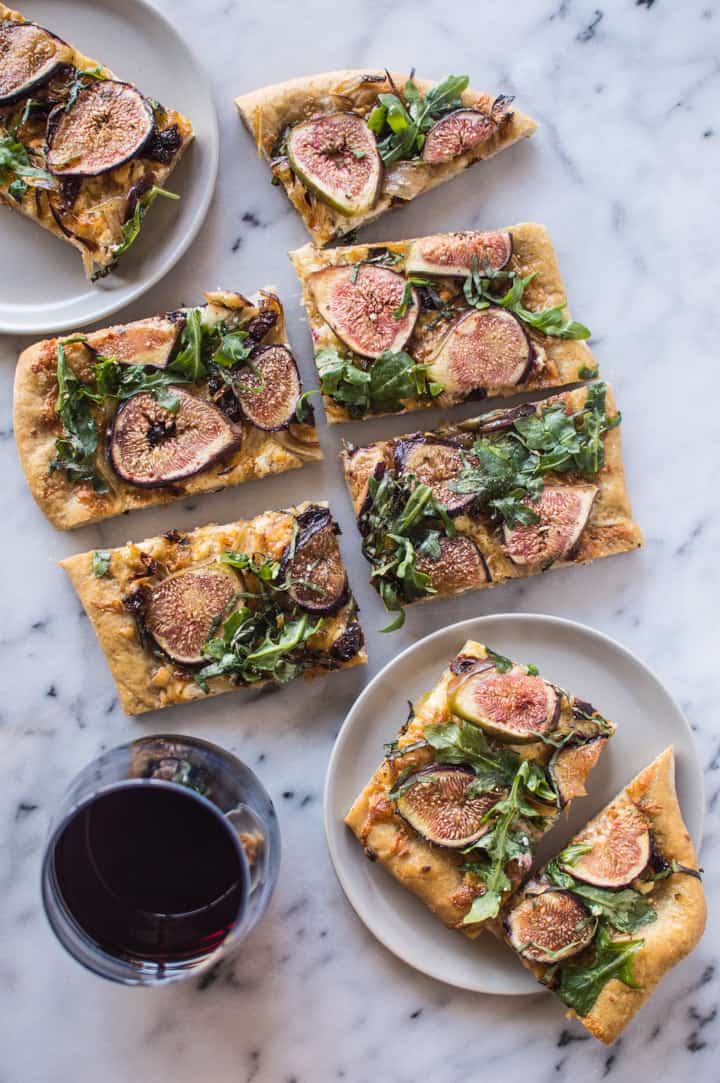 I know more seasoned pizza makers would frown upon my ways, but it definitely works! I didn't have to worry about the dough ripping in the center, and the crust was evenly thin. I'm just shocked that I didn't think of this method sooner!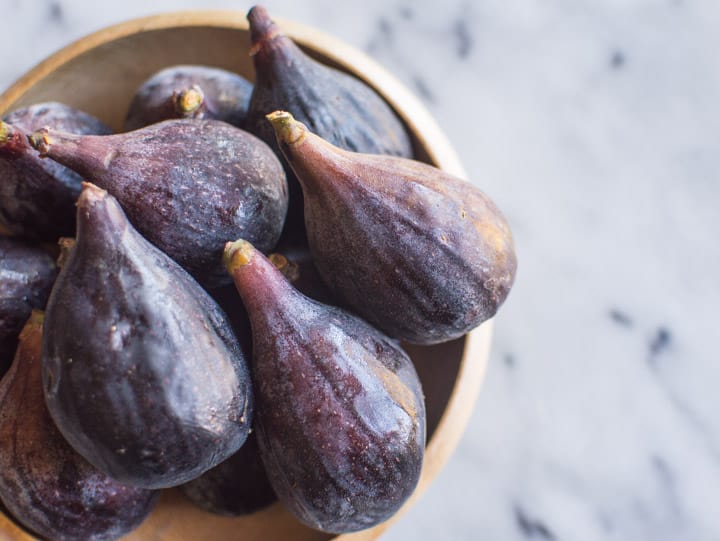 One of my favorite summer fruits are fresh figs. I started seeing them at the farmers market a few weekends ago and my mind immediately turned to making a fig and cheese pizza. Perhaps I was craving something cheesy. Maybe my body yearned for more carbs. Or maybe, just maybe, I'm trying to get my carb and cheese fix before starting the Whole30 next month.
And oh my gosh, is that really happening?? Please send your good vibes my way!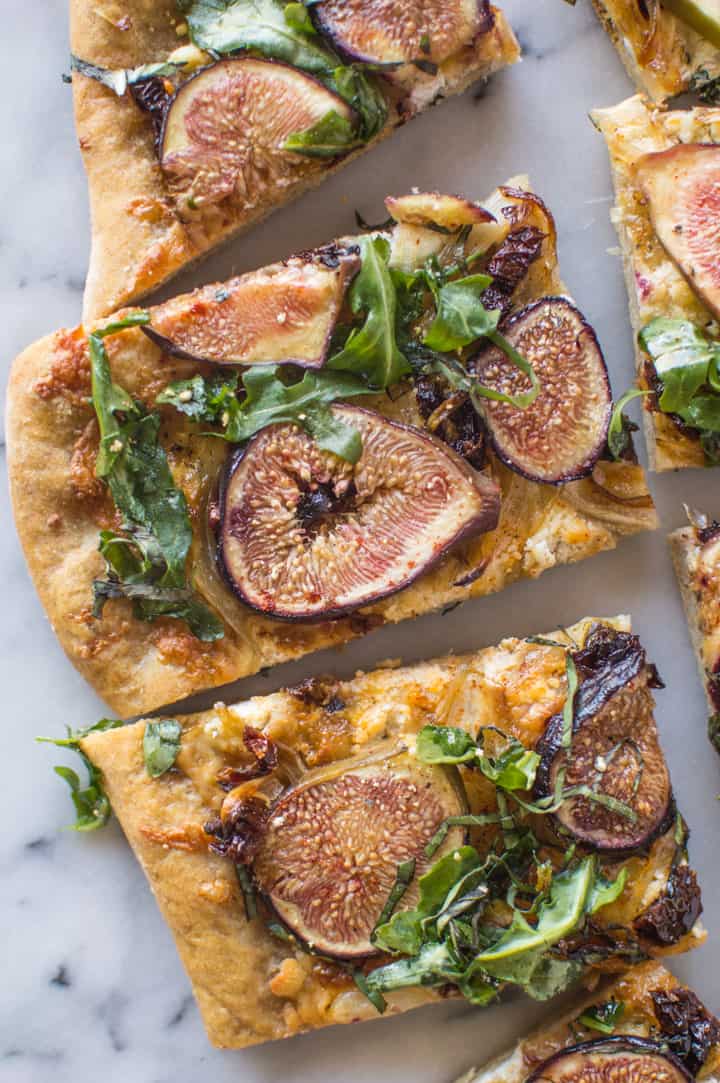 Print
Three Cheese Fig and Onion Pizza
A thin crust pizza that's packed with three cheeses, sautéed onions, fresh figs, and arugula. It's great as an appetizer or dinner! Serves 2 to 4.
Author:
Prep Time:

45 minutes

Cook Time:

25 minutes

Total Time:

1 hour 10 minutes

Category:

appetizer, vegetarian
1

bag of store-bought raw pizza dough

1 1/2

TBS olive oil

1

small yellow onion, thinly sliced

1/3 cup

grated mozzarella cheese

1/3 cup

grated white cheddar cheese

1/4 cup

crumbled goat cheese

4

figs, cut into

1/4

-inch slices

4

sun-dried tomatoes, thinly sliced

1/3 cup

arugula
smoked paprika (optional)
Instructions
Take the pizza dough out of the refrigerator, and let it sit in room temperature for at least 30 minutes. When the dough is warmer, start working it into a disc shape.
Preheat oven to 450 degrees F. Line a baking sheet with parchment paper or a silicone mat.
Heat olive oil in a pan over medium heat. When the pan is hot, add the onions and let it cook until it turns translucent, about 5 minutes. Turn off the heat.
Lightly flour a work surface and place the dough on top. Sprinkle more flour on the dough and flour your rolling pin. Roll out the dough until it is about 1/4 to 1/3 inch thick. It can be whatever shape you want. Drape some of the dough on the rolling pin and transfer to the lined baking sheet.
Sprinkle cheese, onions, and sun-dried tomatoes on top of the pizza dough. Bake pizza for 15 minutes. Take the pizza out of the oven and place the sliced figs on top. Sprinkle a pinch of paprika if you like. Bake for another 2 minutes.
Pull the pizza out the oven and top with arugula. Sprinkle paprika on top if you like.
Let pizza cool for 5 to 10 minutes before slicing. Refrigerate leftovers in an airtight container for 4 to 5 days. Reheat pizza by baking at 300 degrees F for 6 to 8 minutes.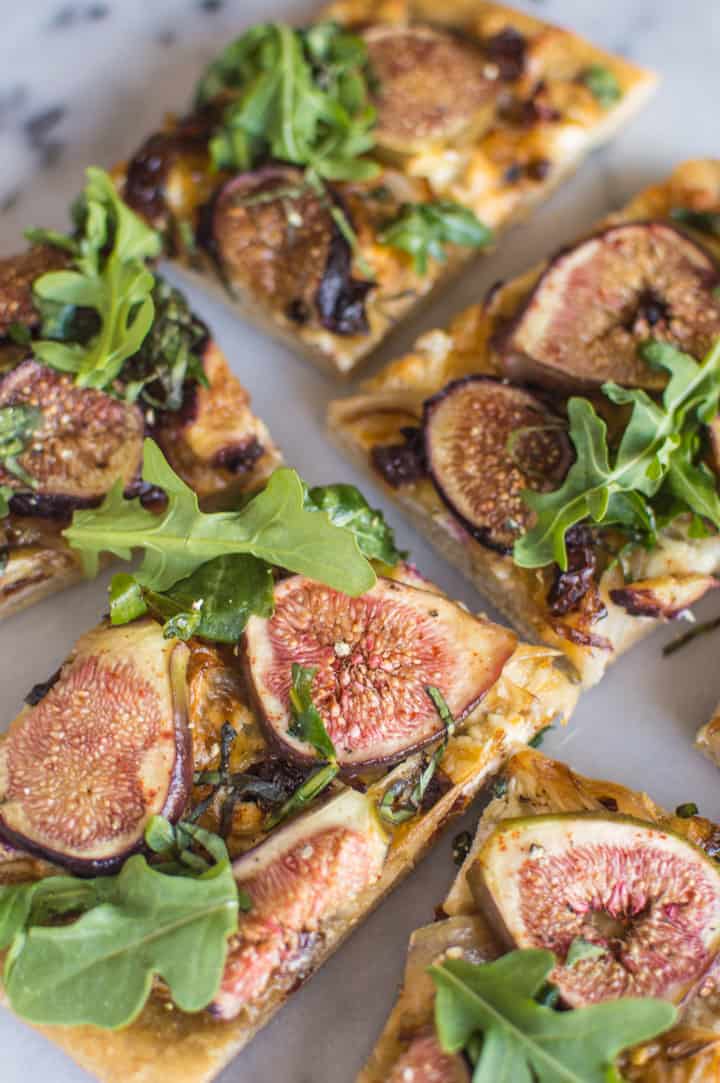 NOTE: This post contains affiliate links.