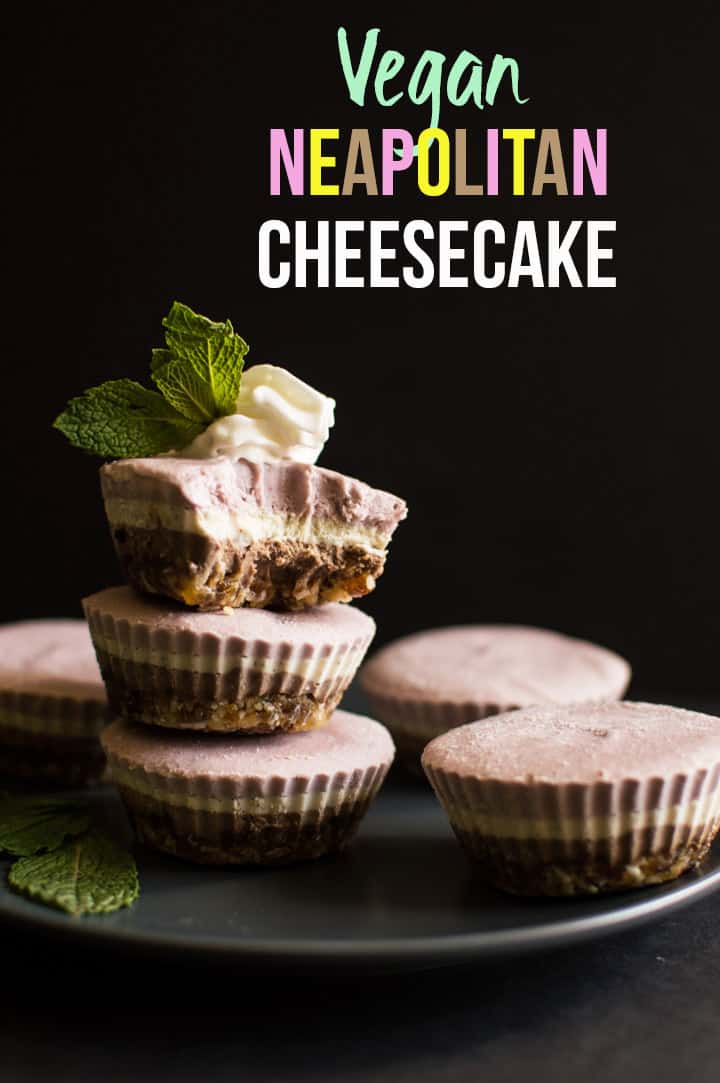 Every year, I crave Neapolitan ice cream. Sometimes, a Neapolitan ice cream sandwich is good enough. Other times, I just want to stick my spoon into a tub of that stuff. Here's the thing—I've developed a strategy for my Neapolitan ice cream consumption. Nothing complex, but I do have a method. First, I get my least favorite flavor out of the way. I can't believe I'm saying this, but it's the chocolate. Why is it always SO bitter? Then, I ease my way into vanilla to clear the palette. Finally, strawberry heaven.
I feel like everyone has a strategy too. You just don't realize it yet. Or maybe it's just me.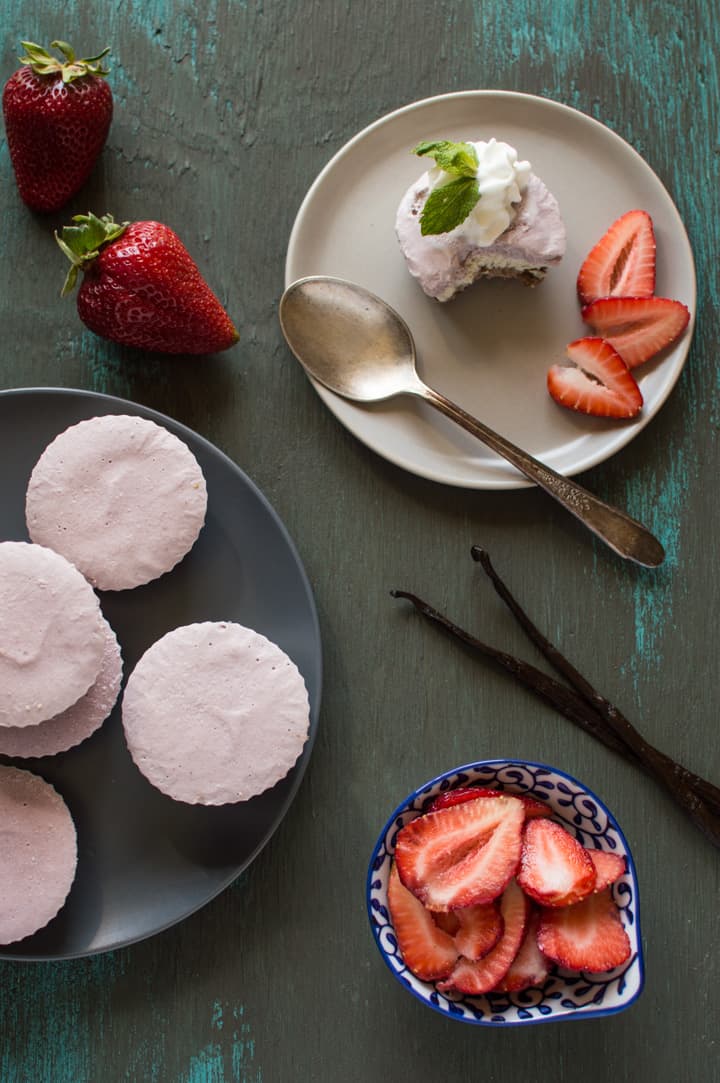 A few months ago, I was struck by this 7-ingredient vegan cheesecake from Minimalist Baker. Now, I'm no stranger to vegan cheesecakes, but I've never made one with cashew cream.
Cashew cream. Do you know about it? Have you played with it before? It does remarkable things in vegan cooking and can be used in place of cheese in many recipes. (See Veganosity's Vegan Spinach Lasagna.) Making it takes time. But it's nothing that we can't overcome together.
As I was experimenting the vegan cheesecakes, I thought, wouldn't it be great if I made a Neapolitan version of this? Yes, it is awesome, and it is easy.
First, we start with a crust base of blended medjool dates, walnuts, and coconut. If you don't care for dates, you can also try my graham cracker crust.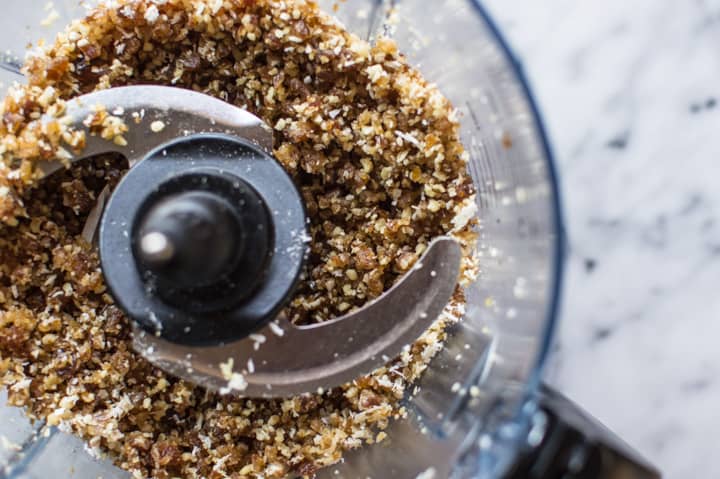 Next, we add the "cheesecake" layers, one at a time. You only need to freeze the cheesecakes for about 20 to 25 minutes before adding the next layer.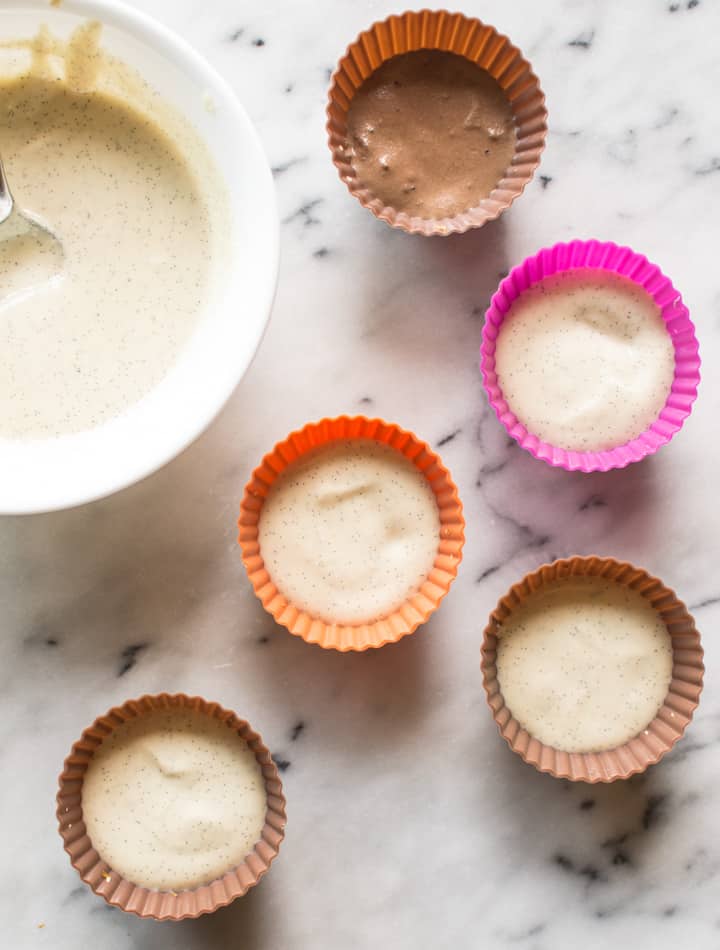 Give the cheesecakes about 3 to 4 more hours in the freezer, and they'll be good to go. Dana at Minimalist Baker used a muffin tin to make her cheesecakes, but I found it easier to use silicone muffin liners. When I made these in a muffin tin, my cheesecakes wouldn't budge, even when I used paper tabs like Dana did. It could be that my freezer is much to cold. With the silicone muffin liners, however, the cheesecakes came right off. You can also use paper liners, but make sure to insert the liners in a muffin tin so that the cheesecakes shape better. If you decide to use a muffin tin without any liners, and you find that your cheesecakes are stuck, just let it sit in room temperature for 10 to 15 minutes, and run a butter knife along the edges. It should come right off.
Now, are you ready to make some of these lovelies?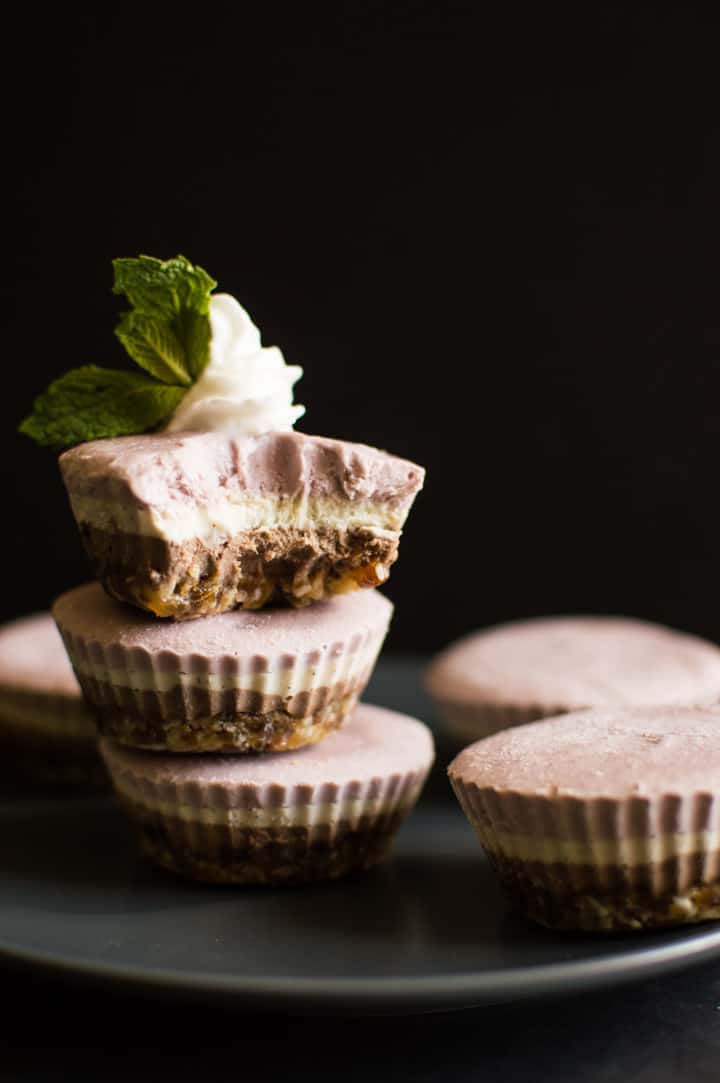 Vegan Neapolitan Cheesecake
Makes 12. Prep time does not include the time for soaking cashews.
Ingredients
Crust
1/2

cup

(125g) medjool dates (about 8 to 9)

1/2

cup

(65g) walnut halves

2

TBS

shredded unsweetened coconut
Cheesecake
1 1/2

cups

(175g) raw cashews, soaked for 4 hours

1/2

cup

+ 2 TBS

,

150ml full-fat coconut milk or coconut cream

1/3

cup

(80g) coconut oil, melted

1/3

cup

(60ml) maple syrup

1/4

cup

sweet lime or lemon juice

,

about 1

1 1/2 to 2

TBS

unsweetened cocoa powder

,

depending on your taste

1

vanilla bean or 1 tsp pure vanilla extract

3 to 4

hulled medium strawberries
Instructions
In a food processor, blend the dates, walnuts, and shredded coconut until everything is chopped to small pieces. The mix will be loose, but it should hold when you squeeze it together. Fill the bottom of each silicone muffin liner with about 2 TBS of the crust. Pack the crust firmly.

Drain the water from the soaked cashews and blend them with coconut milk (or cream), coconut oil, maple syrup, and sweet lime (or lemon juice). Stop when you get a creamy texture that looks like a thick soup. You should end up with around 20 fluid ounces of the mixture.

Scoop out 7 ounces of the cashew mixture (about 1 1/4 to 1 1/3 cups). Stir the cocoa powder with this mix. Top each crust with this chocolate mixture. Freeze for 20 to 25 minutes, or until the mixture is no longer runny.

Scoop out another 7 ounces of cashew mixture. Slice open the vanilla bean, scoop out the seeds, and stir seeds with the mixture. If you don't have vanilla beans, just use vanilla extract. Freeze for another 20 to 25 minutes.

Blend remaining mixture with the strawberries and put it on top of the vanilla layer. Freeze cheesecakes for another 3 to 4 hours.

Pull the cheesecakes out of the freezer and enjoy immediately or let the cheesecakes sit in room temperature for 10 to 15 minutes before eating. I like them thawed because the cheesecakes feel creamier.

To store cheesecakes, place them in an airtight container, like a gallon-size sandwich back bag, and freeze them.
Notes
1. Adapted from Minimalist Baker. [br][br]2. If you use the muffin tins instead of silicone cups, your cheesecakes will be slightly bigger.[br][br]3. The lemon juice gives the cheesecake more tang, while the sweet lime adds subtle sweet flavor to the cheesecake.[br][br]4. I've used full fat coconut milk and coconut cream to make these. The coconut cream yielded the creamiest results (no surprise there).
Did you make this recipe?
Tag @hellolisalin or leave a star rating and comment on the blog!
Looking for more cheesecake recipes?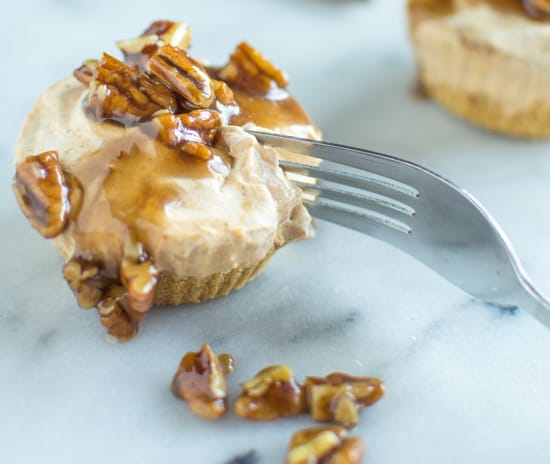 No Bake Soy Pumpkin Cheesecake