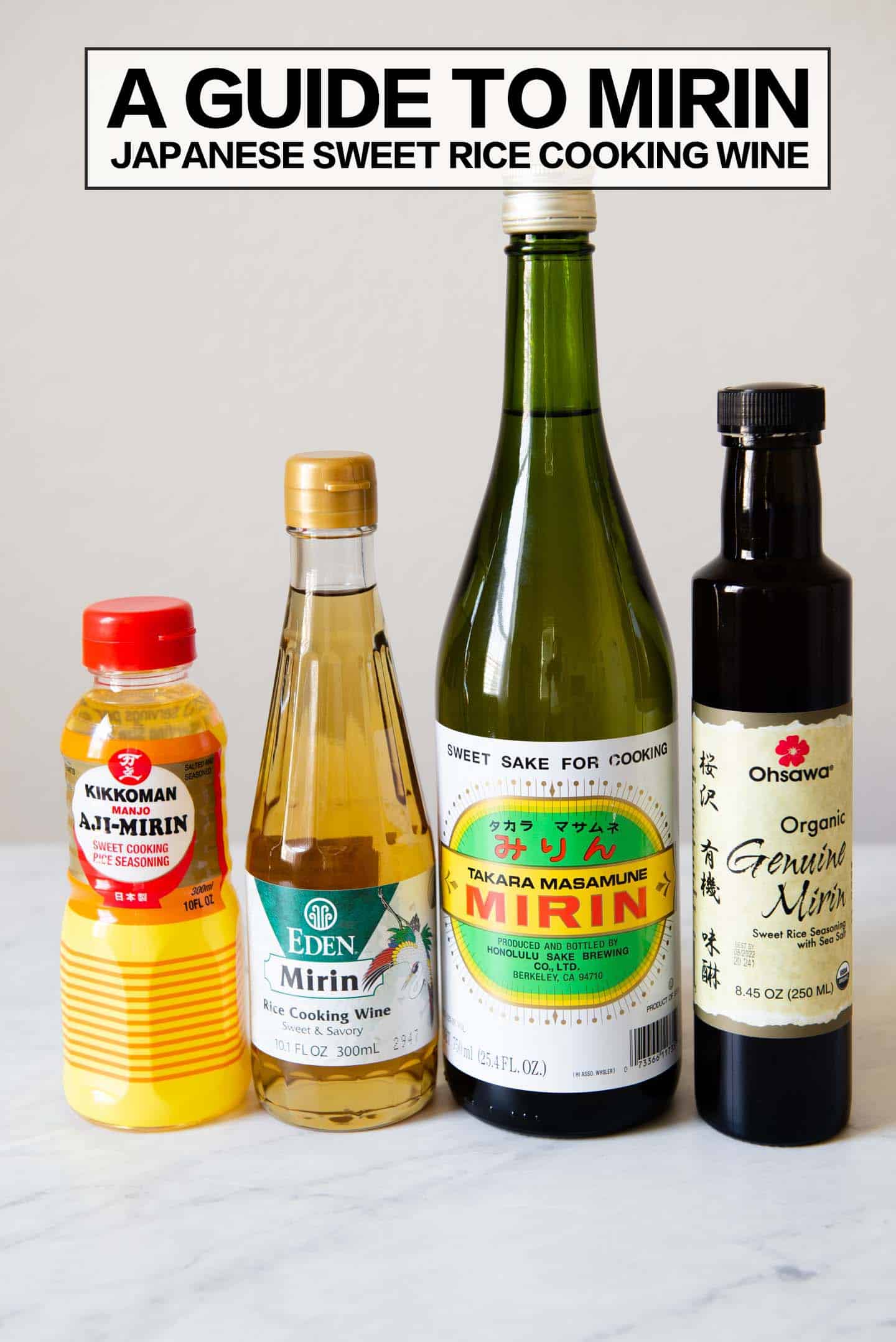 Written by Lisa Lin & Diann Leo-Omine. Photos by Lisa Lin.
Mirin (みりん) is a type of Japanese rice cooking wine that is generally made from fermenting several ingredients together: steamed sweet or glutinous rice (もち米, mochigome), kome kōji (こうじ, malted rice used as a fermentation starter), and wine—typically sake (酒, rice wine) or shōchū, 焼酎, distilled rice wine.
You can usually find mirin in many Japanese dishes and sauces, such as udon and ramen broths, as well as teriyaki and tempura sauces. This sweet cooking wine adds depth and shine to sauces and glazes. The alcohol content also balances out any gaminess or fishiness in meat or seafood.
In general, the color of mirin is golden, though the exact shade can differ across brands. When poured, mirin has a slight syrupy thickness, but it is not nearly as heavy or sticky as maple syrup or honey.
TYPES OF MIRIN
If you try looking for mirin at a grocery store or online, you'll likely be overwhelmed by all the different types. The differences are generally attributed to the manufacturing process, ingredients used, and the presence or absence of additives in the mirin.
First, there's hon-mirin (本みりん) or "true mirin," which contains about 14% alcohol content. It is made by fermenting and aging 3 ingredients: steamed mochigome (sweet rice), kome kōji (malted rice), and shōchū (distilled rice wine). The fermenting process alone can take between 40 to 90 days. Hon-mirin is the most expensive and it's not as easy to find. You would need to go to a Japanese supermarket to locate a bottle of hon-mirin.
The confusing thing is that some mirin manufacturers will add the word "hon" to their labels to suggest that the mirin is of high quality. That's why you should check the labels. If you see any added sugar or salt, it's not hon-mirin.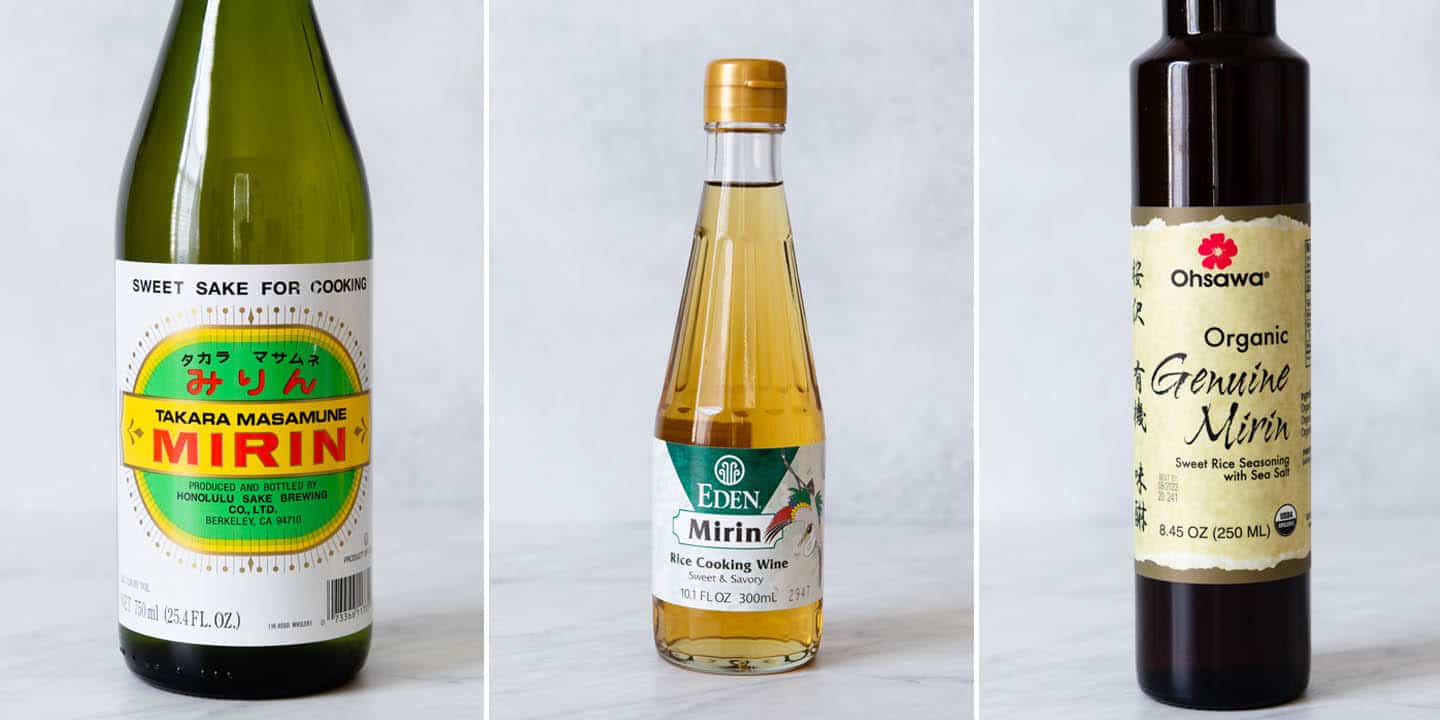 Next, there is mirin, which is what I normally use in my cooking. You can find this in Japanese supermarkets (like Oto's Marketplace), some grocery stores (like the Sacramento Natural Foods Co-Op), or online. Mirin generally contains about 12% alcohol. Lower quality mirin often contains sugar or corn syrup, though not high fructose corn syrup. The corn syrup generally speeds up the fermentation process, and makes it less expensive to produce. I purchased the 750ml bottle of Takara Masamune Mirin you see above at Oto's for $7.
Higher quality mirin generally does not contain sweeteners. Mirin produced by Eden Foods and Ohsawa, which you see in the photo above, don't contain sweeteners but do contain sea salt. The higher quality is reflected in the price, as it is about $12 for the 300ml bottle of Eden Foods mirin.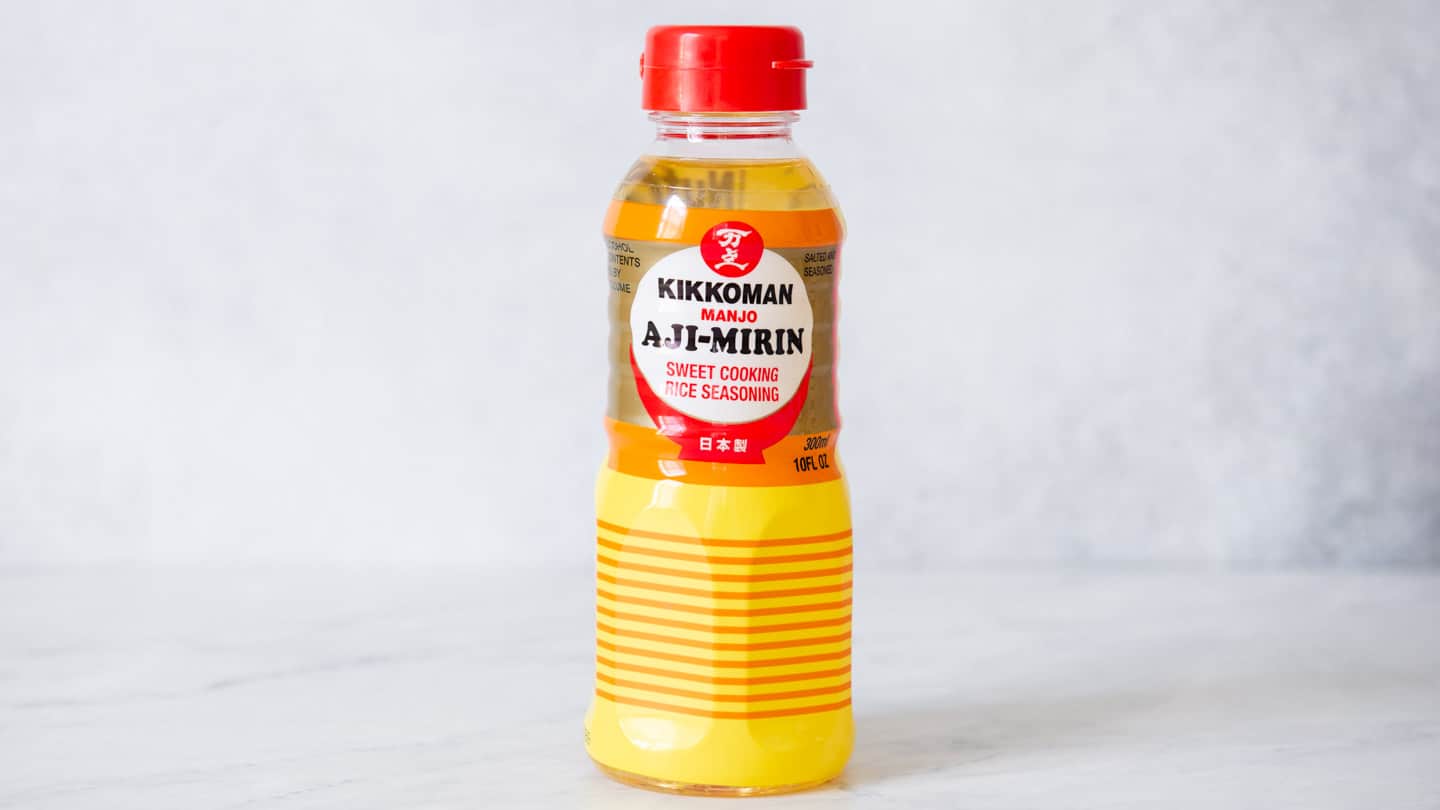 Then, we move on to types of mirin that are low in alcohol content and contain sweeteners and/or other seasonings. Many sources I've read don't consider these sauces to be mirin at all. The most common one you'll find is aji-mirin (味みりん), which translates to "mirin taste" or or "tastes like mirin." Aji-mirin is mostly composed of high fructose corn syrup or glucose syrup and as low as 8% alcohol. Keep in mind this type of mirin will be on the sweeter side.
Lastly, there's mirin-fūchōmiryō (みりん風調味料), "mirin-style condiment," which will contain little to no alcohol at all. The primary ingredient in this type of sauce is usually corn syrup or high-fructose corn syrup, along with water and seasonings.
WHERE TO BUY
The best place to find all the different types of mirin is to go to a Japanese supermarket. Here are my favorite Japanese markets:
I have found Eden Foods mirin in the following locations:
You can also find mirin on Amazon (affiliate links):
In general, you can find aji-mirin in the Asian sections of your grocery stores, Japanese supermarkets, or on Amazon.
DOES THE ALCOHOL BURN OFF DURING COOKING?
Contrary to common cooking knowledge, alcohol does not burn off entirely during cooking. In the case of mirin, it depends on how much mirin is required in the recipe, and what type of mirin you use.
For my teriyaki sauce, there will likely still be a trace amount of alcohol since it does not cook for very long. If you're avoiding alcohol for any reason, feel free to look into the substitutions below. However, note that the flavor will be very different.
MIRIN SUBSTITUTES
If you don't have access to mirin or prefer not to use it (because of the alcohol content), you have a few options for substitutions.
If you already have sake in the house, you can try to replace mirin with that. Note that sake has a higher alcohol content. Other alcohol options include sherry or vermouth; shaoxing wine might work also. For all of these substitutions, you'll need to add sugar, approximately 1 1/2 teaspoons of sugar to 1 tablespoon of alcohol.
Another substitution is sugar and water: 1 teaspoon of sugar to 1 tablespoon of water. If you want more seasoning, you can add a splash of rice vinegar to the mixture. Although these combinations don't offer the same complexity and umami as mirin, they will do in a pinch.