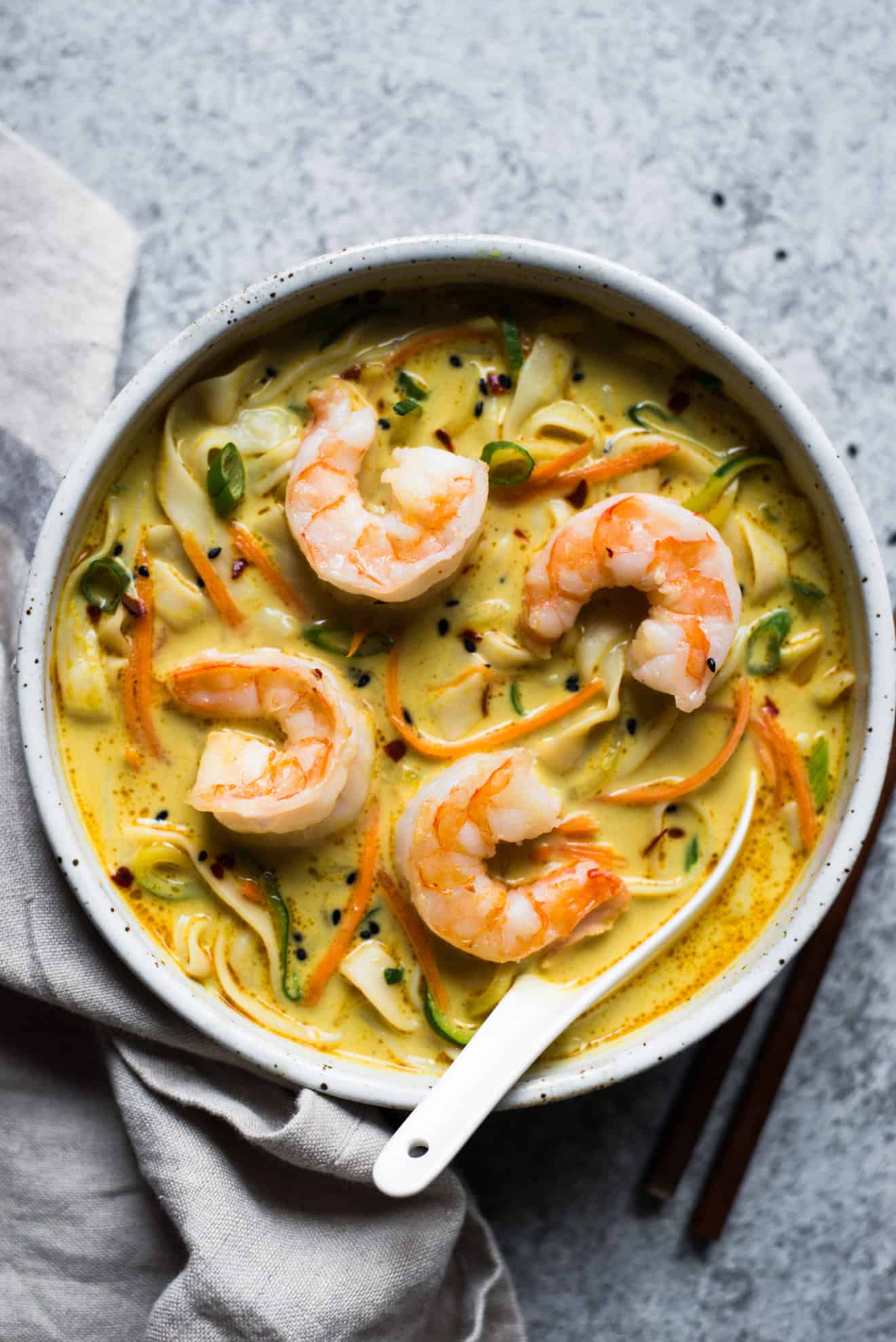 Thank you House Foods for sponsoring this post!
I could drink this broth all day. As a matter of fact, I did.
I get that it's strange to be craving curry noodles in the mid-afternoon, but I found myself wanting a sip of this liquid gold at approximately 4:30pm last Thursday. Actually, it could have been 4:28pm, but you get the picture.
On a cold, rainy day, or whenever I'm feeling uninspired in the kitchen, I can always rely on a good curried noodle soup to bring me a sense of comfort. It's funny, I didn't even realize that Asian-style cuisine is my favorite thing to cook until recently. I suppose it's the gingery, bold flavors in dishes like these that remind me a lot of my childhood.
For this dish, I am using House Food's tofu shirataki noodles in the fettuccine shape. The noodles are made out of tofu and yam flour, and they're very low in calories and carbohydrates (about 20 calories and 6 grams of carbs per package). Because I'm using full-fat coconut milk in my soup broth, I want to balance out the dish with lighter noodles so that it doesn't get overly indulgent. The noodles cook very easily—just take them out of the package, give everything a rinse under cold water and pop it into boiling broth for a few minutes. That's it!
When you make these noodles, just promise me one thing: make sure to get your slurp on. That's how we do it around here. 😉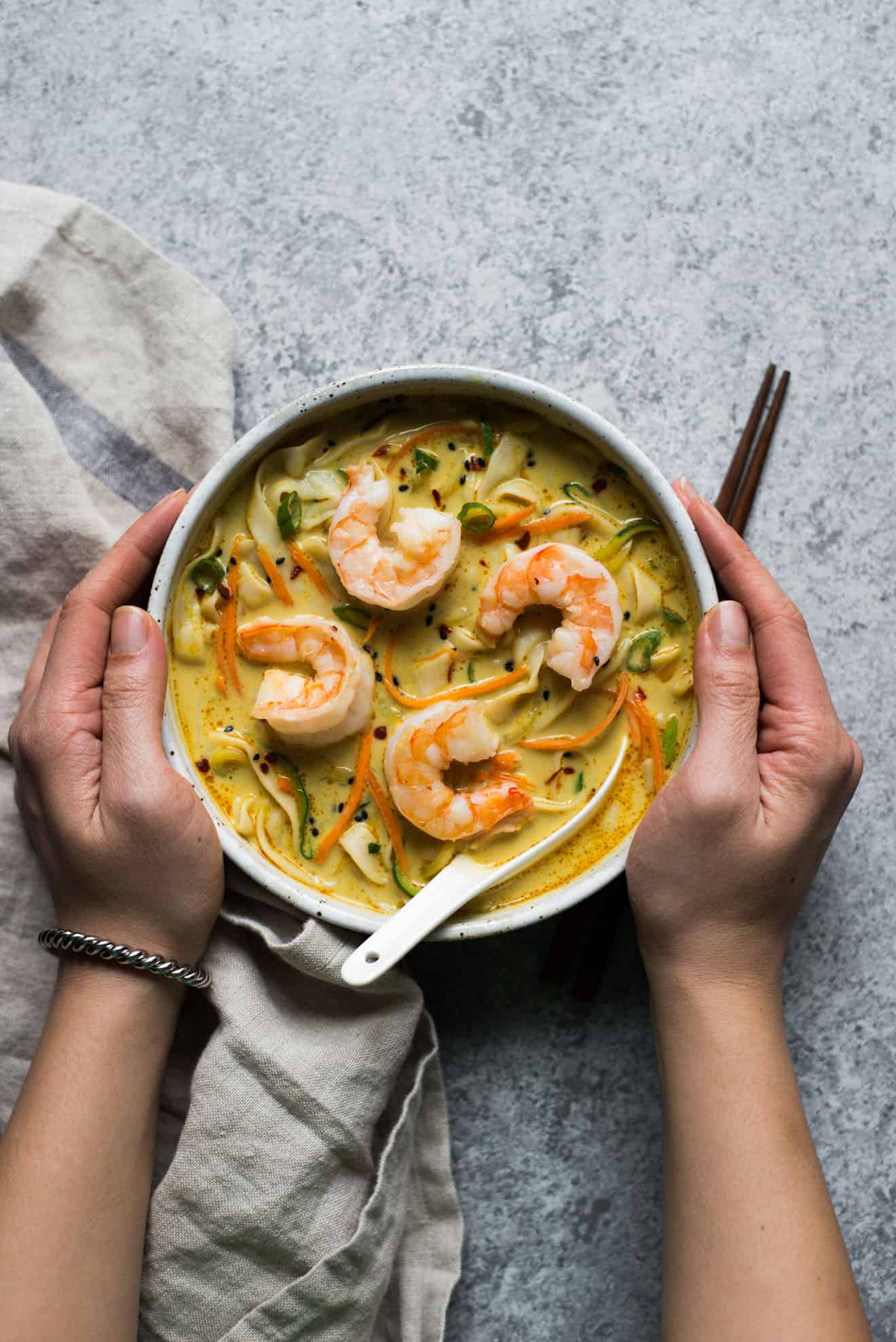 MASTERING MY MISTAKES / COOKING NOTES
Using full-fat coconut milk: I don't always use regular (canned) coconut milk in my cooking because of the high fat content, but it makes a huge difference in this recipe. The natural sweetness of regular coconut milk makes this noodle soup shine. If the fat content is an issue, feel free to substitute it with light coconut milk.
Spiralizing zucchini: If you are spiralizing the zucchini to make the noodles, I have a few tips for you. (1) Right after you finish spiralizing the zucchini, gather up the noodles and give everything several rough chops (5 to 6). Whenever you spiralize zucchini, you'll always get a lot of noodles that are obnoxiously long. I've tried many different ways to deal with this issue, and the best method I found is to chop up the zucchini noodles once they're spiralized. (2) After you spiralize the zucchini, you'll be left with an awkward central core that looks a like mushroom with a long stem. I usually chop up that core into pieces and add it to my dishes. (3) By the way, if you don't have a spiralizer, you can make zucchini noodles with a julienne peeler or zucchini ribbons with a regular vegetable peeler.
Preparing the lemongrass: I'm using fresh lemongrass here for extra flavor. It's an optional ingredient in the recipe. If you have never cooked with fresh lemongrass before, here's what you want to do. Peel the outer, tougher layers of the lemongrass. I usually tear away 2 to 4 layers, depending on the thickness of a particular stalk. Then, cut off about 3/4 to 1 inch off the bottom, as well as the dried leaves at the top (about 4 to 5 inches from the top). If I am using the lemongrass for a paste or sauce, I will grate the lemongrass stalk. If I am using the lemongrass to flavor a soup, I will just slice it into 3 sections and hit each piece with my kitchen mallet. This bruises the lemongrass and allows it to release its flavors. Then, I add the lemongrass directly into the broth for cooking and dig them out right before serving.
Servings:
3
to 4 Servings
Yellow Curry Noodles with Tofu Shirataki
This yellow curry broth is a great soup base for any noodle soup dish. It's even better the next day because the herbs and spices have more time to develop their flavors. Most of the prep time listed here is devoted to peeling and deveining the shrimp. You can cut the prep time by buying shrimp that is already cleaned or buy cooked shrimp. For more guidance on how to prepare the zucchini and lemongrass, read the cooking notes above (in the post).
Ingredients
Shrimp
1

pound

(450g) large shrimp (21/25 count), peeled and deveined

1

tablespoon

olive oil

pinch

of salt
Noodle Soup
2 8-

ounce

packages of House Foods Tofu Shirataki fettuccine shape

2

stalks of lemongrass

1

tablespoon

vegetable or olive oil

1

tablespoon

minced ginger

,

from about a 1-inch piece*

4

garlic cloves

,

minced

2

teaspoons

yellow curry powder

,

mild spice

5

cups

about 1.2 liters vegetable broth

3/4

cup

(175ml) full-fat coconut milk (can sub with low-fat coconut milk)

1/2

teaspoon

salt

,

add more if necessary

2

medium zucchini

,

spiralized

2

large carrots

,

peeled and julienned
Optional Garnish
sliced scallions

red pepper flakes

black sesame seeds
Instructions
Cook Shrimp
Heat a large pan with a tablespoon of olive oil over medium-high heat.

Once the pan is hot, add the shrimp. Sprinkle a pinch of salt over the shrimp. Cook for about 3 to 4 minutes and flip the shrimp when the bottoms have turned orange. Cook the other side for another 3 to 4 minutes. The shrimp is cooked when you no longer see any grey spots on it. Dish up the shrimp and set aside.
Cook Noodles & Broth
Drain and rinse the tofu shirataki noodles under cold water. Set aside.

Peel the tough outer leaves of the lemongrass, about 2 to 4 layers. Cut off the dried leaves at the top (about 4 to 5 inches from the top) and the bottom (about 3/4 to 1 inch from the bottom). Slice the stalk of lemongrass into 3 sections. Using a mallet or the flat side of a

tenderizer

, smash the lemongrass so that it splits open. This helps release the flavors. Set lemongrass aside.

Heat the a tablespoon of oil in a heavy-bottomed pot over medium heat. Add the ginger, garlic and yellow curry powder, and stir for about 30 seconds to a minute, until they become fragrant.

Gradually pour in the vegetable broth. Add the bruised lemongrass stalks. Cover the pot with a lid, bring the heat up to medium-high, and bring the broth to a boil. This will take about 4 to 5 minutes.

Once the broth has boiled, add the coconut milk and salt, and bring the broth back to boil again, uncovered.

Reduce the heat to medium and add the tofu shirataki noodles and zucchini noodles and cook everything for about 3 to 4 minutes

Turn off the heat and stir in the julienned carrots and shrimp. You can scoop out and discard the lemongrass stalks now or leave them inside the broth. Just make sure not to eat them. Taste the broth and adjust the seasonings to your liking.

Serve the noodle soup in bowls and top with sliced scallions, red pepper flakes and black sesame seeds, if you like.
Notes
NUTRITION INFORMATION: 1/3 of the recipe: Calories: 380, Total Fat 24g, Saturated Fat: 12.2g, Sodium: 1473mg, Cholesterol: 190mg, Total Carbohydrate: 22g, Dietary Fiber: 6g, Sugar: 6g, Protein 25g
*I don't mind eating bits of ginger along with the noodles, which is why I minced it. If you prefer not to eat so much ginger, instead of mincing, slice the ginger. That way, the ginger will be easier for you to pick out.
I added the chopped up zucchini cores to the broth the same time that I added the noodles. By the way, if you don't have a spiralizer, you can make zucchini noodles with a julienne peeler or zucchini ribbons with a regular vegetable peeler.
Did you make this recipe?
Tag @hellolisalin or leave a star rating and comment on the blog!
Disclosure: This recipe is sponsored by House Foods. Thank you for supporting the brands that keep me inspired in the kitchen! To learn more about House Foods products and recipes, check them out at their website or follow them on Facebook!