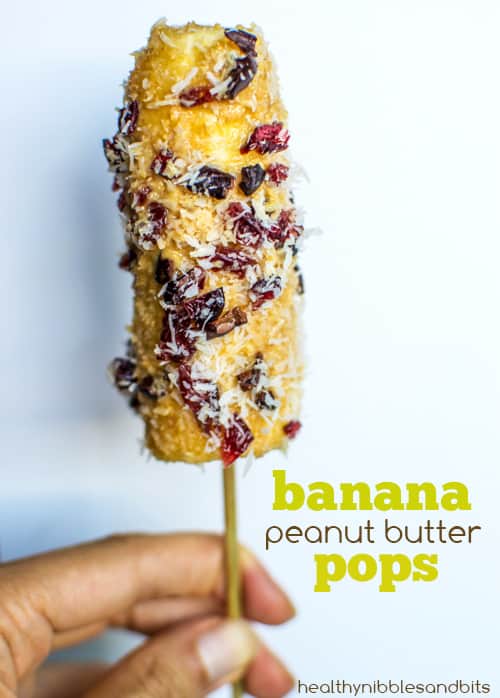 Can we talk bananas? That lovely, soft fruit that pairs well with just about anything? Hm, maybe not fish. Or pickles. But otherwise, anything!
Whenever I need a quick pre-workout snack, I always reach for the banana. Then, the peanut butter jar. I try not to get overboard with dipping into the peanut butter jar too much. But those urges are difficult to fight off sometimes!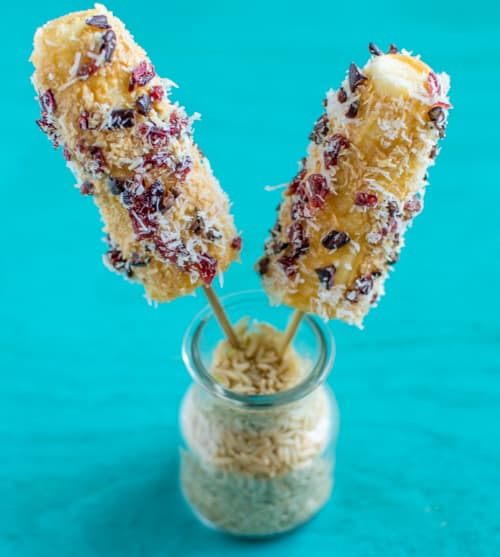 I love eating this snack before my intense workouts because it can keep me full for hours. Yet I was quite surprised to learn that one celebrity trainer has sworn off bananas on the basis that they're dense, contain little fiber, and won't keep you full. Really? Has he ever eaten a banana before? I'm no expert in nutrition, but doesn't a medium banana have roughly the same amount of fiber as a medium apple? Any RDs with insights on this?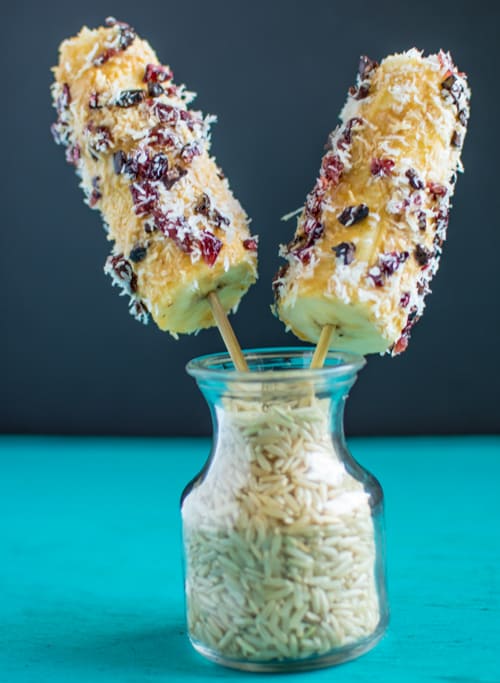 I wanted to have a bit of fun with my favorite snack and transformed them into pops! I chilled a banana in the freezer for about 40 minutes, slathered a thin layer of peanut butter, and rolled it around my favorite toppings. Presto! Banana peanut butter pops!
Banana Peanut Butter Pops
Ingredients
1

medium banana

4

tsp

creamy peanut butter

4

tsp

shredded unsweetened coconut

1

TBS

cacao nibs

1

TBS

dried cranberries

,

chopped

2

skewers

,

optional
Instructions
Peel the banana and chop it in half. Insert a skewer into the cut side of the banana, and push it in a few inches. Popsicle sticks work well, too. You can also skip the skewers if you don't have any around the house.

Place the bananas on a plate and freeze them for about 30 minutes to an hour. In the meantime, make sure that your peanut butter is at room temperature. This will make the peanut butter easier to spread later.

Mix the coconut, cacao nibs, and cranberries together and spread them out on a flat plate.

Take the banana out of the freezer. Using a butter knife, spread a thin layer of peanut butter on the banana and roll it on the plate with the toppings. Alternatively, you can just sprinkle the toppings on top, but it might be more difficult for the toppings to stick this way. I had some extra toppings left on the plate after rolling the banana in it.

Enjoy!
Notes
I didn't want the banana to turn into a block of ice, which is why I limited the chilling time to an hour and a half. If you want more frozen bananas, leave it in the freezer longer. I wouldn't leave the banana in there overnight to avoid freezer bite.
Did you make this recipe?
Tag @hellolisalin or leave a star rating and comment on the blog!
Looking for more banana recipes? Try this Gluten-Free Banana Bread with Chocolate Swirl!