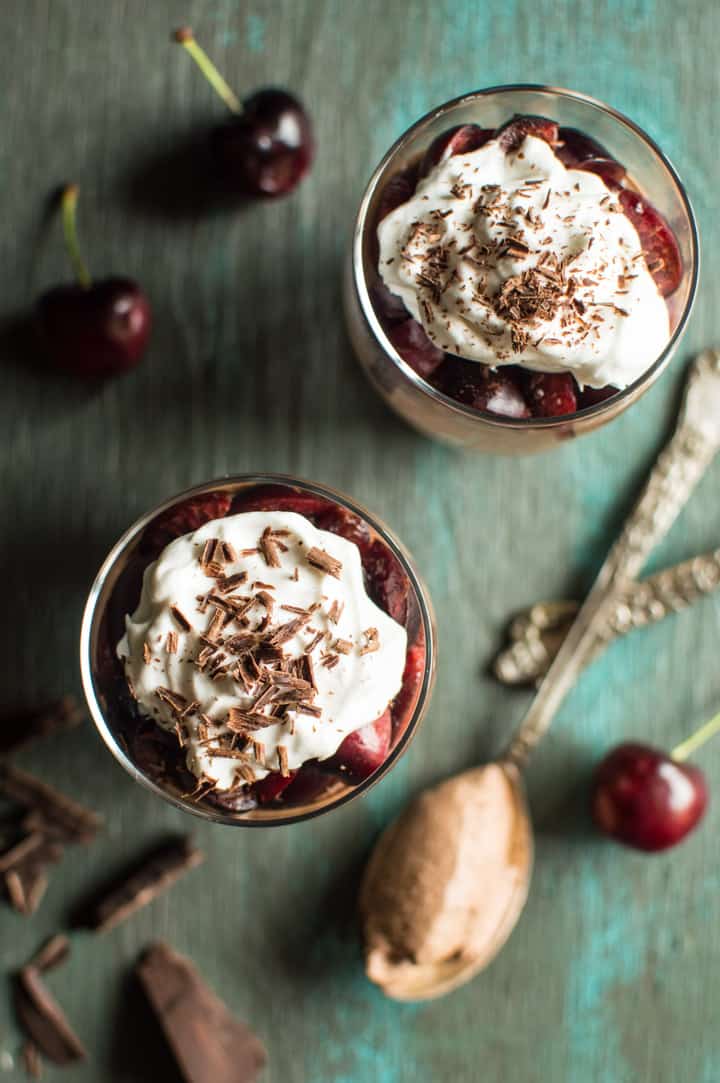 But before I get into the luscious decadence that is this black forest mousse, let's take a moment to talk about life things. First off, I'm sorry for posting on such an irregular schedule lately! There is a reason for this. Well, several reasons.
One of them is my job. Don't worry, I'm not getting back into law. That ship sailed a loong time ago.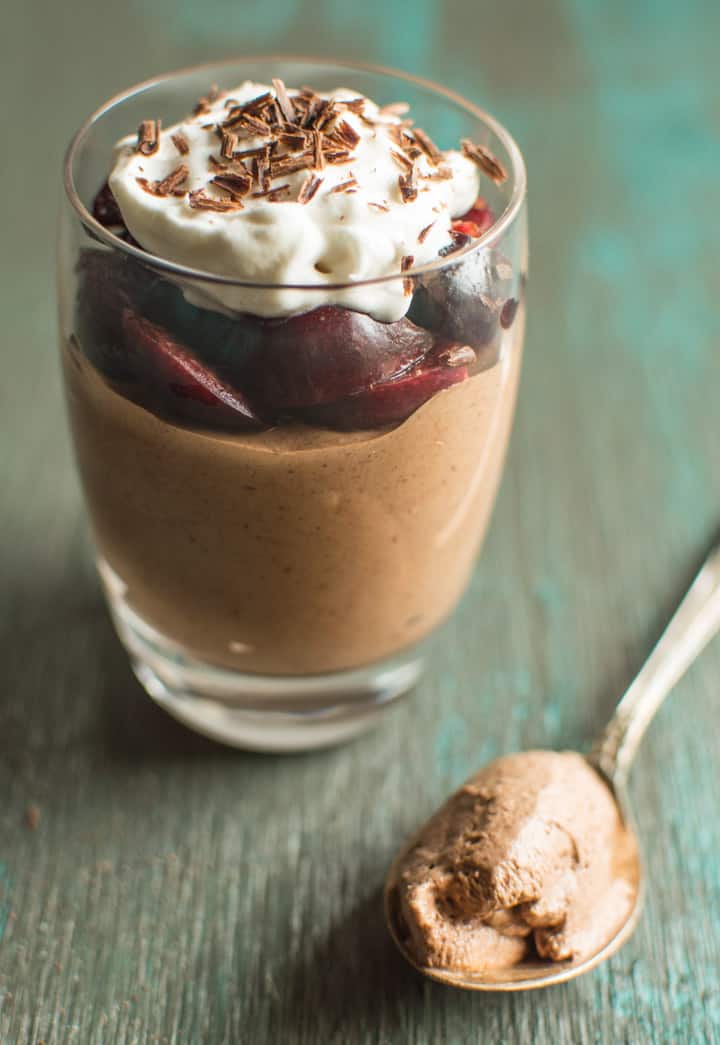 A few months ago, I started a full-time job working at a start-up food company. After blogging full time for 8 months, I wasn't getting quite the satisfaction I wanted from a job. Don't get me wrong, blogging is a lot of fun. I don't have to wear makeup, and I get to work in my hot pink yoga pants all day. Plus, I get to set my own schedule and cook at home for a living. But I love to socialize with others, and that whole being home alone all the time situation didn't quite work for me. So when a marketing position opened at a food company, I pounced at the opportunity. Over the course of a few months, my responsibilities expanded to product development (sourcing new products to sell), and I can't be happier with what I do.
The sad part is that I have less time to cook and test recipes. On weekends, I pretty much do nothing but eat and photograph food. I can feel you rolling your eyes and saying, "That's a difficult life." But I barely have time to read, exercise, and enjoy free time. Needless to say, balancing a job and a blog is hectic, which is why I had to scale back the number of blog posts per week from 3 to 2. That might seem insignificant, but changing the blog schedule was a big decision for me. I was worried that if I didn't post as often, my readers would disappear and traffic would plummet. The insecurities of a food blogger . . .
At the end of the day, I need to decide what I want to do with my career, and I don't exactly want to be defined as being strictly a food blogger. I like to keep my hands in many cookie jars.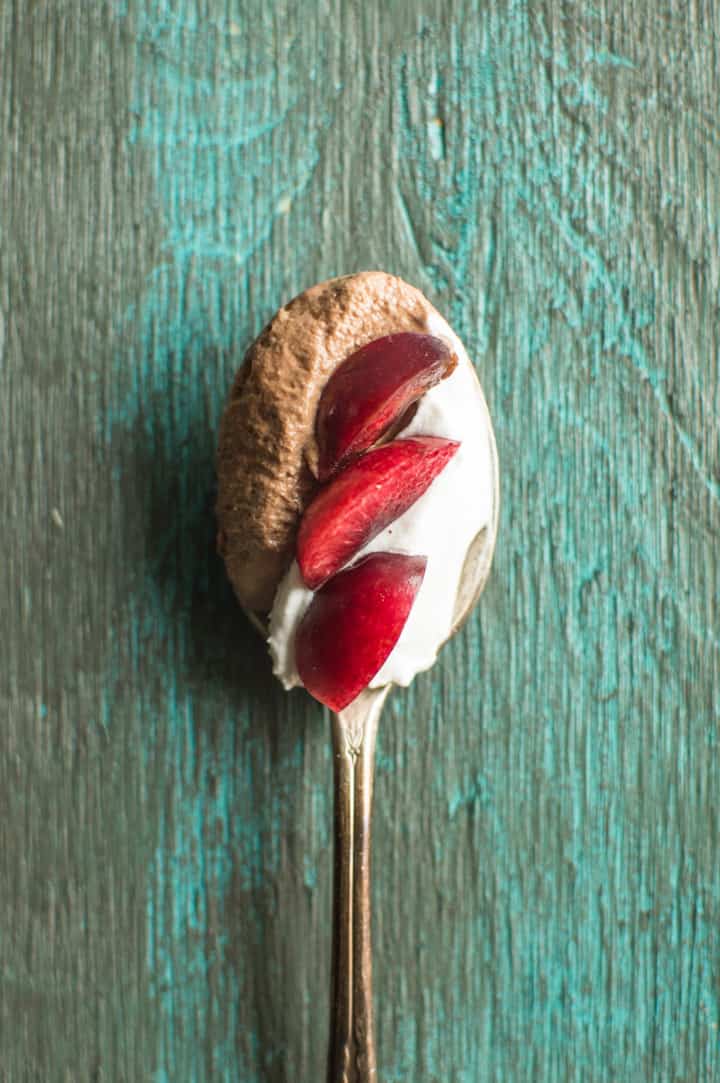 Another reason for my irregular posting schedule is that I keep going out of town for blogging conferences on the weekend! Early last month, I was in the mountains at Angelus Oaks, and last weekend, I was in Portland. It was great to eat and drink my heart out with blogger friends both old and new. And when I say drink, I mean, draaaaaank. Feel free to interpret that however you want.
Hopefully, things can get back to normal soon, so that I can share more recipes with you! Of course, a healthy dose of chocolate will get me right back on track. It always does.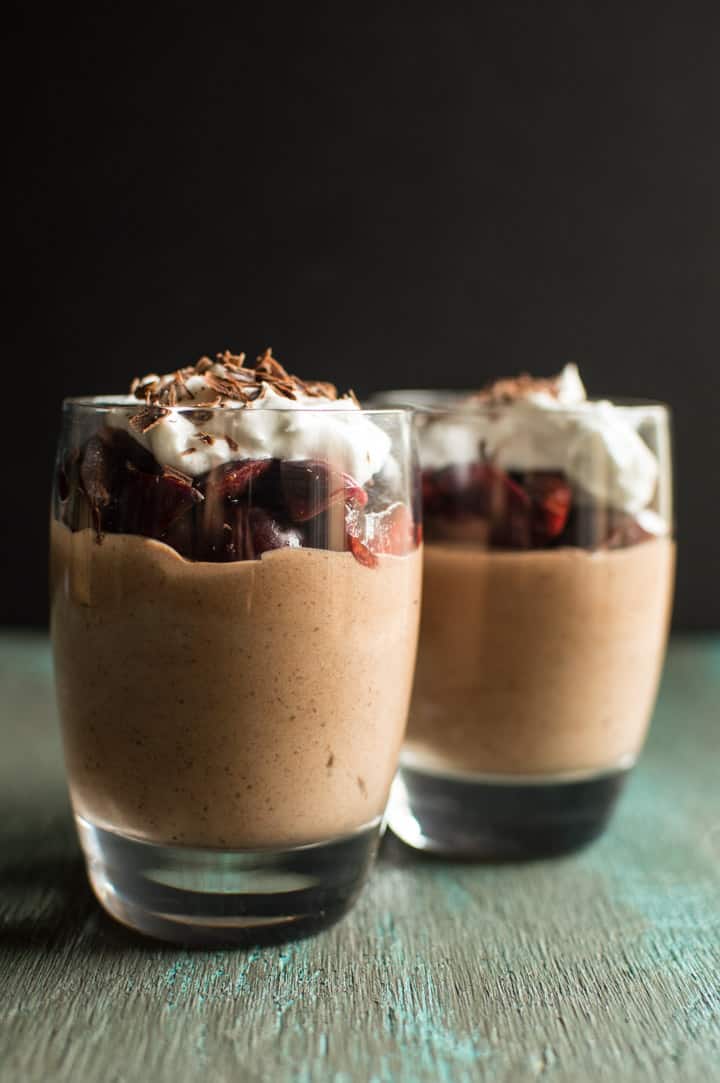 For some reason, I was absolutely craving a chocolate mousse. With all those spare cherries lying around, I thought, why not make this into a black forest mousse? I saw a recipe for a vegan peppermint mousse on Minimalist Baker and made a few tweaks to the recipe, like using coconut milk instead of cream, using less chocolate, and added a touch of vanilla in this.
I like to call this the lazy pants mousse because there's NO cooking involved. You won't have to worry about egg yolks here. All you need is a can of full-fat coconut milk, a mixer, and some nice bittersweet or 70% chocolate.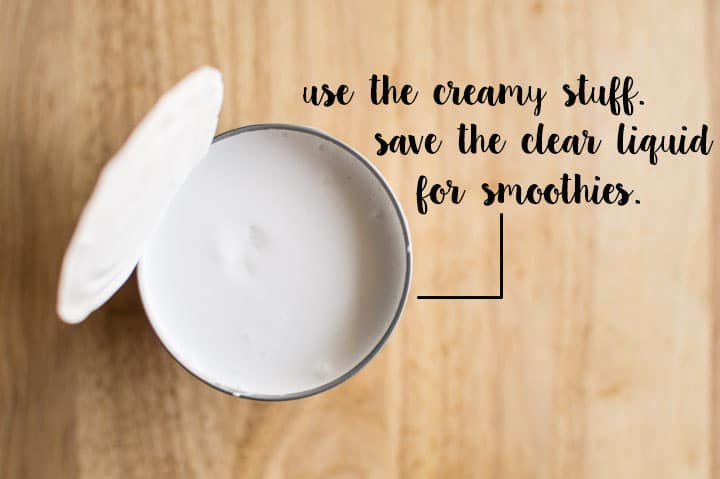 You're going to take the creamy, white portion of the coconut milk, and beat it. Just beat it, beat it. Nobody wants to be defeated . . . I had to.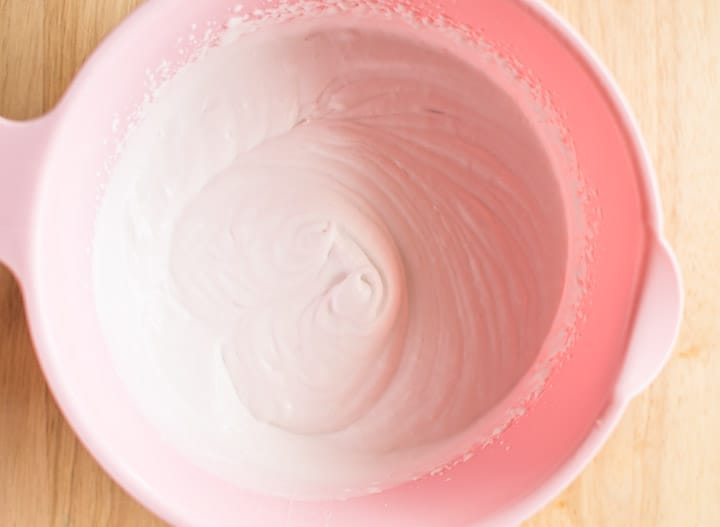 When the milk is whipped to the consistency of slightly runny whipped cream, it's done. Mix in the melted chocolate, chill, and that's it! Throw some cherries and whipped cream on top, and grab a spoon.
Let me know if you make this recipe! Post a photo of it on Twitter or Instagram and tag me or add the hashtag #hnbeats. Can't wait to see how your chocolate decadence turns out!
Black Forest Mousse
Five ingredients is all it takes to make this luscious black forest mousse. It's like a deconstructed version of the classic cake! Serves 6.
Ingredients
1

13.5-oz (400ml) can of full-fat coconut milk, chilled overnight

4

oz

(115g) bar of bittersweet, chopped (use dairy free chocolate if vegan)

1

tsp

vanilla

,

I used vanilla bean paste but extract works fine

handful of cherries

,

pitted and chopped

coconut whipped cream for topping

,

optional
Instructions
Open the can of coconut milk and pour only the white creamy portion of the milk into a mixing bowl. A spoon is super helpful for this. Save the clear liquid for a smoothie later.

Using a mixer, whip the coconut milk at medium speed for 2 to 3 minutes. You should see bubbles form and the coconut milk will start to thicken. Crank up the speed to high and whip the coconut milk until it looks like whipped cream. It should be a bit runny. Set aside.

Place the chopped chocolate into a bowl, and melt it in the microwave. Set the microwave to 30 seconds and check the chocolate. It probably hasn't melted too much yet. Keep microwaving at 20-second intervals until you see that most of the chocolate has melted. Use a spoon and stir the remaining chocolate chunks into the melted chocolate.

Pour melted chocolate into the whipped coconut milk and mix until well combined.

If you want to serve the mouse in glasses, you'll want to pipe some batter into the glass before refrigerating. It's easier this way. You can also stick the entire bowl into the refrigerator. Chill for 30 minutes.

Serve mousse with some chopped cherries and a dollop of coconut whipped cream on top. Refrigerate any leftovers in an airtight container for a few days.
Notes
1. Loosely adapted from Minimalist Baker's 3-Ingredient Dark Chocolate Peppermint Mousse.[br][br]2. This recipe probably won't work with low-fat coconut milk because it isn't thick enough.[br][br]3. If you don't have a bar of baking chocolate around, just use a cup of chocolate chips!
Did you make this recipe?
Tag @hellolisalin or leave a star rating and comment on the blog!