The Challenge: Use Overripe Bananas 
I have a lot of overripe bananas in the apartment, which means it's a perfect time for baking. I saw some recipes on The Breakfast Drama Queen for a banana bread baked oatmeal and a cinnamon leche sauce on Fit Foodie Finds and combined them together for . . .
. . . banana oatmeal muffins with cinnamon leche sauce and mixed berries!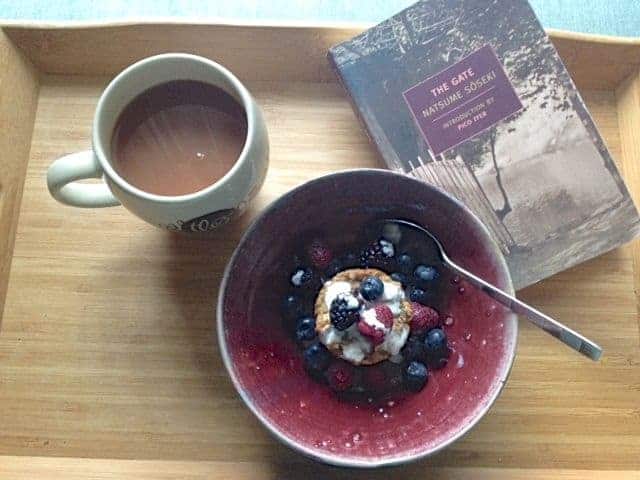 The recipes are incredibly simple.
Banana Muffins (makes 3 small muffins)
Ingredients 
1 banana, mashed (I usually use a potato masher)
1/2 cup oatmeal
1/3 cup almond milk (or any other milk of choice)
1 TBS pumpkin seeds (or any other nuts/seeds)
1/2 tsp vanilla extract
1/2 tsp or more cinnamon
1/4 tsp baking powder
pinch of salt
Directions 
Preheat oven to 350 degrees F. Grease three muffin tins.
Mash the banana. Then, mix in all the other ingredients into the banana.
Pour mixture into muffin tins.
Bake for 22 to 27 minutes.
Remove from oven.
Notes
You can also put all the batter into a ramekin for one serving of banana oatmeal bake.
I made three muffins with the batter, but you can make two larger muffins.
Top with berries, peanut butter, or the cinnamon leche sauce (recipe below)!
Cinnamon Leche Sauce
Ingredients
2 TBS greek yogurt
1 TBS almond milk
1/2 tsp honey/agave nectar
1/4 tsp cinnamon
Directions
Whisk all ingredients together
Drizzle on top of muffins or any baked goods!
The Verdict: Scrumptious
I loved these muffins! They use very few ingredients, most of which we can find in our homes easily. You can always double the recipe or increase it several times to make larger batches. I store them in an airtight container for a few days. I would refrigerate or freeze them if you don't eat them within a few days. Enjoy!