Does anyone remember the old Chia Pet commercials? I always wanted a chia pet just to watch the sprouts grow, but the chia guy freaked me out. Little did I know that the same chia seeds that were a part of those "ch-ch-ch-chia" commercials would be the center of a health food craze.
Many of us have heard about the benefits of chia seeds. It is packed with dietary fiber, omega-3 fats, and antioxidants–in other words, good things for our body. But how do we actually incorporate them into our normal diets?
One easy way is to add them into yogurt, as I have done with my chocolate overnight oats. Another way is to make chia pudding! A rule of thumb that I learned from Choosing Raw is to mix 3 tablespoons of chia seeds to 1 cup of liquid. You can use anything for the liquid, including water, soy milk, regular milk, or almond milk. After making the basic pudding you can add whatever you want as toppings. Here are two variations of chia pudding that I have made lately:
Mint Chocolate Chia Pudding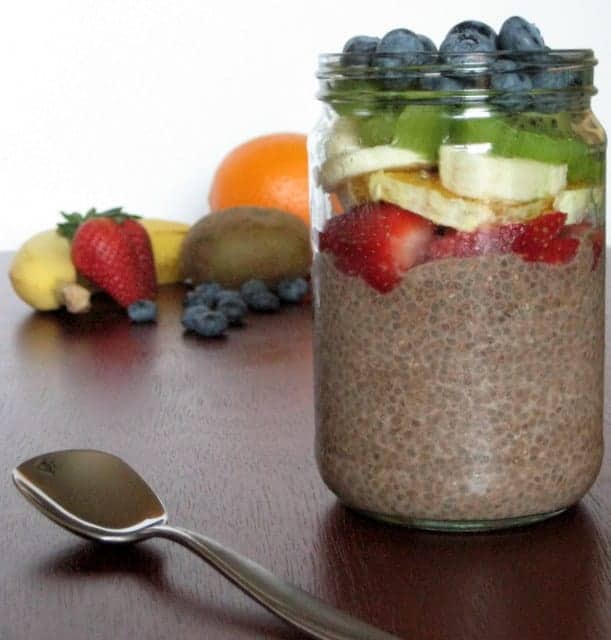 Ingredients
3 TBS chia seeds
1 cup unsweetened almond milk
1 TBS cocoa powder
1 TBS honey or maple syrup (add more if necessary)
1 to 2 tsp peppermint extract
Directions
In a bowl, mix the chia seeds and milk together.
Let the chia seeds sit for about a minute or two and stir the mixture. The chia seeds will start to clump up very quickly, so use a fork to break them apart.
Allow the chia seeds to continue soaking up the liquid for another few minutes and stir it again.
Mix in the cocoa powder, agave, and peppermint extract and stir.
Once the chia and milk mixture have turned into the consistency of pudding, put the mixture into a jar or airtight container and refrigerate for one to two hours. I refrigerated mine overnight.
Top the pudding with your favorite fruits, nuts, or nut butter in the morning!
Notes
If you use refrigerated milk, I think that the refrigeration step can be optional. Just make sure that you wait about 10-15 minutes before eating so that the chia seeds have time to plump up.
Nosh On It has some other great ideas for cooking with chia seeds.
Vanilla Chia Pudding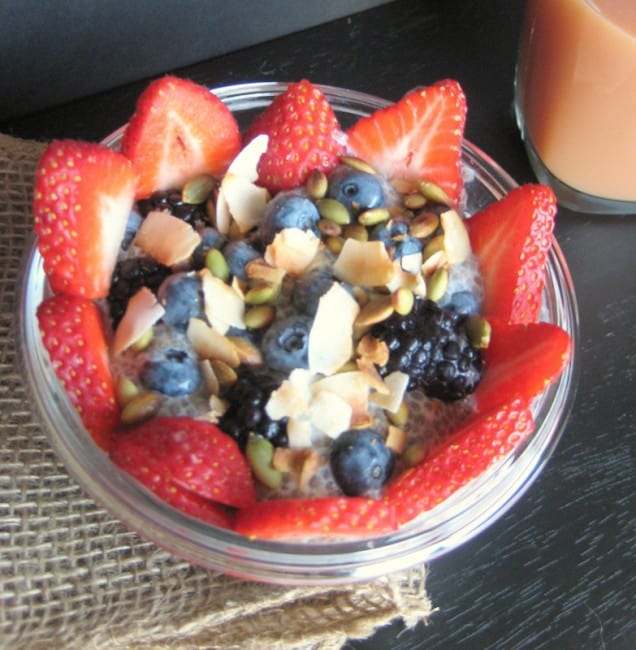 Ingredients
3 TBS chia seeds
1 cup unsweetened almond milk
1 TBS maple syrup, add more if necessary
1 tsp vanilla extract
1/3 cup sliced strawberries (optional)
1/4 cup blueberries (optional)
1/4 cup blackberries (optional)
1 TBS toasted pumpkin seeds (optional)
1 TBS toasted coconut (optional)
See Directions Above