WHAT IS THE DIFFERENCE BETWEEN SHUMAI, SIU MAI & SHAO MAI?
If you are vaguely familiar with these steamed pork dumplings, you may have noticed various spellings for them in English.
Siu mai is the Cantonese pronunciation. Cantonese-style siu mai are the version that most people are familiar with. They're round and the filling is wrapped in circular dumpling skins. The filling consists of pork and shrimp. Other additional ingredients may include ginger, shiitake mushrooms, scallions, wood ear, and water chestnuts.
Shao mai is the Mandarin pronunciation of the pork dumplings. Not only are they pronounced differently, Northern-style shao mai look different as well. Northern-style shao mai are often filled with sticky rice and mince meat and they are shaped like a vase (they have a narrow neck and a wider base).
The word "shumai" probably derives from the Japanese version of steamed pork dumplings. Japanese shumai look very similar to Cantonese siu mai.
Because the Cantonese pork dumplings are most commonly spelled as "shumai" in English, that is how I'll refer to them for the rest of the post.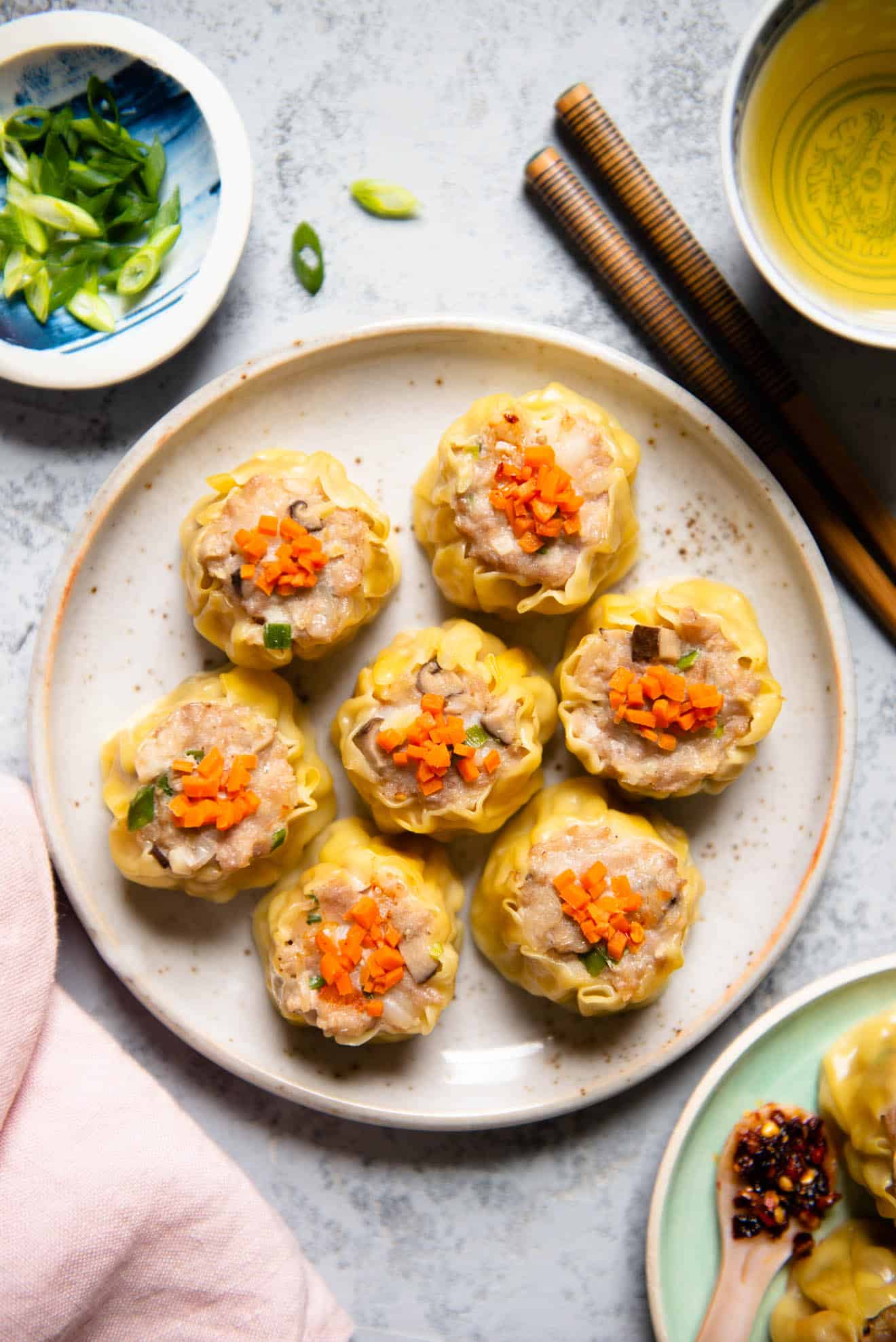 HOW TO MAKE SHUMAI
Of all the dumplings in Chinese cuisine, shumai are one of the easier ones to make. All you need to do is prep the filling, stuff it into dumpling wrappers and steam.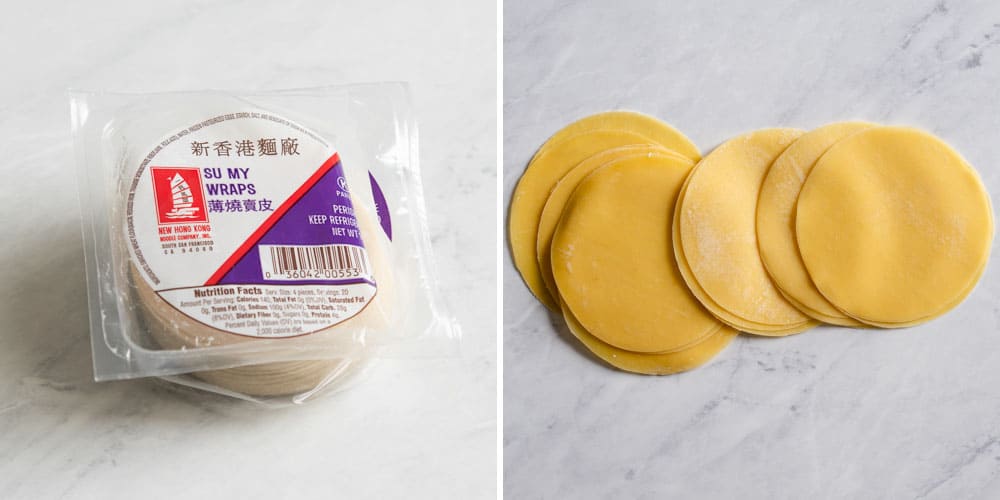 NOTE ABOUT SHUMAI WRAPPERS
You want to use thin, round dumpling wrappers for the shumai. The New Hong Kong Noodle Company makes wrappers specifically for shumai (labeled "Su My Wraps")
It is fine if you cannot find that particular brand. Any thin and round wrapper will work. I prefer shumai wrappers to be about 3 1/4 inches in diameter. If your wrappers are larger than that, you can use a circular cookie cutter to cut out a smaller circle.
In my photos, you'll see that I used yellow dumpling wrappers, which are made by Twin Marquis. I think they provide a better color contrast, but they are not necessary.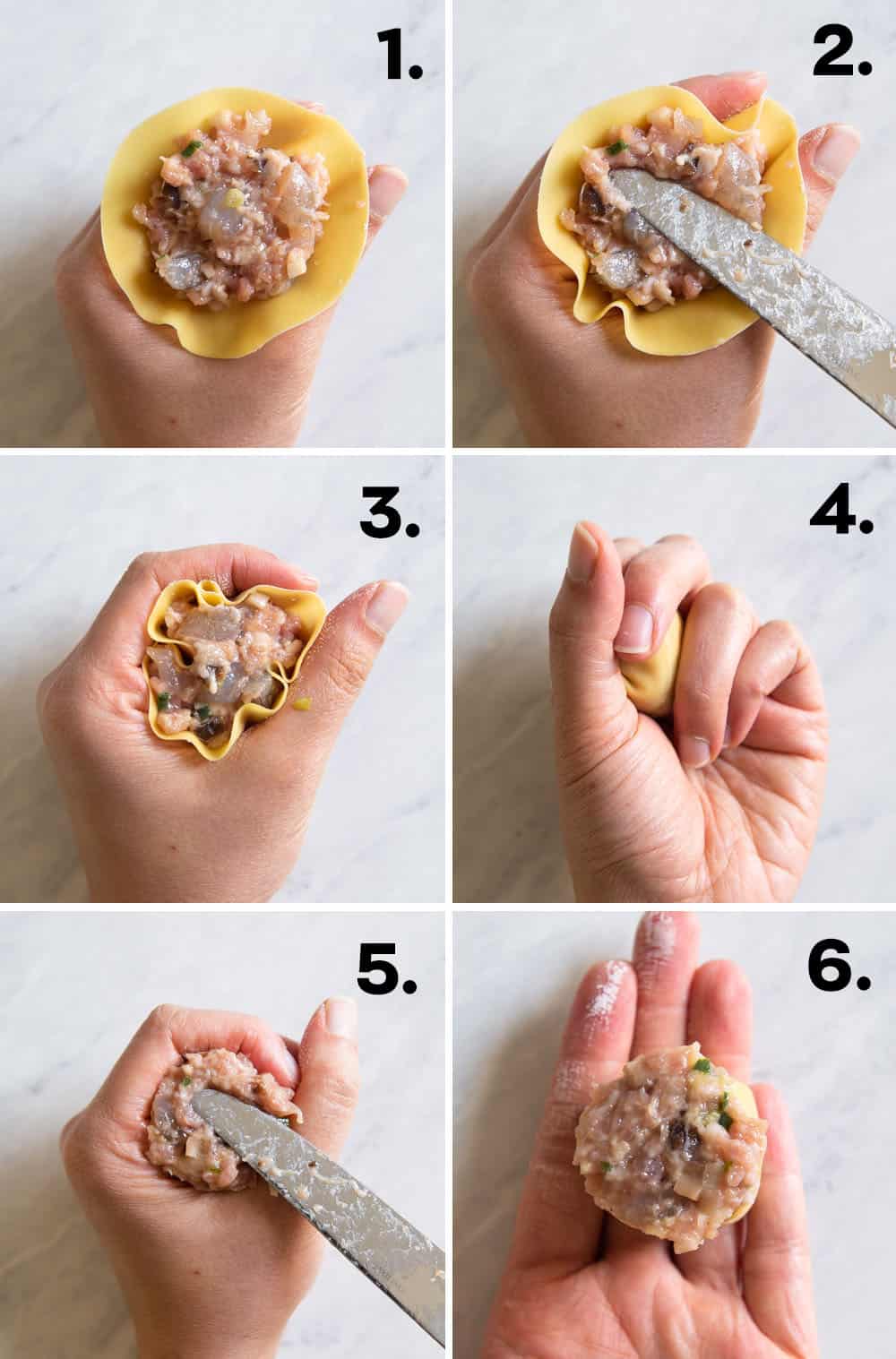 SHAPING THE DUMPLINGS
Place about 2 tablespoons of filling on the center of a dumpling skin. I usually use a butter knife to scoop the filling onto a wrapper, but you can also use a spoon.
Once the filling is on the wrapper, position the dumpling over the crook of your left hand. Use you left hand to shape the dumpling as you pack in the filling with the butter knife. I usually position my ring finger underneath the dumpling to help form the base.
When the dumplings are all filled, top the center of the dumplings with finely diced carrots. Shumai served in restaurants are typically topped with tobiko (roe). I don't usually have tobiko at home, which is why I used carrots instead. You can also top each dumpling with a single pea. Peas tend to wrinkle once they're steamed, which is why I don't use them.
HOW TO FREEZE SHUMAI
Line a plate or sheet pan with parchment paper. Place your filled dumplings over the parchment paper and freeze until they harden. This will take a few hours. Make sure the dumplings do not touch each other. Otherwise, they will get stuck together when they're frozen. Once frozen, transfer the shumai to a freezer bag. They will keep in the freezer for 1 to 2 months.
When you are ready to steam the shumai, place the frozen shumai into your steamer basket. There is no need to defrost them beforehand.
If you like your shumai to look compact and round, freeze the dumplings overnight before you steam them. The shumai tends to hold its shape better this way.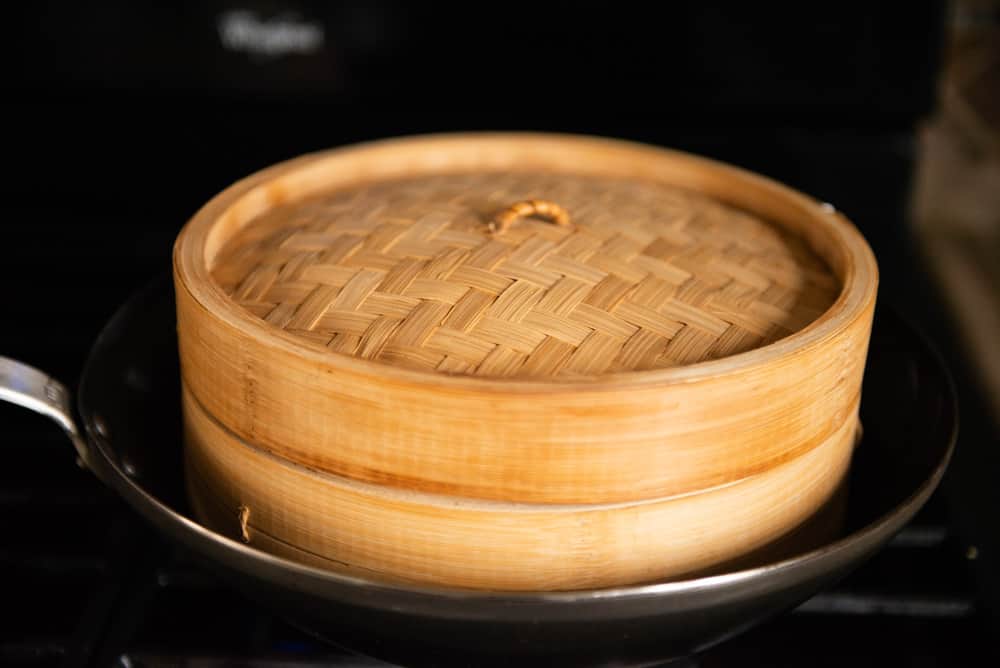 STEAMING SHUMAI IN BAMBOO BASKETS
I prefer steaming the shumai in bamboo steamer baskets lined with parchment paper. However, it is not necessary to use bamboo steamers. You can position a metal steaming rack in the middle of your wok filled with several cups of water. Then, place the dumplings in a stainless steel round plate like this one. Position the plate over the steaming rack. Any plate that can withstand hot steam will work as well.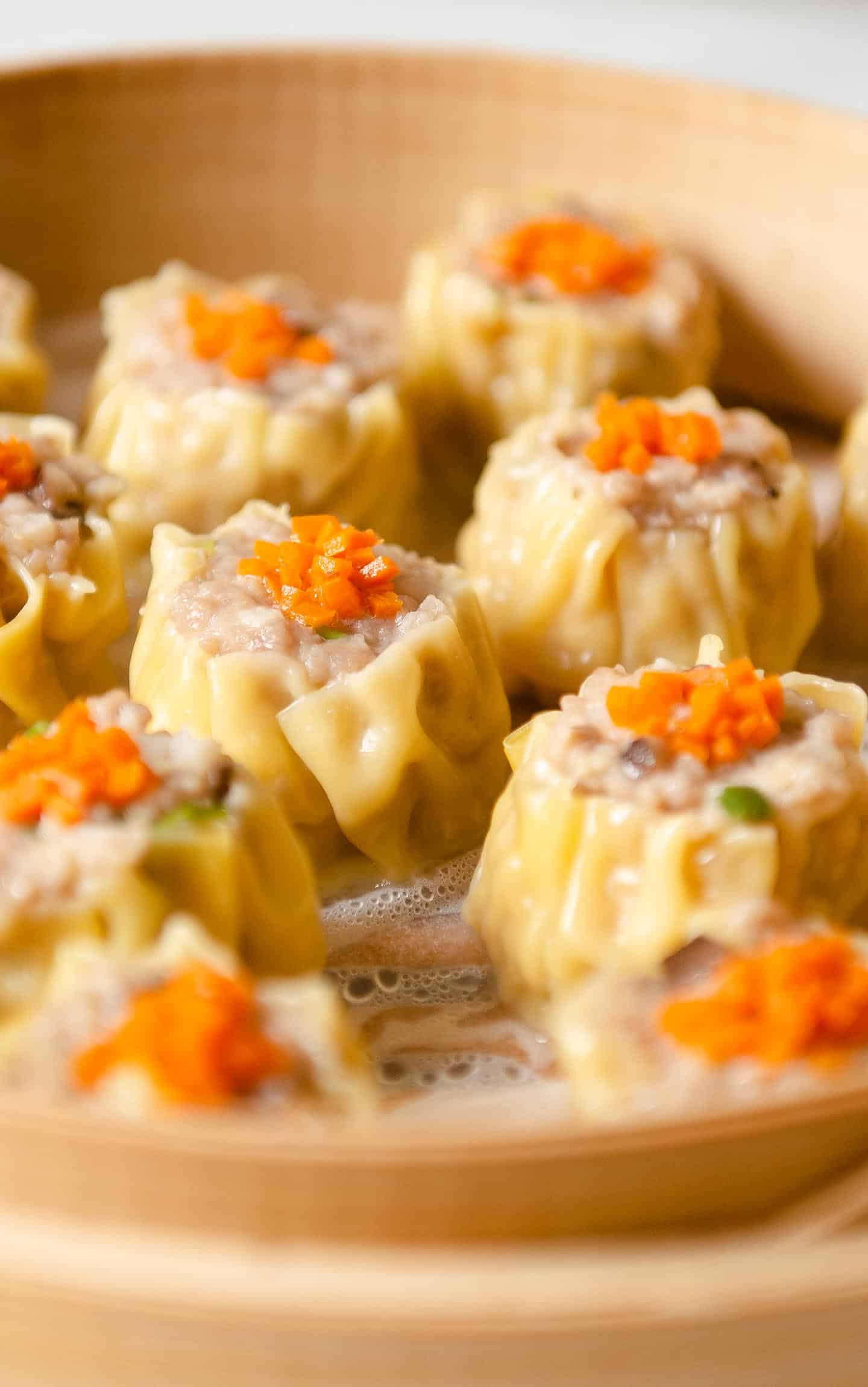 MORE DUMPLING RECIPES
Cantonese Shumai (Siu Mai, 燒賣)
Refer to the post for step-by-step photos on how to wrap the dumplings. My mom also likes adding dried scallops to the filling for more umami flavor. You can usually find dried scallops in Asian supermarkets. If dried scallops are difficult for you to obtain, feel free to leave it out. If you want a more indulgent filing, you can also add pork back fat to the filling. You can read more about it in the notes. This recipe makes between 25 to 30 dumplings.
Ingredients
6 to 8

small

dried scallops (or 2 large dried scallops)

,

optional

1/2

pound

80% lean ground pork

1 1/2

tablespoons

tapioca starch

,

can sub with cornstarch

1/4

cup

water

1 1/2

tablespoons

peanut oil

,

can sub with canola oil

1/2

tablespoon

sesame oil

1/2

pound

shrimp

1/2

cup

chopped water chestnuts

,

(see note 1)

2/3

cup

chopped shiitake mushrooms

,

(see note 2)

1

tablespoon

minced ginger

1/4

cup

sliced scallions

2

tablespoons

oyster sauce

1

teaspoon

kosher salt

1

teaspoon

sugar

1/2

teaspoon

white pepper

25 to 30

thin round dumpling wrappers

,

preferably 3 1/4-inch diameter

1/4

cup

finely diced carrots
Additional Equipment
Instructions
Prep the Filling
If you're using dried scallops, rinse and soak them in water for at least 4 hours or overnight, until the scallops are soft enough to be shredded. Use your hands to shred the scallops. You should have 3 to 4 tablespoons of shredded scallops.

Place the ground pork into a mixing bowl. Add the tapioca starch and water to the bowl and start mixing everything together with a wooden spoon. Keep stirring for several minutes until the pork starts to turn into a paste-like consistency. This step helps to tenderize the ground pork. You should hear squishing sounds as you stir the meat. Add the peanut oil and sesame oil to the bowl and stir to incorporate. Set the bowl aside.

Chop the shrimp into small 1/4-inch pieces and add them to the bowl with the ground pork.

Add the chopped water chestnuts, shiitake mushrooms, ginger, and scallions to the bowl with the pork and shrimp. Stir to combine. Then, add the oyster sauce, salt, sugar, and white pepper. Mix the ingredients until well incorporated.
Make the Dumplings
If you are cooking the shumai immediately, line a bamboo steamer with parchment paper. If you plan to freeze the dumplings, line 1 or 2 large plates or a sheet pan with parchment paper.

(Refer to the photo collage in the post for visuals on how to form the dumplings.) Take one dumpling wrapper and place it on your left hand. Place about 2 tablespoons of filling on the center of the wrapper. Shift the wrapper and filling so that it is laying on top of the crook of your left hand (Photo 1).

Using a butter knife or spoon on your right hand, start pressing the filling down into the gap formed by the crook of your left hand (Photo 2).

Use your left hand to squeeze the dumpling together (Photo 3). I usually form an "o" shape with my thumb and pointer finger to help guide the dumpling into a round shape. My dumplings are usually about 1 1/2 inches in diameter. Use your ring finger to cradle the dumpling underneath (Photo 4). This makes it easier to pack the dumpling with filling.

Make sure to fill the dumpling all the way to the top (Photo 5). You don't want to see any excess dumpling wrapper on the top because the dumplings will not look as nice when cooked.

Place the filled dumpling on the counter and check to see if it stands upright without leaning over. If the dumpling is leaning, use your fingers to straighten it. Transfer the dumpling to your lined bamboo steamer or plate. Continue filling and shaping the dumplings until you run out of the filling.

Top each dumpling with about 1/4 teaspoon of finely diced carrots.

To cook the dumplings, cover the bamboo steamer with the lid. Fill a wok with water. It should cover about 2 ½ inches from the bottom of the wok. Bring the water to boil. Then, carefully place the covered bamboo steamer directly over the boiling water. (See photo in the post for reference.) Let the dumplings cook for 7 to 8 minutes. You can stick a thermometer into a dumpling to see if the meat has reached 165ºF. Remove the steamer basket from the wok and serve.
How to Freeze Shumai 
To freeze the dumplings, place the plate of uncooked shumai into the freezer. Once they harden, you can transfer them to a freezer bag. To cook the dumplings, place the frozen shumai on a bamboo steamer lined with parchment. You do not need to defrost them. Cook the shumai for 9 to 10 minutes. Refer to the post for more tips on freezing shumai.
Notes
I like adding water chestnuts for texture. You can find fresh water chestnuts at Asian supermarkets. Simply peel the outer skin with a paring knife, rinse, and chop the water chestnuts. If they are difficult to find, feel free to leave them out. I hate canned water chestnuts, so I wouldn't bother using them for this recipe.
For this recipe, I used 3 dried shiitake mushrooms that I soaked in water for an hour before chopping. Dried shiitake mushrooms have more intense flavor, which is why I tend to use them for my cooking.
Pork Back Fat: Some people like to add a few tablespoons of finely diced pork back fat to make the filling more juicy and tender. You can also dice the fat from a piece of pork belly for this purpose.
You can usually fit about 15 shumai in a 10-inch steamer basket.
You can cook 2 racks of the shumai at a time. Because the top rack is further away from the boiling water, it may need an extra 30 seconds to 1 minute to cook.
Nutrition
Serving:
1
dumpling
|
Calories:
62
kcal
|
Carbohydrates:
6.3
g
|
Protein:
4.5
g
|
Fat:
2.2
g
|
Saturated Fat:
0.6
g
|
Cholesterol:
21
mg
|
Sodium:
196
mg
|
Fiber:
0.4
g
|
Sugar:
0.3
g
Did you make this recipe?
Tag @hellolisalin or leave a star rating and comment on the blog!