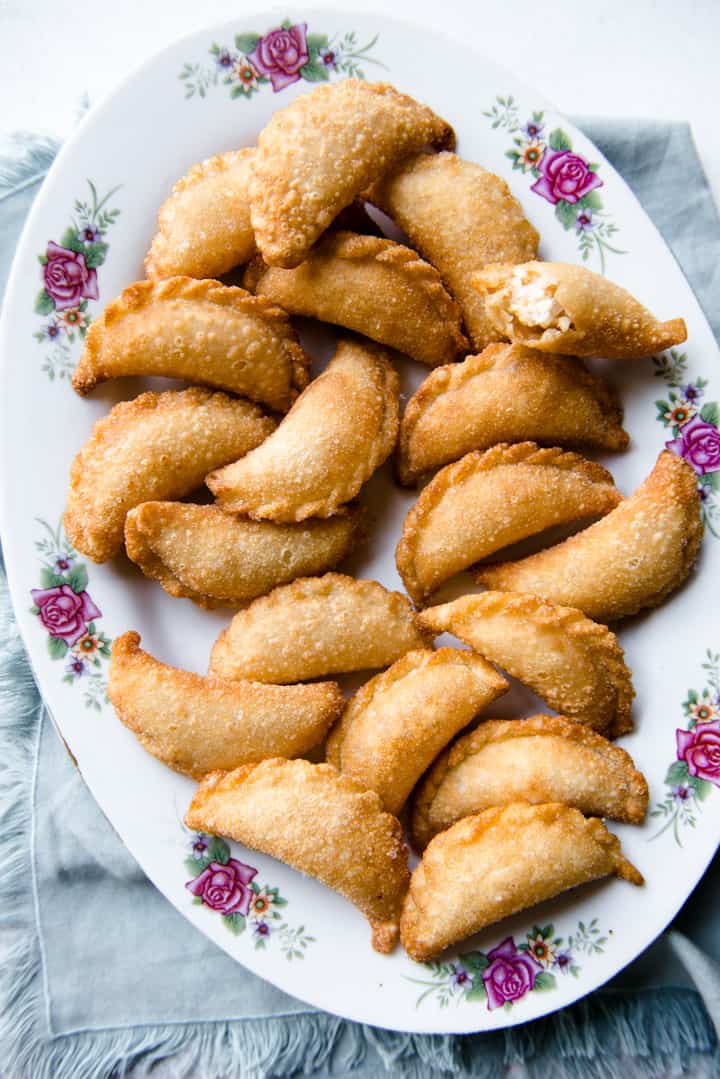 With Chinese New Year around the corner, I want to share one of my favorite new year's dishes: Cantonese sweet fried dumplings (角仔/油角). These dumplings are unique to Cantonese cuisine. They are crispy on the outside and often filled with peanuts, coconut, sesame seeds, and sugar.
All of the dishes prepared for Chinese New Year have a symbolic meaning. We prepare particular dishes because the name of the food sounds like auspicious greetings or words people say to each other in the new year. In the case of sweet fried dumplings, those who eat the dumplings will have an outstanding new year. (Note: "油角" [sweet fried dumplings] is pronounced similarly to "有角" [to be outstanding].)
Sweet fried dumplings (角仔) were one of the first dumplings I helped Mama Lin prepare. Although Mama Lin makes these every year, she does not follow a particular recipe. Rather, she judges the filling by the way it looks. She pours shredded coconut, peanuts, sesame seeds, and sugar into a bowl. Based on the way the filling looks, she'll add a bit more of this and that. Everything is done by memory. She'll take a spoonful of the filling to see if it tastes good, and then we are ready to make dumplings!
Below, I have put together a rough recipe for the filling. Please feel free to add more or less of any ingredient to suit your taste!
HOW TO MAKE CANTONESE SWEET FRIED DUMPLINGS (角仔)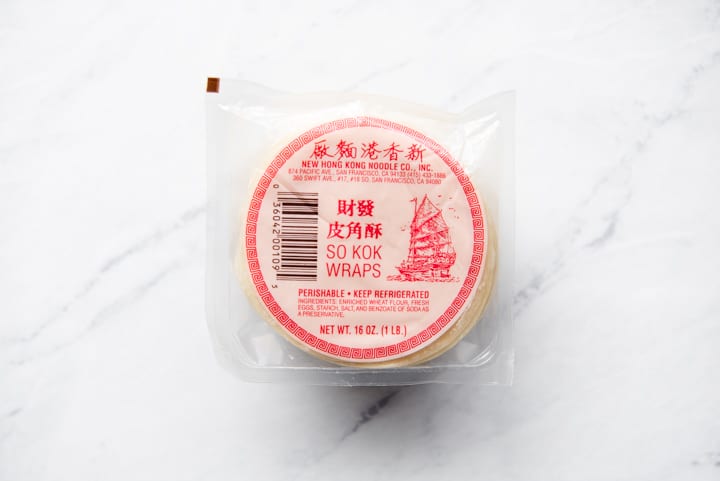 DUMPLING SKINS
Mama Lin typically uses New Hong Kong Noodle Company's "so kok wraps" for the dumplings. Chinese supermarkets sell these only around Lunar new year. If you want to make these during another time of the year, look for thin circular wrappers.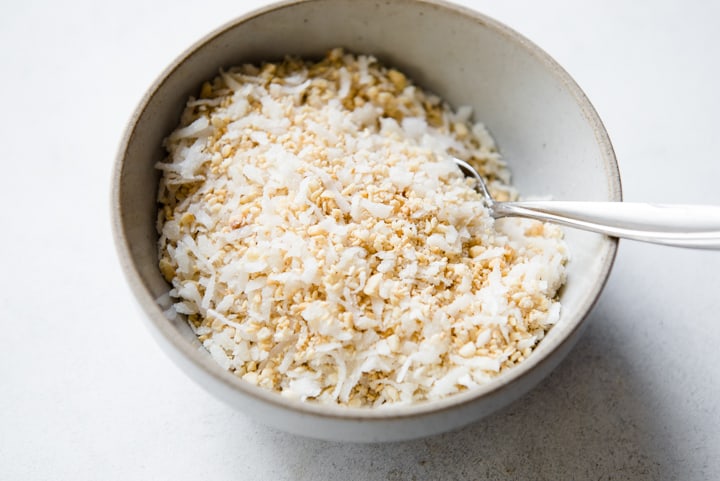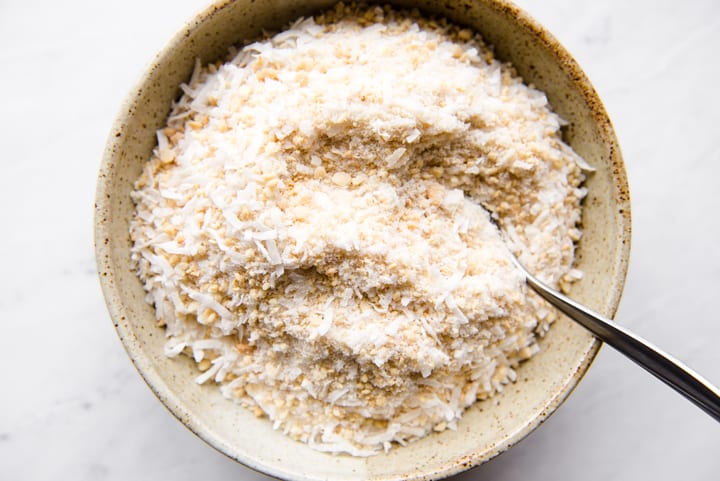 FILLING FOR SWEET FRIED DUMPLINGS
The primary ingredients are coconut, chopped toasted peanuts, toasted sesame seeds, and sugar. Typically, Mama Lin uses sweetened coconut flakes, the kind that you see in the baking section of a supermarket. Because the coconut is already sweetened, you don't need much additional sugar. The top photo of the filling uses sweetened coconut, and the second uses unsweetened coconut. Notice that I had to add more sugar to the filling below. Once cooked, the dumplings that contain more granulated sugar will have a grittier texture, which you might prefer.
Also note that sweetened coconut flakes tend to be more moist. As a result, the filling won't puncture the dumpling skin as much when you seal the dumplings.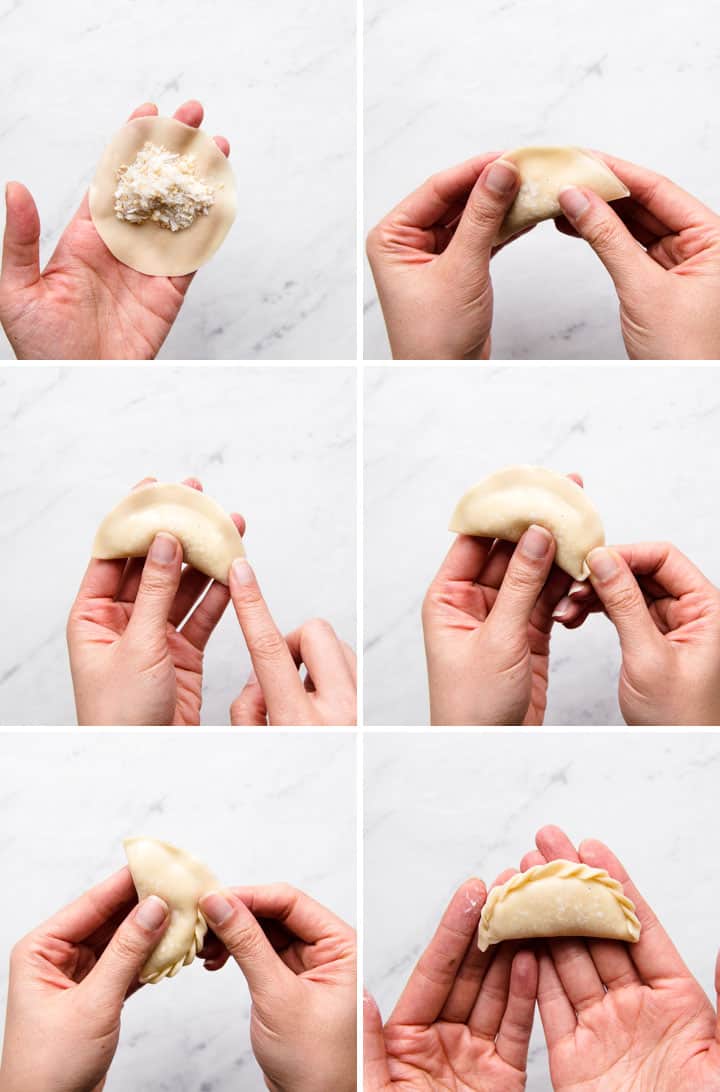 PLEATING GOK ZAI
I typically use water to seal the dumplings. However, you can use egg whites as well, but it will probably be more messy. You can pleat the dumplings like I have done in the photos above. Alternatively, you can simply fold the dumplings in half and skip the pleating. Although the dumplings won't look as fancy, the edge of dumpling will be crunchier once fried.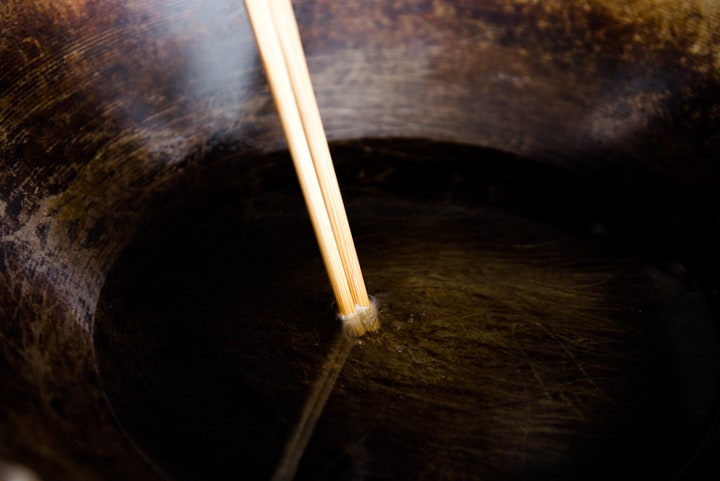 FRYING THE DUMPLINGS
You'll need to heat oil in a wok or a pot for frying the dumplings. Mama Lin typically sticks bamboo chopsticks to the bottom of the wok to determine whether the oil is hot enough. If the oil starts bubbling around the chopsticks, the oil is ready for frying. Alternatively, you can use a thermometer to check the temperature. The oil was about 350ºF when I fried the dumplings.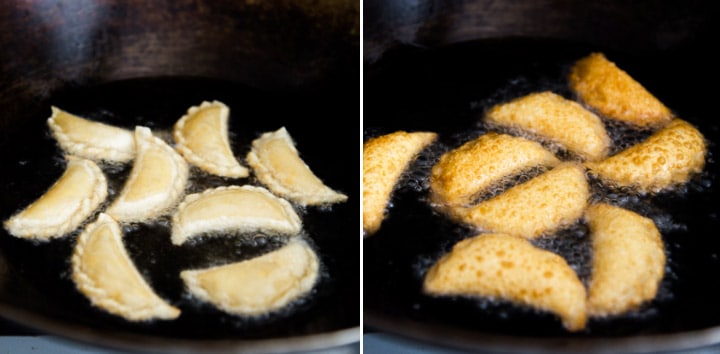 The first batch of these dumplings may take a few minutes (around 3). However, subsequent batches should take about 2 minutes. If the dumplings are browning too quickly, reduce the heat slightly.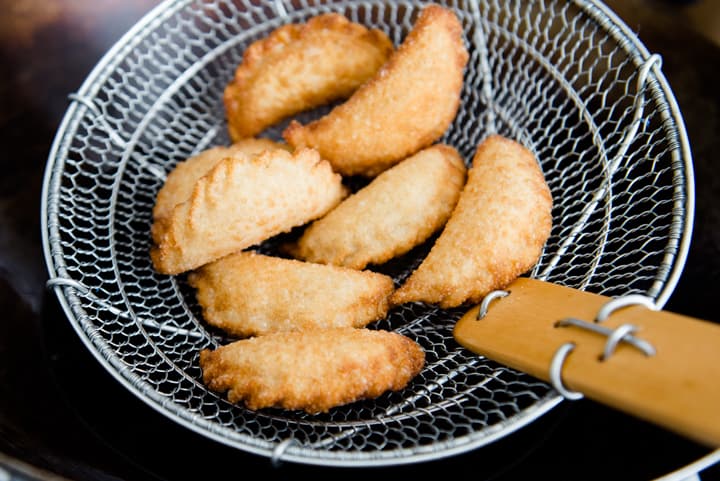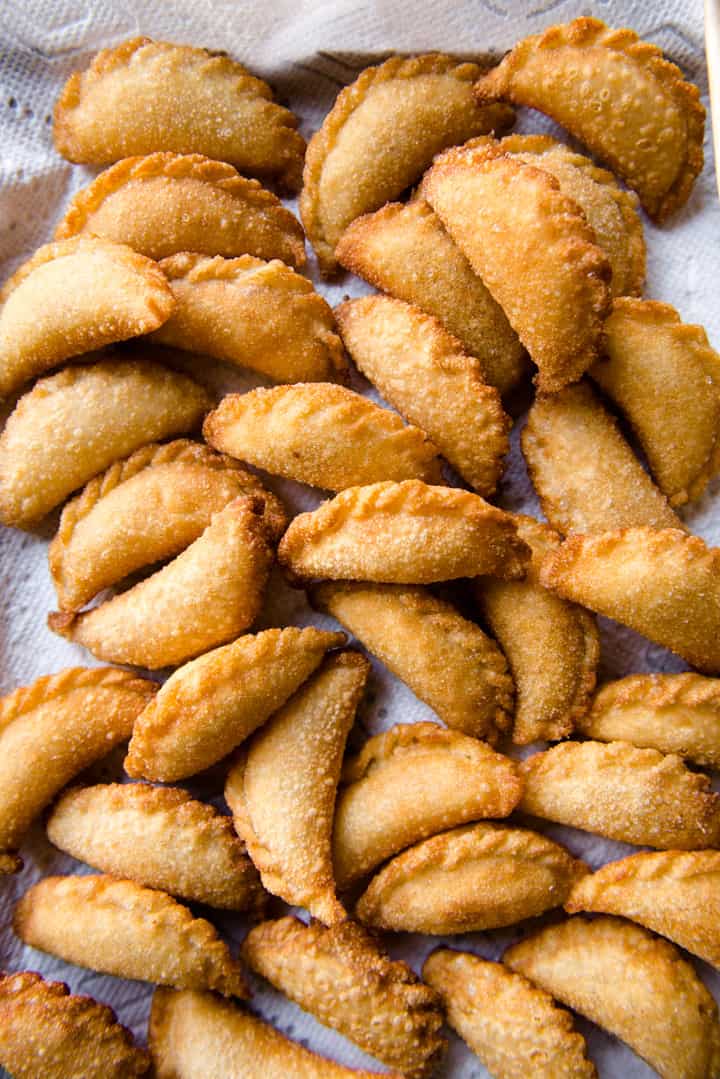 LOOKING FOR MORE DUMPLINGS?
Cantonese Sweet Fried Dumplings - Gok Zai / Yau Gok (角仔/油角)
Typically, I use a special type of dumpling skin (so gok wraps) made by the New Hong Kong Noodle Co. They are based in the Bay Area, so their dumpling skins may not be available outside of Northern California. You can also use any thin circular dumpling skins. It is important that you try to seal these dumplings tightly. You don't want the filling to spill into the hot oil as they're frying. 
Ingredients
1 1/2

cups

(150g) sweetened coconut flakes

1

cup

(140g) chopped toasted peanuts

,

(see note 1)

1/3

cup

(45g) toasted sesame seeds

,

(see note 2)

2 1/2 to 3

tablespoons

granulated sugar

50

thin

,

circular 3 1/2-inch dumpling wrappers

water for sealing dumplings

1 1/2

cups

canola or safflower oil for frying
Instructions
In a bowl, toss the coconut flakes, peanuts, sesame seeds, and sugar together. Taste the filling to see if it is to your liking.

Set up your dumpling making station. Fill a small bowl halfway with water. You will use this to help seal the dumplings. Have a sheet pan ready for holding the pleated dumplings. You also want to have a tea towel ready to cover the pleated dumplings to prevent them from drying.

Dip a finger into the water, and trace it over half of a dumpling skin, creating a "c" shape. Add about 1 tablespoon of filling into the center of the dumpling skin. Fold the dumpling in half and seal tightly (dry half of the wrapper over the wet half).

Dip a finger into the water again and trace it over the edge of the dumpling, creating another "c" shape. Using your thumb, pinch small pleats into the edge. Use the photos in the post for reference. You can also watch this video. Continue filling, sealing, and pleating the remaining dumplings.

Line a large baking sheet with paper towels. You'll be putting the fried dumplings here.

Add the canola oil into a wok and heat it over medium-high heat. Once the temperature reaches 350ºF, reduce the heat slightly to medium. Add several dumplings to the wok, about 7 or 8. When the dumplings are lightly golden on one side, flip them over and fry the other side. Once they are lightly golden, use a spider strainer or tongs to transfer the fried dumplings to the lined baking sheet. The color of the dumplings deepen as they cool, so make sure to take them out once they reach an even light golden color.

Continue cooking the remaining dumplings. Note that the dumplings usually cook faster in subsequent batches. My later batches needed only 2 minutes of frying (about 1 minute on each side). If you notice that the dumplings are browning too quickly, reduce the heat a little.

These dumplings are best consumed the day they are prepared. The dumplings tend to be less crunchy on subsequent days. Refer to this post from Bon Appétit on how to deal with leftover frying oil.
Notes
Mama Lin typically toasts raw peanuts on a dry skillet for a few minutes. Then, she'll let the peanuts cool before chopping them. Even if you are using dry roasted peanuts, toast the peanuts for a few minutes before chopping.
Mama Lin toasts raw sesame seeds for about 2 or 3 minutes. I usually only have roasted sesame seeds in the house. I still toast them in a dry skillet to release some aroma.
Using unsweetened coconut: If you use unsweetened coconut flakes, use these ingredients for the filling: 1 1/4 cups unsweetened flaked coconut, 3/4 cup chopped toasted peanuts, 1/3 cup toasted sesame seeds, 1/2 cup + 2 tablespoons granulated sugar.
Black sesame seeds: If you are looking for a variation, you can use a combination of toasted white sesame seeds and toasted black sesame seeds.
Nutrition
Serving:
5
dumplings
|
Calories:
331
kcal
|
Carbohydrates:
29.3
g
|
Protein:
6.9
g
|
Fat:
22.4
g
|
Saturated Fat:
12.3
g
|
Cholesterol:
2
mg
|
Sodium:
120
mg
|
Fiber:
3.6
g
|
Sugar:
9.2
g
Did you make this recipe?
Tag @hellolisalin or leave a star rating and comment on the blog!