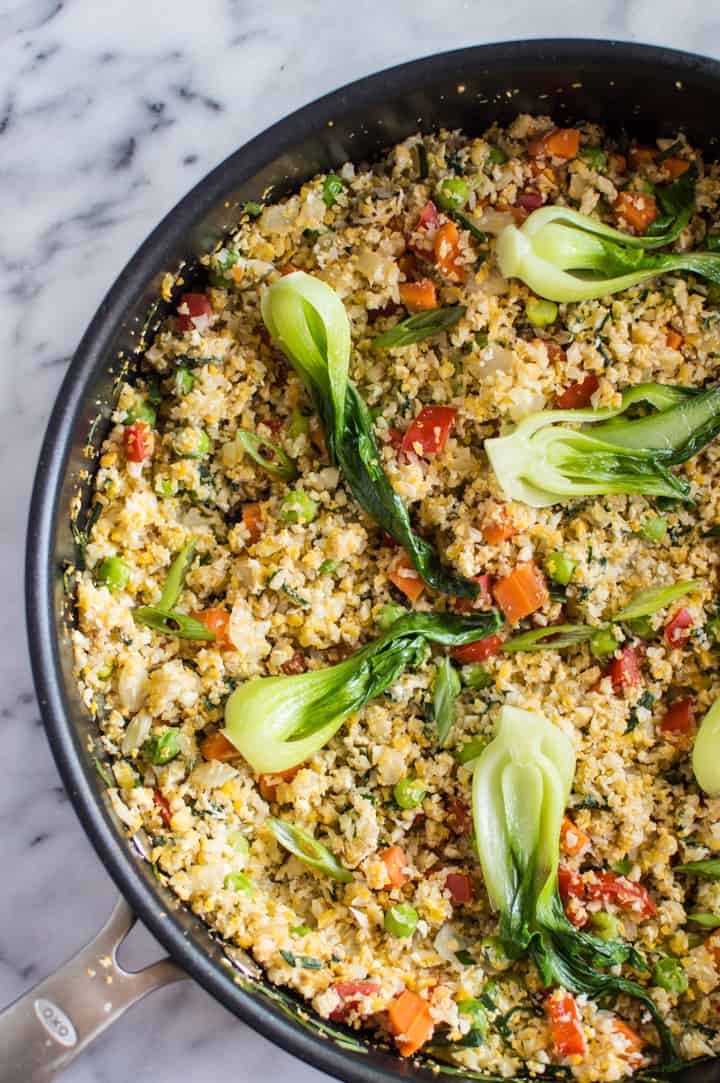 Now, I know that some of you are looking at this recipe and thinking, "Lisa, haven't I seen a fried rice recipe on your blog recently?" You're right, I shared this delicious coconut pineapple fried rice earlier this month. (Have you tried it yet?) But today, we're going paleo. We're swapping brown rice for a perennial paleo classic: cauliflower rice.
I think the whole paleo thing gets a bit of a bad rap for being a carnivore's diet, that people eat nothing but meat all day. For me, that can't be further from the truth.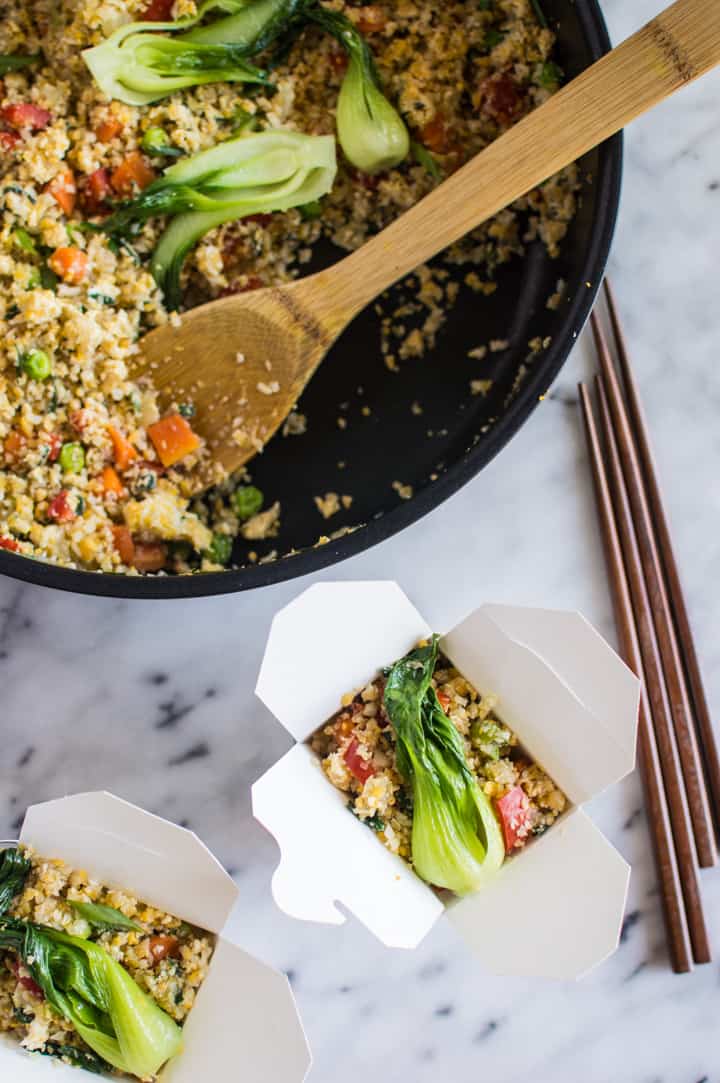 Having been on the Whole 30 for over 2 weeks now, I have to say that my meat consumption has not increased too much from before. I actually find myself eating more vegetables because I'm making noodles with zucchini (like this pasta and this pho dish) or making rice with cauliflower. I swear, I'm not turning into a carnivore!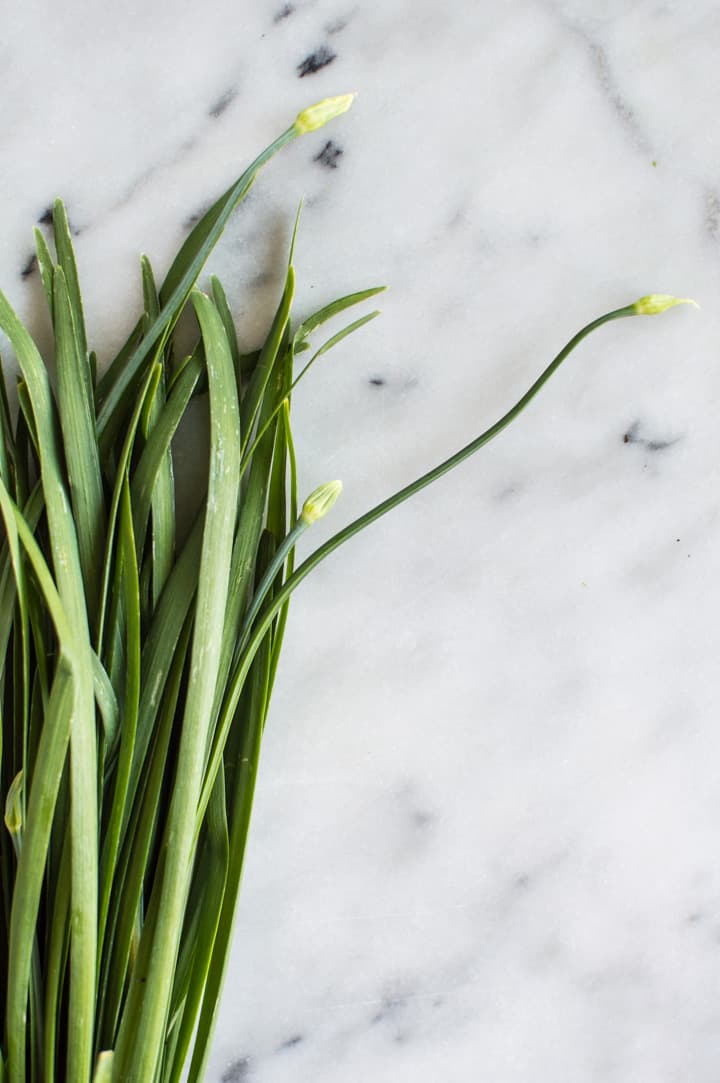 You'll notice in the recipe ingredients that I used Chinese chives. They look a lot like green onions, but they have a deeper green color and some of the greens are topped with cute light green pods. Their flavor is hard to describe, but it's a bit like a cross between green onions and mustard greens.
I usually find them in Asian supermarkets, but I was super giddy to see them at the farmers market last weekend. If you can't find any, just substitute the chives with 2 additional stalks of green onions.
This cauliflower rice tastes so good, you won't notice that you're actually eating cauliflower instead of rice! I've had it for lunch three straight days and I'm still not tired of it. The best part? It's ready in 30 minutes! Perfect for my weeknight "I need to shove something into my mouth right now" kind of needs.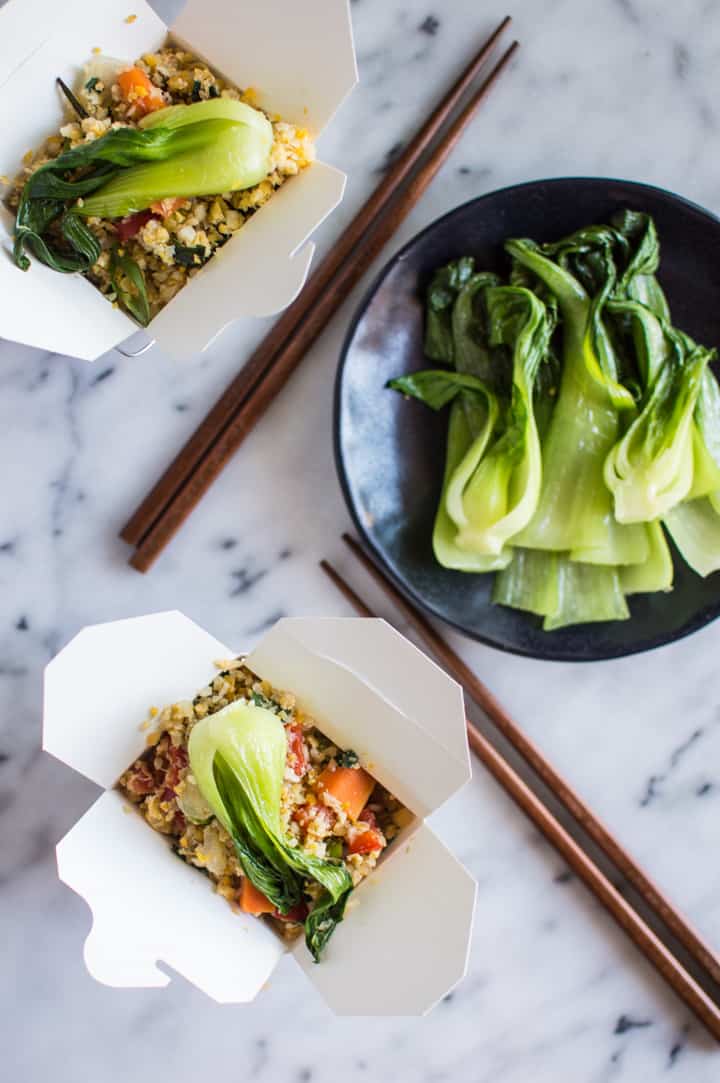 If you make this recipe, make sure to share your creation with me on Twitter or Instagram and hashtag #hnbeats! Also, be sure to follow me on Facebook and Instagram for more Whole30 recipes.
Easy Cauliflower Fried Rice with Baby Bok Choy
This paleo-friendly cauliflower fried rice is ready in less than 30 minutes! It's a great lighter alternative to traditional fried rice! Serves 4 to 5.
Ingredients
Cauliflower Fried Rice
1

large head of cauliflower

,

I used half a regular cauliflower, half a yellow cauliflower

1 1/2

tablespoons

olive oil

3/4

large yellow onion

,

diced

1

large carrot

,

peeled and diced

1/2

cup

(70g) peas

1/2

large red bell pepper

,

diced

3

large eggs

1/3

cup

chopped Chinese chives*

1

stalk of green onion

,

chopped

3

tablespoons

coconut aminos

1

teaspoon

sesame oil

1/2

teaspoon

granulated garlic

1/4

teaspoon

Chinese five-spice powder

salt to taste
Baby Bok Choy
1

tablespoon

olive oil

1/2

pound

(225g) baby bok choy

2

tablespoons

water

1/4

teaspoon

granulated garlic

salt to taste
Instructions
Break the cauliflower into small florets. Pulse the cauliflower in a food processor until it turns into small rice-like pieces.

Heat 2 tablespoons of olive oil in a large sauté pan over medium-high heat. When the pan is hot, add the onions and sauté until the onions are translucent, about 2 to 3 minutes. Add the carrots, peas, and red pepper and sauté for 2 minutes. Sprinkle a pinch of salt on the vegetables. Add the cauliflower rice and another pinch of salt, and stir for 2 minutes.

Scramble the eggs and stir it in with the vegetables in the pan. Cook for 2 to 3 minutes. Stir in Chinese chives and chopped green onions. Season with coconut aminos, sesame oil, garlic, and five-spice powder. Add more salt if desired. Turn off the heat when the eggs have cooked through.

Chop off a bit of the bottom stem of the baby bok choy. Some of the leaves will fall apart, leaving the bok choy heart in tact. Rinse bok choy.

In another pan, heat 1 tablespoon of olive oil over medium-high heat. Add the bok choy and sauté for 30 seconds. Reduce the heat a little. Add 2 tablespoons of water to the pan and cover it for about a minute. The water helps prevent the greens from burning.

Remove the lid, and stir in the garlic and salt. When the greens have turned into a vibrant green color and the darker leaves have started to wilt, turn off the heat. This should be another 30 seconds to 1 minute.

Serve cauliflower fried rice with baby bok choy. Refrigerate any leftovers in an airtight container.
Notes
1. *If you can't find any Chinese chives, just replace it with 2 stalks of green onions.
2. If you don't have coconut aminos and you're not too concerned with the whole paleo thing, use 2 tablespoons of low-sodium soy sauce instead. Soy sauce is saltier than coconut aminos, so be careful about how much additional salt you add to the fried rice.
Did you make this recipe?
Tag @hellolisalin or leave a star rating and comment on the blog!