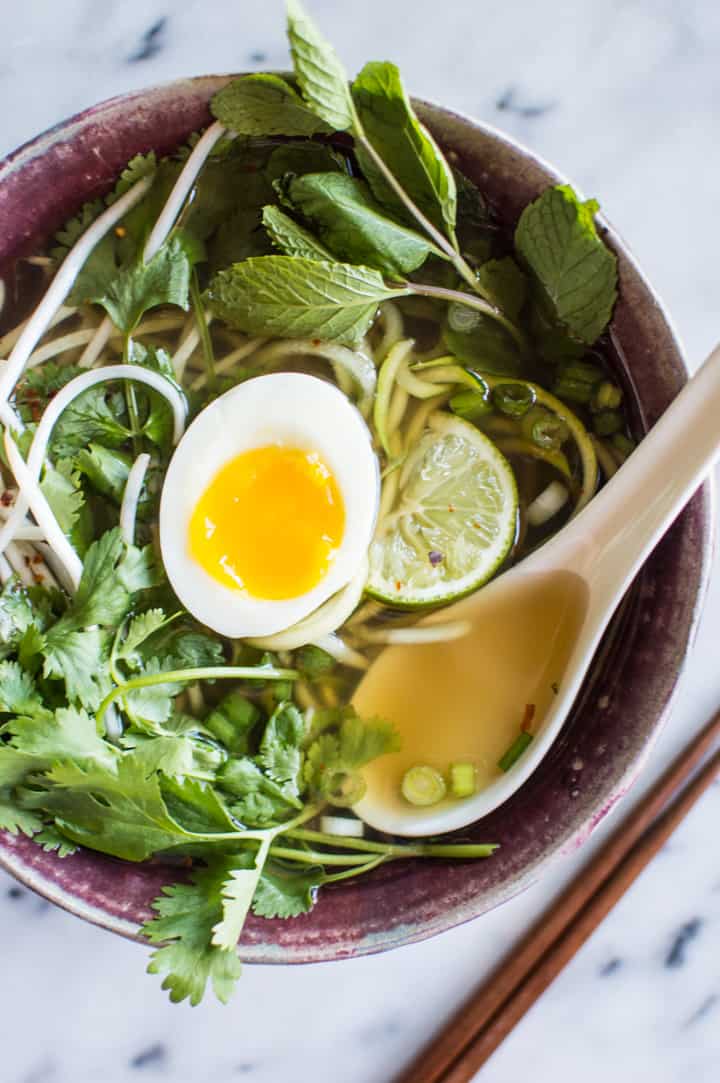 I like to daydream about places in the world where I can live in besides the Bay Area. Seattle, Portland, England . . . If I really had things my way, I would own two homes of different character. One in the U.S. with the state-of-the-art kitchen and a garden so that I can pretend to grow things. Then another in England with a rustic kitchen and a nook for afternoon tea. That way, I can pop over to Mama Lin's for a piece of her cake and have my Cornish pasties year round. Come to think of it, I would also like the ability to teleport, but that's besides the point.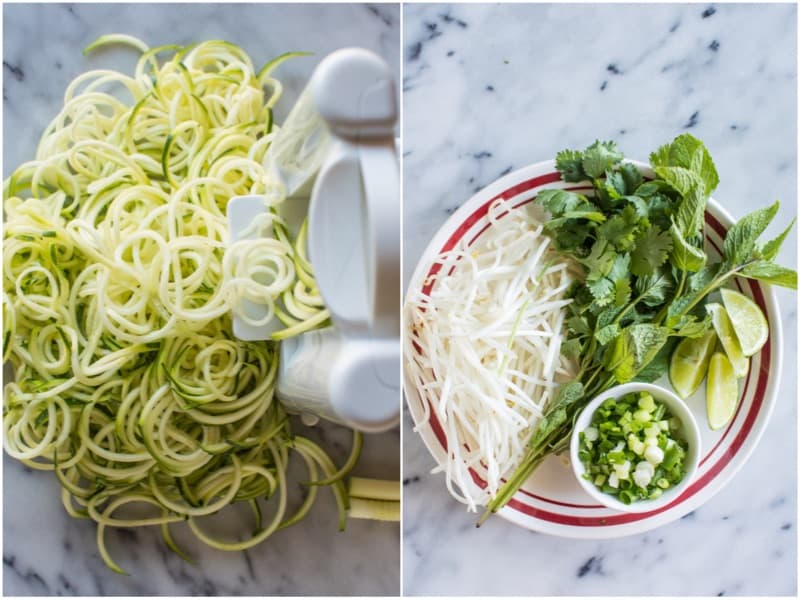 Wherever I live, there needs a LOT of Asian food around me. I don't mean the one Chinese restaurant where everyone in town orders their greasy takeout. I mean somewhere that I can find some good dim sum, bún chà (rice noodles with BBQ pork), pad thai, curry, and lumpia in a pinch. Somewhere that I can find some obscure Chinese sauce if a recipe calls for it. How can I ever leave the Bay Area?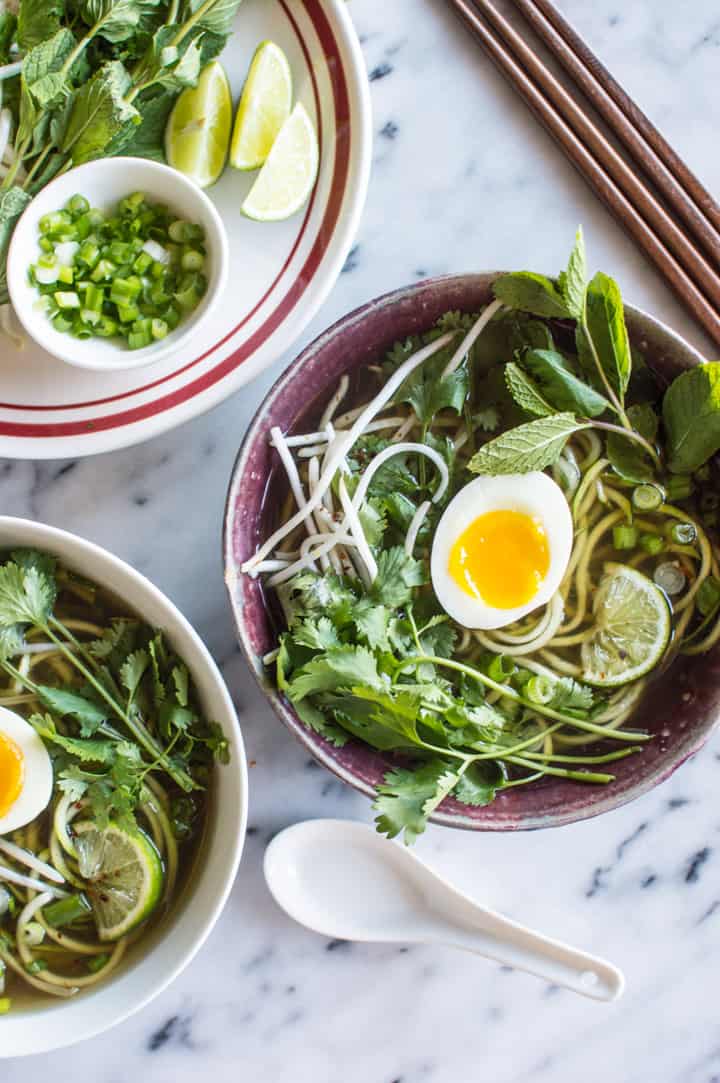 When I lived in D.C. a few years ago, there were two things that I missed sorely: a proper Asian supermarket where I can find all my Chinese sauces and a decent Vietnamese restaurant. The first problem was remedied by care packages from home twice a year (usually around finals time). The second problem was never resolved. That's why I need to learn how to make Vietnamese food myself, so that I never run into any problems when pho or bún chà is hard to find.
Pho broth usually takes a few hours to make, but I used this trick from Bon Appétit to speed up the cooking process: charring the onion and ginger on a skillet before throwing it into the stock pot.
This pho broth involves onions and a few spices: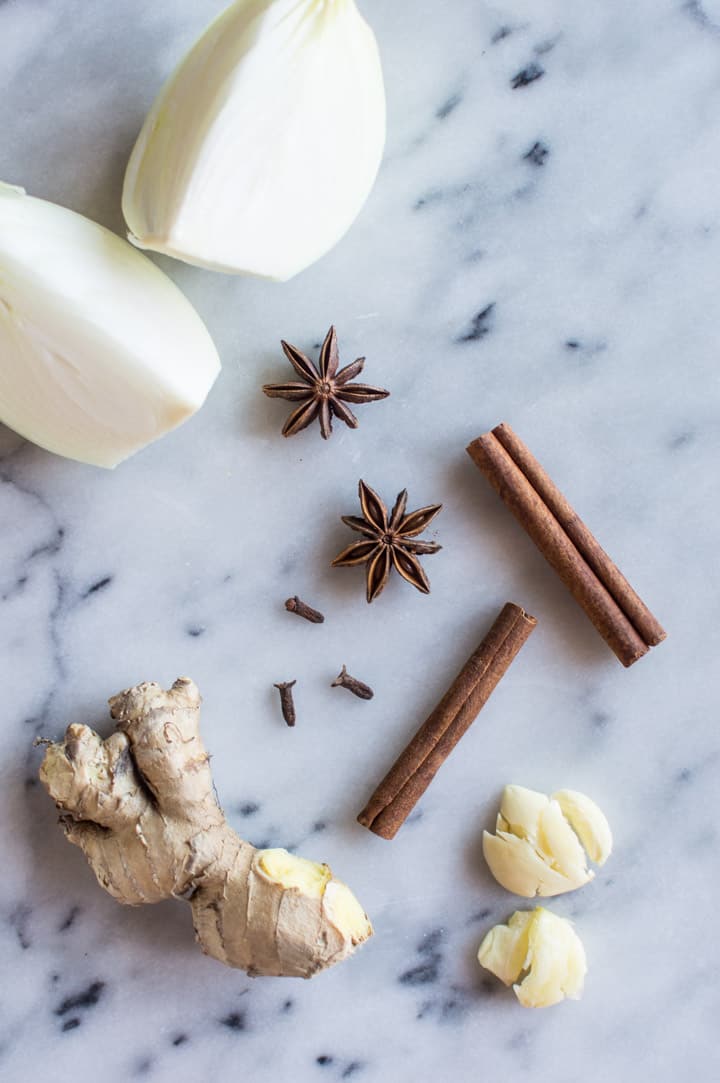 Just a word of warning, the flavor of star anise is STRONG. If you're not a fan of it, just leave it out. The other spices will save the day.
Let's get ready to slurp!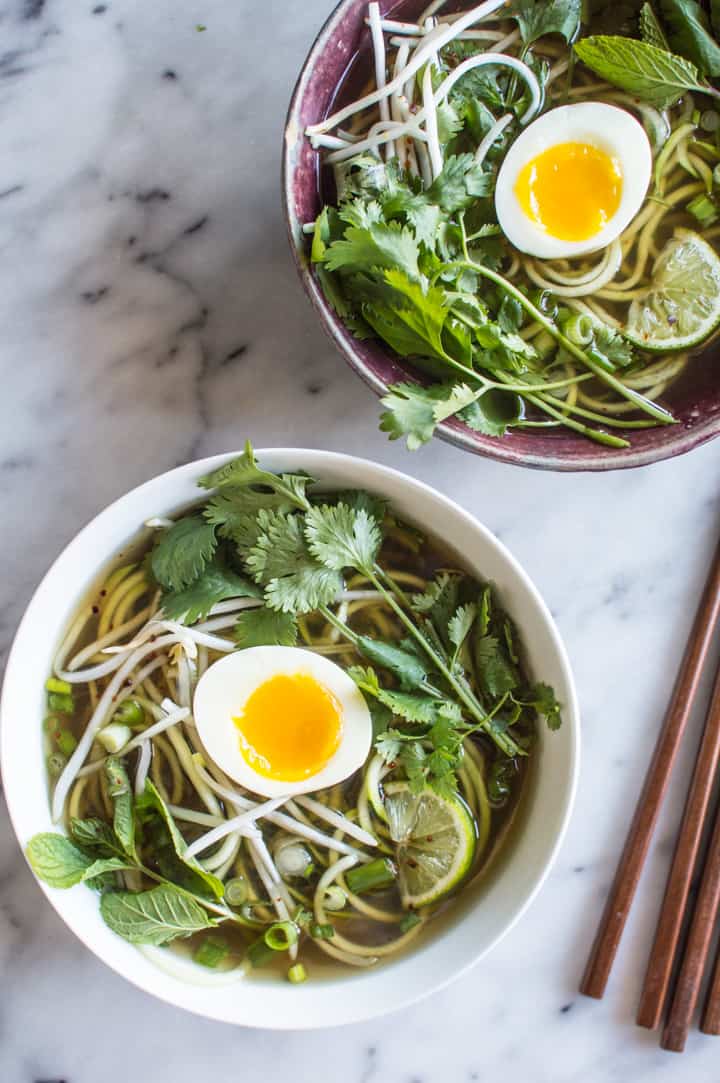 Quick Vegetarian Pho with Zucchini Noodles
This vegetarian pho is a play on the classic beef-based pho. With zucchini noodles and soft boiled eggs, this bowl is the perfect light lunch or dinner! Serves 3 to 4.
Ingredients
1

large onion

,

peeled and quartered

1-

inch

piece of ginger

,

peeled and sliced in half

1

star anise

2

cinnamon sticks

3

whole cloves

2

garlic cloves

,

smashed

8

cups

vegetable broth

2

tablespoons

soy sauce sauce

1

tablespoon

coconut aminos

salt to taste

4

large eggs

3

large zucchini
Toppings
1

cup

bean sprouts

1 to 2

limes

,

sliced

cilantro

mint leaves

2

green onions

,

chopped

red pepper flakes
Instructions
Place onion and ginger on skillet over medium-high heat, cut side down. Char ginger for about 3 to 4 minutes and the onion for 5 minutes, turning them halfway. Transfer onion and ginger into a stock pot.

Place star anise, cinnamon sticks, cloves and garlic into the skillet and stir until the spices become fragrant, about 30 seconds. Turn off the heat and transfer spices into stock pot.

Pour vegetable stock into the pot and bring to a boil. Once the broth has boiled, reduce to a simmer and add fish sauce, coconut aminos, and salt. I used 1 tablespoon of kosher salt because my vegetable broth was not salted. Reduce heat to low and let broth simmer for 30 minutes, covered. There shouldn't be many bubbles bubbling. The simmering allows the spices to set into the broth more.

While broth is cooking, spiralize zucchini noodles. I like to give the noodles a few rough chops so that they're easier to eat. Separate noodles into 3 or 4 bowls.

When the broth is ready, strain it, and return it to the pot. Turn the heat on low and cover the pot.

Fill a large saucepan with several inches of water (enough to cover an egg). Bring water to boil and set the eggs inside. Let the eggs cook for 7 to 8 minutes and remove them. Put eggs into a cold water bath so that the eggs are easier to handle. Peel and slice each egg in half. The outside of the yolks should be slightly hardened with a bit of runniness on the inside.

Turn off the heat for the broth and taste it. Add more salt, if necessary. Fill each bowl of noodles with broth. Top each bowl with the soft-boiled eggs, bean sprouts, cilantro, mint, lime, and red pepper flakes. I like a lot of citrus in my soup, so I usually add about 1 tablespoon of lime juice to my bowl.
Did you make this recipe?
Tag @hellolisalin or leave a star rating and comment on the blog!