Chinese chive boxes are a classic street food from Northern China. Here is a vegetarian take on the classic dish. Also, learn how to make the dough from scratch!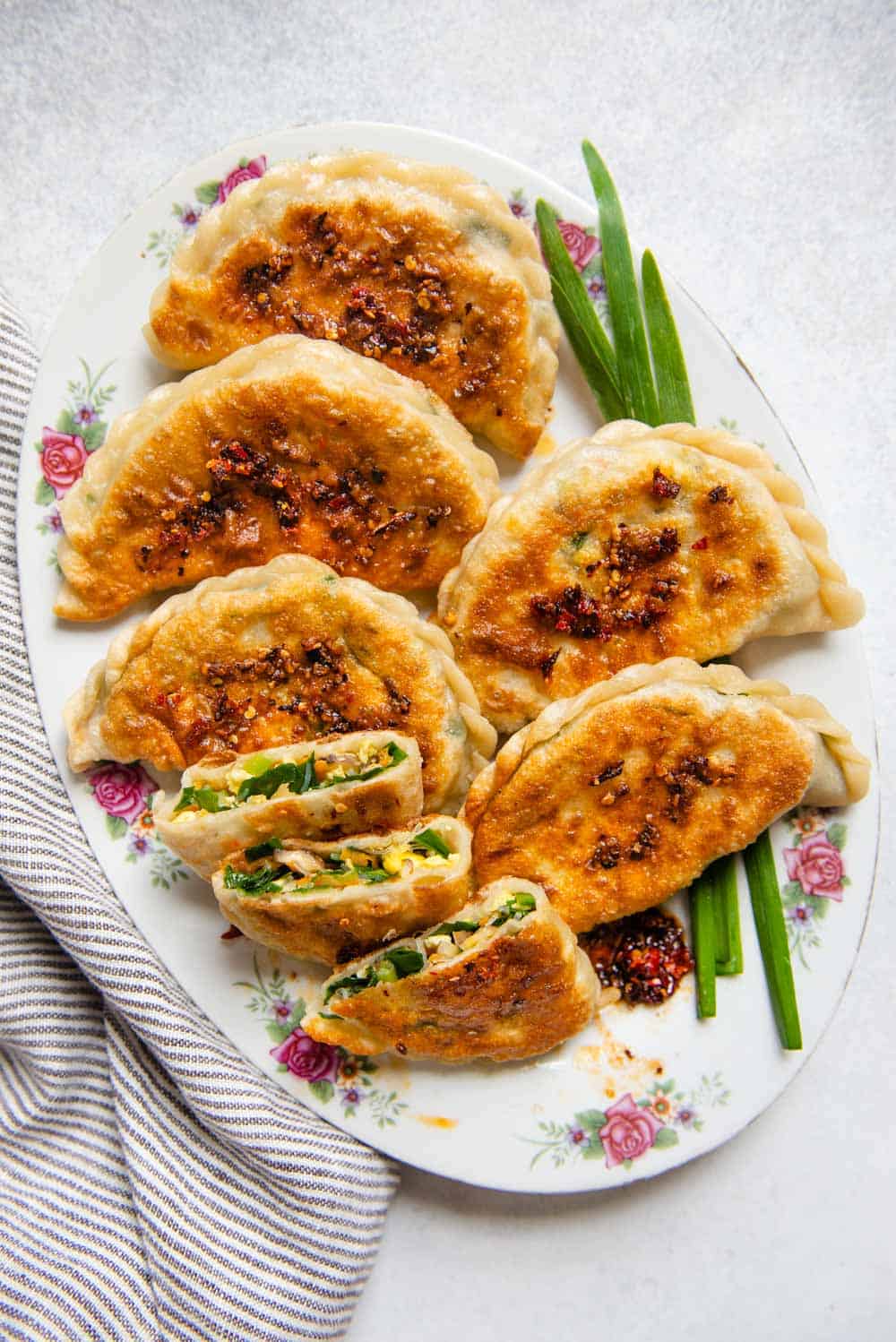 Thank you to Bob's Red Mill for sponsoring this post!
One of the biggest joys about blogging is being able to cook with Mama Lin. I helped her in the kitchen when I was young, and we have now come full circle with her helping me cook for my blog.
Occasionally, Mama Lin sends a message to me about a new dish that she wants to try. These Chinese chive boxes were one of her suggestions.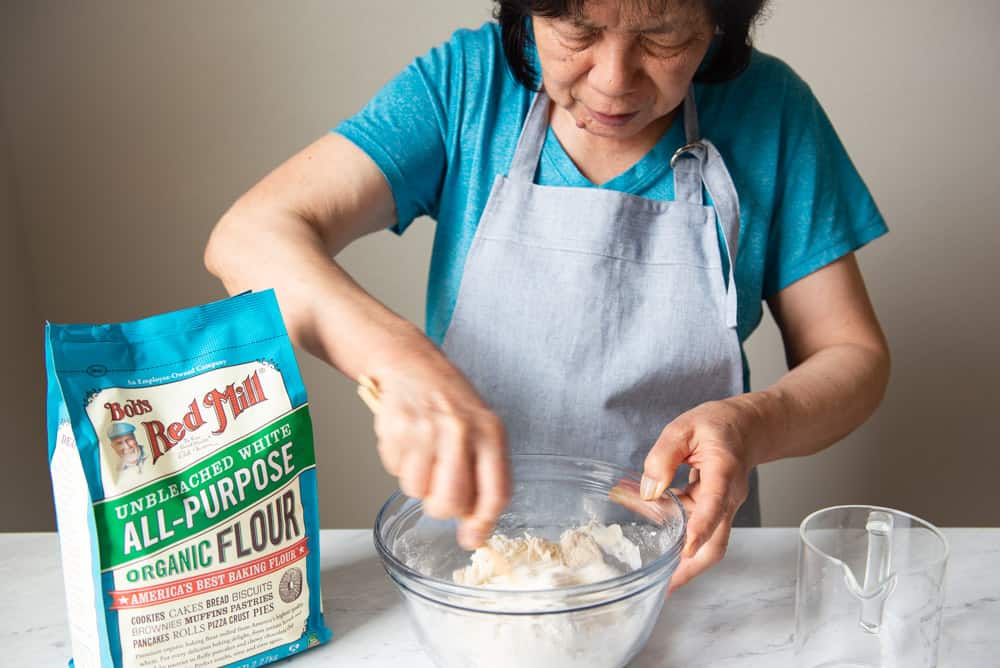 Chinese chive boxes (韭菜盒子, also called chive pockets) come from northern Chinese cuisine. They are a popular street food, and they're often prepared for new year's celebrations. Typically, the filling includes Chinese chives (or garlic chives), eggs, vermicelli, minced meat, and dried shrimp. I wanted to make a vegetarian version, so I substituted the meat and shrimp with shiitake mushrooms and shredded carrots.
Because chive boxes are usually larger than regular dumplings, you'll need to make the dough from scratch. Don't worry, it's incredibly easy to make.
For the dough, I am using Bob's Red Mill's Organic Unbleached White All-Purpose Flour. The flour is freshly milled from certified organic, hard red wheat. I love how the flour is finely ground because it helps make the dumpling dough soft and smooth. Even Mama Lin commented on how nicely the dough felt when we used Bob's Red Mill's flour!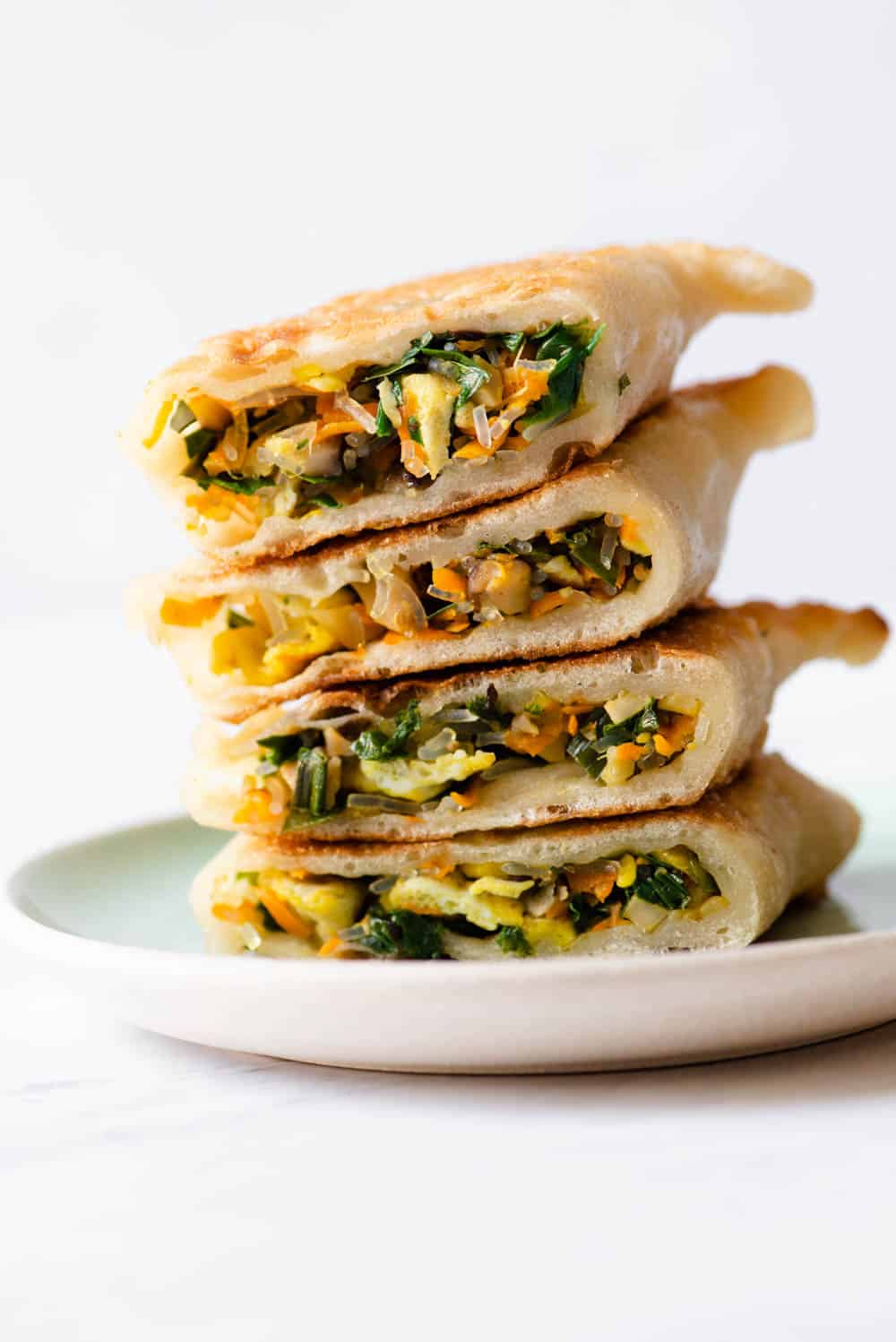 WHY USE WARM WATER FOR THE DOUGH
Many recipes for Chinese chive boxes recommend using just boiled water to make the dough. I don't like the consistency of the hot water dough. The dough is sticky and it loses a lot of elasticity due to the heat of the water. I find the texture of hot water dough to be a little sticky when I bite into it. That's why I prefer making the dough with warm water at about 110ºF.
You also don't want to use cold water to make the dough. The dough will stretch back significantly every time you roll it out. It's very frustrating.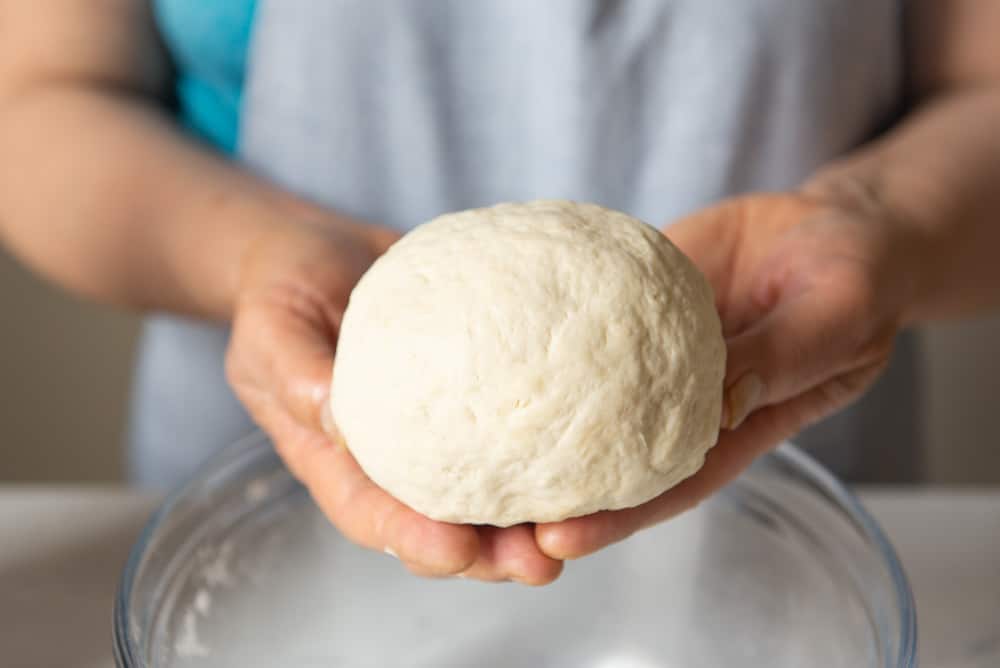 HOW TO MAKE THE CHINESE CHIVE BOXES AHEAD
If you want to make these ahead, place the pleated chive boxes to plates or a baking sheet lined with parchment paper. Freeze them for a few hours, until they are hard on the outside. Then, transfer them to zip top bags.
When you are ready to cook the chive boxes, place the frozen boxes directly to a heated pan with oil. There is no need to thaw the chive boxes. You'll just need to add a few more minutes to the cooking time.
FOLDING TECHNIQUE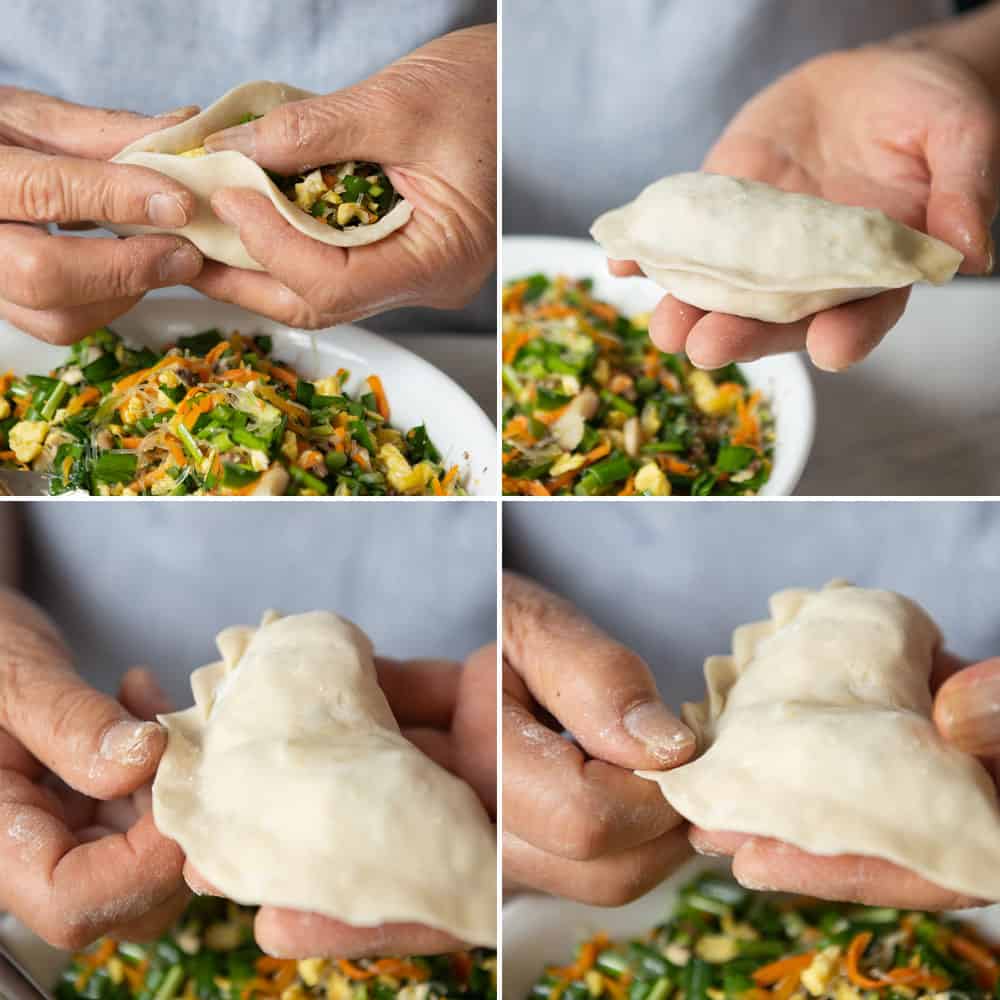 Print
Chinese Chive Boxes (韭菜盒子)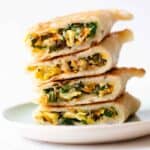 These chive boxes are slightly smaller than the traditional version. If you want larger boxes, divide the dough into 8 pieces and use each to make the box.
Author:
Prep Time:

1 hour 30 minutes

Cook Time:

25 minutes

Total Time:

1 hour 55 minutes

Yield:

12

Boxes

1

x
Dough
3/4 cups

(170g) water

2 cups

(285g) all-purpose flour, plus more for dusting

1 teaspoon

safflower or other neutral oil
Filling
2 cups

(140g) chopped Chinese chives (1/4-inch pieces)

5 teaspoons

safflower or other neutral oil, divided

3

large eggs, lightly beaten

1 tablespoon

minced ginger

1/3 cup

chopped shiitake mushrooms*

1/2 cup

chopped hydrated mung bean vermicelli**

2/3

grated carrots

1 1/4 teaspoons

kosher salt

1 teaspoon

sugar

1 teaspoon

ground coriander

1/4 teaspoon

ground white pepper

2 teaspoons

sesame oil
For Frying
3 tablespoons

safflower or other neutral oil

1/2 cup

water
For Serving
Instructions
Prepare the Dough
Add the 2 cups of flour into a mixing bowl. Create a well in the center of the bowl.

In a microwave-safe jar or bowl, microwave the water on high for 30 seconds. The temperature of the water should be around 110ºF. It is very warm to touch but should not be scalding. Carefully pour the water into the bowl with the flour.

Use chopsticks or a wooden spoon to mix the flour and dough. Once the dough starts coming together, drizzle in 1 teaspoon of safflower oil. Use your hands to gather all the bits of dough and knead together for several minutes. The dough may be a little tacky but it shouldn't be sticky. If the dough is feeling dry, add a tiny splash of water.
Shape the dough into a ball. The surface should be relatively smooth. Place the dough in the bowl and cover the bowl with a wet towel, silicone cover, or plastic wrap. Let the dough rest for 30 minutes.
Prepare the Filling
Transfer the chopped chives to a mixing bowl. Add 2 teaspoons of safflower oil and toss with the chives. Set the bowl aside.

Drizzle 1 teaspoon of safflower oil into a nonstick skillet over medium-high heat and swirl it around. Once the pan is hot, add the beaten eggs. Cook them for about 1 minute, scrambling the eggs with a spatula. Turn of the heat, and use the spatula to break up any large chunks of egg into small pieces (no larger than 1/2-inch pieces). Transfer the scrambled eggs to a plate and wipe down the skillet.
Drizzle the remaining 2 teaspoons of safflower oil into the skillet over medium-high heat. Add the ginger and mushrooms and sauté for a minute. Mix the carrots and chopped vermicelli and stir for another minute. Turn off the heat. Season with the salt, sugar, ground coriander, and white pepper. Stir to combine. Transfer everything to the plate with the eggs and let cool for 10 minutes.
Pour the egg and vegetable filling to the bowl with the chives. Drizzle in the sesame oil and toss to combine.
Make the Chive Boxes
Flour your work surface and a large baking sheet. You will transfer your filled chive boxes to the baking sheet.

Take the dough out of the bowl and knead it for a few seconds.
Divide the dough into 12 pieces, about 38g per piece. Roll each piece of dough into a ball. Roll out the dough into circles, about 4 ½ to 4 ¾ inches in diameter. Use a dry cloth to cover the rolled out dough to prevent them from drying out.
Take a rolled out piece of dough and place about 3 to 4 tablespoons of filling into the center. Fold the dough in half and seal so that you end up with chive boxes that are a half-moon shape. Make sure that the boxes are properly sealed. Using your thumb to pinch small pleats into the dough. You can use the step-by-step photos in this post

for reference.

Once you have pleated a chive box, transfer it the floured baking sheet. Cover the baking sheet with another dry cloth to keep them from drying out.
Repeat with the remaining dough.
Cook the Chive Boxes
Fill a measuring cup with about 1/2 cup of water. Set it next to the stove.

Drizzle 1 1/2 tablespoons of safflower oil to a large skillet over medium-high heat. Place 6 chive boxes onto the pan. Fry them for about 2 minutes, until they're lightly golden on the bottom. Flip them over and fry for another 1 to 2 minutes, until lightly golden.
Hold the lid of the skillet in one hand and use it as a shield as you pour 1/4 cup of water into the pan. Cover the skillet with the lid and cook for about 3 to 4 minutes.
Uncover the pan and flip the chive boxes over. Keep cooking and flipping the boxes until all the water has evaporated and there is a nice crust on both sides of the chive boxes. Transfer the cooked boxes to a serving plate. Repeat for the remaining chive boxes.
Serve the chive boxes immediately. I like serving them with chili oil

along with the sediment (chili flakes, fried ginger and garlic).
Notes
NUTRITION INFORMATION: Amount for 1 Chive Box: Calories: 177, Total Fat 8g, Saturated Fat: 1.3g, Cholesterol: 46.5mg, Sodium: 267mg, Total Carbohydrate: 22.4g, Dietary Fiber: 1.2g, Sugar: 2g, Protein 4g
*You can also use dried shiitake mushrooms for this. Soak the dried mushrooms in warm water for about 30 minutes so that the mushrooms plump up. You'll need about 4 medium-sized mushrooms.
**I used dried mung bean vermicelli and soaked them in warm water for about 20 minutes. Mung bean vermicelli usually come in small or larger bundles. I started out with 20g dried vermicelli and soaked it in water.
Disclosure: This post was sponsored by Bob's Red Mill! To learn more about their products and to get more recipe inspiration, follow them on Instagram or Facebook.