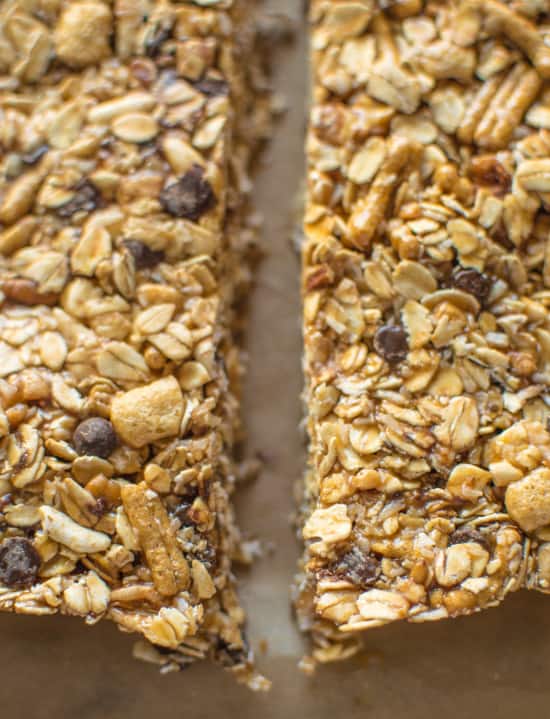 I find it mildly alarming that as I get older, I become more like Mama Lin.
The ugly:
Worrying too much – Sometimes, I catch myself in the middle of savasana pondering whether a recipe photo looks good enough for the next day's post.
Stuffing my refrigerator with food – For as long as I can remember, Mama Lin packed every inch of her refrigerator with food, and I have picked up that habit. I always hear people complaining about running out of food in the house, but that is NEVER a problem with me.
Shoving food in front of my guests – It is an affront to Mama Lin if you set foot under her roof and refuse to eat anything. She insists on having it her way, and she is persistent. (Of course, she does all of this in the cheerful, Mama Lin kind of way.) Now, I feel the same impulse to offer all my food for anyone who visits me even when they're not hungry.
The good awesome:
Finding joy in cooking and kitchen experiments.
Packing a buffet of snacks before a flight or a long car ride.
My snack pack always includes nuts, dried fruit (usually mangoes), snack bars, and an apple for good measure. No matter if my trip is 2 hours long or 12 hours long, the snack pack stays the same.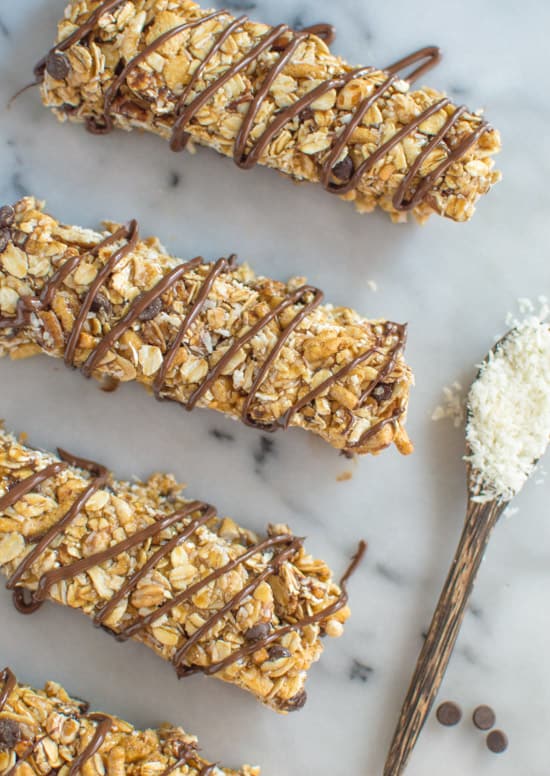 These chocolate coconut snack bars are making it to my next trip. I've made many batches of these snack bars already, and they've inched their way to the top of my list of homemade nibbles. These snack bars are:
Chewy: the brown rice syrup and peanut butter binds the ingredients together but doesn't harden into a brick.
Crunchy: the Kashi GOLEAN cereal doesn't buckle under the pressure of the wet ingredients and retains much of its crunch.
Nutty: all snack bars should contain healthy fats.
Chocolate-y: this is a given with any treat I make, really.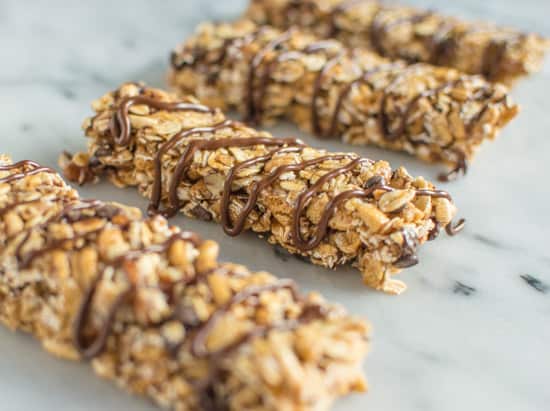 If you're down for chewy granola bars like I am, give these bars a try!
Chocolate Coconut Snack Bars
Makes 12 bars.
Ingredients
1 1/2

cups

(120g) rolled oats

1 1/4

cups

(65g) Kashi GOLEAN cereal,

1/2

cup

(60g) chopped pecans

1/4

cup

(20g) shredded unsweetened coconut

1/4

cup

60g mini vegan chocolate chips (use regular chips if not vegan)

1/2

cup

(120ml) brown rice syrup

1/3

cup

(80ml) peanut butter

1

tsp

pure vanilla extract

1/3

cup

(80g) mini vegan chocolate chips for drizzling (optional)
Instructions
Line a baking dish with parchment paper. I used an 8×11 inch baking dish, but you can also use a square baking dish instead. I cut up 2 sheets of parchment paper and laid them like a cross over the baking dish. The granola bars come out much easier if you line the dish.

In a large bowl, mix the rolled oats, cereal, pecans, coconut, and 1/4 cup of chocolate chips.

In a small saucepan, heat the brown rice syrup and peanut butter over medium-low heat. Stir them together so that you get a smooth batter. When the mixture starts to bubble, turn the heat off. Mix in the vanilla extract. Allow the mixture to cool for around 15 minutes before mixing it with the dry ingredients. The chocolate chips will melt if you stir in the wet mixture too quickly.

Pour the cereal mix into the baking dish. Use a small piece of parchment paper to help you pack in the cereal mix. I find using the parchment paper is better than shaping the mix with wet hands.

Place the dish into the freezer for 10-15 minutes so that the bars can firm up.

Take the dish out of the freezer. Hold on to the parchment paper, and lift the entire block of cereal mixture from the dish. Cut the block into 12 bars.

In a microwave-safe bowl, melt 1/3 cup of chocolate chips for a minute. Continue melting the chocolate chips at 15-second intervals until nearly all the chips look glossy. Stir the chips together until you get a creamy mixture, and drizzle on top of the bars. Let the melted chocolate set before wrapping them.

To store the granola bars, wrap them individually with plastic wrap and put all the bars in an airtight container (I used a freezer bag). Refrigerate the bars for up to 2 weeks.
Notes
1. Loosely adapted from the Present Glo Bars recipe from The Oh She Glows Cookbook by Angela Liddon.[br][br]2. STORAGE: I've stored these bars in room temperature and in the refrigerator, and I find that I prefer them chilled. The structure of these bars hold up much better when they're in the refrigerator.
Did you make this recipe?
Tag @hellolisalin or leave a star rating and comment on the blog!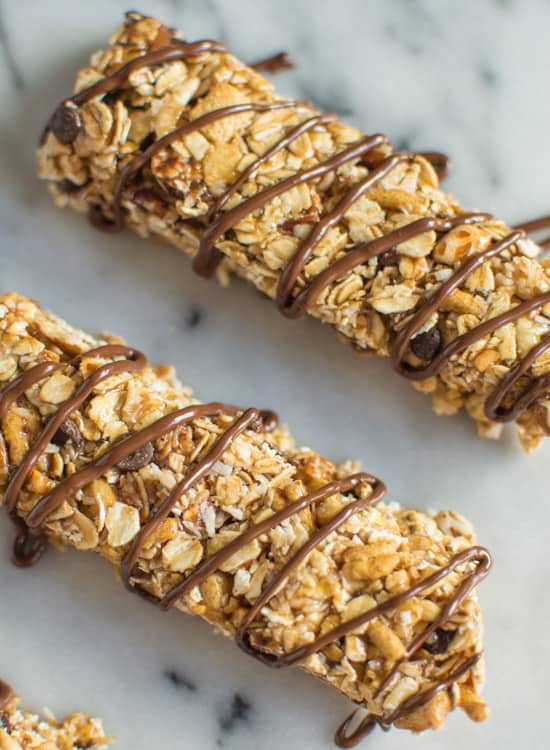 Looking for more snack ideas?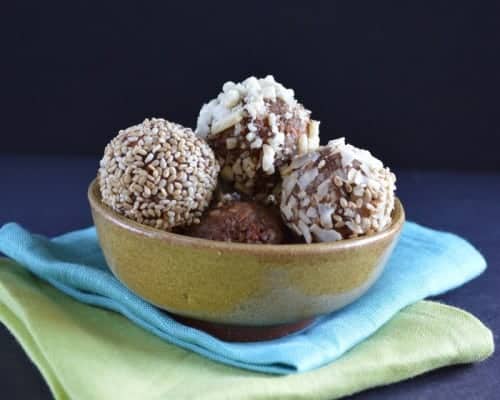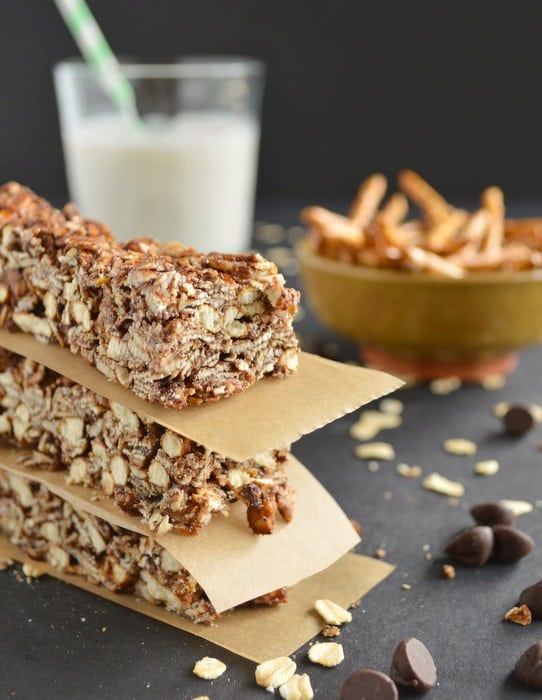 5-Ingredient Sweet & Salty Granola Bars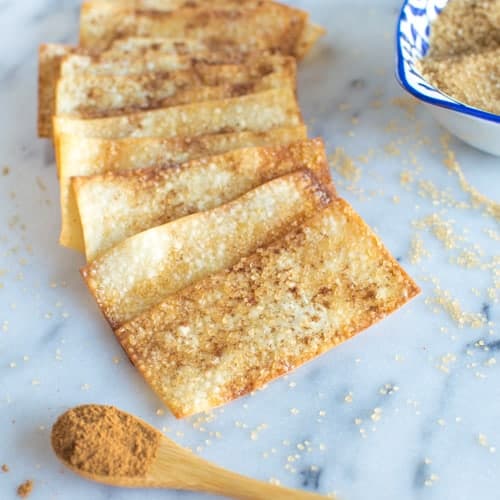 This post contains affiliate links, which means that I earn a small commission when you buy a product through the link. Thanks for supporting Healthy Nibbles & Bits!