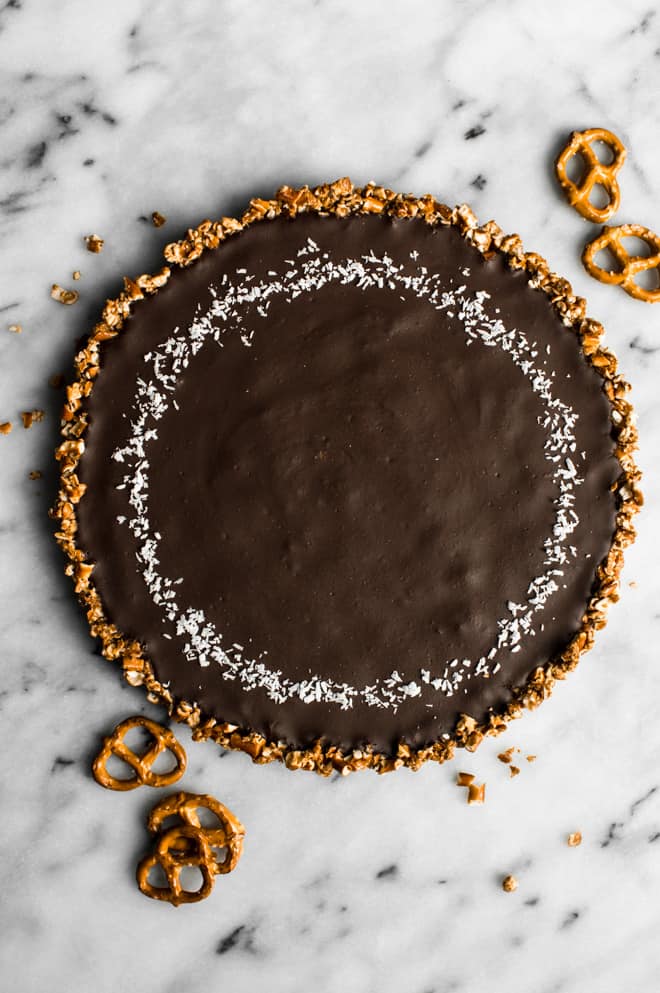 Well, all this pie baking was for a gluten-free pie crust making class that I taught last Saturday! I was filling in for the lovely Sabrina, and it was my first time teaching a group of people how to cook. Those few days leading up to the demo, I was shaking in my boots.
Will I be able to answer everyone's questions?
Can I explain how gluten-free pie crusts work without sounding like I'm stupid?
Will I be able to transfer the pie crust to the pan without ripping it? (Turns out I couldn't.)
Will they like my pies? Will there be anyone there to eat my pies?
Will there be some sassy person in the audience waiting to tell me what I'm doing wrong?
Will I be talking with something stuck inside my teeth the entire time?
Insecurities and nervous jitters—they always keep me on my toes when it comes to show time.
In the end, I couldn't have asked for a better group of attendees. No one shamed me when the pie crust ripped apart, I had many lovely volunteers, and everyone told me that they learned something that afternoon (yay!). (By the way, everyone's favorite tip was learning how to make whipped cream in a mason jar.) But the best part of it all? Everyone loved the pumpkin pie and chocolate tart that I made! So much good feedback on the tart. I didn't intend on sharing the recipe here, but considering that many people have told me how much they enjoyed it, I felt like I had to share it with you, too!
It's decadent without being too heavy, rich, or overly sweet, and it requires only FIVE ingredients to make!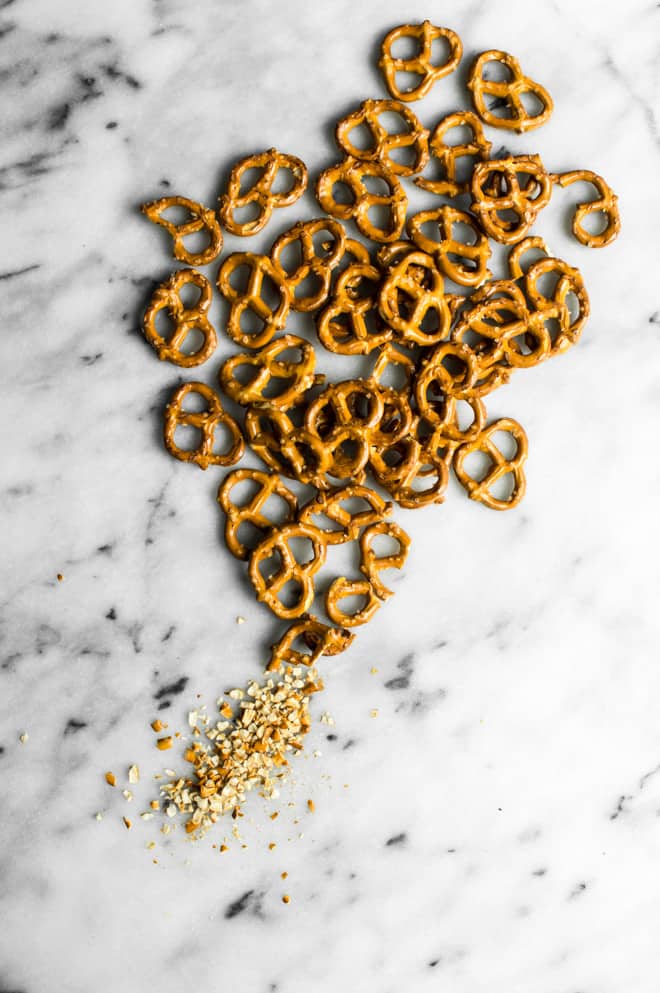 MASTER MY MISTAKES / COOKING NOTES
Use a Tart Pan: Having made several of this recipe in pie form, I've come to realize that it is best made in a tart pan. Whenever I made this in a regular pie dish, a lot of the crust got stuck in the bottom crease of the pie dish, which made lifting slices of pie out of the dish very difficult. When I made this as a tart, the whole thing popped out easily, and it was quite easy to cut into.
Use Bittersweet Chocolate: I've tried this recipe with 3 different types of chocolate: milk, semi-sweet, and bittersweet chocolate. Bittersweet chocolate was by far my favorite. If you're looking for something sweeter, add more sugar to the filling. DON'T use milk chocolate—the sweetness was out of control.
Use Melted Coconut Oil (or Butter): I tried making the pie crust several ways. First, I mixed softened butter, crushed pretzels, and sugar together and par-baked it in the oven. This was a disaster. The pretzels all sank to the bottom of the dish, and I ended up with a pool of pretzel bits and melted butter. Next, I mixed the same ingredients together, but I didn't par-bake the crust. Although the crust held together pretty well, the pretzels got way too stale. I was getting a bit frustrated with the crust at this point and sent an SOS message to Cindy, who suggested mixing the pretzel bits with melted coconut oil or butter and then par-baking the crust. Cindy's suggestions were spot on! Melted (virgin or unrefined) coconut oil adds a lovely flavor to the tart.
Use Pretzel Twists: Twists are so much easier to crush than pretzel sticks. I also suggest going for the regular pretzel twists instead of the low-sodium version. The salt on the pretzels are a great contrast to the chocolate filling.
Ditch the Heavy Cream, Go for Whole Milk: I made a version of this with heavy cream because I thought it would make the filling extra decadent. I was right, but I also ended up with a thin layer of congealed fat on the pie filling after it was chilled. It wasn't pretty, but it sure was decadent.
Making This Ahead: If you make this overnight, the crust on the bottom will turn a bit soggy. Sorry, there's no way around that. However, the outer crust remains quite crunchy, and the tart slices much more cleanly.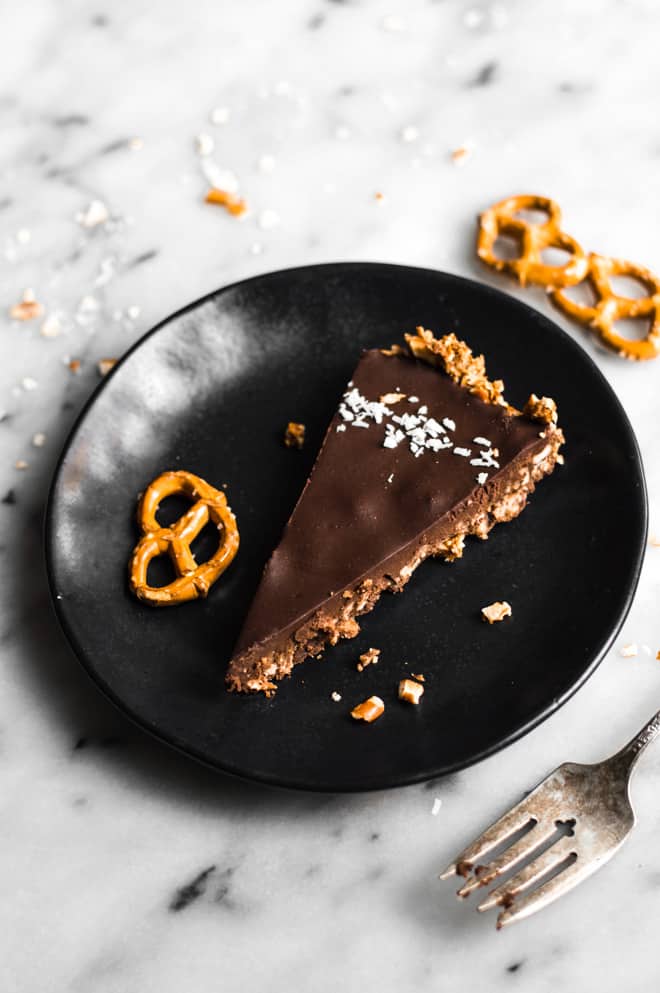 If you try this recipe, be sure to share your creations with me! Tag me on Instagram or Twitter so that I can give you a fist bump!
Five-Ingredient Chocolate Coconut Tart with Pretzel Crust
This chocolate tart looks fancy, but it is incredibly easy to make. Trust me, everyone will rave about it! Serves 12 to 14.
Ingredients
4

oz

(115g) gluten-free pretzel twists (about 1 1/2 cups)

1/3

cup

+ 1 1/2 TBS coconut oil

,

melted (about 100 ml)

2 1/2

TBS

agave syrup

,

divided (sugar works also)

1 1/4

cup

(300ml) whole milk

12

oz

(340g) bittersweet chocolate (60% cacao), chopped or use chocolate chips
Optional Toppings
shredded unsweetened coconut

salt

crushed pretzels
Instructions
Preheat oven to 350 degrees F (175 degrees C).

Place pretzel twists in a large plastic freezer bag with a zipper or sealable top. Using a rolling pin, crush pretzels to small pieces. You can also take a large flat object, place it over the bag, and press down to crust the pretzels.

Melt coconut oil in a saucepan or in the microwave. Stir in 1/2 tablespoon of agave and pretzel pieces. You want to make sure that all the pretzel pieces are covered in coconut oil. Add another 1/2 tablespoon of coconut oil, if necessary.

Press coated pretzel pieces into a 10-inch tart pan. Use a metal spoon to help guide pretzels into the curves of your tart pan. Place tart pan on a baking sheet and bake for 8 to 10 minutes, or until the pretzels have browned a little. I baked it for 10 minutes. Remove crust from oven and set aside.

Heat milk in a saucepan over medium heat until it starts to bubble slowly. Add chocolate and reduce heat to medium low. Stir until chocolate is well incorporated. Mix in 2 tablespoons of agave. Pour chocolate mix into tart pan. Let tart sit in room temperature for an hour. Refrigerate tart, uncovered, for at least 3 hours before serving. The longer you let it chill, the easier it will be to slice. Don't wrap the tart in plastic wrap or foil before popping it in the refrigerator because you'll run the risk of having the wrap stick to the top of the tart.

Top with coconut, salt, or additional pretzel pieces if you like. Serve chilled. Store in a sealed container for up to 2 days. The filling will be fine for longer, but the pretzels will surely be soggy if you keep this for more than 2 days.
Notes
You can also make this recipe with a 10-inch pie dish. If you have a 9-inch dish, use 3.5 ounces of pretzels and reduce the amount of coconut oil for the crust. You may also end up with some extra filling.
Did you make this recipe?
Tag @hellolisalin or leave a star rating and comment on the blog!