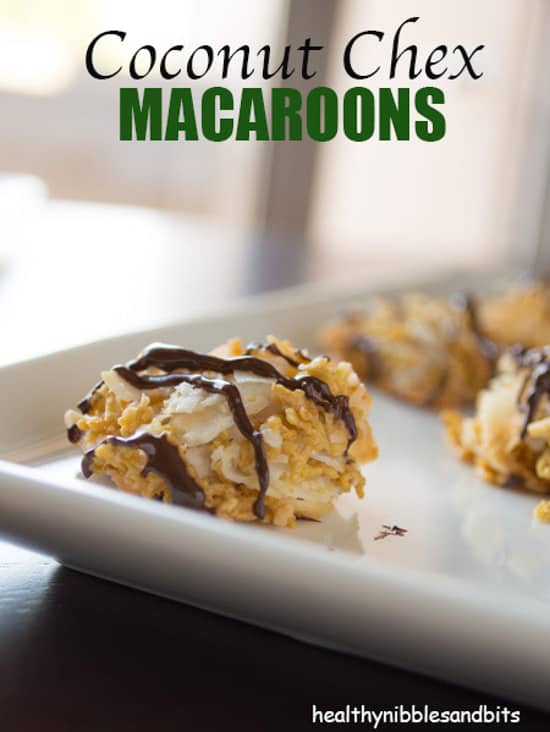 Beer. Wings. Sweets. The makings of another successful gathering with my friends. I have come to the quick realization that gatherings are just an excuse for me to try out dessert recipes.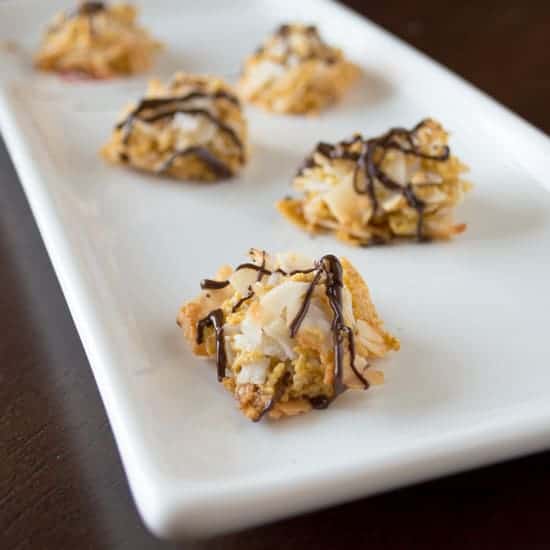 When I was brainstorming treats to share with my friends, I came across this Mini Crunchy Macaroons recipe from Basic N Delicious through The Leftovers Club. I loved Kathia's creative use of cereal to add crunchiness to traditional coconut macaroons. The mini crunchy macaroons seemed like the perfect finger food for parties.
I made a few minor adjustments to the recipe and added a chocolate drizzle to the macaroons. I am of the belief that chocolate makes any dessert even more superb.
Coconut Chex Macaroons & Chocolate Drizzle
Makes 40-43 macaroons.
Ingredients
1 3/4

cups

(53g) corn Chex cereal (any other light cereal works also)

1 3/4

cups

(125g) unsweetened flaked coconut

2

large egg whites

3 1/2

TBS

powdered sugar

1/3

cup

(85g) semi-sweet chocolate chips
Instructions
Preheat oven to 300ºF (~149ºC). Line two large baking sheets with parchment paper or silicone mats.

In a large bowl, mix the cereal, coconut, egg whites, and powdered sugar together.

Drop tablespoons full of the mixture onto the baking sheets. Because the egg whites are quite sticky, it is a lot easier to transfer the mixture from the spoon to the baking sheet with damp hands. I ran my hands under water many times while performing this step.

Bake for about 25 minutes, or until the coconut starts to brown.

When there is about a few minutes left in the baking time, melt the chocolate. Put the chocolate chips in a microwave-safe bowl and microwave it for 60 seconds. Check the progress of the chocolate. If you can still see whole morsels, continue microwaving at 15-second increments. Keep microwaving until most of the chips are partially melted and soft. Stir the chocolate together until it turns into a fairly runny sauce.

Using a spoon, drizzle the chocolate on top of the cooked macaroons.The drizzle should harden in a few hours.

Store leftover macaroons in an airtight container in room temperature.
Notes
1. Adapted from Basic N Delicious.[br]2. If you do not have any Chex cereal, just use any other light, crispy cereal that you have on hand.[br]3. If you plan to transport these macaroons somewhere, be aware that the chocolate drizzle takes a little time to firm up. I laid all of the macaroons in a single layer so that the chocolate drizzle does not smudge everything.[br]4. Unsweetened shredded coconut should work for this recipe also.
Did you make this recipe?
Tag @hellolisalin or leave a star rating and comment on the blog!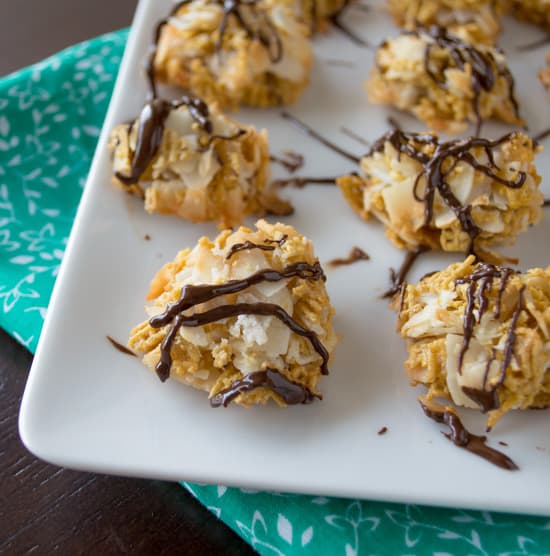 These macaroons were quite a hit among my friends. If you are looking for finger food ideas, you should definitely try this recipe or Kathia's original version from Basic N Delicious. You won't regret it!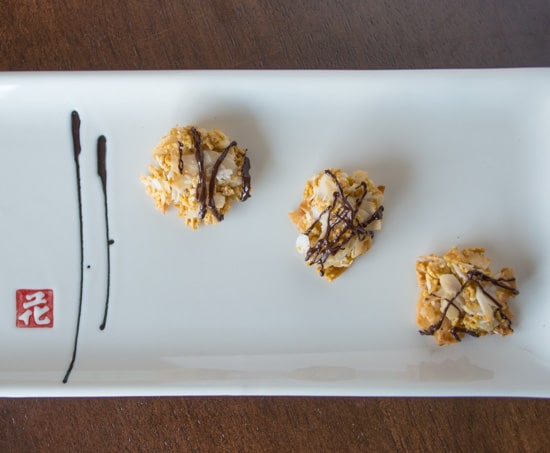 What is your favorite way of cooking with cereal?