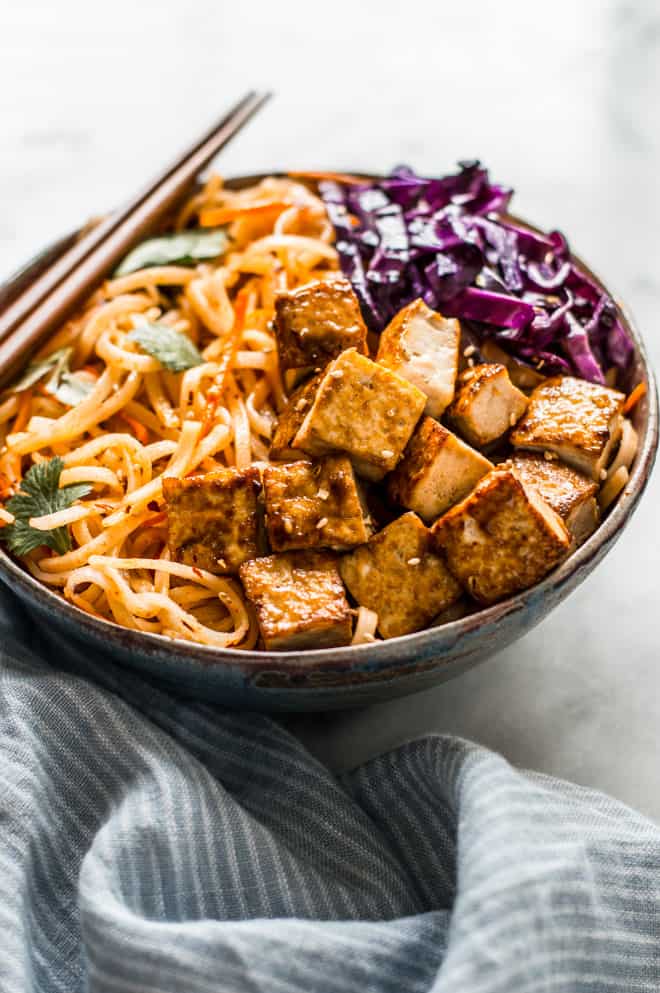 Another curried noodle recipe already? Yes, and you're going to love this one. I promise.
That curry laksa I shared last week really put me in the mood for more curried noodles. To be honest, I always have an appetite for curry and noodles. After the pie making extravaganza recently, I've gotten a bit lazy with cooking dinners. Thirty-minute meals are all I want, and stir-fry rice noodles are my go-to dish right now. So when I was stir frying some rice noodles last week, I got the sudden inspiration to toss in some coconut and red curry.
Love at first bite.
The coconut milk flavor shines through very well in the noodles and the red curry provides just the right flavor balance in these noodles.
Speaking of curried dishes, I'm returning to the land of tea and biscuits in less than two weeks! The hubs and I always go back to England for Christmas, and I have been crossing the days off on calendar in anticipation for the trip. I'm ready for my mother-in-law to make me cups of tea all day long, and I'm already pining for chocolate covered biscuits. Can you tell that I'm ready to get my grub on? Rest assured that I will be packing a few stretchy pants along for the trip.
We don't have any extensive travel plans arranged yet, though I would love to go on a foodie tour in London this time. I have been reading up on Borough Market, and it sounds like heaven. And, yes, a pasty session is in order. I know that I've waxed poetic about Cornish pasties before, but I can't wait to get my hands on another one of those hot buttery, flaky hand pies right now. They're all I want to help me stay warm on a cold winter day. Guys, I'm ready for my trip right now!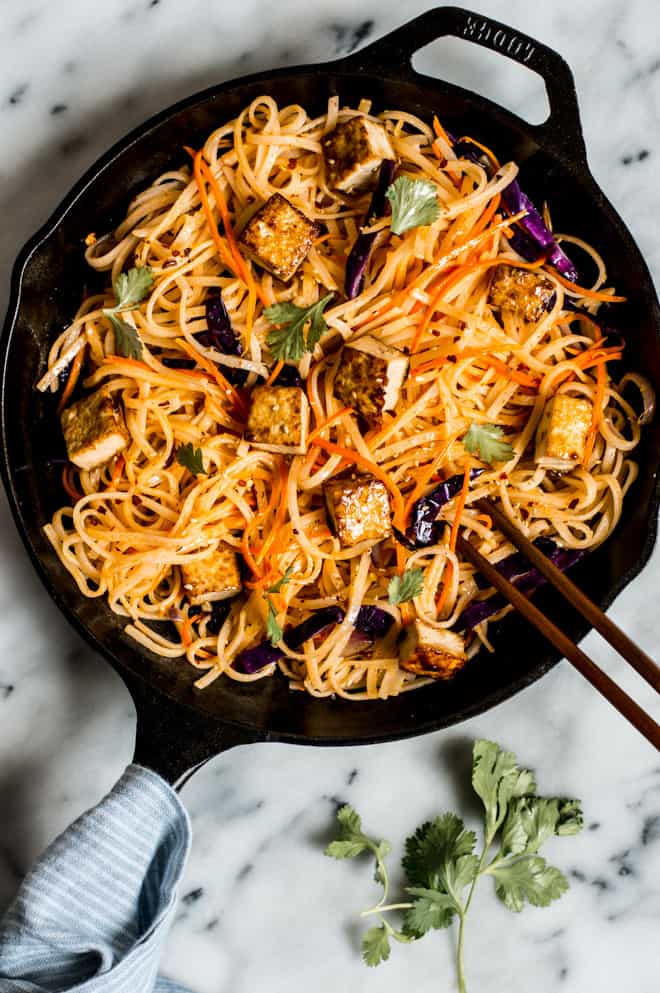 MASTERING MY MISTAKES / COOKING NOTES
Cooking Time for Noodles: DO NOT overcook the noodles. Leaving the noodles in hot water for too long will cause it to break down and turn to pieces with the slightest touch. Trust me on this—I've eaten too many goopy noodles over the last year, and I don't want you to make the same mistake I did. Since we're stir-frying these noodles, leaving them in hot water for 4 to 5 minutes should be long enough. If you prefer softer, gummier noodles, leave it in for 6 minutes. But let me warn you, the noodles may start to break down when you stir fry them.
Use Tongs for Browning Tofu: There's nothing wrong with using chopsticks or a spatula to help flip tofu cubes, but tongs are so much easier to work with.
Cooked Red Cabbage Bleeds: You may know this already, but red cabbage, when cooked, tends to bleed into other food. For these photos, I cooked the noodles and vegetables separately to prevent the cabbage from releasing bluish hues on the noodles.
If you try this recipe, be sure to share your creations with me! Tag me on Instagram or Twitter so that I can give you a fist bump!
Print
Easy Coconut Curry Stir Fry Noodles with Glazed Tofu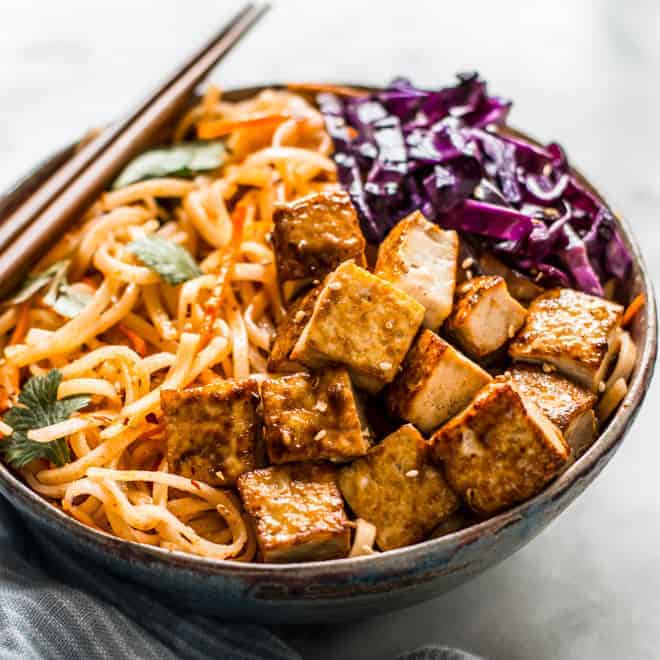 This easy coconut curry stir fry noodle dish is incredibly flavorful and is ready in 30 minutes! Add whatever vegetables you have on had to this dish and you'll be in for a feast!
Author:

Lisa Lin

Prep Time:

5 minutes

Cook Time:

25 minutes

Total Time:

30 minutes

Yield:

4 Servings
Ingredients
For the Tofu
14-ounce (400g) package of extra-firm tofu
1 tablespoon sesame oil
2 tablespoons low-sodium tamari sauce (use soy sauce if not gluten free)
1 tablespoon brown sugar (or any sweetener of choice)
1 tablespoon cornstarch
3 tablespoons water
For the Noodles
8 ounces (225g) flat rice noodles
3 tablespoons coconut milk (full fat or light coconut milk works)
1 tablespoon red curry paste
1/2 tablespoon low-sodium tamari sauce
1 tablespoon sesame oil
1/3 cup sliced red onions (about 1 ounce/30g)
1 tablespoon chopped lemongrass (or lemongrass paste)
4.5 ounces (130g) red cabbage, thinly sliced (about a heaping cup)
1 large carrot, peeled and cut to matchsticks or julienned (1/2 cup shredded carrots works also)
salt, to taste
Optional garnish
cilantro
sesame seeds
red pepper flakes
Instructions
Prepare the Tofu
Slice tofu block into 6 slices, along the long side of the tofu. Press tofu slices into a paper towel to soak up some water. Chop each slice into 8 cubes. In a small bowl, mix tamari, coconut aminos, brown sugar, cornstarch, and water. Set aside.
Heat a large sauté pan over medium-high heat. When the pan is hot, add 1 tablespoon of sesame oil.
Add tofu cubes and cook for 8-10 minutes, until the cubes are well browned. Flip tofu cubes periodically so that you get browning on more than one side. Tongs work very well for this. Pour in tamari sauce and watch it sizzle. If the sauce turns thick immediately, add a splash of water. Stir for a minute and dish up the tofu to a plate.
Prepare the Noodles
Bring 5 cups of water (just over a liter) of water to boil. Salt the water. When water has boiled, turn of the heat and throw in rice noodles. Let it sit in there for 5 minutes. The noodles should be al dente. Drain water and rinse noodles under cold water. Set aside.
Mix coconut milk, curry paste, and tamari together and set aside.
Wipe down sauté pan. Heat pan over medium heat and add another tablespoon of sesame oil. Add onions and cook for 2 to 3 minutes, or until it softens. Add lemongrass and stir for about 30 seconds. Stir in red cabbage and cook for a minute. Toss in shredded carrots and a pinch of salt and cook for another minute. Add cooked rice noodles and coconut milk mixture. Stir everything for a minute, and mix in tofu cubes. Turn off heat and serve. Garnish with cilantro, sesame seeds, and red pepper flakes if you like.
Notes
NUTRITION INFORMATION: Makes 4 Servings. Amount Per Serving: Calories: 485, Total Fat 18.5g, Saturated Fat: 4.5g, Sodium: 851mg, Cholesterol: 0mg, Total Carbohydrate: 62g, Dietary Fiber: 4.7g, Sugar: 6.6g, Protein 21g
SUBSTITUTIONS: If you don't have sesame oil on hand, olive oil works, too. Sesame oil just adds an additional nutty flavor to the dish. If you don't have coconut aminos on hand, just add another tablespoon of tamari sauce.
The link to the coconut aminos is an affiliate link. Thank you for supporting my humble kitchen!