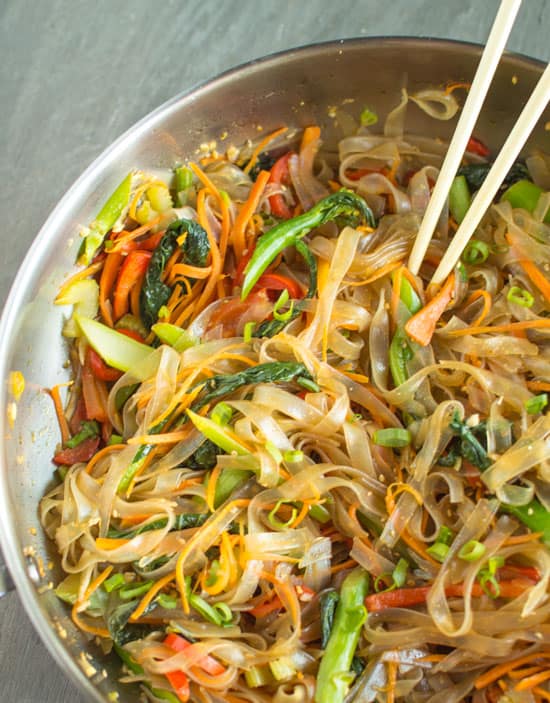 I don't hold my chopsticks properly, and that's the cold, hard truth. Legend has it that I had perfect form when I was a little chitlin but somehow lost it over the years. I blame it on my siblings' bad example. I suppose I should find solace in the fact that I don't hold chopsticks like drumsticks or ask for a fork at a Chinese restaurant. That would be the ultimate form of humiliation if you look like me.
I didn't want you to see how I hold chopsticks like a pencil, so I solicited the help of a hand model in exchange for food. It's a fair deal.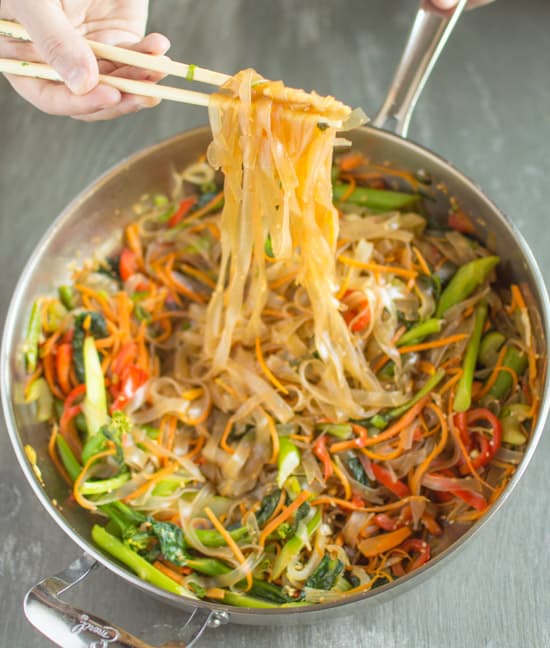 My mom always dedicates an entire shelf in her kitchen to dry noodles. There's egg noodles, seasoned egg noodles, flat rice noodles, mung bean noodle threads, instant ramen (my brother's contribution)—nearly anything you can find at an Asian supermarket. If you ask her why she needs so many noodles, I'm sure her answer would be that there is a time and a place for everything. Well, this is the time and the place for some flat mung bean noodles.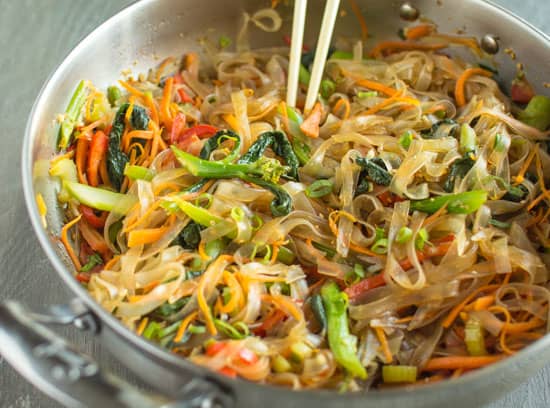 The beauty about mung bean noodles is that they're gluten-free (made with mung bean and potato starch). They usually come in the form of small cakes, and they're a whiz to prepare. Just dump them in a pot of boiling water and they're ready in minutes. Good for those days when you're semi-lazy to cook (because let's be real, if you were too lazy to cook, you'd order some takeout or delivery).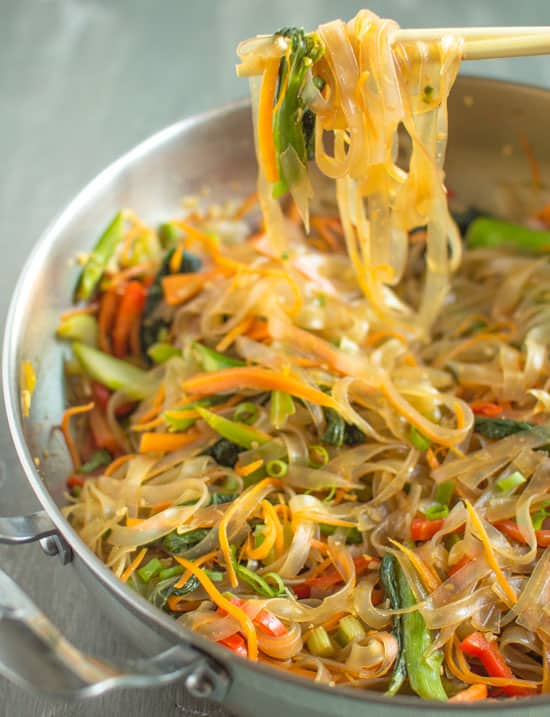 Picking up a few of my mom's habits, I usually stash a bag of dried noodles or two in my pantry in case I need to cook a meal in a pinch. These stir fry noodles take only 25 minutes to prepare. Ready in a pinch!
LOOKING FOR MORE NOODLE DISHES?
Vegetable Stir Fry Mung Bean Noodles
Serves 4
Ingredients
4

flat mung bean noodle cakes

,

about 8 oz/230g

2

tablespoons

olive oil

1/2

large sweet onion

,

sliced

1

stalks celery

,

sliced

3

garlic cloves

,

minced or pressed

1

tablespoon

minced ginger

2

Thai chilis

,

sliced (optional)

1

pound

(455g) Chinese broccoli, stemmed and stalks sliced

2

large carrots

,

peeled and julienned

1/2

large red pepper

,

thinly sliced

1

scallion/green onion

,

sliced

1/3

cup

(80ml) low-sodium tamari (or soy sauce, if not gluten free)

2

tablespoons

brown sugar

2

teaspoons

sesame oil

sesame for topping

,

optional
Instructions
Fill a large saucepan with 3 to 4 inches of water and bring it to boil. Drop the noodle cakes into the boiling water, and let it cook for about 4 to 5 minutes or until the noodles look translucent. Drain the liquid and run the noodles under cold water.

Heat a large stir fry pan with olive oil over medium-high heat. Once the pan is hot, add the onions and let it cook for a minute. Add the celery, garlic, ginger, chili and stir until the onions start to brown.

Add the Chinese broccoli and cook for 2 to 3 minutes before adding the carrots, pepper, and green onions. Once the Chinese broccoli turns into a bright green, add the noodles and stir.

Mix the soy sauce, sugar, and sesame oil in a small bowl, and pour into the noodles and vegetables. Cook for an additional 2 minutes.

Sprinkle sesame seeds on top, and serve immediately.
Did you make this recipe?
Tag @hellolisalin or leave a star rating and comment on the blog!