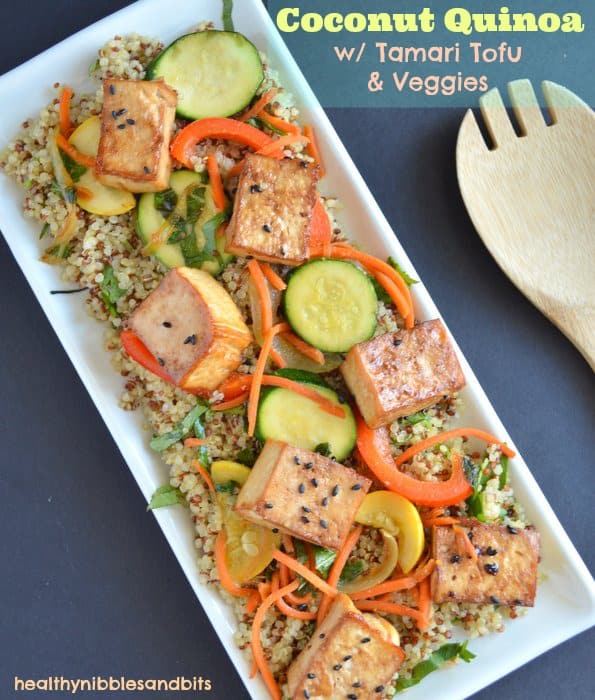 This week, I am going gluten-free. No, I'm not allergic to gluten, and I'm certainly not trying a new diet. Rather, Rebecca at Strength & Sunshine has challenged her readers to live gluten-free for a week. The purpose of the challenge is to raise awareness about Celiac disease (May is Celiac Awareness Month) and to understand what it is like to live without gluten. I have been keen on exploring gluten-free foods and recipes lately, so I'm going to try to maintain this lifestyle for seven days.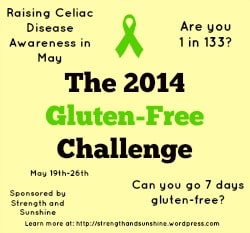 My initial concerns about the challenge:
1. Slip-ups: When I'm hungry, I'm HUNGRY, and I will eat whatever snack there is within reach without thinking twice about the ingredients.
2. I'm going to crave wheat-based bread or grains: My food cravings definitely are a force to be reckoned with.
I didn't realize this before, but my apartment is well stocked with gluten-free food already. Quinoa, rice, squash, and potatoes will definitely be on heavy rotation this week. The best part? One of my favorite snacks (baked lentil chips from Trader Joe's) is actually gluten-free!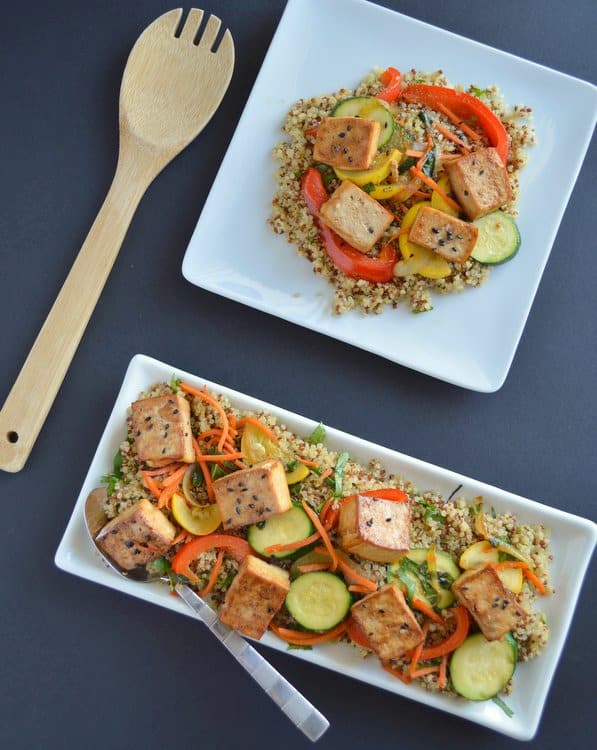 In the spirit of the 7-day gluten-free challenge, I decided to create this coconut quinoa dish.
Coconut Quinoa with Tamari Tofu and Vegetables
Tamari-baked tofu and stir-fry vegetables balance the rich flavors of coconut-infused quinoa. Makes 4-5 Servings.
Ingredients
Baked Tofu
1

14-ounce package of extra-firm tofu

3

TBS

tamari sauce

2

tsp

sesame oil

1

tsp

brown sugar

1/2

tsp

granulated garlic

sesame seeds

,

optional
Coconut Quinoa
1

cup

uncooked quinoa

,

rinsed

1

and 1/4 cups water

1

cup

light coconut milk

pinch

of salt

2

tsp

lime juice

3

TBS

chopped fresh cilantro
Vegetable Stir-Fry
1

TBS

olive oil

1/2

cup

sliced yellow onions

a few slices of fresh ginger

1

medium zucchini

,

sliced

1

medium summer squash

,

sliced

1

red pepper

,

sliced

1

cup

shredded carrots
Instructions
Open the package of tofu and drain all the water. Wrap the block of tofu with several paper towels and place it on a plate. Put another plate on top of the wrapped tofu, and weigh the top plate down with something heavy, such as cans of beans or a sack of sugar or flour. Set the tofu aside for about 20 minutes. You are trying to absorb most of the moisture from the tofu so that it doesn't turn too soggy when baked.

In a small pot, bring the water and coconut milk to boil. Add a pinch of salt to the pot. Once the liquid boils, turn the heat down to medium-low and add the quinoa. Let it cook for about 20 minutes or until all the water evaporates. After you turn off the heat, cover the pot with the lid and let the quinoa sit for another 15 minutes. This helps make the quinoa more fluffy.

Preheat the oven to 350º F (176º C). Line a small baking sheet with parchment paper or a silicone mat. Remove the paper towels from the tofu, and cut the tofu block into 16-20 pieces. In a medium sized-bowl, mix the tamari, sesame oil, brown sugar, and granulated garlic together. Place the tofu pieces in the marinade. Make sure that all sides are covered with the liquid and let it sit for about 15 minutes. After the tofu has marinaded, bake for about 12-15 minutes. Top with sesame seeds if you like.

In a sauté pan over medium-high heat, add a tablespoon of olive oil. Once the pan is hot, add the onions and ginger. When the onions start to brown, add the sliced zucchini, summer squash and red pepper. Cook the vegetables for a few minutes and add the shredded carrots. I like adding the shredded carrots last so they don't overcook. Season the vegetables with the leftover tamari marinade and salt.

Mix the cooked quinoa in a large bowl with lime juice and cilantro. Serve the quinoa with the baked tofu and vegetables.

Refrigerate any leftovers in an airtight container.
Did you make this recipe?
Tag @hellolisalin or leave a star rating and comment on the blog!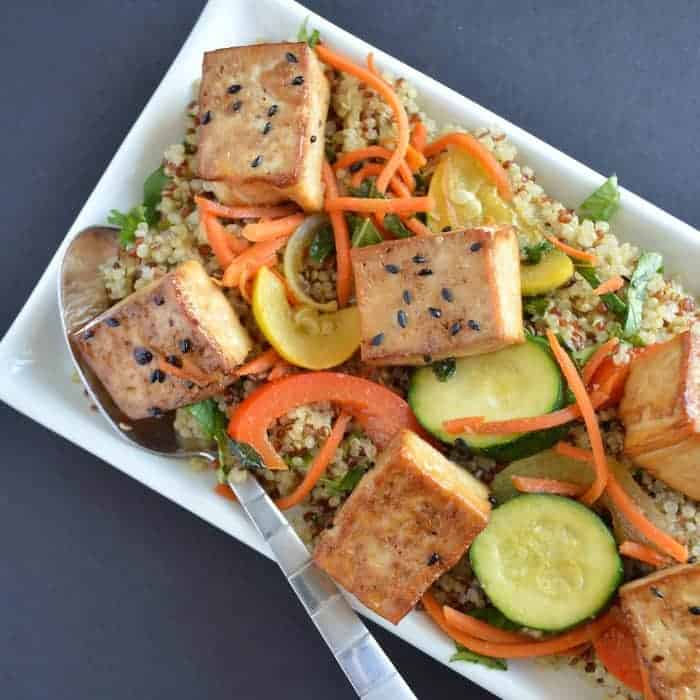 Has anyone else cooked grains with coconut milk before?
Any suggestions on other flavors to add to coconut-infused quinoa or rice?