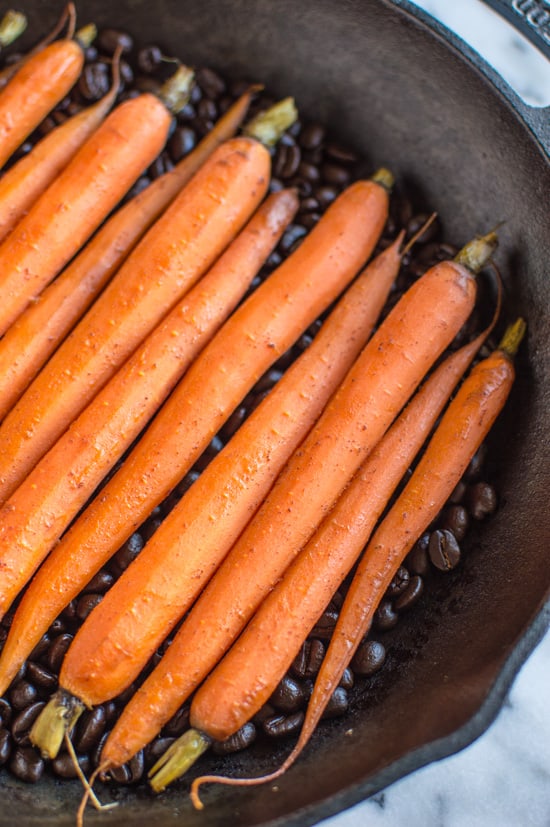 Maple roasted carrots. We've been there, done that. But have you ever tried adding coffee to the equation? It sounds like something that shouldn't work. At least that's what I thought when I first heard about it on The Splendid Table.
Coffee's something that we pour into a cup. Some of us like our coffee like the way we like our sesame seeds: black. Some of us sip our cup of joe with a generous splash of milk and sugar. But why should you mix coffee beans and carrots together? Because we made a pact to embark on food adventures this year and I'm holding you to that promise.
The key to this recipe is thin carrots. We're going to slow-roast these carrots on a bed of coffee beans and let the coffee flavors seep through every single pore of these beautiful carrots. The thinner the carrot, the softer they'll be when they're done.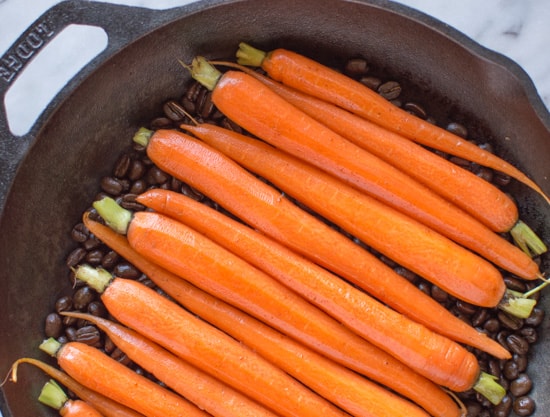 When I tried this recipe for the first time, I seasoned it with garlic and salt, just like the instructions told me to. The garlic flavor, though subtle, threw me off a bit. I don't know about you, but I don't usually take my coffee with garlic and salt. So why should I do it here?
Step back, reset. Think about the types of spices we would normally add to a cup of joe. Cinnamon and sugar! They go well with coffee and carrots on separate occasions, so let's use it as the glue to hold the two main ingredients together. Perfection.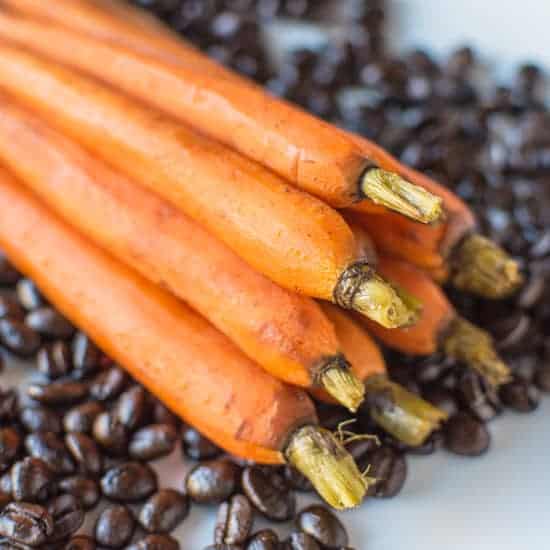 Making this recipe has completely broadened my coffee horizons in the kitchen. What should I make next? Coffee roasted sweet potatoes?
Coffee and Maple Roasted Carrots
Serves 3.
Ingredients
1

pound

(450g) thin carrots

1

cup

(100g) coffee beans (I used a medium roast)

1

TBS

maple syrup

1 1/2

tsp

olive oil

1

dash of cinnamon
Instructions
Preheat oven to 225 degrees F (105 degrees C).

Peel the carrots and trim the tops. Rub the carrots with the olive oil and maple syrup. Shake a bit of cinnamon on top of the carrots (no more than 1/8 teaspoon). Rub the cinnamon onto the carrots. Set aside.

Heat the coffee beans in a skillet over medium-low heat for 2 to 3 minutes, or until you see oil releasing from the beans. Spread the coffee beans into a single layer.

Line the carrots on top of the beans and cover the skillet with aluminum foil.

Bake for 2 hours, or until the carrots can be easily pierced with a fork.

Throw away the used beans. Enjoy immediately!
Notes
1. Adapted from The Splendid Table.[br][br]2. If you don't have a cast-iron skillet, heat the coffee beans over a pan and pour the beans into a baking dish.[br][br]3. You want to eat the carrots soon after they're done. I left my carrots sitting on the beans for a few hours, and some of the acidity of the coffee beans transferred over to the carrots.
Did you make this recipe?
Tag @hellolisalin or leave a star rating and comment on the blog!