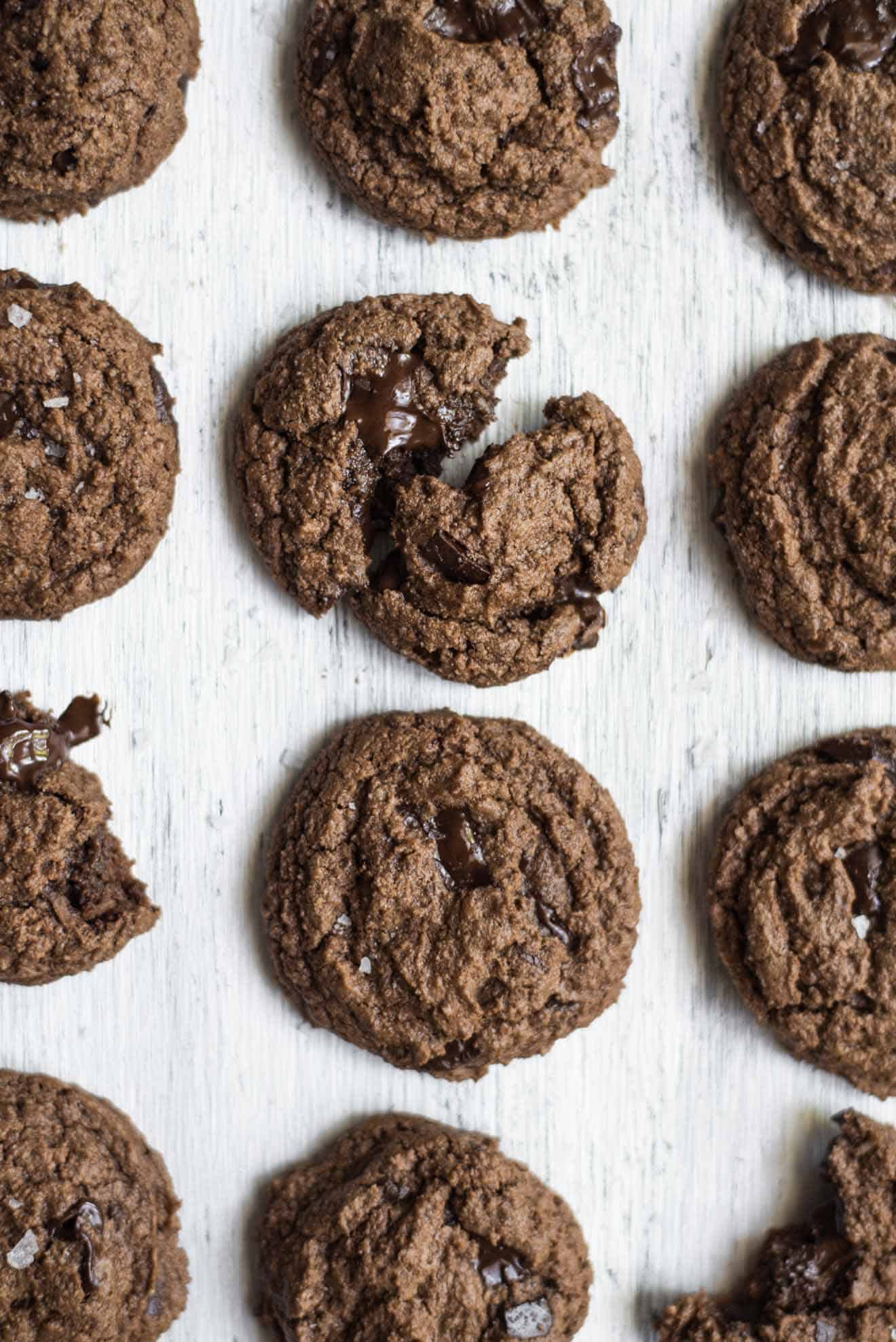 What exactly makes a recipe the ultimate one?
Taste
Ease of cooking
Ability to please many bellies
These gluten-free double chocolate cookies tick all those boxes. I don't think there is any other recipe of mine that has been more requested by my friends and family. My family (especially Mama Lin) can be quite difficult to please sometimes. The fact that they welcome these cookies with open arms (more accurately, with a cookie in each hand), tells me that this recipe is a winner.
The original inspiration was from Joy the Baker's Double Chocolate Chip Cookies, and I've done a bit of tweaking to lower the amount of fat and sugar in these and to make them gluten free.
The cookies are darn good, seriously. Just take a look at the video. Now, go off and spread the chocolate love!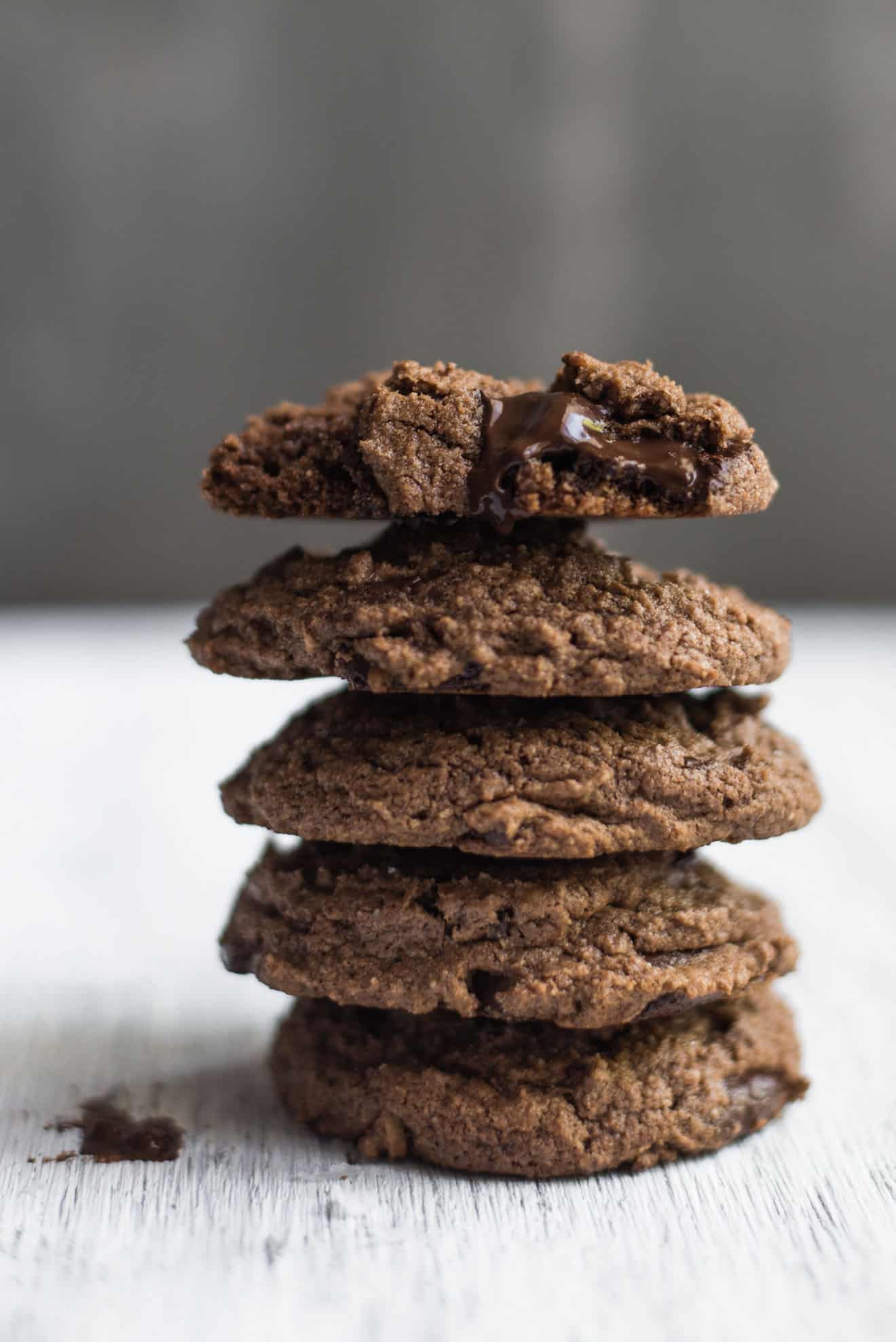 COOKING NOTES FOR THE GLUTEN-FREE DOUBLE CHOCOLATE COOKIE
Make sure to use softened butter: It will make life so much easier when you cream the butter. There have been many times when I have forgotten to leave the butter out to soften. When I'm in a pinch, I will cut up the butter into small cubes, lay them out on a plate, and let them reach to room temperature. It usually takes about 30 to 45 minutes for the butter to soften this way.
Play around with sugar content: When I first started baking these cookies, I used 3/4 cup + 1 tablespoon of sugar for the recipe. Perhaps my taste in sweets have changed, but I found that amount to be too much. I have lowered the amount of sugar to 2/3 cup, but even 1/2 cup might be fine if you're using baking chocolate between 60 to 70% cocao content. I used 70% chocolate.
PRODUCTS USED FOR THIS RECIPE
OXO Good Grips Medium Cookie Scoop: I didn't own a cookie scoop for the longest time because I thought it was useless. This one from OXO has totally changed my mind. It's perfect for making medium-sized cookies (about 3 to 4 inches in diameter), and I no longer have to worry about getting my hands dirty trying to shape the dough.
OXO Good Grips Non-Stick Cookie Sheet: I use this cookie sheet for my baked goods all the time. It's a nice standard-sized baking sheet what has straight, rather than tapered, edges. The bottom of the cookie sheet has a checkered pattern and will leave imprints in your cookies. Just line the sheet with a piece of parchment paper to prevent the imprints.
KitchenAid 5-Speed Hand Mixer (Ice): As someone who doesn't own a stand mixer, I need to rely on a good quality handheld one. I absolutely love this mixer. The grip is comfortable and it has a lot of power.
The Ultimate Gluten-Free Double Chocolate Cookie
This is the ultimate gluten-free double chocolate cookie recipe. The cookies are soft (and stay that way) and rich with chocolate flavor without being too sweet.
Ingredients
1/3

cup

butter

,

softened at room temperature

2/3

cup

sugar

1

large egg

1

teaspoon

pure vanilla extract

1 1/4

cups

almond flour

1/3

cup

unsweetened cocoa powder

1/3

cup

shredded unsweetened coconut

1

teaspoon

baking powder

1/2

teaspoon

salt

4

ounces

bittersweet baking chocolate

,

chopped

flaked sea salt for topping

,

optional
Instructions
Place oven racks in the upper third and lower third slots. Preheat oven to 350ºF (175ºC). Line 2 baking sheets with parchment paper.

Using a hand mixer, cream butter and sugar together at medium speed until butter is fluffy, about 2 minutes.

Add the egg and vanilla and beat for another minute.

In a separate bowl, mix almond flour, cocoa, coconut, baking powder, and salt. Pour into bowl with wet ingredients and mix until just incorporated. Fold in chopped chocolate.

Using a cookie scoop or a measuring spoon, scoop cookie batter onto baking sheet, leaving about 2 inches between cookies. If you're using a measuring spoon, scoop our about 1 1/2 tablespoons of batter.

Bake cookies for 11 to 12 minutes. Try not to overcook them–they stay softer if you don't cook them as much. Sprinkle flaked sea salt on top, if desired. Let cookies cool for 5 minutes before transferring to wire rack to cool completely. Store in an airtight container at room temperature for up to a week.
Notes
If you're not gluten-free, you can definitely substitute all-purpose flour for the almond flour.
NUTRITION INFORMATION: Yields 20 cookies; 1 cookie per serving. Amount per serving: Calories: 136, Total Fat 9g, Saturated Fat: 4g, Sodium: 89mg, Cholesterol: 98mg, Total Carbohydrate: 12g, Dietary Fiber: 2g, Sugar: 9g, Protein 3g
Did you make this recipe?
Tag @hellolisalin or leave a star rating and comment on the blog!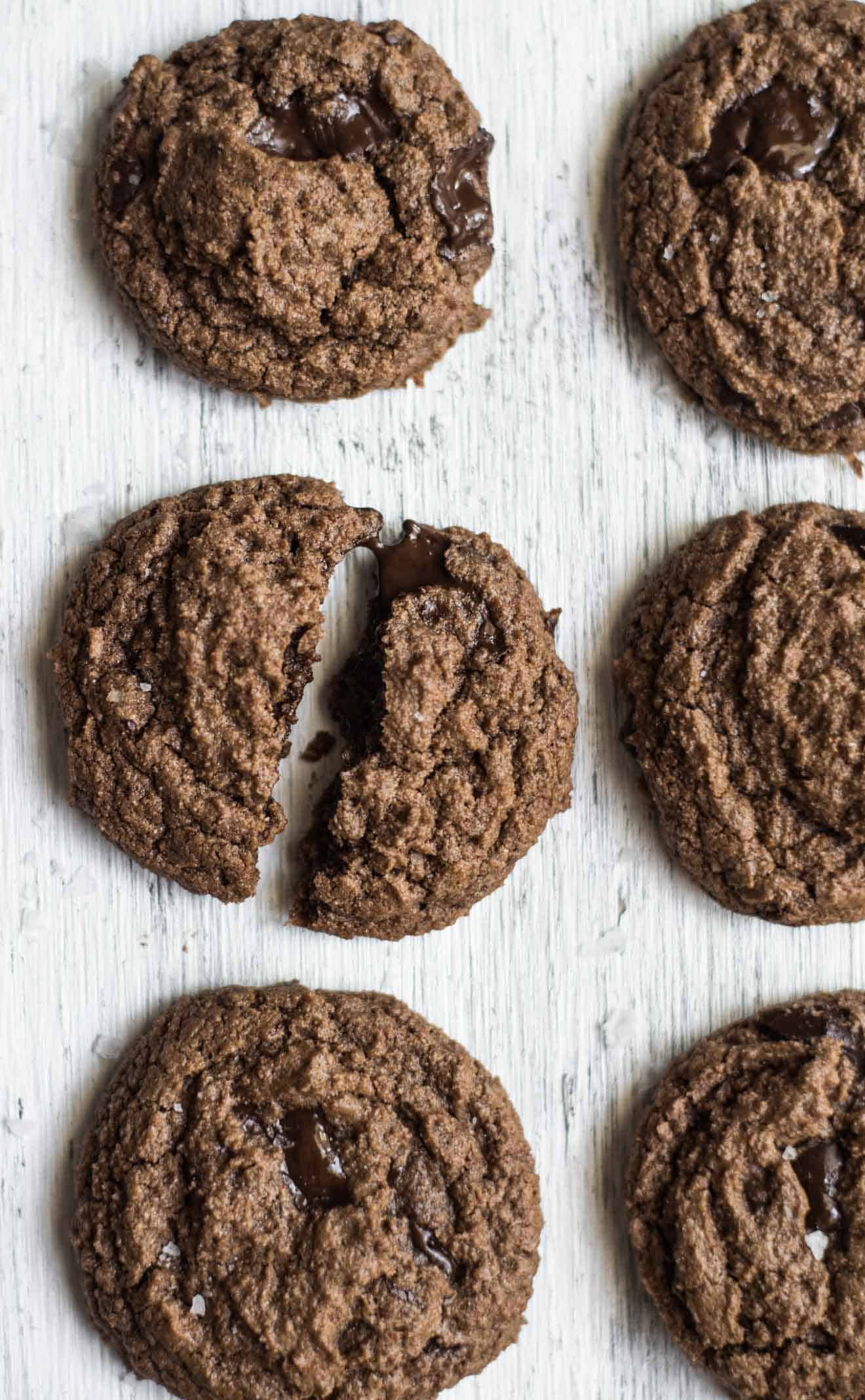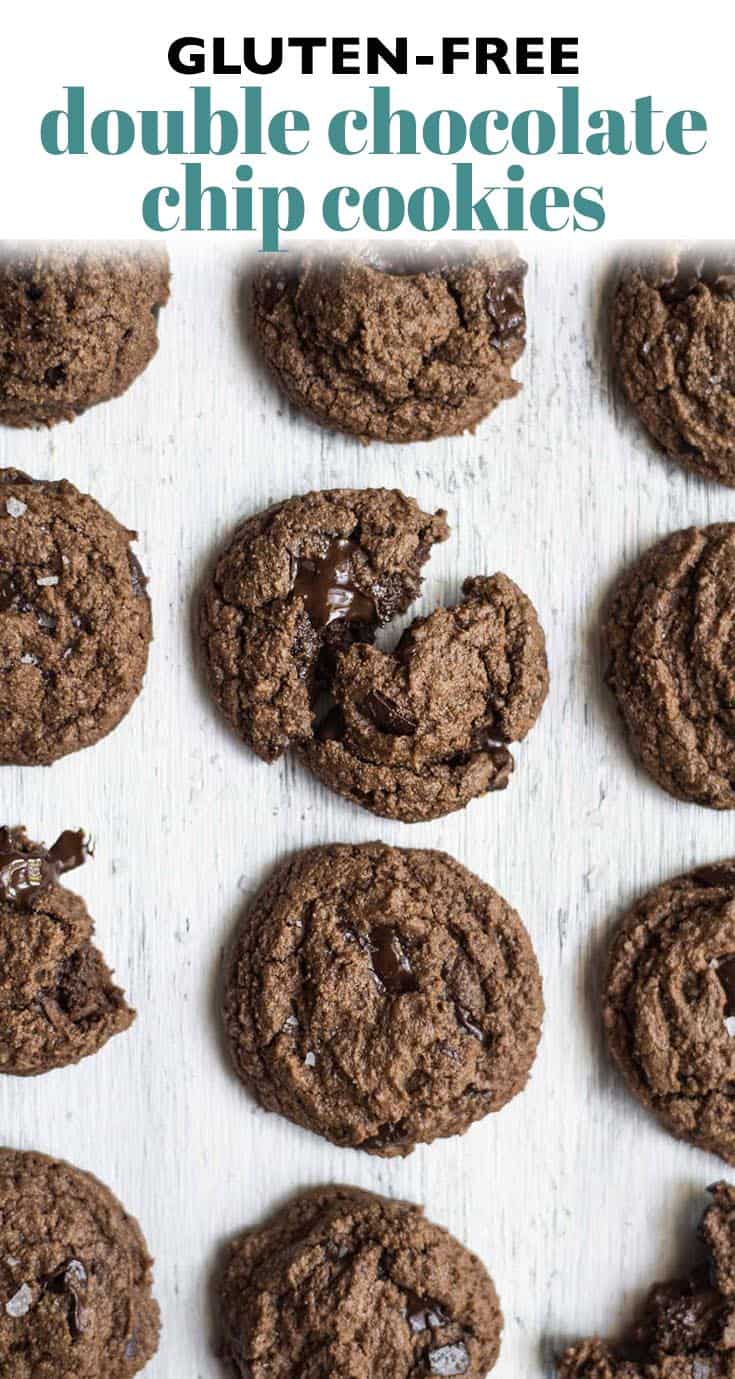 LOOKING FOR MORE COOKIE RECIPES?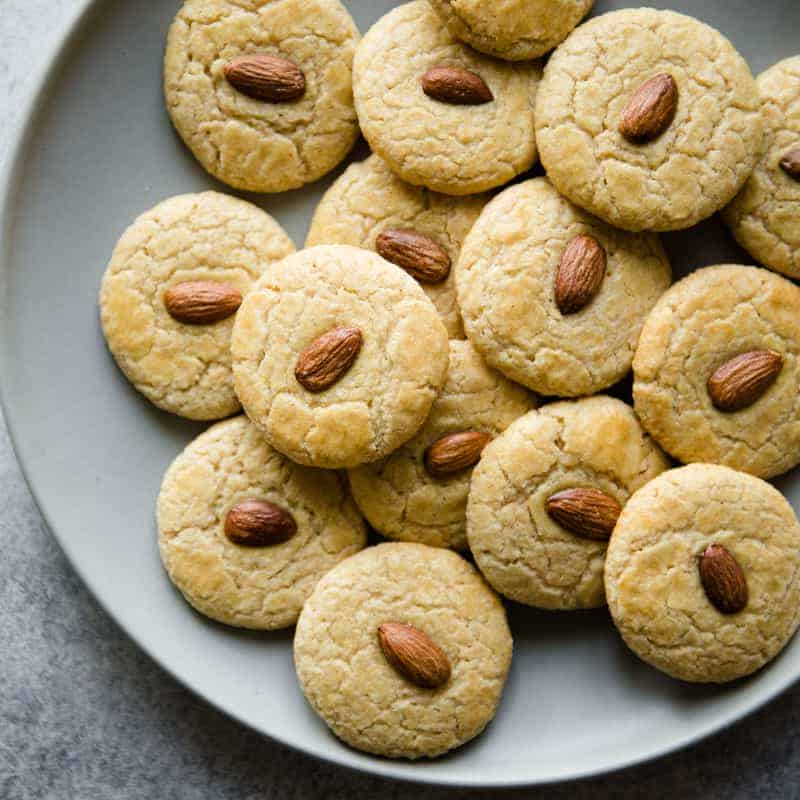 Gluten-Free Chinese Almond Cookies