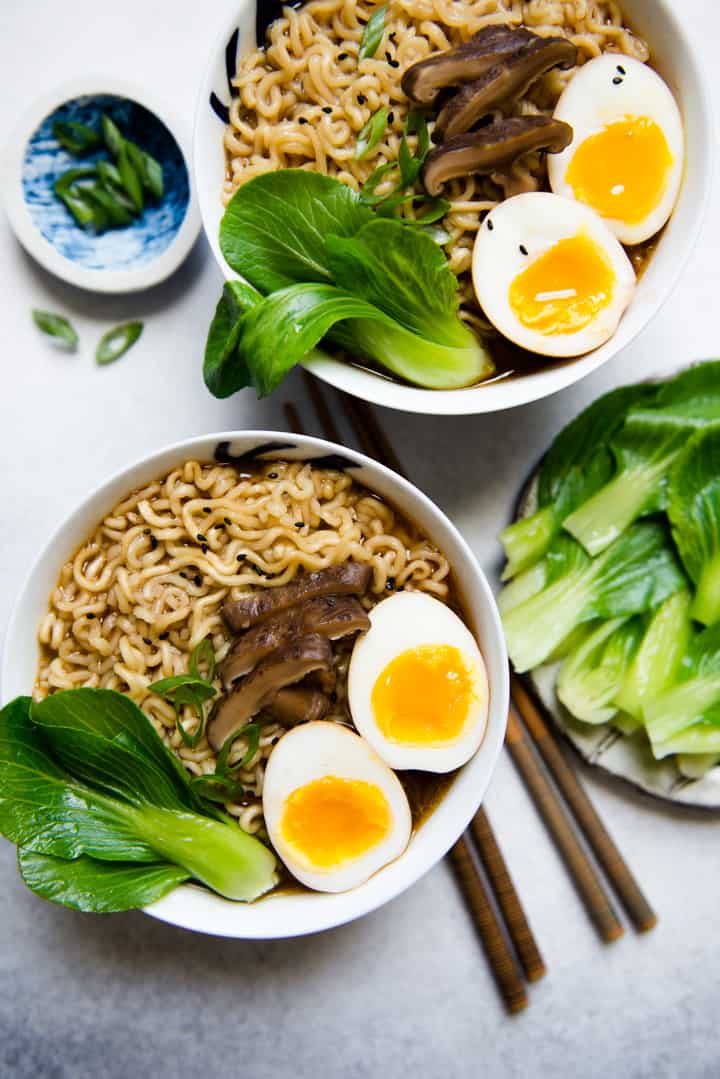 Over the past month, I have been cooking with ramen for dinner constantly. I've been moving house and I just couldn't be bothered to cook anything complicated. Luckily, I keep packets of instant ramen in my pantry for these emergency situations. 
Although I often use the flavoring packets that come with instant ramen, i got a little tired of eating the same thing over again. That's why I decided to make my own broth. The broth in this vegetarian ramen recipe uses 2 main ingredients for umami flavor: shiitake mushrooms, and kombu.
HOW TO MAKE GOOD VEGETARIAN RAMEN BROTH
While it's more common to find ramen recipes made with pork, beef, or chicken, vegetarian ramen is pretty damn good too. The key is to find the right ingredients to impart umami flavor to the broth. My favorite ingredients to use are dried shiitake mushrooms and kombu.
DRIED SHIITAKE MUSHROOMS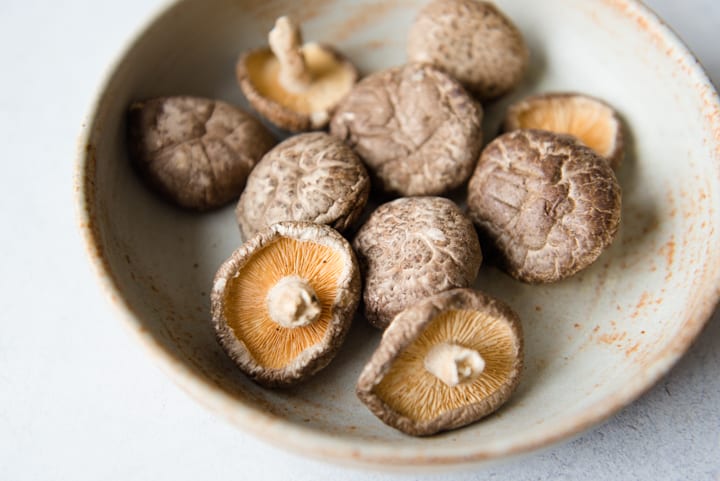 The flavor of dried shiitake mushrooms is much more intense than the fresh version. That's why they're perfect for making broth. You can find them at Asian supermarkets or on Amazon, but it is at least twice the price online. Store them in a dry, cool place, and the mushrooms will last a long time. I like to soak them in water for about 20 minutes before using them.
KOMBU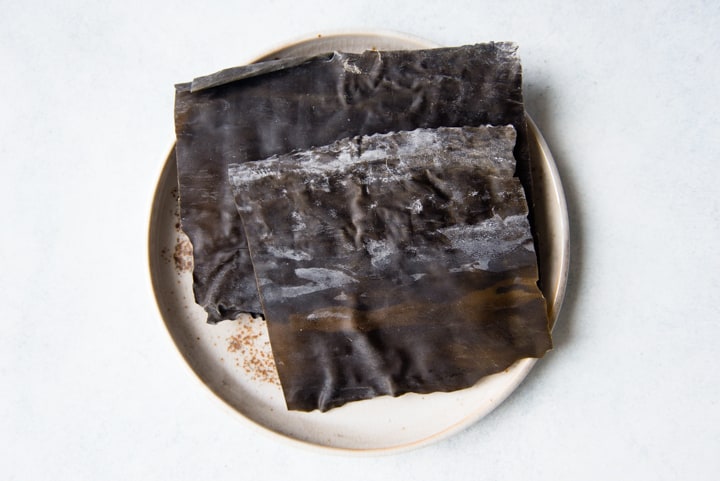 Kombu, which is dried kelp, is often used for flavoring broths in Japanese cuisine. For example, it is a very common ingredient in miso soup. Because kombu is harvested in salt water, they contain natural iodine. As a result, you don't need to add as much salt to your dishes.
You can find kombu in Japanese supermarkets or on Amazon. If you live in Sacramento, the Co-Op carries them as well. The kombu usually comes in large sheets (about 4″ x 4″). For this recipe, I recommend using half a sheet of kombu (so about 2″ x 4″). You can snap the sheets in half or cut them with kitchen shears. A package can last for a long time, as long as you store them in a cool, dry place. I'm still using kombu that I bought over a year ago.
To cook the vegetarian ramen broth, all you need to do is boil the mushrooms and kelp with a few other spices and let the broth simmer. You'll be amazed by how delicious it tastes!
A NOTE ABOUT THE NOODLES USED FOR RAMEN RECIPE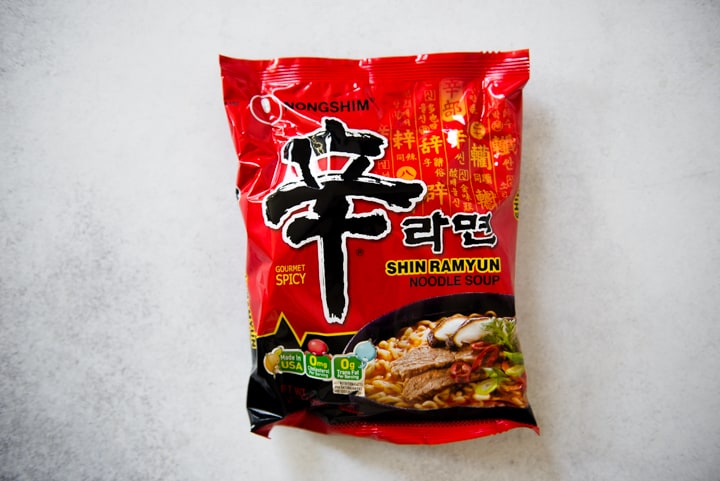 I used Nongshim's shin ramyun noodles because I like how thick they are. You can use other types of instant ramen noodles as well. Alternatively, you can use yakisoba (pictured below) if you want more fresh noodles.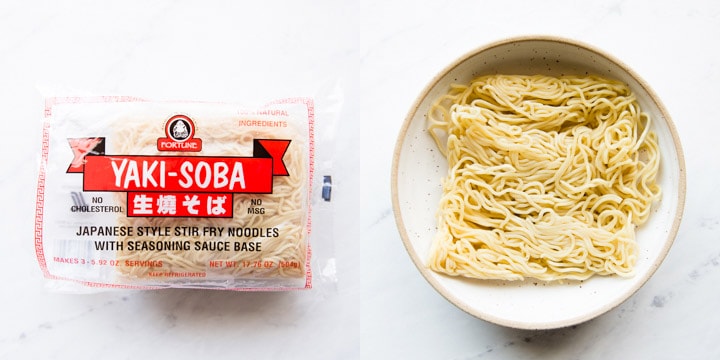 NOTE ABOUT THE RAMEN EGGS
I served the noodles with ramen eggs (adapted from Just One Cookbook's recipe), which are soft-boiled eggs that are marinated in a soy sauce mixture. If you want something simpler, just serve the noodles with regular boiled eggs. The ramen broth will be flavorful enough for the entire dish. The soy sauce marinade is just an extra touch. I prefer making hard boiled eggs with white shell eggs over brown shell eggs because I find them easier to peel. With white shell eggs, the shells don't get stuck to the egg as easily.
I usually let the eggs marinate for a few hours before serving. If you are pressed for time, you can make the ramen eggs right before you begin making the ramen broth and serve the eggs when the noodles are all done. The eggs will pick up quite a bit of flavor even during that short period of time. You can make these eggs up to 2 or 3 days ahead.
CAN YOU MAKE THE VEGETARIAN RAMEN BROTH AHEAD?
Yes! You can make the ramen broth up to 3 or 4 days ahead.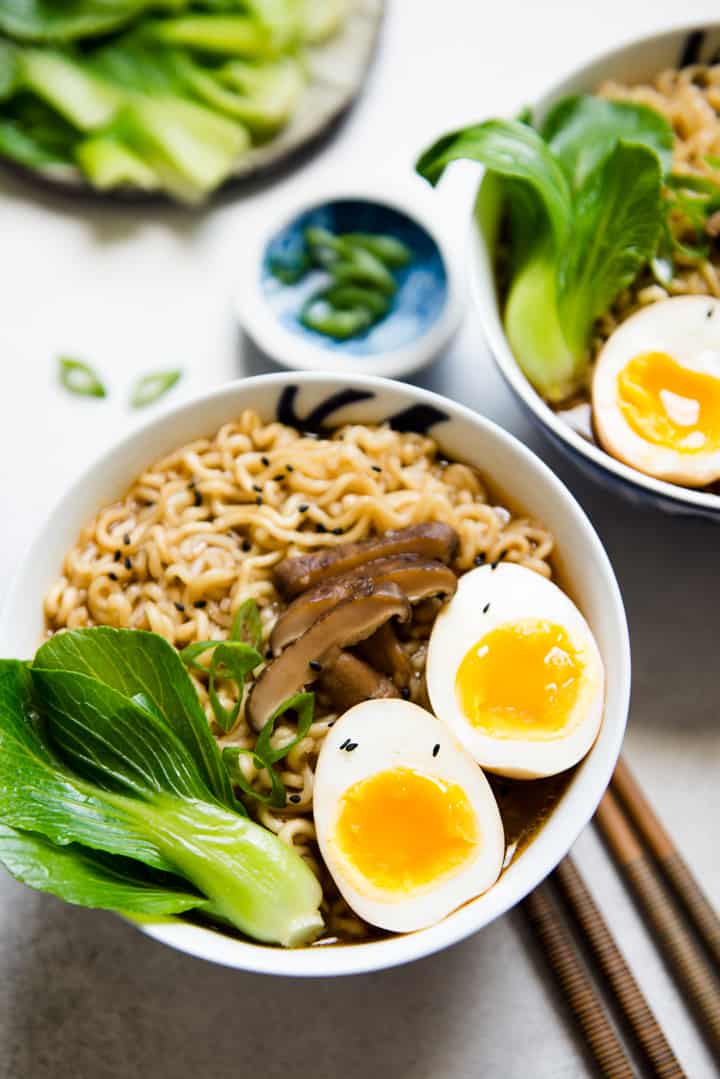 MORE NOODLE RECIPES
Easy Vegetarian Ramen
Shiitake Mushrooms: If you can't find dried shiitake mushrooms, you can substitute it for 1/4 pound of fresh shiitake mushrooms.
Ingredients
Ramen Egg
2

large eggs

ice

2 1/2

tablespoons

soy sauce

2

tablespoons

mirin (see note 1)

2

teaspoons

rice vinegar

4

tablespoons

filtered water

1/8

teaspoon

five-spice powder
Ramen
5

dried shiitake mushrooms

1

piece

of kombu (about 2" x 4")

1 1/2

tablespoons

safflower or canola oil

1

inch

piece of ginger, sliced (see note 2)

2

cloves

garlic, minced

5

cups

vegetable broth

2

tablespoons

soy sauce

3

cups

baby bok choy (see note 3)

2

scallions, sliced

2

teaspoons

sesame oil
Instructions
Prepare Ramen Eggs
Bring some water to boil in a small saucepan. Once boiled, reduce the heat to low so that the water is no longer bubbling. Take your eggs out of the refrigerator and carefully lower the eggs into the saucepan. Crank up the heat to medium-high so that the water is boiling again. Let the eggs cook for 7 minutes if you want eggs with jammy yolks. Cook the eggs for 8 to 9 minutes for firmer, but still soft, yolks.

While the eggs are cooking, fill a bowl with ice water. You'll use this to cool the eggs so that they're easier to peel. They also stop the egg from cooking further so that you get nice, jammy egg yolks.

Once the eggs are done cooking, transfer the eggs to the bowl with ice water. Let the eggs cool for a few minutes.

In a small bowl, whisk the soy sauce, mirin, rice vinegar, water, and five-spice powder.

Peel the eggs and let them marinate in the soy sauce mixture for at least 20 minutes. The eggs will soak up more flavor the longer they marinate. Make sure to roll the eggs around occasionally so that the entire surface is evenly coated with the marinade.
Prepare Ramen
Soak the mushrooms in a bowl of water for at least 20 minutes. This will rehydrate the mushrooms.

Brush both sides of the the piece of kombu with a slightly damp cloth. Don't rinse it under water or it will wash away some of its flavor.

Heat the canola oil in a pot over medium-high heat. Once the oil is shimmering, add the ginger slices and garlic cook for 30 seconds. Add the hydrated mushrooms, kombu, and vegetable broth, and bring everything to boil, covered. Once boiled, reduce the heat to medium-low and let it simmer for 10 minutes. If you have more time, simmer it for an additional 5 to 10 minutes.

Uncover the pot and add the soy sauce and instant ramen to the pot. Let the noodles cook for about 3 to 4 minutes, until they soften. Add the baby bok choy to the pot and cook them for about 2 minutes, until they turn vibrant green.

Use tongs to remove the kombu and the mushrooms. Slice up the mushrooms to serve. I usually discard the kombu.

Add the scallions and sesame oil to the pot and swirl to combine the ingredients.

Serve the noodles immediately before the noodles absorb too much broth. Ladle the noodles, broth, and baby bok choy between two bowls. Top with sliced mushrooms. Sprinkle black sesame seeds on the noodles, if desired. Slice the ramen eggs in half and add them to the ramen bowls.
Notes
If you do not have mirin, you can add use cooking sherry instead. You can also add 1 teaspoon of sugar and 2 tablespoons of water to the marinade.
You can grate the ginger if you prefer.
I cooked about 5 or 6 small stalks of baby bok choy. If you are using the large stalks, use 2. Make sure to slice up the large stalks so that they're easier to cook.
Nutrition
Serving:
1
bowl
|
Calories:
762
kcal
|
Carbohydrates:
86.8
g
|
Protein:
22
g
|
Fat:
37.8
g
|
Saturated Fat:
11.2
g
|
Cholesterol:
186
mg
|
Sodium:
2200
mg
|
Fiber:
7.8
g
|
Sugar:
11.3
g
Did you make this recipe?
Tag @hellolisalin or leave a star rating and comment on the blog!