You might be thinking, "Another mint chocolate recipe?" I know, my love for mint chocolate might be turning into an obsession. Regardless, you must try this recipe if you love Andes mint chocolates or anything similar to Nutella. I've never made a chocolate ganache before, but the one that I made two days ago was AMAZING. I was finding excuses to slather the ganache onto anything. My mouth is watering just thinking about it.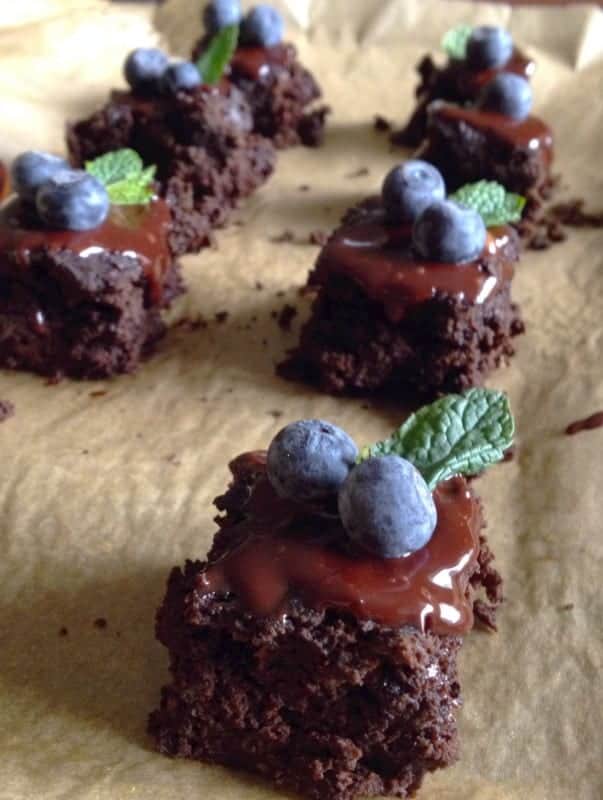 You can pair the ganache with brownies, cakes, cupcakes, or cookies!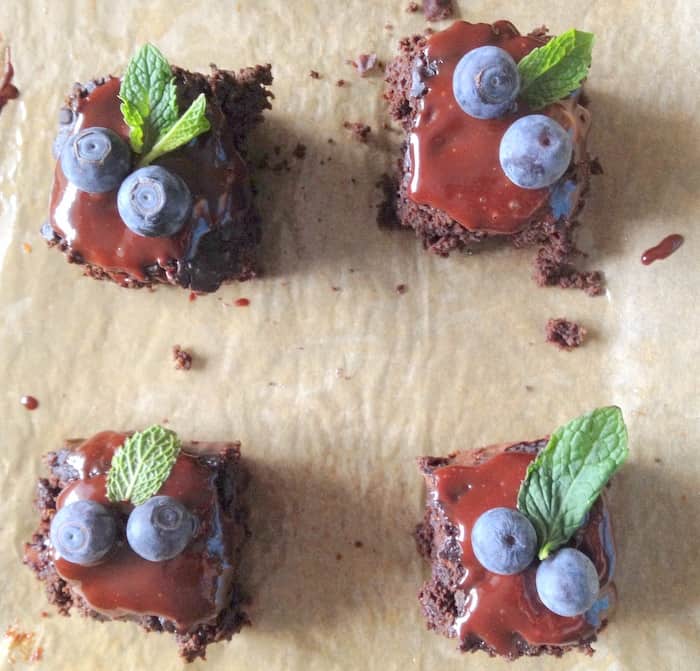 Flourless Brownie Recipe
I have adapted the recipe for black bean brownies from Skinnytaste. Because I planned to add a mint chocolate ganache onto the brownies, I reduced the amount of sugar and chocolate chips in my version of the brownies.
Makes 16 servings
Prep Time: 10 minutes; Cooking Time: 30-40 minutes (depending on size of your pan)
Ingredients
1 15-oz. can of black beans, drained and rinsed
2 large eggs
1/2 cup cocoa powder
1/2 cup coconut sugar
1/2 tsp olive oil
1 TBS milk (any kind)
1 tsp balsamic vinegar
1/2 tsp baking powder
1/2 tsp baking soda
1/2 tsp ground coffee (optional)
1/2 cup chocolate chips
Directions
Preheat the oven to 350 degrees F. Grease a square baking pan (either 8×8 inches or 9×9 inches). I used an 8×8 inches pan.
Place all ingredients except for the chocolate chips into a food processor and blend.
When the batter looks like a thick mousse, empty all contents into a medium-sized bowl.
Fold chocolate chips into the batter.
Pour batter into greased pan and place in the oven. If you are using an 8×8 inches pan, bake for about 35-40 minutes, or until a toothpick comes out clean when you pierce the brownies. If you are using a 9×9 inches pan, bake for about 30-35 minutes.
Let the brownies cool before cutting them into squares.
Notes
Because I used an 8×8 inches pan, the brownies were thicker and more crumbly. I think they would have been easier to pick up and eat if I had used a 9×9 inches pan.
You can use any type of sugar that you want. I used coconut sugar only because I have been experimenting with it lately.
Skinny Mint Chocolate Ganache Recipe
I was looking around for peppermint ganache recipes and found that most of them used heavy cream. I don't usually have any of it around the house, so I looked for alternative recipes. I found one on Gluten Free Recipe Box that uses light coconut milk. I adapted it a little by adding more peppermint extract and a tiny bit of honey.
Makes about 1 1/2 cup of ganache
Prep Time: None; Cooking Time: 5 minutes
Ingredients
1/2 cup light coconut milk
1 cup semi-sweet chocolate chips
1 tsp peppermint extract
1/2 TBS honey
Directions
Heat the coconut milk in a saucepan over medium-high heat.
When the coconut milk starts to boil, turn off the stove and remove the saucepan from heat.
Empty the chocolate chips, peppermint extract, and honey in the milk and stir until the chocolate chips are melted and everything is well blended.
Enjoy over your favorite desserts!
Store leftover ganache in the refrigerator. Reheat the ganache before using it again.
Notes
Initially, I made the ganache without honey but found that it wasn't sweet enough. After adding a tiny bit of honey, the flavor picked up instantly. The honey is completely optional.
Give yourself a treat this weekend, and try these brownie and ganache recipes. Let me know how it turns out!