Are you ready for the best brussels sprouts recipe EVER? Imagine roasted brussels sprouts doused in General Tso's sauce. They're sweet, tangy, spicy, and better than you can imagine. A quick 30-minute dish to spice up your weeknights!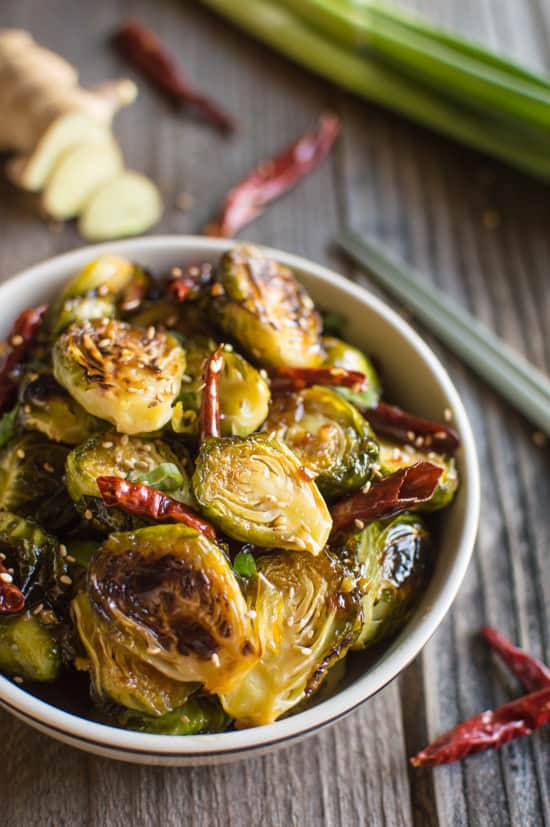 General Tso probably never saw a single brussels sprout in his life, but this is the day when he finally meets them.
I lived a good 20 years before getting acquainted with General Tso. It happened at an unassuming Chinese restaurant in Davis with my college friends. I remember feeling embarrassed that my Chinese upbringing didn't teach me about the ways of the General. But one bite into that fresh out the wok, deep fried chicken slathered in tangy sweet sauce, and all that shame melted away. I found my new Chinese restaurant addiction.
Even after all these years, I still don't know who General Tso really is. Do you? There's a documentary called "The Search for General Tso" that I've been aching to watch. It's supposed to be a detective-style documentary, devoted to tracing the origins of this famed dish. I haven't actually watched it yet, and I have no clue how to get my hands on a copy. (If you have any leads, do tell. Muffins will come your way.) Based on what I've read of the movie so far, the people behind the documentary do find a General Tso, but he wasn't known for his cooking. That was the work of genius Chinese restaurant owners, who named the dish after him.
Speaking of which, what is with our obsession of associating fried chicken with military men? General Tso, Colonel Sanders, Popeyes. Is there something about fried chicken and machismo that I need to know about?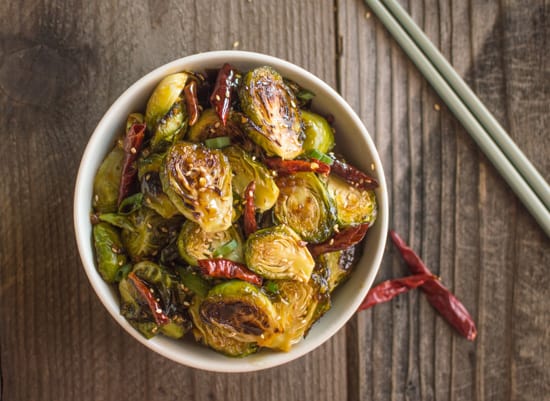 Now, I'm sure we all know someone who just hates brussels sprouts. We judge them for their ways, but we also want them to come over to the bright side. The next time you hear your friend complaining about how awful brussels sprouts are, here is the recipe to pull on them. This is hands down, one of the BEST batch of brussels sprouts I've ever had. You know all those sweet, tangy, spicy flavors you love in General Tso's chicken? They're all here, and then some. These brussels were so good, I licked the bowl after I was done! See for yourself.

Lisa Lin
General Tso's Brussels Sprouts
10 minPrep Time
20 minCook Time
30 minTotal Time
Ingredients
1 1/2 lbs (675g) brussels sprouts
1 1/2 TBS olive oil
pinch of salt

Sauce

3 TBS low-sodium tamari (or soy sauce if not gluten free)
2 TBS shaoxing wine
2 TBS distilled white vinegar
3 TBS vegetable broth
4 TBS granulated cane sugar
1 tsp sesame oil
1 TBS cornstarch
1 TBS water
2 tsp canola oil
2 garlic cloves, finely minced
1 TBS minced fresh ginger (about a 1-inch piece of ginger)
2 stalks of green onion, chopped
6 small dried chile de arbol, roughly chopped (or use 1/4 to 1/2 teaspoon red pepper flakes)

Optional Toppings

sesame seeds
Instructions
Preheat oven to 425 degrees F (220 degrees C). Line a baking sheet with parchment paper.
ROAST BRUSSELS SPROUTS: Trim the bottoms of the brussels sprouts and chop them in half. Toss them with oil and sprinkle with a small pinch of salt. Pour onto the lined baking sheet and bake for 18 to 20 minutes, until the leaves have browned and the sprouts are softened.
PREPARE SAUCE: In a small bowl, mix the soy sauce, shaoxing wine, rice vinegar, chicken stock, sugar, and sesame oil together. In another small bowl, mix the cornstarch and water together until the cornstarch is well dissolved. Heat the canola in a small saucepan over medium heat. Add the minced garlic and ginger and cook until the garlic turns golden brown, about 2 to 3 minutes. Add the soy sauce mixture, then add the cornstarch mixture. Cook for a minute or two, until the sauce starts to boil. Add the chopped green onion and chilis, and cook for another minute. Turn off the heat.
MIX BRUSSELS SPROUTS WITH SAUCE: When the brussels sprouts are done, stir it with the sauce. The sauce will thicken once it cools. If you prepared the sauce ahead of time, and it's too thick, just warm it up a little again before stirring with the brussels sprouts.
Sprinkle some sesame seeds on top if you like. Enjoy with rice.
Notes
1. General Tso's sauce adapted from Serious Eats .

2. Shaoxing wine is one of those ingredients that always pop up in Chinese recipes. They give the sauce more depth. But if you don't have any available, it's fine to just add a bit more water to the sauce instead.
7.6.4
418
https://healthynibblesandbits.com/general-tsos-brussels-sprouts/
 Looking for more brussels sprouts recipes?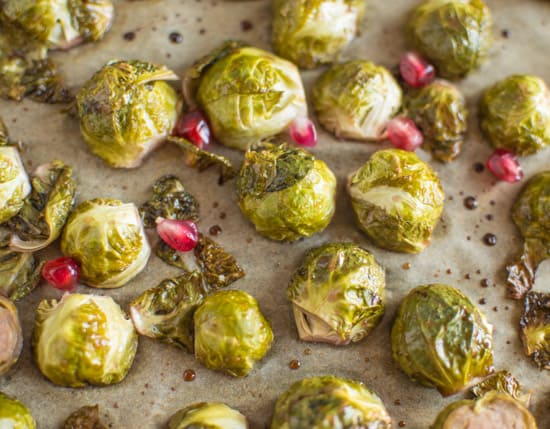 Pomegranate Glazed Brussels Sprouts