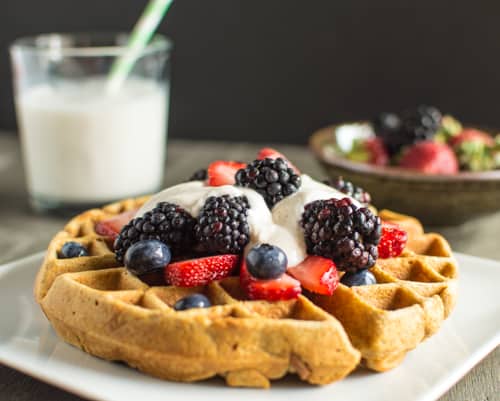 Disclosure: By posting this recipe I am entering a recipe contest sponsored by National Dairy Council and the Quaker Oats Center of Excellence and am eligible to win prizes associated with the contest. I was not compensated for my time. The opinions expressed are my own.
As you have seen from many of my recipes, breakfast for me usually consists of some type of yogurt and granola combination, be it chocolate overnight oats or a yogurt parfait with granola. But sometimes, I just want to go fancy pants with my first meal. What better way to do it than with some delicious waffles!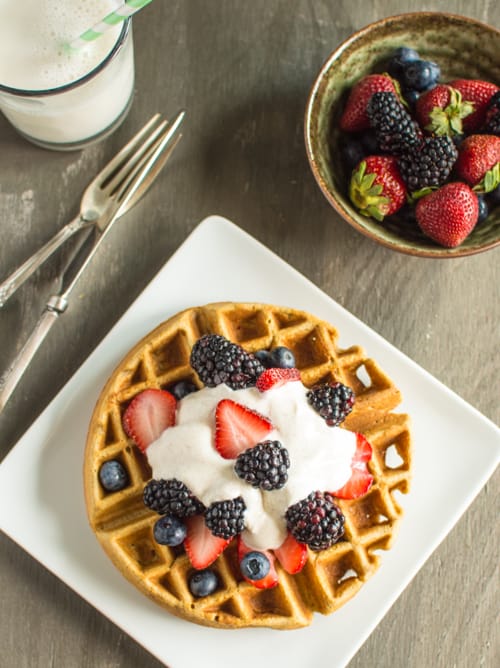 The Recipe Redux is hosting a recipe challenge sponsored by the National Dairy Council and the Quaker Oats Center of Excellence, called "Oats & Dairy: A Powerful Combination." My first instinct was to create a granola recipe to be paired with yogurt, but after some thought, I decided to revamp the traditional waffle dish with some extra nutrition and a dash of spice.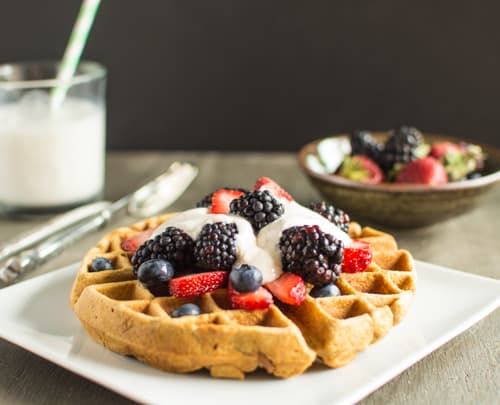 Instead of using all-purpose flour, I decided to go gluten-free with these waffles by grinding up old-fashioned oats into a flour. Not only do the oats give these waffles extra fiber, but the added almond meal also brings in an extra dose of healthy fats.
While I love plain Belgian waffles, it's also fun to spice things up a bit, right? So I tossed in some ground ginger and cinnamon to give these waffles a flavor boost, but not so much that the waffles turn into gingerbread. That's for another day.
Confession: I don't ever have whipped cream around the house. I reserve my sugar indulgence for chocolate. Dark chocolate to be exact.
To compensate for the lack of whipped cream in my kitchen, I decided to make a "whipped cream" out of Greek yogurt. Greek yogurt is great for topping on waffles because it's not as watery as usual yogurt and it has more grams of protein per serving. A double win, if you ask me!
Throw some berries into the mix and you have a fiber, protein, and antioxidant rich breakfast!
Ginger Oatmeal Waffles & Yogurt "Whipped Cream"
Makes 4 large waffles
Ingredients
Ginger Oatmeal Waffles
2

cups

(160g) old-fashioned oats*

1/2

cup

(56g) almond meal

2

TBS

sugar

,

I used unrefined cane sugar

3

tsp

ground ginger

1 1/2

tsp

cinnamon

1/2

tsp

baking soda

1/2

tsp

baking powder

1/2

tsp

salt

2

large eggs

1 2/3

cups

395ml 1% milk (skim milk works also)

2

TBS

olive oil

1

tsp

pure vanilla extract
Cinnamon Yogurt Cream
1

cup

(225g) plain low-fat Greek yogurt

4

TBS

1% milk

,

skim milk works also

2

TBS

honey

1

tsp

cinnamon
Berry Topping
2

cups

mixed berries for topping

,

I mixed strawberries, blueberries, and blackberries together
Instructions
Place the old-fashioned oats in a blender or food processor, and pulse until the oats are ground into a flour.

Pour the oat flour into a medium bowl and mix in the almond meal, sugar, ground ginger, cinnamon, baking soda, baking powder, and salt.

Crack both eggs and separate the yolks from the egg whites. Place the egg whites into a small bowl and the yolks into a large bowl.

Using a mixer with a whisk attachment, whisk the egg whites until stiff peaks start to form. Set the egg whites aside.

In a large bowl, mix the yolks, milk, olive oil, and vanilla extract together. Mix in the flour mixture into this bowl gradually. I like to add the flour in 3 batches, mixing everything right after I add flour. Gradually fold in the whisked egg whites. Let the batter set while you preheat the waffle iron and prepare the yogurt cream.

While the waffle iron is preheating, mix the cinnamon yogurt cream ingredients together. Set aside.

Once the waffle iron is ready, pour some of the batter into the waffle iron, and close it. I like to spray the waffle iron with natural cooking spray so that the waffles come out easier. Let the waffles cook for several minutes or until they get a nice golden color. My waffles cooked in about 4 minutes.

Serve the waffles with 1/4 cup of the yogurt cream and 1/2 cup mixed berries.
Notes
1. *Be sure to use gluten-free oats if you want these waffles to be gluten-free. There may be cross contact between wheat and oats during the harvesting or shipping process, so check the food labels to determine whether the oats are gluten-free![br][br]2. The waffle batter should be fairly thick. If you find that it is quite runny, grind an additional 1/4 cup of oats into flour and add it to the batter. Repeat the process until the batter reaches a slightly thick consistency.
Did you make this recipe?
Tag @hellolisalin or leave a star rating and comment on the blog!