This post is sponsored by Pamela's Products!
I love a good lemon dessert. I think I developed a craving for them in college, when I worked as a cashier at my college's student union. My first semester there, I had a closing shift at the bakery on Saturday afternoons. It sucked. Saturdays were supposed to be my time to rest and decompress, and I hated having to bike to campus to go to work. (Side note: ahh, those good old days when I could still bike well.)
My one saving grace was the lemon bars we sold. There was something about biting into a luscious layer of lemon, butter and sugar that made working on the weekends a little bit better.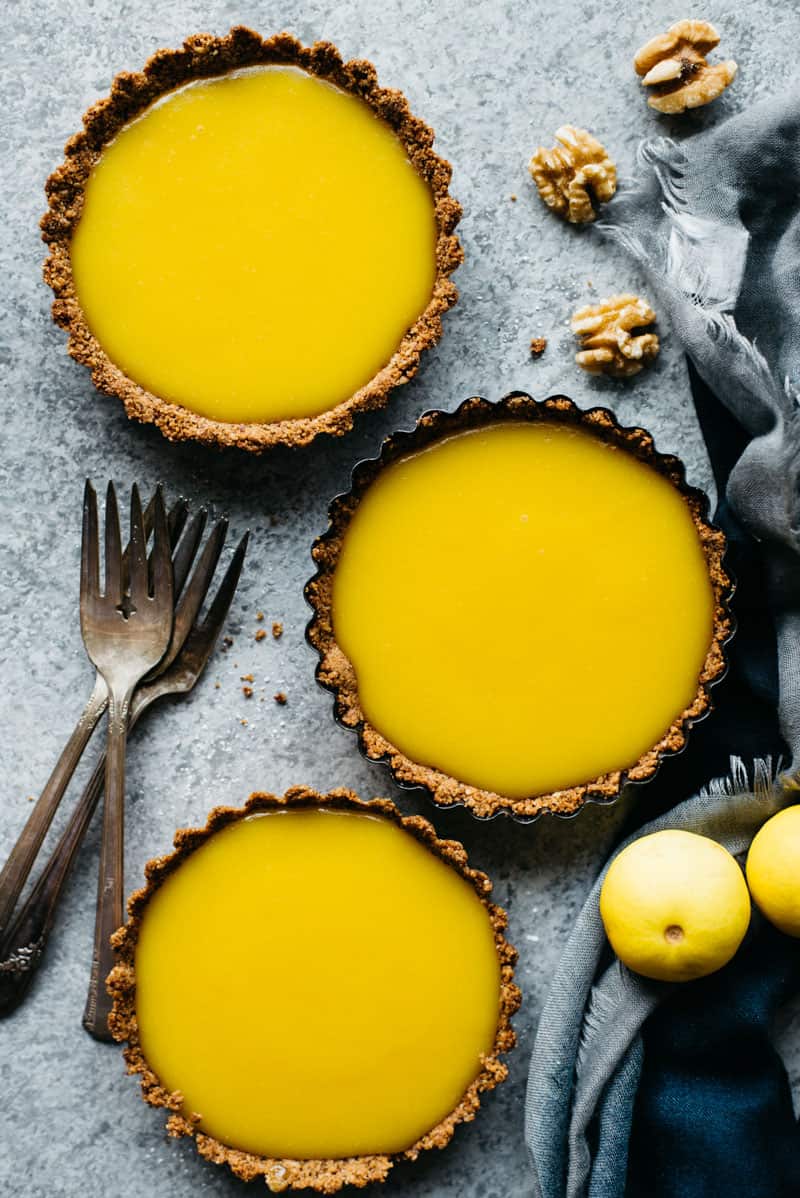 Twelve years later, I'm still lemon desserts. Pamela's Products asked me to create a holiday-themed dessert, and immediately, I thought of lemon tarts. Usually, when we think about holiday desserts, our minds wander into the realms of chocolate, peppermint, gingerbread or fruit cakes. We often forget about citrus desserts even though citrus fruits are in season during the winter! Let's celebrate them with these gluten-free lemon tarts.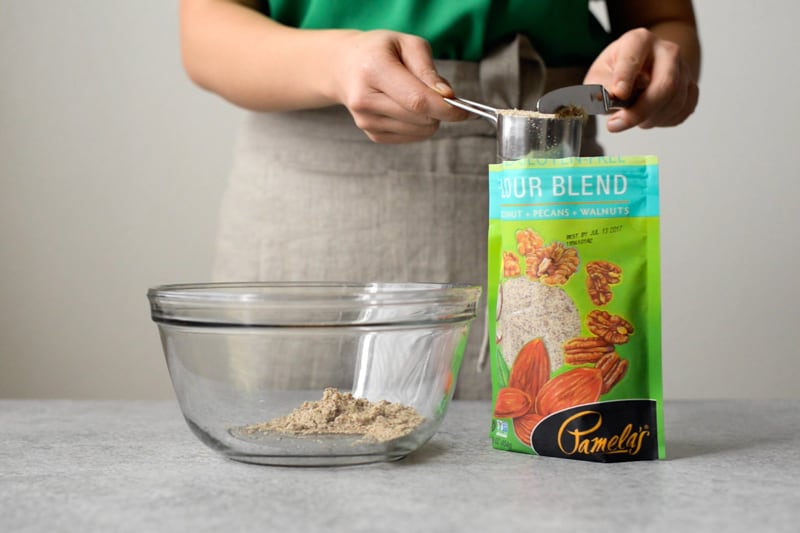 To make the tarts, I'm using a mixture of Pamela's Nut Flour Blend and Honey Grahams. The Nut Flour Blend is a mix of ground almonds, coconut, pecans and walnuts and I absolutely love the flavor of it. The coconut doesn't overpower the blend, so you can use the flour for a variety of applications. The crushed Honey Grahams help balance the flavors of the nut flour and makes the crust taste like a nice biscuit. Honestly, I think the crust is my favorite part!
I'm filling the tarts with lemon curd here, but I think any kind of citrus curd will work wonderfully.
MASTERING MY MISTAKES / COOKING NOTES
My original idea: In the beginning, I wanted to make this into a paleo lemon tart, substituting butter for coconut and using coconut sugar instead of cane sugar. What put me off the most was the color of the curd when I used coconut sugar. It was a light tan color, similar to a cup of tea with a lot of creamer. I wasn't particularly happy about the way it tasted either, so I nixed the paleo lemon tart idea and whipped up a batch of regular lemon curd instead.
Using egg yolks: You'll find many recipes out there that use whole eggs for lemon curd, but there are two big reasons why I used egg yolks only. First, it gives the lemon curd a lovely golden yellow color, which would be more muted if you used egg whites.Second, the curd is much more forgiving if you're using only egg yolks. I made a test batch of curd with whole eggs, and unfortunately, I wasn't watching the heat on the stove carefully. The eggs cooked far too quickly, and I ended up with with a mixture that looked more like egg drop soup than lemon curd! I tried straining out the egg whites but the end result just wasn't pretty.You'll want to cook the lemon curd in low heat. Even if you forget that, it's much easier to hide your mistakes when you use egg yolks because the color blends very well into the lemon curd.
A sharp curd: I used a cup of lemon juice for this curd, so the curd is SHARP. If you want something more mellow, you can use meyer lemons, which are slightly sweeter than regular lemons. You can also add a bit more sugar—a few tablespoons to a quarter cup.
Chill the tarts before taking them out of the tart pan: It is so important that you let the tarts chill before taking them out of the tart pan. The chilling not only allows the lemon curd to settle, but the crust comes out of the tart pan much easier when it's cold.
A more savory crust: If you are looking for a more savory crust, substitute the graham crackers for another cup of nut flour blend. I found that the flavors pair very well with the lemon curd, too. Do note, however, that the crust tends to brown faster when it is made only with the nut flour. The natural fats in the nuts and coconut causes the crust to brown quicker.
Mini tart pans: I decided to use mini tart pans for this recipe, but it should work in a regular 9 to 10-inch pan as well. Here are the mini tart pans I used.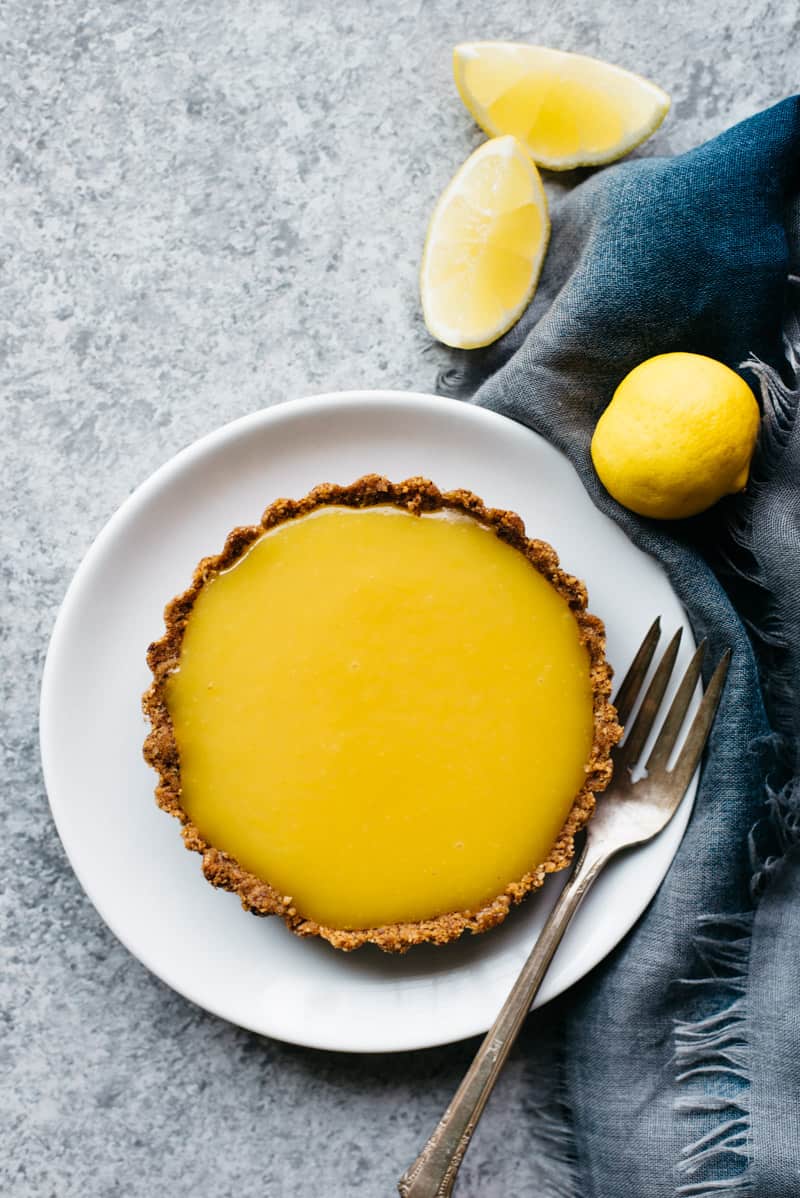 Mini Gluten-Free Lemon Tarts
Makes 4 mini tarts. Reserve about 1.5 hours for chilling the tarts.
Ingredients
Lemon Curd
8

egg yolks

3/4

cup

(150g) cane sugar

1

cup

lemon juice

,

about 4 to 5 large lemons

zest from 2 lemons

4

tablespoons

unsalted butter
Instructions
Preheat oven to 350F (175C). Set an oven rack to the center position.

Measure out 1 cup of nut flour and pour it into a large bowl. Set the bowl aside.

Place the graham crackers into a sealable sandwich bag. Using a rolling pin, crush the graham crackers into crumbs. Pour graham cracker crumbs into the bowl with the nut flour.

Add the cinnamon and salt to the bowl and stir until everything is incorporated. Add the melted butter and honey and stir until you get a mixture that looks like wet sand.

Divide the mixture into 4

mini tart pans

. You'll need about 1/2 cup of the mixture for each pan. (My pans were 4.75 inches in diameter.)

Place tart pans onto a baking sheet and bake the crusts for 10 to 13 minutes, until the crusts start to turn golden brown.

Prepare the lemon curd while the crusts are baking. In a medium bowl, mix the egg yolks, sugar, lemon juice and lemon zest together. Set the bowl aside.

In a small saucepan, melt 4 tablespoons of butter over medium-low heat. Add the lemon and egg mixture and stir to combine the ingredients. Stir the lemon curd frequently to avoid overcooking the eggs. The lemon curd is ready when it coats the back of a spoon, about 10 to 15 minutes. Remove the lemon curd from heat.

Pour the lemon curd through a fine mesh strainer to strain out the lemon zest. Then, divide the lemon curd into the 4 tart pans.

Let the tarts cool at room temperature for 20 minutes before chilling them in the refrigerator for an hour. If you are in a hurry, just stick them into a refrigerator immediately.

Remove the tarts from the pan once they are chilled. Leftover tarts can keep in the refrigerator for 4 to 5 days.
Notes
NUTRITION INFORMATION: Serves 8. Amount per serving: Calories: 352, Total Fat 23g, Saturated Fat: 9g, Sodium: 106mg, Cholesterol: 177mg, Total Carbohydrate: 35g, Dietary Fiber: 3g, Sugar: 26g, Protein 6g
Did you make this recipe?
Tag @hellolisalin or leave a star rating and comment on the blog!
Disclosure: This recipe is sponsored by Pamela's Products. Thank you for supporting the brands that keep me inspired in the kitchen! To learn more about Pamela's products and recipes, check them out at their website or follow them on Facebook, Instagram, Twitter or Pinterest!