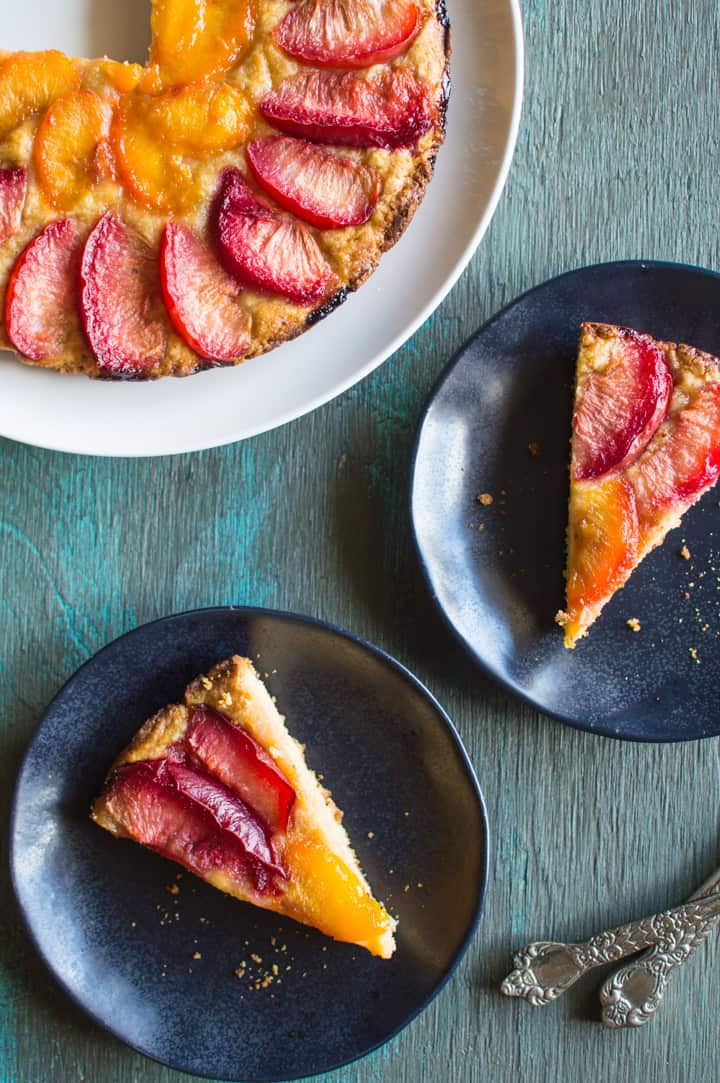 I can't help myself.
I get all excited by the colors.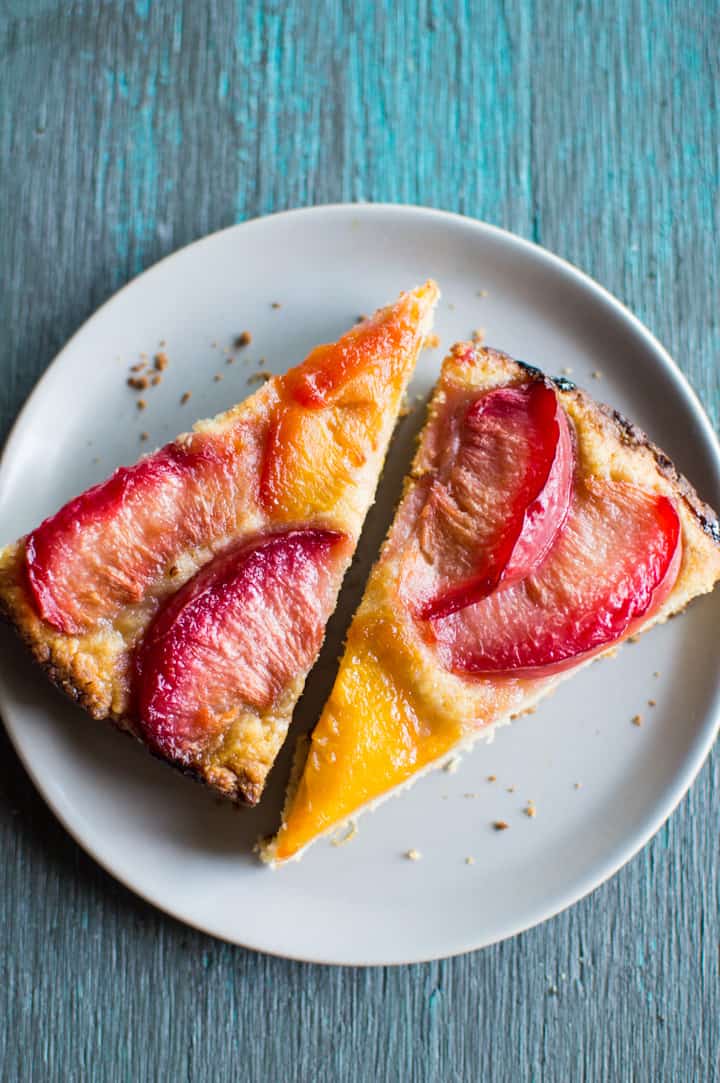 But if it weren't for my lack of self-restraint, this pluot torte never would have happened. Picture me last weekend, with 20 pounds of loot already in tow, digging through a box of discounted pink pluots. One thing led to another, and I walked away with 5 pounds of plump pink and purple. This is the type of thing that Mama Lin would do.
Speaking of the farmers' market, I can't believe that I made my last weekly grocery trip there on Saturday! I'm going to miss it SO much—the farmers . . . their food. I can't tell you how lucky I am to be able to share the fruits of their labor on this tiny blog space of mine. Really, this torte is for them.
So grab a bunch of pluots before the season's completely over and make this little treat!
MASTER LISA'S MISTAKES (AKA COOKING NOTES)
How to cut the pluot: This sounds like a simple task, but it took me several tries before figuring out the best way to dislodge the pit from the pluot without creating a mushy mess. First, to peel or not to peel: it's up to you. The pluots are so much easier to slice through if you leave the peel in tact. Just know that you'll get a bit of tart flavor from the peel. Next, to release the pit, slice the pluot in half (starting and ending at the stem) and twist both sides, like you would an avocado. This should help release the pit. If the pit is stuck, use a paring knife and carve along the bottom of the pit.
Use a greased spatula: This batter is THICK and sticky. I used a greased rubber spatula to help spread the batter in the pan. This helped a lot.
Dairy-free version: If you want to make a dairy-free version of this torte, make sure you are using gluten-free flour that is also dairy-free! A lot of mixes actually include milk powder in it to help the baked goods brown better. Bob's Red Mill's 1 to 1 Gluten-Free Baking Flour is dairy free.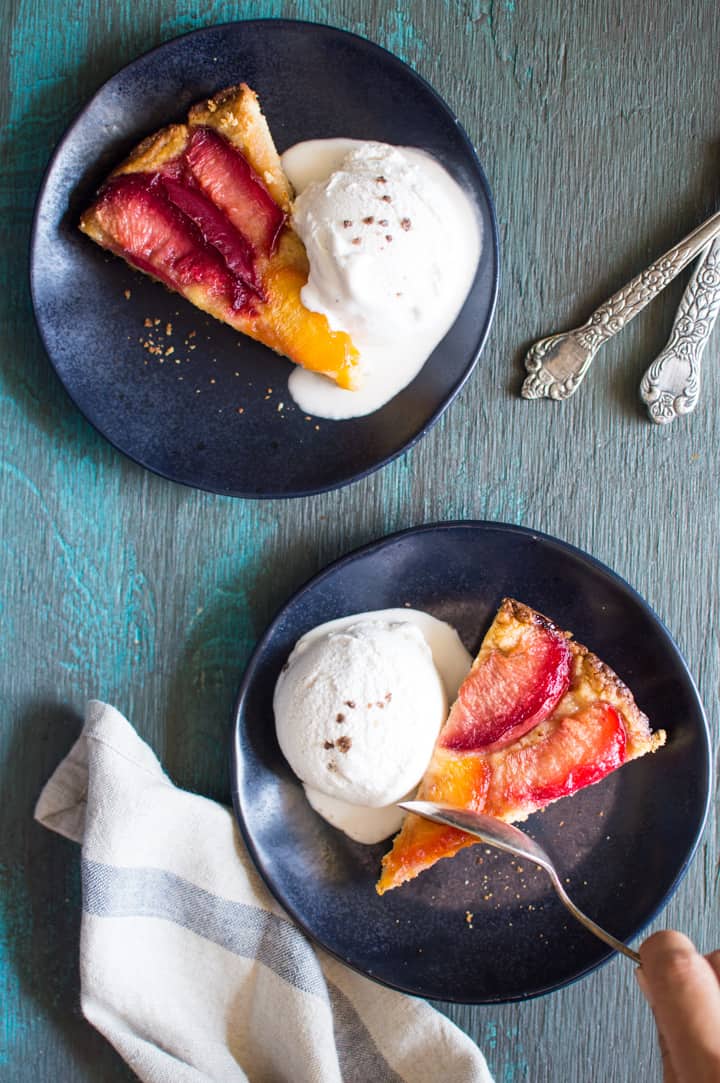 Gluten-Free Pluot Torte
Serves 10 to 12.
Ingredients
coconut oil or coconut oil spray for greasing

1

cup

gluten-free all-purpose flour

1/4

cup

(30g) almond flour

1/4

cup

light muscovado sugar

,

light brown sugar works also

3

TBS

turbinado sugar

1

tsp

baking powder

1/2

tsp

ground cinnamon

,

optional

1/4

tsp

salt

1/4

tsp

xanthum gum

5

TBS

coconut oil

,

melted

1/4

cup

(60g) unsweetened applesauce

1

large egg + 1 yolk

,

preferably at room temperature

1

tsp

pure vanilla extract

1/2

tsp

almond extract

2 to 3

medium pluots

,

any variety works; I used Dapple Dandy and Amigo pluots

ice cream for serving

,

optional
Instructions
Place rack in the middle. Preheat oven to 350 degrees F (175 degrees C). Trace the top rim of a 9-inch spring form pan on parchment paper. I find using a pencil works best. Cut out the circular shape. Lightly grease the bottom of the pan and lay the parchment paper on top. Grease the parchment paper and the sides of the pan (about 1 1/2 inches up the sides). Set pan aside.

You can either peel the pluots or leave the peel in tact. Unpeeled pluots are much easier to work with. Pit pluots and slice them into 16 pieces. Set aside.

Place gluten-free all-purpose flour, almond flour, sugars, baking powder, cinnamon (if using), salt, and xanthum gum in a food processor, and pulse for 5 times. Pour in coconut oil, and pulse 10 times, until the batter is the consistency of wet sand. You may need to scrape mixture down the sides of the bowl. Add the egg, yolk, vanilla extract, and almond extract, and mix the batter until ingredients are combined, about 5 to 10 seconds. The batter will be thick and sticky.

Spread batter evenly on top of the greased pan. It helps to use a greased spatula for this.

Arrange sliced pluots on top of the batter, however you like.

Bake for about 45 to 50 minutes or until the edges are golden brown and a toothpick comes out clean.

Let the cake cool in the pan for 30 minutes before serving. Have a slice with ice cream for some extra fun.

Leave it covered in room temperature overnight. The pluots will release more flavor into the cake!
Did you make this recipe?
Tag @hellolisalin or leave a star rating and comment on the blog!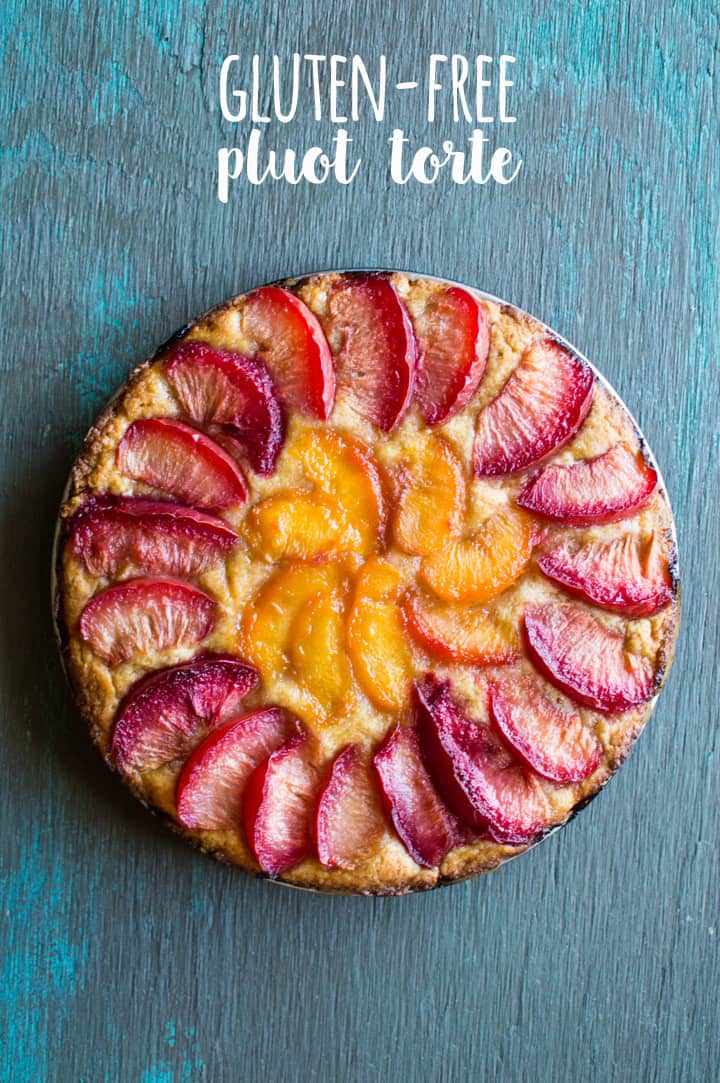 LOOKING FOR MORE FRUITY DESSERTS?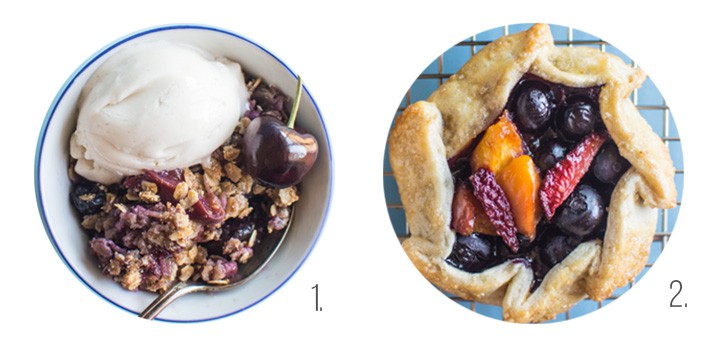 1. Vegan Peach Cherry & Blueberry Crumble
2. Mini Berry & Nectarine Galettes