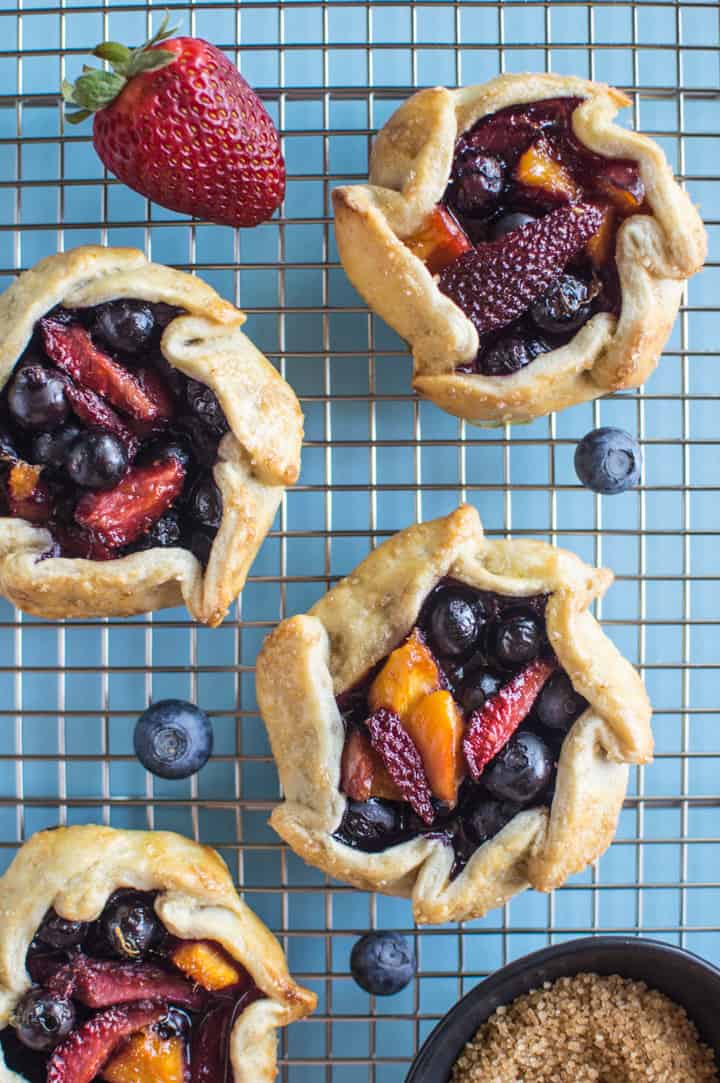 Our high school often had late starts on Fridays (we're talking 11:00am or 12:00pm), so A would come over to my house to bake something to share with our classmates. On one ocassion, we decided to bake brownies out of a Betty Crocker mix. I turned on the oven and we were cooking and laughing away. So far, so good.
That was until I started smelling burning.
I turned around and noticed faint wisps of smoke coming out of the oven. I high tailed over there, opened the oven door, and saw flames licking the bottom. Ahhh!
As this was happening, my older brother was still asleep on the living room couch, about 7 feet away from 2 panicked teenagers. For whatever reason, I didn't want to wake up my brother, so I closed the kitchen door to contain the smoke (and quite possibly suffocate myself). I was 15. My friend A started fanning the flames with magazines, and I reached over for the fire extinguisher. I told A, "I will bust this open if I have to!" I had no idea how to use it . . . still don't.
We finally put out the flames but the entire kitchen was clouded in a thick layer of white haze. It was a debacle, but everything cleared after 30 minutes, and I was so glad that we didn't burn my house down. We still made our brownies. My brother was still sound asleep. All was good in the world.
When we got the situation under control, I decided to Sherlock Holmes the situation to figure out the cause of the burning.
You probably don't know this, but Chinese families rarely use their oven for baking, if ever. It is first and foremost a space in the kitchen to store pots and pans. Seriously, ask your Chinese friends. So on that day, even though I removed all of Mama Lin's pots and pans before preheating the oven, I failed to notice that someone shoved my plastic Looney Tunes jello mould in the back corner of the oven. Only in Mama Lin's house, right?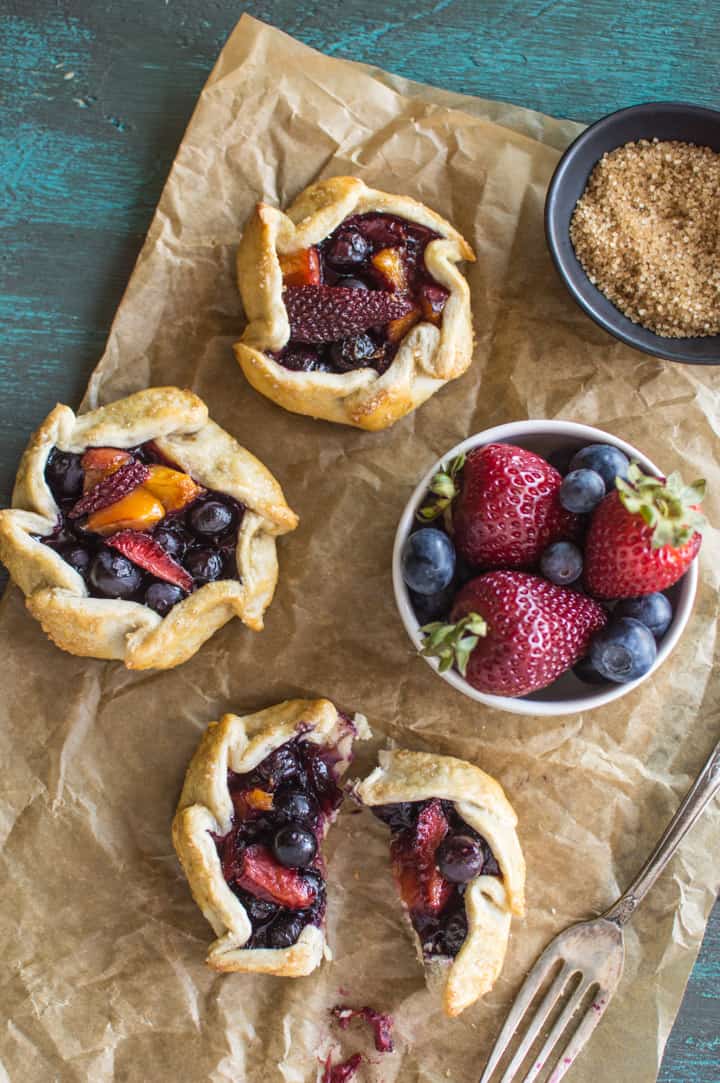 So whenever I bake, I always think of that story and why I should always, always triple check the oven before I turn it on.
You can definitely customize this recipe to whatever fruits you have on hand. Peaches, plums, or any other berries work wonderfully. I used turbinado and muscovado sugar in this recipe because I'm still on my mission to cook with unrefined and less refined sugars. However, you can easily substitute them with plain granulated sugar or light brown sugar.
There's nothing like a good galette to get us in the mood for summer, right?
KITCHEN TIP: HOW TO MAKE WHIPPED CREAM IN A JAR
Like your pies with a small dollop of whipped cream? Try it with some homemade whipped cream!
Mini Berry and Nectarine Galettes
Sweet summer berries and nectarines are nestled in a buttery crust topped with crunchy turbinado sugar. Nothing says summer quite like a fruit galette! Makes 8.
Ingredients
Crust
1 1/2

cups

(180g) all-purpose flour

1

TBS

turbinado sugar

,

plus more for sprinkling (can sub with granulated cane sugar)

1/2

tsp

salt

1/2

cup

(1 stick or 115g) unsalted butter

,

cut to small cubes

4

TBS

ice cold water

,

add more if necessary
Fruit Filling
1/2

cup

(80g) blueberries

1/2

cup

(80 to 90g) chopped strawberries

1/2

small nectarine

,

chopped

1/4

cup

4 TBS light muscavado sugar (or sub with light brown sugar)

1

TBS

cornstarch

,

for thickening filling

1

TBS

orange juice

1

tsp

pure vanilla extract

1

egg

,

any size works
Instructions
Make Crust: In a large bowl, mix the flour, sugar, and salt together. Using your fingers or a pastry cutter, incorporate the butter into the flour mixture. You want to rub the flour and butter together until the butter clumps are about the size of peas. Make a well in the middle of the flour and butter mixture and ice water, 1 or 2 tablespoons at a time. Mix everything together until a clumpy dough forms. Gather all the clumps of dough together and shape it into a disc on your counter. The dough should feel moist but not watery on the outside. Wrap it with plastic film and refrigerate for an hour.

Make the Filling: When you are about ready to roll the dough, mix all the ingredients for the fruit filling in a medium bowl.

Preheat oven to 425 degrees F (220 degrees C). Line two baking sheets with silicone mats or parchment paper. Whisk the egg and set aside.

Make the Galettes

: Lightly flour a work surface and place your dough disc on top. Using a 

rolling pin

, roll out your dough to a 1/4 to 1/3 inch thick. Make sure to turn your dough as you're rolling it out to prevent dough from sticking on the counter. Use a

4 1/2-inch cookie cutter

or a small bowl to cut out small circles. Place dough circles onto lined baking sheets. Place 2 to 3 tablespoons of fruit filling in the center of each dough circle. Leave about an inch of space around the perimeter of the circle. Fold the dough towards the center and create pleats around the edge. Brush egg wash over the folded dough and sprinkle turbinado sugar on top.

Bake for 15 to 17 minutes or until the crust is golden. Let galettes cool for 10 to 15 minutes before serving.
Notes
1. Pie crust adapted from Simply Recipe's Peach Galette recipe.
2. You can also make the dough in your food processor by dumping the flour and butter into the bowl and pulsing until the butter clumps are the shape of peas. Next, the water a tablespoon or two at a time until a dough forms.
Did you make this recipe?
Tag @hellolisalin or leave a star rating and comment on the blog!
If you try this recipe, let me know how it goes by leaving a comment or tagging me in a photo for Instagram! I love seeing your creations!
NOTE: This post contains affiliate links.