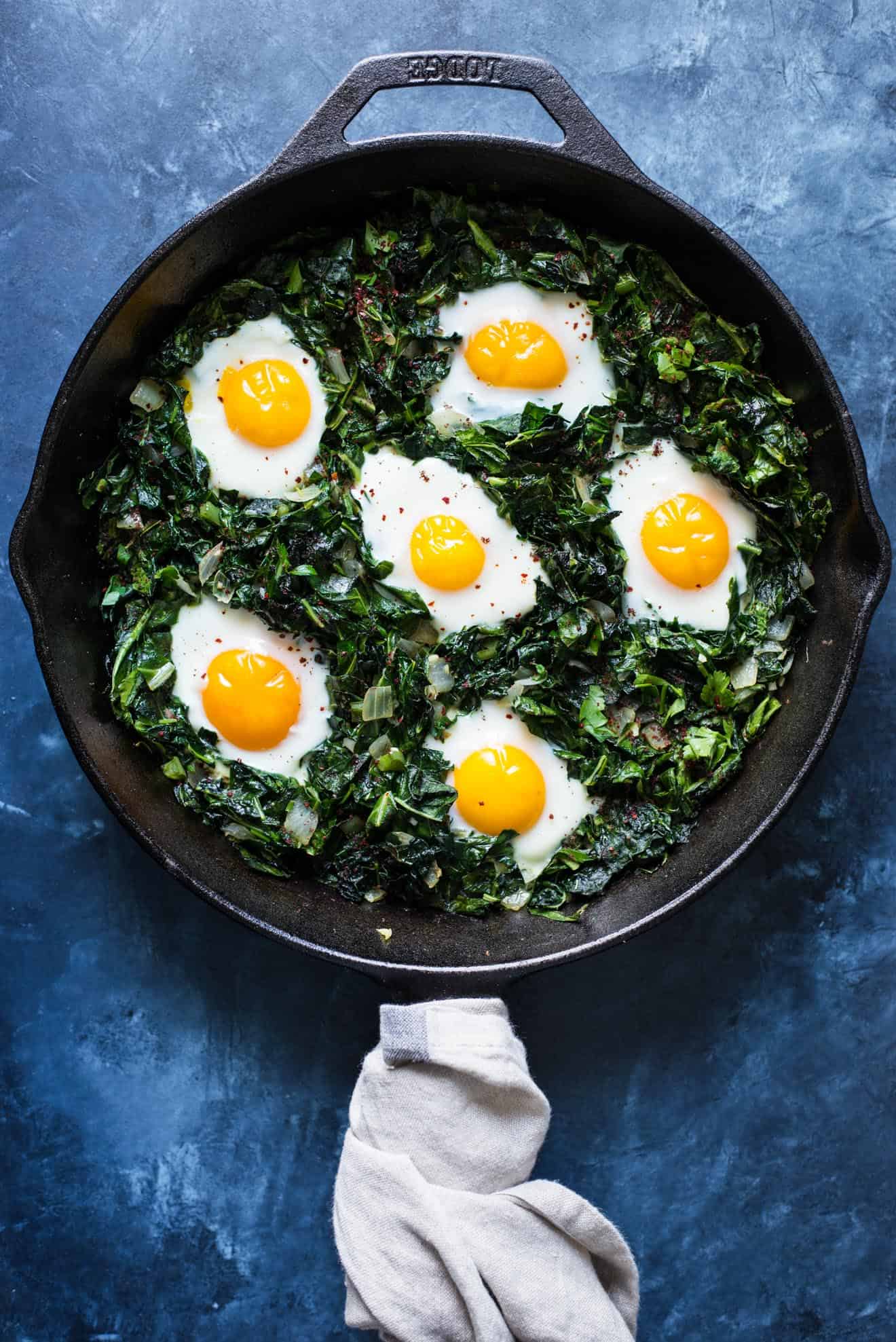 Whenever I need to cook dinner in a pinch, I often cook some sort egg dish with vegetables. A few weeks ago, I went on another farmers market binge and bought way to many bunches of greens. I have serious problems restraining myself whenever I go to the market.
In an effort to get through all the greens before they go bad, I sautéed a bunch of kale and collard greens and threw in a few eggs. It was delicious. I added a lot of diced onions for a subtle sweetness, a handful of parsley and two seeded jalapeños for a bit of heat. This dish cooks in just 30 minutes, which is perfect for me on weeknights.
WHAT IS SHAKSHUKA?
The very first time I ever heard about shakshuka (sometimes spelled "shakshouka") was from Yotam Ottolenghi and Sami Tamimi's Jerusalem. The dish originates from North Africa but has become widely popular in Middle Eastern cuisine. Traditionally, eggs are poached or baked inside a tomato sauce that's seasoned with an array of spices, such as harissa, cumin and paprika. Now, there are a lot of variations, including green shakshuka, which, essentially, are eggs cooked inside a bed of greens.
Considering how much I love cooking eggs with vegetables, this probably won't be the first or last time you see a shakshuka recipe here.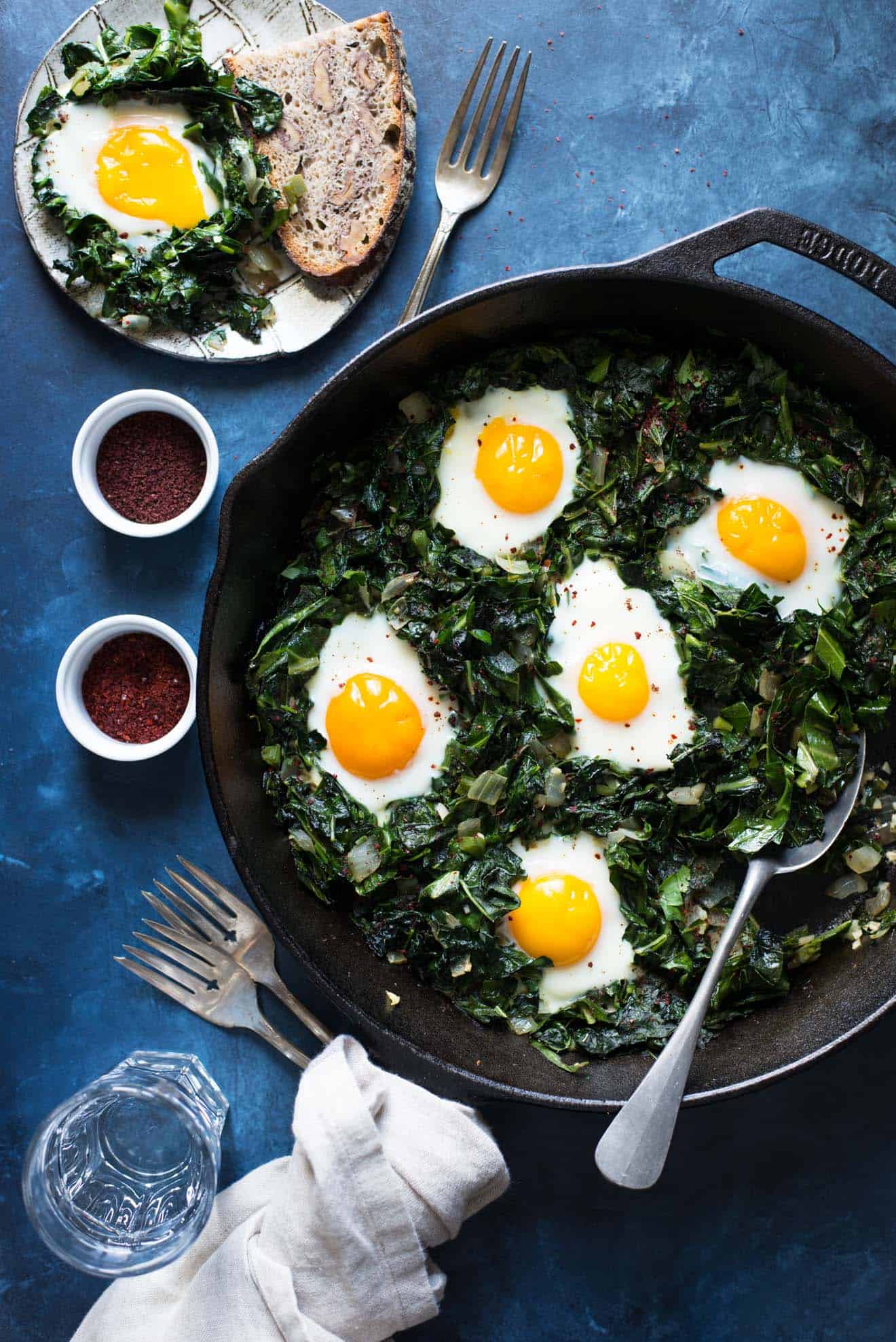 COOKING NOTES FOR GREEN SHAKSHUKA
Cooking the eggs: For this shakshuka, I recommend finishing the eggs in the oven. I tried this recipe on the stovetop. Because the eggs took a while to cook, the vegetables were overdone and the collard greens started to turn yellow. The heat is more evenly distributed in the oven, so the egg whites settle a lot faster. The bad side about cooking eggs in the oven is that they can be easily overcooked. Personally, I prefer my whites to be almost fully settled before taking them out of the oven. Sometimes, that means the yolks are not as runny as I like, but I'm okay with that. Here, I baked the eggs for 5 minutes. While the yolks shriveled on the top slightly, they were still runny inside (see photo below). If you want runnier egg yolks, keep an eye on the eggs and pull them out of the oven a little sooner.
Cooking parsley stems: When I cooked with parsley in the past, I would only use the leaves and discard the stems. I recently watched a Jamie Oliver cooking show, where he prepared a sauce with chopped up parsley stems. When I saw that, I started to question why I discarded the stems in the first place. They're packed with flavor and they will soften if you cook them a little longer. In this recipe, I added the chopped parsley and dill (stems and all) the same time that I cooked the other greens.
Using a skillet: I cooked the greens in a cast-iron skillet so that I could transfer it directly into the oven. If you don't have an oven-safe skillet, you can use a large baking dish. After you sauté the vegetables but before you crack the eggs, add all the vegetables to a greased baking dish, then, crack the eggs into the dish. The eggs should cook in about 5 to 7 minutes, but keep an eye on them.
Substitutions: This recipe works very well with 2 bunches of swiss chard, too! Just slice the leaves into ribbons and the stems into 1/4-inch slices.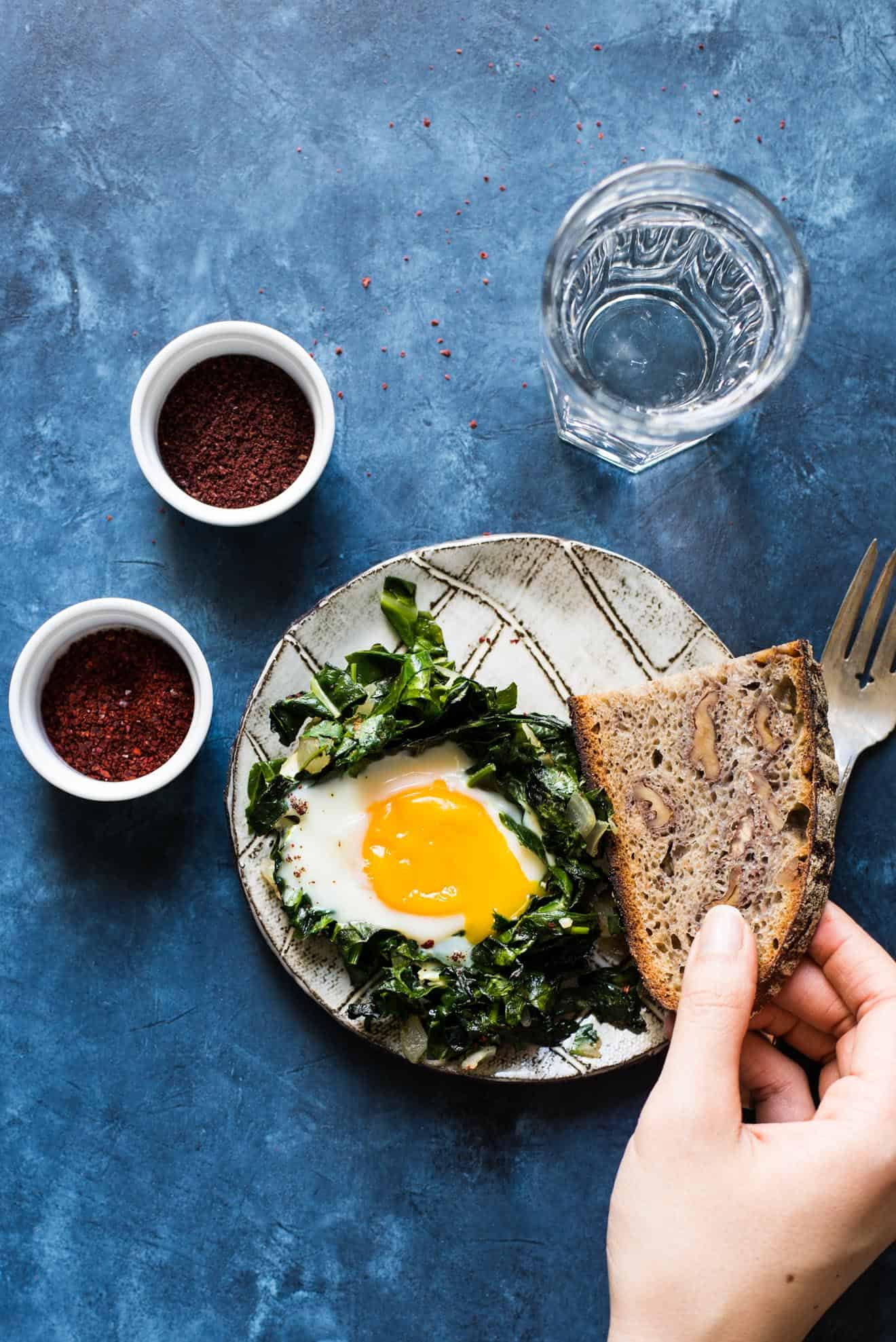 MORE BREAKFAST RECIPES
Green Shakshuka with Kale & Collard Greens
This green shakshuka is a great way to cook all those vegetables you have in your refrigerator. This recipe also works well with swiss chard, beet greens or kohlrabi greens. I probably wouldn't use baby spinach because it's not sturdy enough to withstand all the cooking.Be sure to add the stems and leaves of the parsley and dill when cooking this dish!
Ingredients
1

bunch of kale, stems removed (see note 1)

1

bunch of collard greens, stems removed (see note 2)

2

tablespoons

olive oil

generous pinch of salt

1

cup

(160g) diced yellow onion

3

cloves

garlic, minced

2

jalapeño peppers, seeded and diced

1

cup

(25g) parsley, chopped

1/4

cup

(6g) dill, chopped

1/2

teaspoon

ground cumin

1/2

teaspoon

freshly grated nutmeg

6

large eggs

salt and pepper to taste

sumac for topping (optional)

Aleppo pepper flakes for topping (optional)
Instructions
Preheat the oven to 375ºF (190ºC) and position an oven rack to the center position. 

After removing the stems, rinse the kale and collard greens, and slice them into ribbons, about 1/2-inch thick. Set aside.

Heat 2 tablespoons of olive oil over medium-high in an oven-safe skillet or cast iron pan.

Add the onions and a generous pinch of salt and cook for 4 minutes, until the onions have softened. Add the garlic and cook for another 30 seconds to a minute, until they are fragrant. Add the diced jalapeños, kale and collard greens and cook until they start to wilt, about 2 to 3 minutes. Add the chopped parsley, dill, cumin and nutmeg and cook for another 2 minutes.  Turn off the heat.

Using a wooden spoon or spatula, create 6 wells inside the bed of greens. Crack an egg into each well. 

Bake shakshuka for about 4 to 6 minutes, until the egg whites are settled. If you like very runny yolks, start checking the eggs at about 4 minutes. The eggs will cook quickly. 

Remove eggs from the oven and season with more salt and pepper to taste. Sprinkle some sumac and aleppo pepper on top, if you like. Serve shakshuka with toast.
Notes
You should end up with about 3 cups of chopped kale leaves, about 120g.
You should end up with about 3 cups of chopped collard greens, about 140g. 
If you want sunny-side up eggs like the ones in the photos, carefully crack the eggs and drop the egg whites into one of the wells while separating the yolk with your hands. Then, drop the egg yolk on top. 
Nutrition
Serving:
1
serving
|
Calories:
293
kcal
|
Carbohydrates:
15
g
|
Protein:
17
g
|
Fat:
20
g
|
Saturated Fat:
5
g
|
Cholesterol:
372
mg
|
Sodium:
276
mg
|
Fiber:
5
g
|
Sugar:
5
g
Did you make this recipe?
Tag @hellolisalin or leave a star rating and comment on the blog!