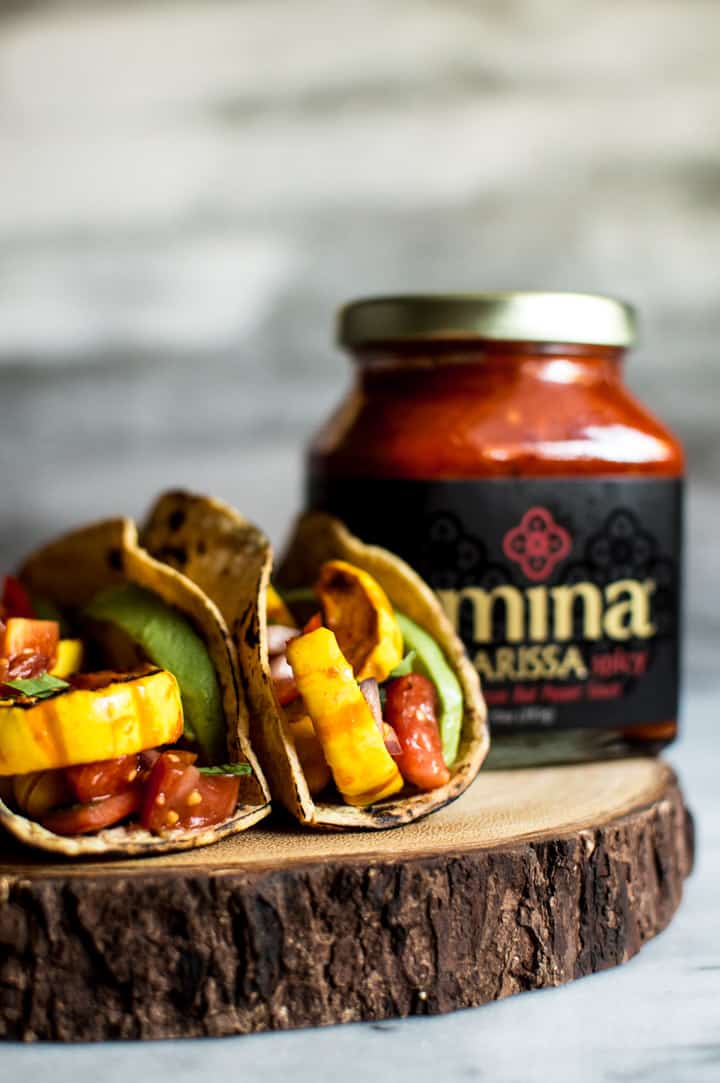 Thank you Mina for sponsoring this post!
(And by TLC, I'm not referring to the greatest R&B girl group of all time. Though, I suppose that we could sing some TLC songs while cooking delicata squash. Anyone want to join the party?)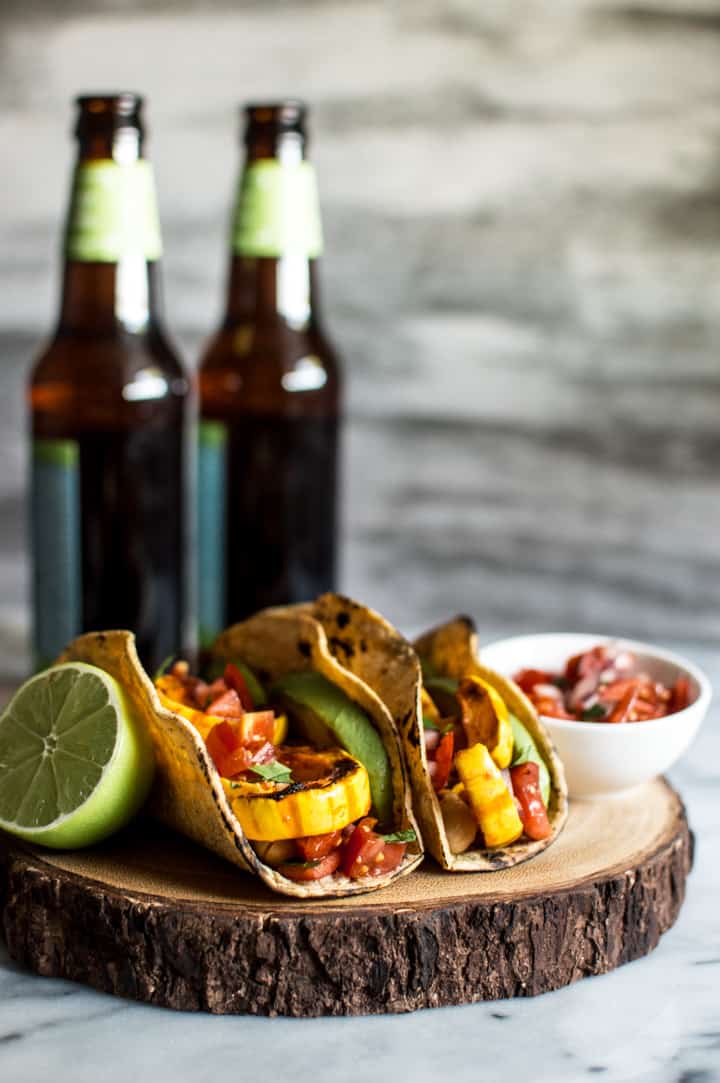 Delicata squash is one of my favorite things to cook because it is easy to prepare. The skin is soft, so we don't have to worry about peeling the outer skin. That cuts prep time by 5 about minutes, which means more time to look at cat photos on BuzzFeed. Priorities. The softer skins also means the squash is easier to split open. I don't have to worry about losing my digits like I do when I am hacking my through a butternut or spaghetti squash. That golden delicata is our friend.
I was in a bit of a mood for spice over the weekend, so I whipped up a batch of roasted delicata with spicy harissa. When it comes to choosing harissa sauces/pastes to cook with, I LOVE using the Mina brand. It's a bit runnier and smoother than some of the harissa pastes out there, which makes it much more versatile for cooking. For example, I've cooked my harissa portobello tacos using Mina harissa and another brand's harissa paste. Mina, by far, was much easier to work with—the harissa brushed on the portobellos more evenly. When you make this dish (and I know you will because these tacos are crazy delicious), I highly recommend getting yourself a jar of Mina. You won't regret it!
Now, let's get spicy!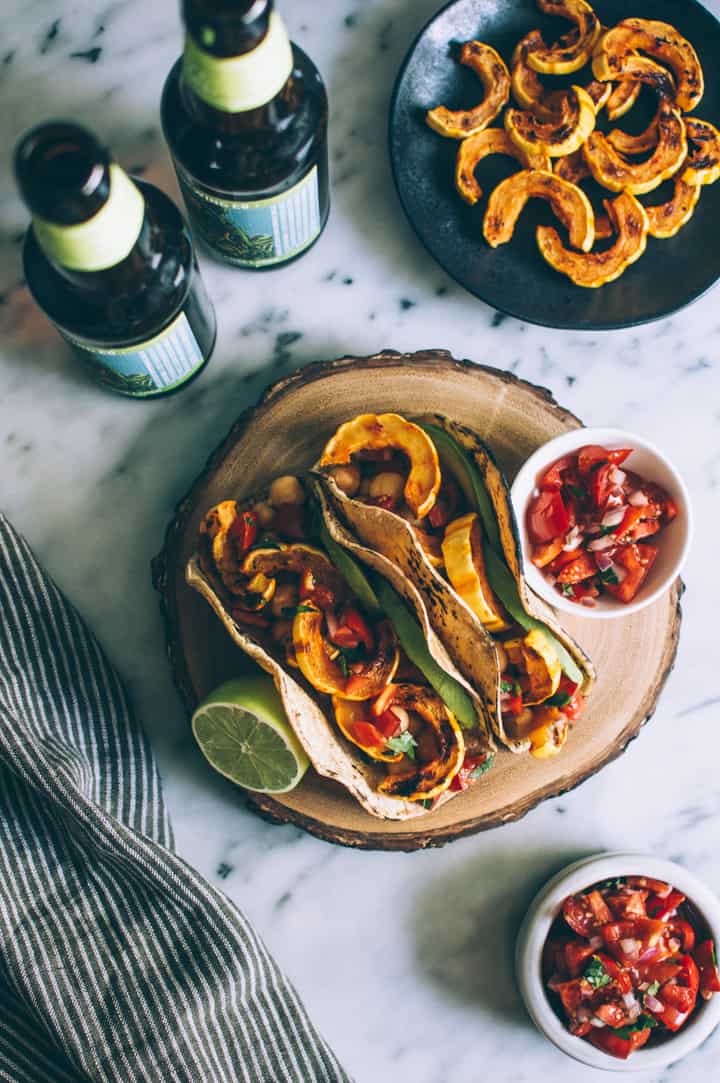 MASTER LISA'S MISTAKES (AKA COOKING NOTES)
Get dirty: We want to get this tasty harissa miso sauce around every crevice of the delicata squash pieces. I find it much easier to use my hands to do this than with a spoon.
Add some broccoli: When I was testing this recipe, I made a batch with roasted broccoli, and it tasted awesome! The florets hold the harissa miso sauce so well, it's like a flavor explosion when you bite into it.
Don't skip the miso: The miso adds a lovely umami to the dish. I tried a batch with just harissa, maple syrup and salt, and it doesn't compare to this version with miso.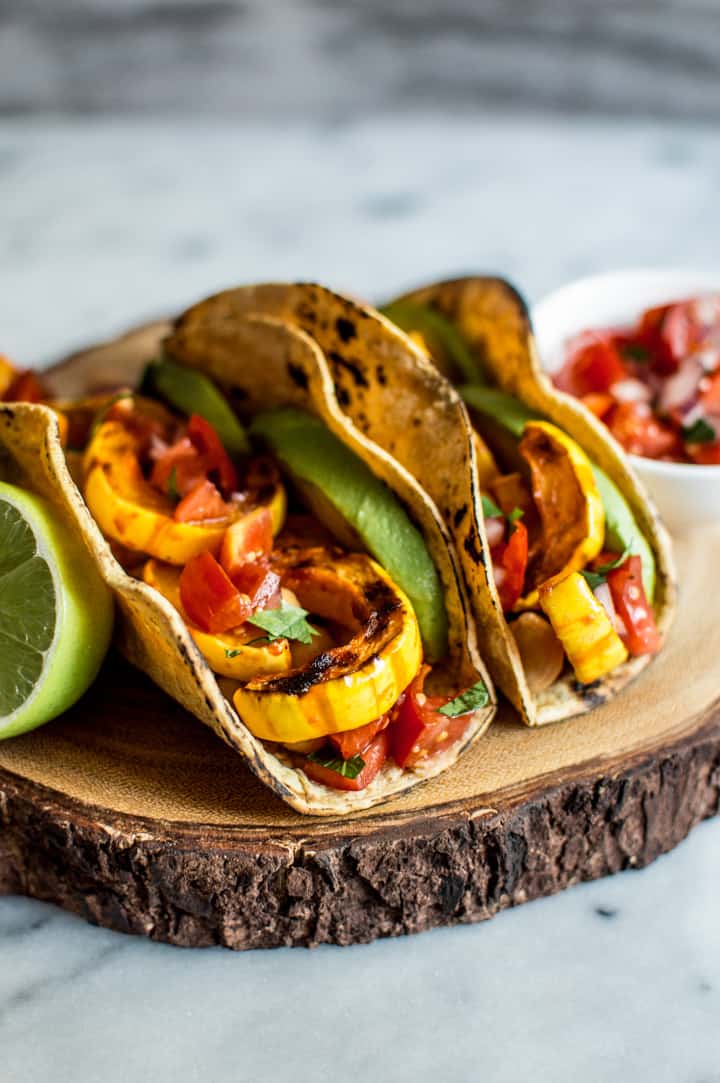 Harissa Miso Delicata Squash Tacos
Delicata squash are roasted in a tasty harissa miso sauce and stuffed in warm corn tortillas. They're the perfect weeknight meal! Serves 6.
Ingredients
1

pound

(450g) delicata squash

3

tablespoons

olive oil

2

tablespoons

Mina spicy harissa sauce

1 1/2

tablespoons

white miso paste

2

teaspoon

maple syrup

1/2

teaspoon

salt

1

15 ounces can

(440g) chickpeas

salsa

1

medium avocado

,

sliced

6

corn tortillas
Instructions
Preheat oven to 400 degrees F (205 degrees C). Line a baking sheet with parchment paper and set aside.

Rinse the delicata squash. Chop off the ends, and split the squash in half, lengthwise. Dig out the seeds with a spoon, and slice the squash into 1/2-inch thick half moons.

In a small bowl, mix the olive oil, harissa, miso, maple syrup, and salt. Mix half of this harissa mixture with the delicata squash.

Spread delicata squash on the baking sheet in a single layer. Bake for 20 to 23 minutes, flipping the squash halfway through.

While the squash is baking, prepare the chickpeas. Drain and rinse chickpeas under cold water. Stir remaining harissa mixture with the chickpeas.

When there are about 5 minutes left, start heating up the corn tortillas. I placed them right over my gas burner for a few seconds to give the tortillas some charring. The tortillas also heat well in a pan.

Fill each tortilla with chickpeas, delicata squash, salsa, and a few slices of avocado. Serve immediately.
Did you make this recipe?
Tag @hellolisalin or leave a star rating and comment on the blog!
If you make this recipe, be sure to share your creations with me by tagging me on social media and use the hashtag #hnbeats!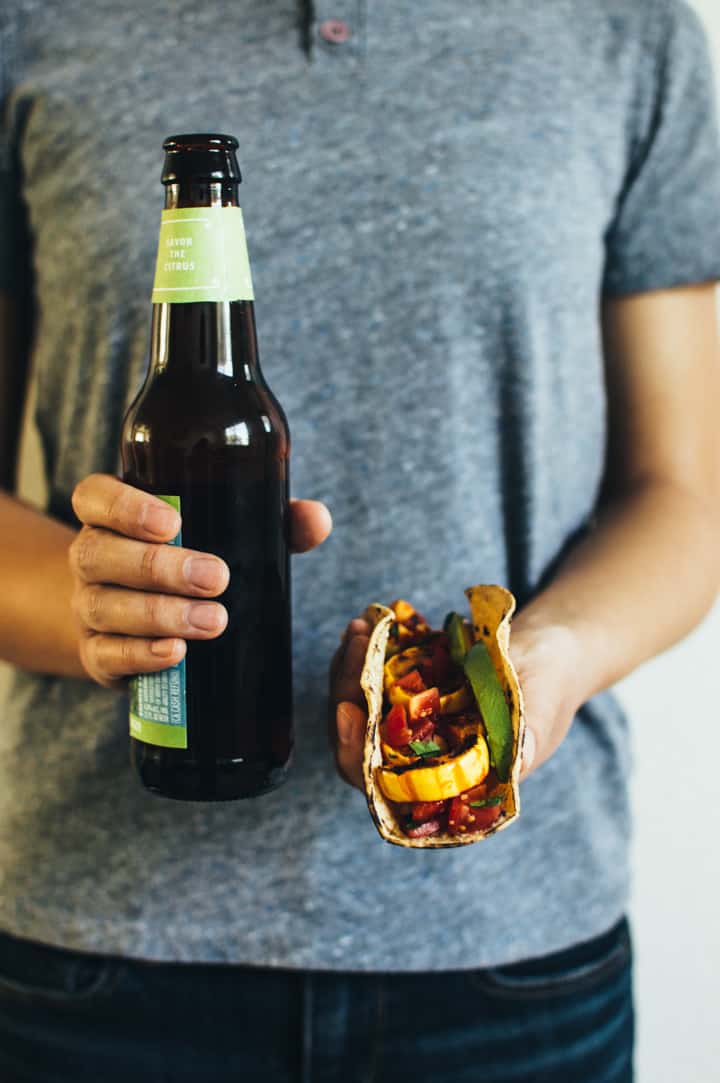 LIKE THE DELICATA SQUASH TACOS? TRY THESE: