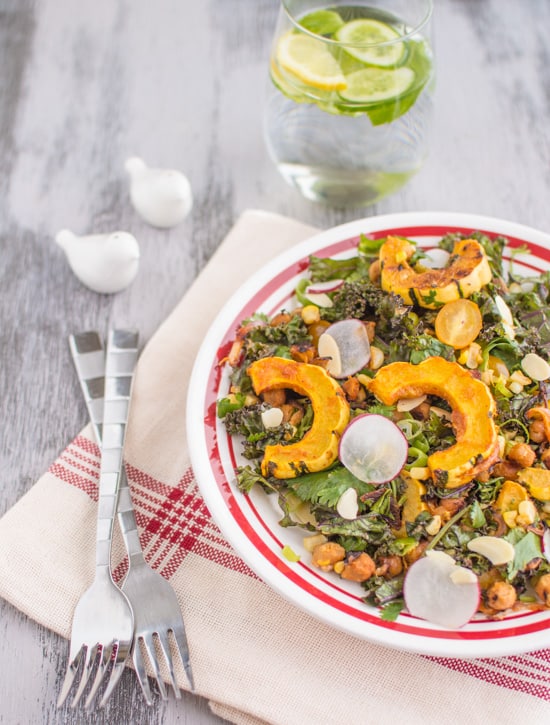 I am a huge fan of the big salads. And when I say big salads, I don't mean just 5 cups of leafy greens. I want greens, protein, crunchy tidbits, sweet fixins, and most of all, FLAVOR. My family thinks that I eat like a rabbit because of my love for salads. Believe me, this salad is no rabbit food. A bowl of this and a small piece of bread definitely kept me full after my workout yesterday.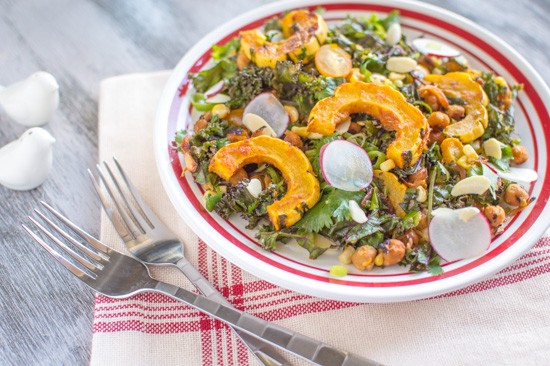 I have a friend who does not enjoy eating raw kale. I can't blame her. Raw kale is quite tough and fibrous, and it has a slight bitter aftertaste. If you don't prepare kale the right way, the salad is definitely a no-go. For those of you who aren't sold on kale salad, here are my tips:
First of all, don't make salads with pre-chopped, packaged kale. The food packagers usually don't remove the tough stem from the leaves when they chop kale with their machines. Unless you don't mind the tough texture, I suggest buying a bunch of kale and ripping the leaves from the stem when preparing a salad.
Chop the kale into ribbons. Whenever I make a kale salad, I always slice them into ribbons so that it's easier to eat. However, when I'm making kale chips, I want larger pieces.
Always add flavor. Rub or mix that dressing in there! I'm not saying that your kale salad should be drenched in liquid. But when in doubt, add a bit more of flavor.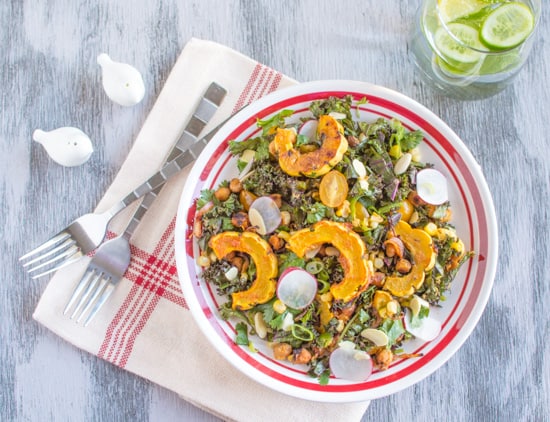 This miso-curry roasted delicata squash was adapted from a recipe in Heidi Swanson's Super Natural Every Day (one of my favorite cookbooks). I've had this cookbook for years and have always wanted to try this recipe. What took me so long? I was never able to find miso paste in D.C.!
I was quite amazed that the white miso and red curry paste were enough to flavor everything. I also added a bit of agave nectar in this salad because I found the miso and curry to be a bit overpowering at first. I know that the miso and curry pairing sounds a bit odd, but believe me, this recipe is worth trying!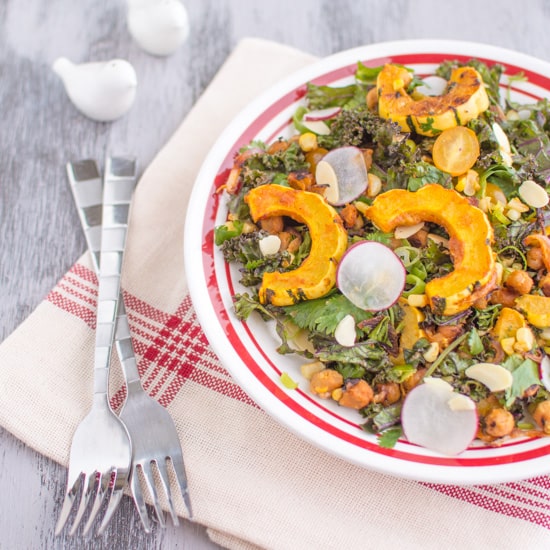 Miso Curry Kale & Delicata Salad
Ingredients
1

large delicata squash

,

~1 lb/450g

1 1/2

cups

(375g) canned chickpeas, rinsed

1

shallot

,

sliced

4 1/2

TBS

white miso

2

TBS

olive oil

1

TBS

agave nectar

4

tsp

red curry paste

3/4

cup

(105g) fresh corn kernels

1

bunch of kale

,

about 5 cups chopped

1

cup

(135g) yellow grape tomatoes, halved

5

radishes

,

thinly sliced

1

sprig of green onion

,

thinly sliced

1/2

cup

cilantro

,

small handful, roughly chopped

1

TBS

lemon juice

1

TBS

water

unsalted sliced almonds for topping
Instructions
Preheat the oven to 400 degrees F (205 degrees C). Line two baking sheets with parchment paper or silicone mats.

Slice the delicata squash in half length-wise. Remove the seeds from the squash. Cut the squash into 1/3-inch slices. Mix the squash with the chickpeas and sliced shallots in a large bowl.

In a small bowl, mix the miso, oil, curry, and agave nectar until well incorporated. Add about 2/3 of this mixture to the large bowl with the squash. Mix everything well.

Spread the squash, chickpeas, and shallots in a single layer on the baking sheets. Bake for 25 minutes. My oven has weird hot spots, so I swapped the baking sheets about 15 minutes into the baking.

While the squash and chickpeas are baking, cook the corn kernels. Coat a small skillet with cooking spray and heat it over medium-high heat. When the pan is hot, add the corn kernels. Let it cook for about 2-3 minutes or until the kernels start to turn translucent. I sprinkled a tiny bit of salt on the corn to draw out its sweet flavor but that is optional.

Rinse the kale and remove the leaves from the stems. Slice the kale into small ribbons. Place the kale, corn, tomatoes, radishes, green onion, and cilantro into the same bowl you used to mix the squash and chickpeas. Add the lemon juice and water to the remaining miso curry mixture. Pour it into the bowl with the vegetables and toss until well incorporated. When the squash is done baking, let it cool for about 5-10 minutes. Then, mix it with the other vegetables.

Top the salad with sliced almonds when serving. Refrigerate leftovers in an airtight container.
Did you make this recipe?
Tag @hellolisalin or leave a star rating and comment on the blog!