Got uncooked dumplings? Here is your guide on how to freeze dumplings and how to cook frozen dumplings.
I often receive dumpling-related questions on social media, and I want to gather and address them in a periodic series that I'm calling "Dumpling 101." One of the most common questions I get is how to store uncooked dumplings.
The best method is to freeze dumplings. I usually line pleated dumplings on a baking sheet that fits in my freezer (see photo above). You can also line the dumplings on large plates. Then, I stick the baking sheet straight into the freezer. After 3 to 4 hours, the outsides of the dumplings will harden. At this point, you can remove the dumplings from the baking sheet and store them in a freezer bag, like you see below.
It's not unusual for me to forget about the frozen dumplings in the freezer. I'll leave them on the pan overnight or find them after two days. What can I say, I'm forgetful. When that happens, I inevitably find one or two dumplings stuck to the pan as I remove them. It's not a big deal. I usually give them an extra tug, and they come right off.
You can also line the baking sheet with a sheet of parchment or wax paper before setting the dumplings on top. The dumplings definitely will not stick to the baking sheet when it's lined. I don't usually do this because I try not want to waste paper if possible.
Once bagged, you should eat the frozen dumplings in 2 or 3 months to prevent freezer burn.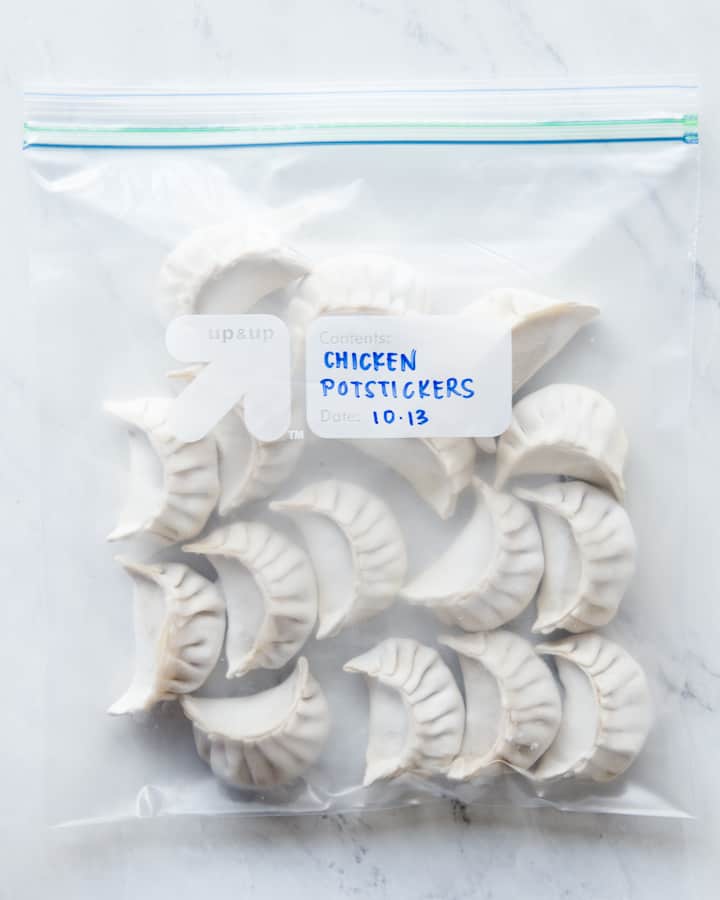 One important thing to note: DO NOT refrigerate uncooked dumplings. Dumpling fillings tend to be moist. When you refrigerate uncooked dumplings, the moisture continues to seep into the dumpling skins, causing them to turn soggy. The next day, the dumplings can get stuck to your container or each other and lose their shape. This problem is even worse when you use thin dumpling skins. I can't tell you how many messages I receive from people telling me that their uncooked dumplings turned soggy in the refrigerator. That's why the best thing to do is freeze dumplings. (Additional note: Mama Lin insists that there are dumplings with certain fillings are okay to refrigerate uncooked. To be on the safe side, I would freeze them.)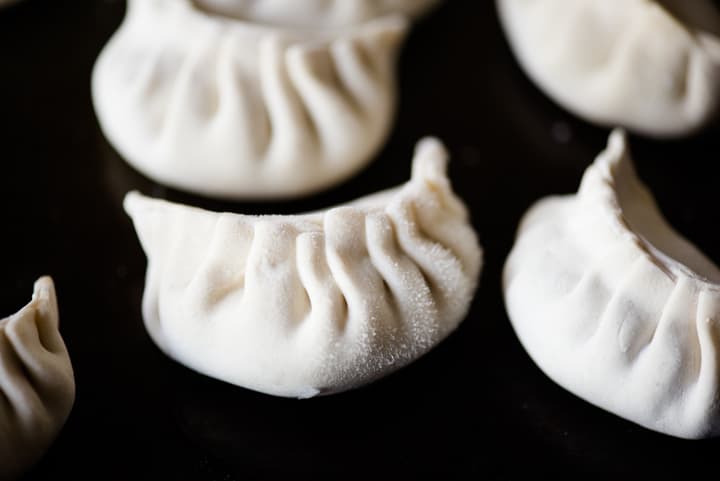 When you are ready to eat the dumplings, you do not need to defrost the dumplings. In fact, I would advise against it. The ice crystals around the frozen dumplings will melt as the dumplings defrost. When left unattended for a few hours, your dumplings might turn soggy and lose their shape.
If you are making wontons, just throw the dumplings straight into a pot of boiling water. If you are making potstickers, throw the dumplings straight onto the hot pan. The dumplings will need a few more minutes to cook, say an extra 1 to 3 minutes. When cooking potstickers with this method, you'll notice that it takes an extra minute or two before they brown on the bottom. That's completely normal.
I freeze batches of dumplings all the time. They are perfect for days when I don't feel like spending much time on cooking dinner, which is often.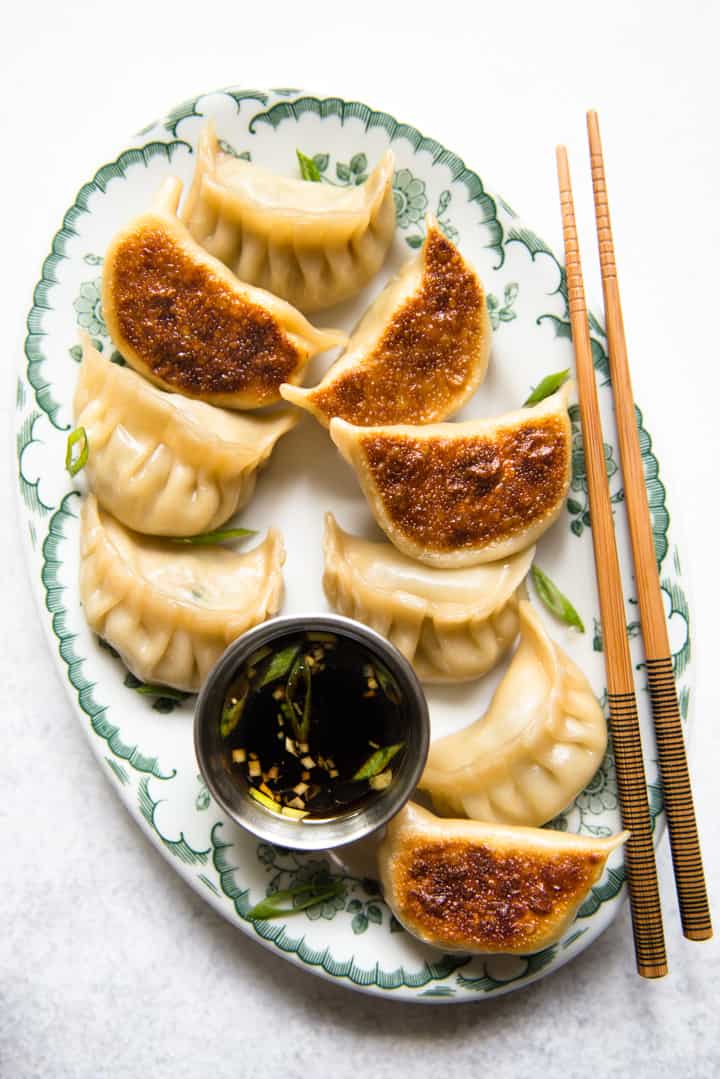 LOOKING FOR DUMPLING RECIPES?