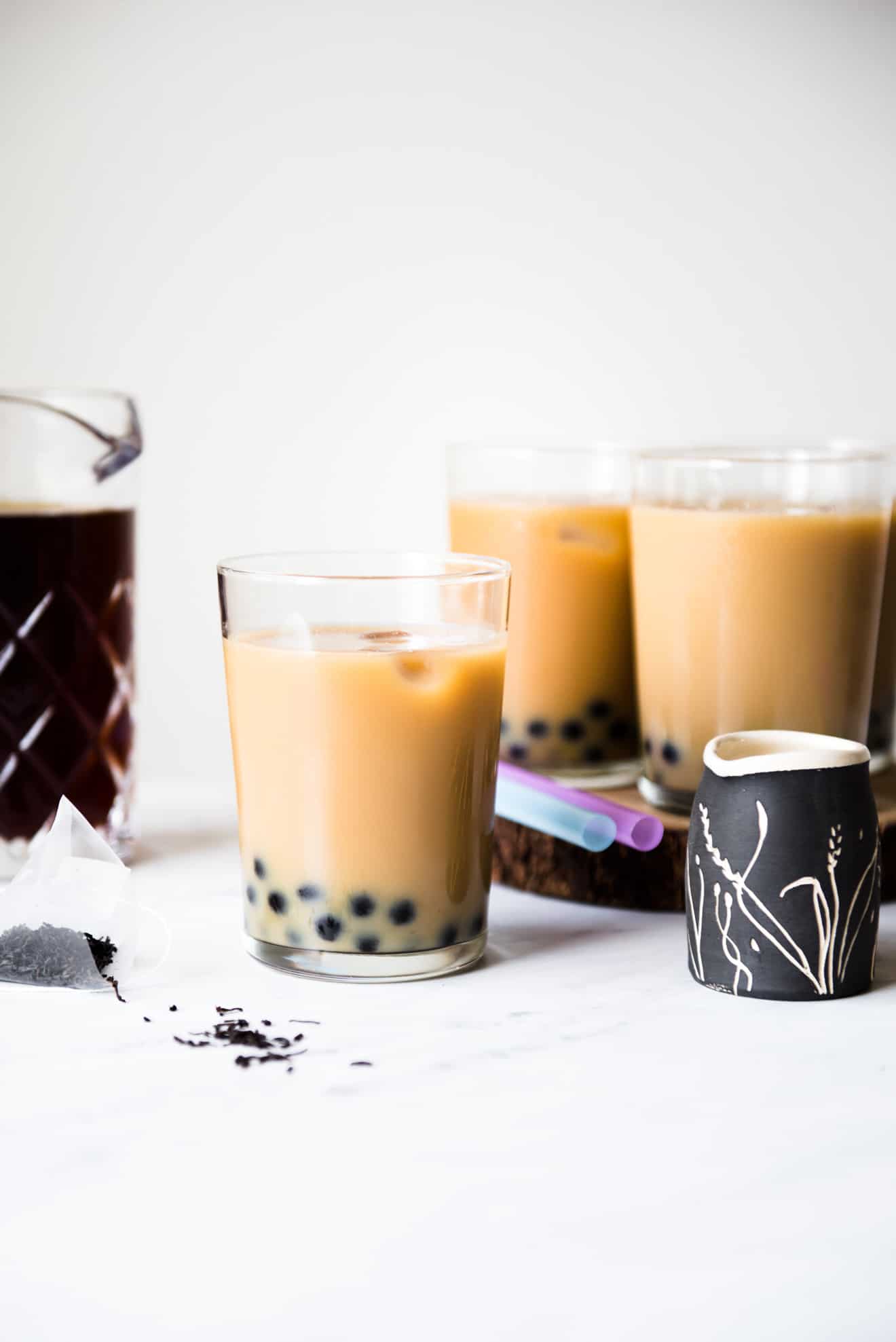 Bubble tea is one of my favorite things to sip on during the summer. Originating from Taiwan, bubble tea (波霸奶茶/珍珠奶茶) usually consists of sweetened tea with milk and the characteristic chewy tapioca balls, also known as boba (波霸). Bubble tea comes in many flavors: plain tea flavors such as black or jasmine tea; fruit flavors such as strawberry or honeydew; and even taro, which is a root vegetable commonly used in Asian dishes. (You can read more about the history of bubble tea here).
While I enjoy drinking bubble tea, I don't particularly like the ones sold in the teahouse chains because they contain too much sugar. The good thing is that you can make bubble tea at home easily! In this bubble tea recipe, all you really need is tea, tapioca pearls, milk, and a sweetener.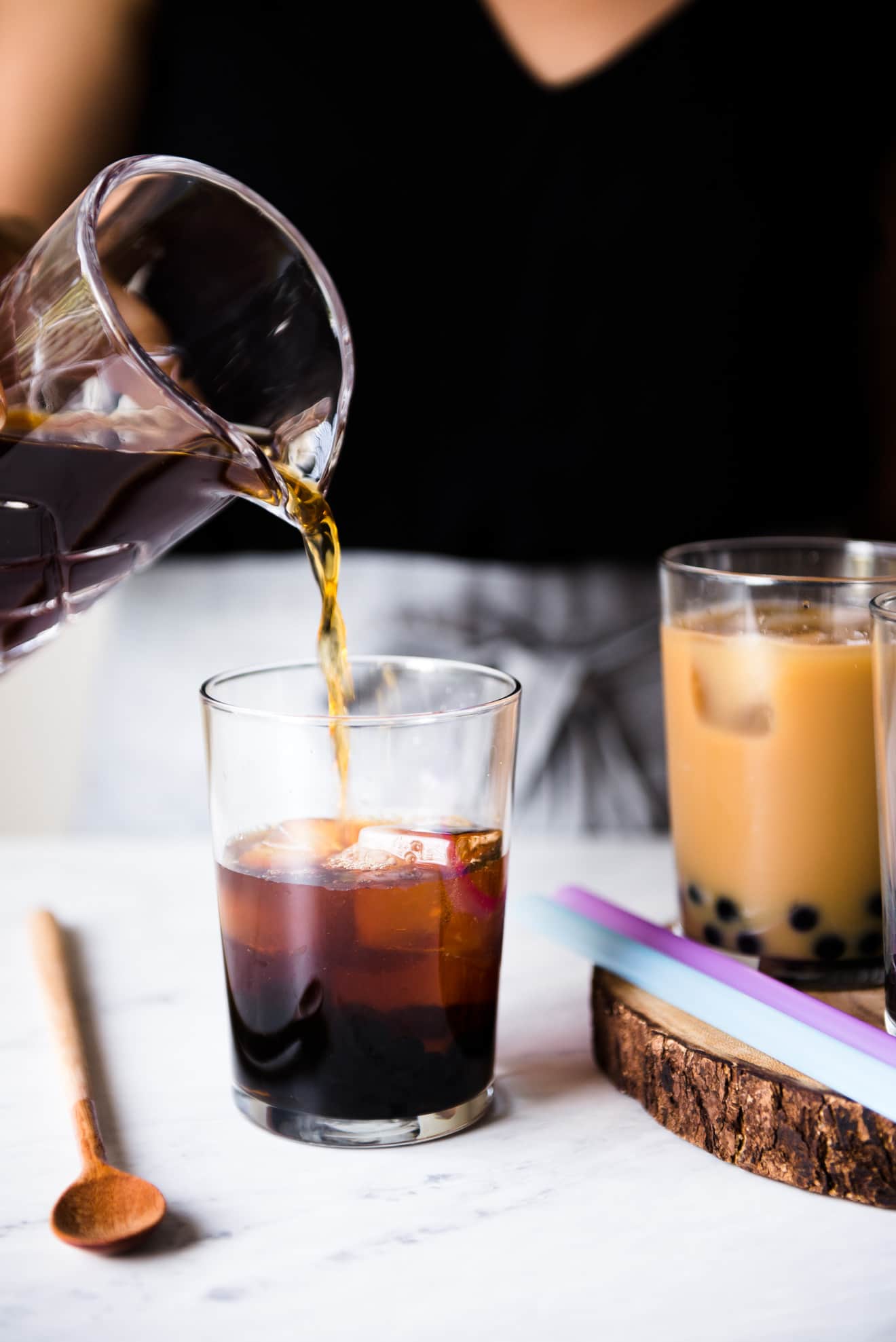 WHAT KIND OF TEA DO YOU USE?
The best kinds of tea to use are those that have a robust flavor, such as black or jasmine tea. Because you will water down the tea with milk and ice cubes, you want a strong tasting tea that will retain its flavor. I used Numi's Chinese Breakfast Tea for the recipe, but any strong tea will work. Another tea blend I recommend is equal parts Assam and Ceylon tea leaves.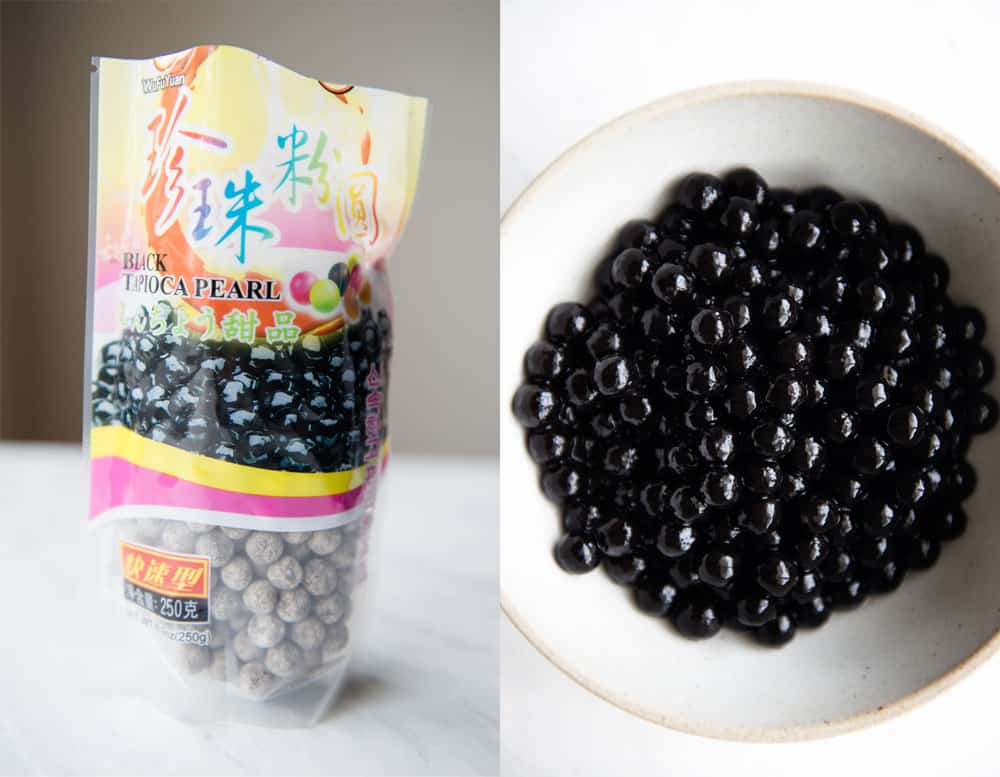 WHAT KIND OF TAPIOCA PEARLS DO YOU USE FOR BUBBLE TEA RECIPE?
I typically use this brand of tapioca pearls, which cooks in about 5 minutes. I like that these pearls cook quickly, but the texture could be better. (For reference, slower cooking tapioca pearls can take up to an hour to cook.) You can find these tapioca pearls in Asian supermarkets or on Amazon.
One important thing to note about these quick-cooking tapioca pearls is that you should only cook as many as you need. The pearls stiffen as they cool, so they do not keep well overnight. However, if you leave the pearls in their cooking water, the pearls retain their soft texture for a longer time. In other words, don't drain the hot water once you are done cooking the pearls. Instead, use a slotted spoon to remove the pearls from the saucepan, and leave any excess pearls in the saucepan.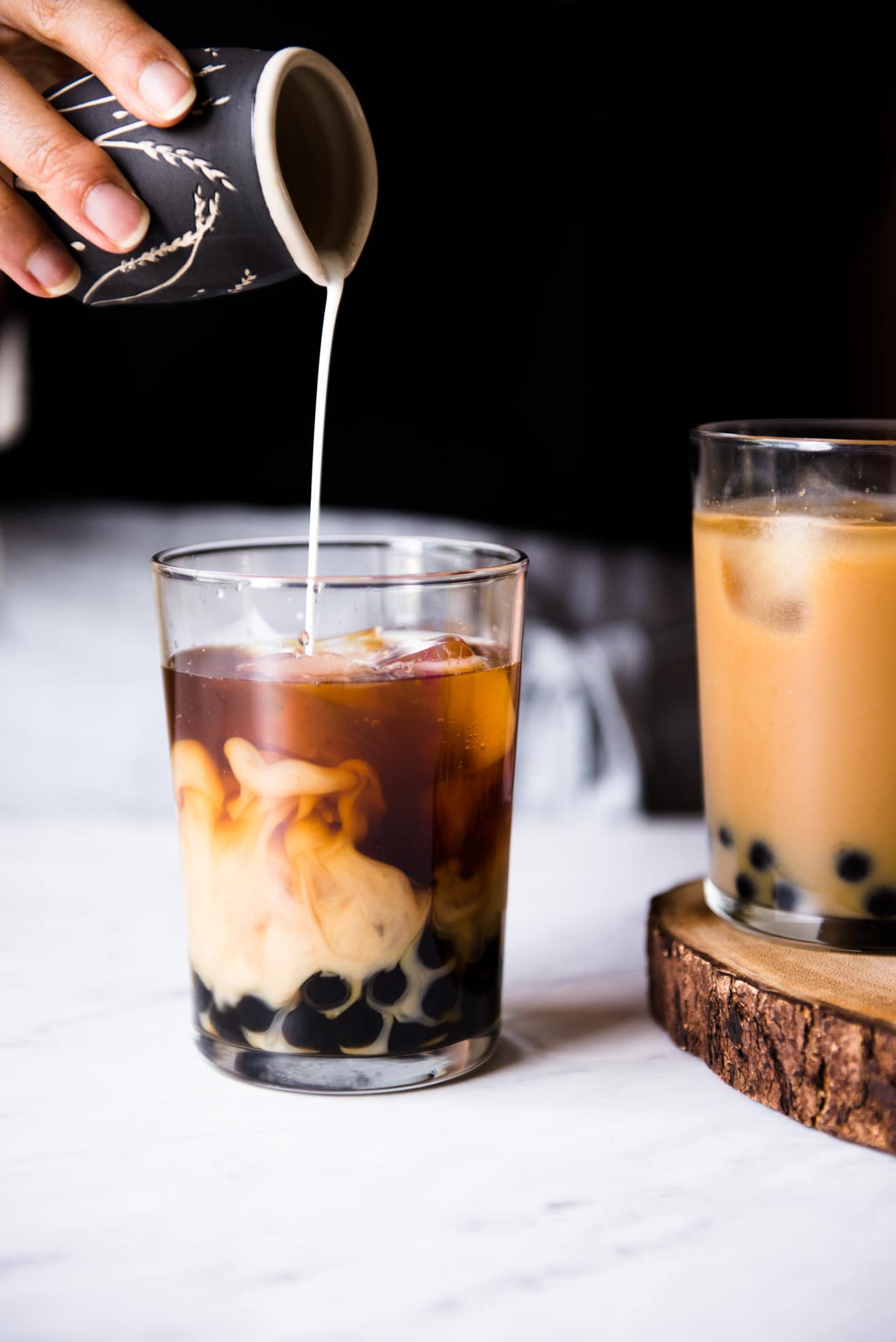 WHAT KIND OF MILK DO YOU USE? CAN THIS BE DAIRY FREE?
I prefer using whole milk the most because the rich flavor makes the beverage tastier overall. I tried a version of the bubble tea with heavy cream. While the flavor of the tea was even better than the version I made with whole milk, it felt too decadent. Perhaps using half-and-half is a good compromise?
You can also make a dairy-free version with nut milks or soy milk. I tried using canned coconut milk once, and the coconut milk left a funny feeling in my mouth. It felt as if my mouth was coated with a thin layer of coconut fat.
WHAT KIND OF SWEETENER DO YOU USE?
Any kind of sweetener works. However, if you use honey (or any thick syrup), it is best if you mix in the honey while the tea is hot so that the honey can dissolves evenly. The same goes for granulated sugar. Of course, this will mean that you'll have to approximate how much sweetener you'll need before the bubble tea is ready for tasting. You'll probably need at least 2 tablespoons of honey for every 2 cups of tea.
Because everyone has different preferences for sweetness, I recommend preparing simple syrup and having each person add however much simple syrup they want into their drinks. Simple syrup is easy to prepare. Combine 1/2 cup of water and 1/2 cup of sugar in a saucepan and heat to a boil. Cook until the sugar dissolves and turn off the heat. Once the simple syrup has cooled, bottle it up, and it's ready to be used. Typically, I use about 1 1/2 tablespoons of simple syrup for each drink, just so it tastes barely sweet. Some people might want more syrup in their drink.
CAN YOU MAKE THIS BUBBLE TEA RECIPE AHEAD?
You can steep the tea 1 or 2 days before and store it in the refrigerator. Also, you can make the simple syrup several days ahead. I wouldn't recommend cooking the tapioca pearls more than an hour ahead because the pearls harden quite quickly.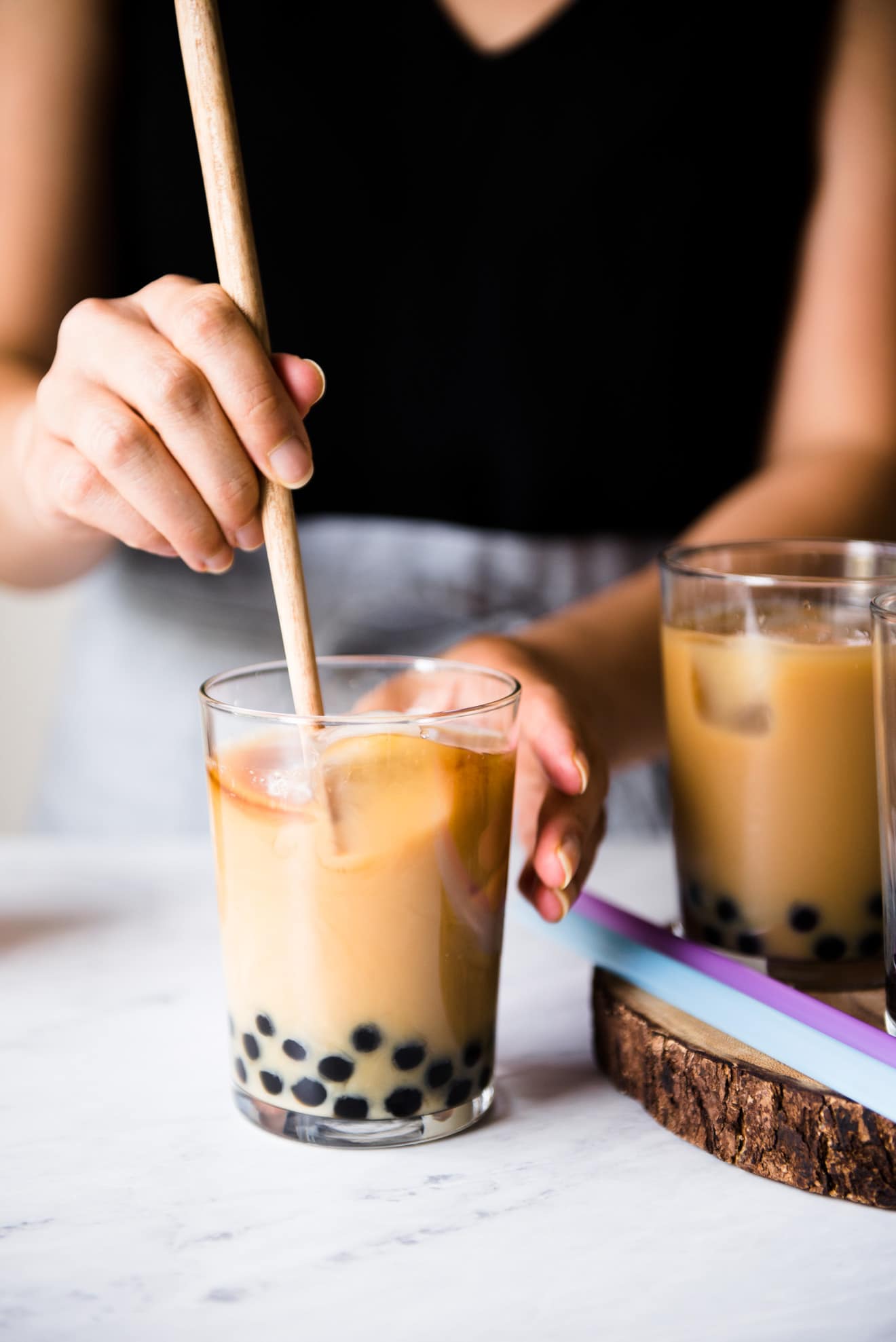 MORE DELICIOUS DRINKS
How to Make Bubble Tea
I used Chinese breakfast tea for my bubble tea recipe, but any other black tea or strong tasting green teas will also work! For my version of the Jasmine Green Bubble Tea, check out my recipe on Numi's blog!
In the recipe, you may notice that I use 8 tea bags to steep in just 4 cups of water. Because the tea will be watered down with milk and ice cubes, you want to start off with a pretty strong tasting tea.
If you enjoy a lot of tapioca pearls in your drinks, I recommend cooking 1 cup of tapioca pearls instead of the 3/4 cup I listed below. You can also halve ingredients for simple syrup if you don't think you'll need that much.
Ingredients
8

bags of black tea or 3 tablespoons loose-leaf black tea

4

cups

hot water

3/4

cup

quick-cooking tapioca pearls

whole milk to serve

,

or your choice of milk

simple syrup to serve

,

or your choice of sweetener
For the Simple Syrup (see note 1)
1/2

cup

water

1/2

cup

sugar
Instructions
Prepare the tea: Steep the tea bags or leaves with 4 cups of freshly boiled water. Let the tea sit in water until it cools completely. (See note 2)

Prepare the simple syrup (if using): Add the water and sugar to a saucepan and quickly stir everything together. Heat the water on medium-high and cook until the water boils and the sugar completely dissolves. Remove the saucepan from heat and let the simple syrup cool before transferring to a jar.

Cook the tapioca pearls: 

Bring about 4 cups of water to boil and add the

tapioca pearls

. Stir the pearls and wait for them to float to the top. Then, cook them for another 5 minutes. Test a pearl to see if it has reached the desired level of softness. Cook the pearls for another few minutes if they are still stiff. Use a slotted spoon to remove the pearls from the hot water. Quickly rinse the pearls with water. Transfer the pearls into a bowl, and mix the pearls with a few tablespoons of simple syrup (to taste).

Assemble the drinks: Strain the tea into a pitcher. Divide the cooked tapioca pearls into 4 large glasses. Next, add a few ice cubes to each glass. Pour 1 cup of the tea into each glass. Add 1 1/2 tablespoons of milk and 1 1/2 tablespoons of simple syrup into each glass. Stir and taste the milk tea. Add more milk or simple syrup to your taste.

If you are serving the beverage to guests, have a small pitcher of milk and the jar of simple syrup ready so that each guest can adjust their drinks to their taste. The drink is usually served with

large boba straws

(large enough for the tapioca pearls to go through). If you don't have the straws on hand, you can use spoons to scoop out the tapioca pearls.
Notes
You will likely have some simple syrup left over, which you can refrigerate for 3 to 4 weeks. You can use any kind of sugar to make simple syrup, such as light or dark brown sugar or coconut sugar. I also like to infuse my syrup with ginger by adding a few slices of ginger to the saucepan as I make the syrup.
Typically, I leave the tea steeping the entire time so that the tea is strong and bitter. Otherwise, I find that the tea flavor is too faint when I add milk and ice cubes to the drink. Some tea leaves definitely have a stronger bitter flavor. Feel free to remove the tea bags or tea leaves after 5 minutes if you are concerned about the bitterness of the tea.
If you are making the pearls about an hour ahead, don't drain the pearls from the saucepan. Leave them in the hot water as the heat of the water will help keep the tapioca pearls soft.
Nutrition
Serving:
1
drink
|
Calories:
160
kcal
|
Carbohydrates:
36.9
g
|
Protein:
1
g
|
Fat:
1
g
|
Saturated Fat:
0.6
g
|
Cholesterol:
3.1
mg
|
Sodium:
20.6
mg
|
Fiber:
0.3
g
|
Sugar:
11.9
g
Did you make this recipe?
Tag @hellolisalin or leave a star rating and comment on the blog!