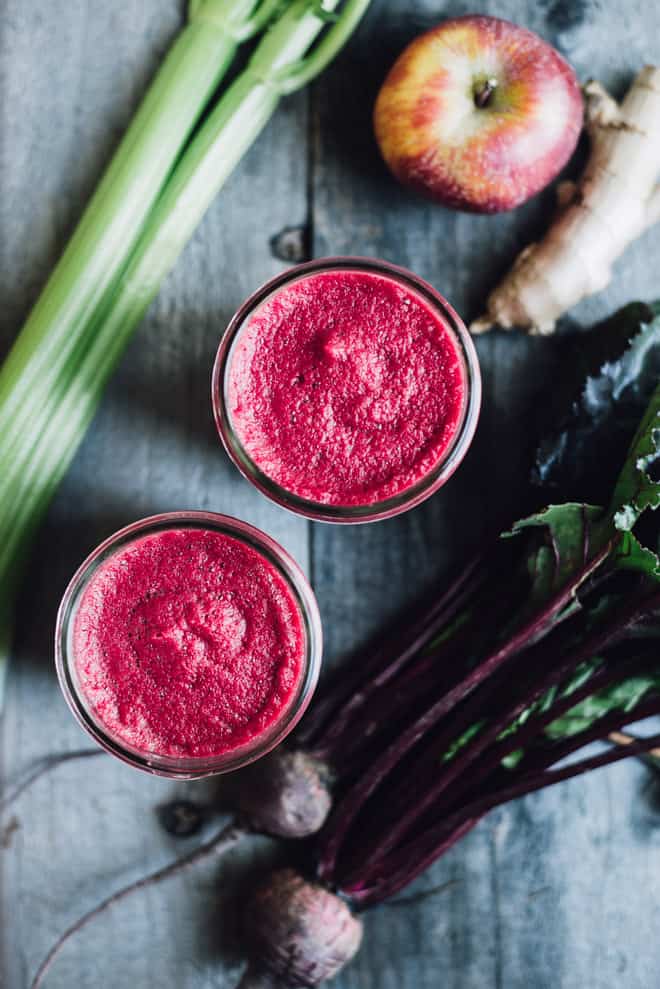 There are a lot of things that we do to give ourselves an energy boost. Some of us wake up at the crack of dawn for a solitary run. Others pound a cup of coffee (or two) every morning. As for me, I'm on that vegetable smoothie train.
On any given day, you can expect to see me drinking some vegetable concoction out of a mason jar with a stainless steel straw. Perhaps I am a closet hipster without the tight jeans, tattoos, and perfectly styled disheveled hair.
Even my husband is into my green smoothies. From "What is this hippie green juice?" to "Where's my green smoothie today?", I've slowly convinced him to eat his kale and love it, too.
However, kale smoothies are so 2015, though. Friends, lettuce turnip the beet!
It actually took me a little while to warm up to beet smoothies, mainly because I didn't know how to make a good one. My first few smoothies were just too beet-y. I've learned to neutralize the beet flavor with other vegetables like celery and carrot juice, and I'm so excited to share this recipe with you and my new e-book of simple vegetable smoothies!
SIMPLE VEGETABLE SMOOTHIES E-BOOK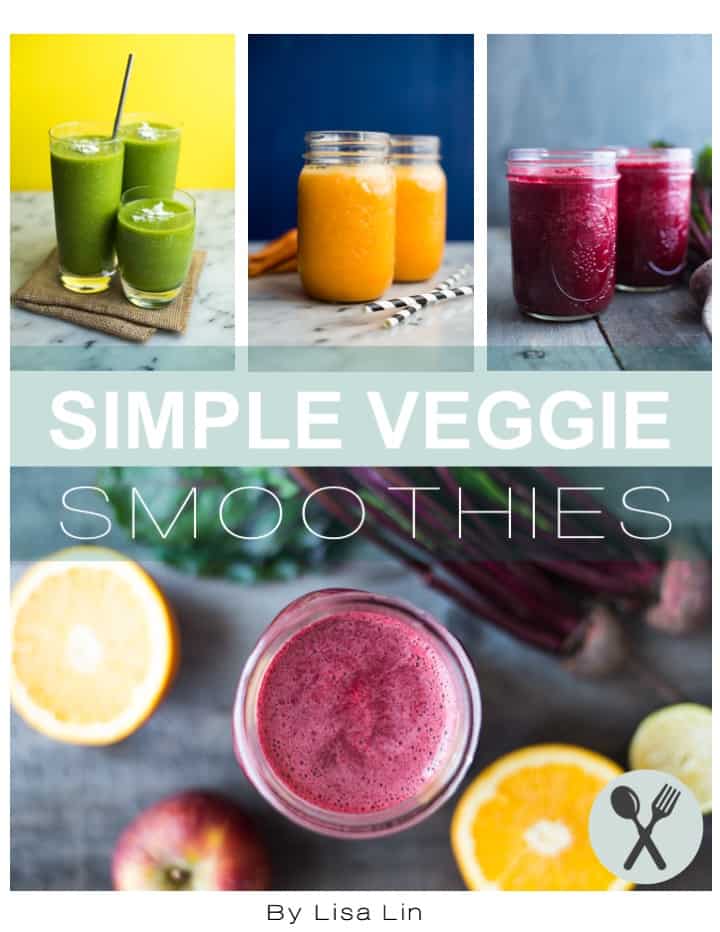 I know it's difficult for us to get our daily servings of fruits and vegetables sometimes. Even I struggle with it. That's why I created this collection of vegetable-based smoothies to get us to eat more vegetables every day. Here's what you'll find in this e-book:
8 new vegetable smoothies recipes: they have never been featured on my blog before!
Smoothies made with simple ingredients: I wanted to make sure that I only used ingredients that you could easily find at your grocery store. Of course, you can always get fancy and whatever ingredients you like.
The best part is that the e-book is free! All you need to do is sign up for newsletter. I send a message out every week to give you updates on what's new on the blog, and I'll sprinkle some subscriber-exclusive recipes along the way, too. If you're interested in my vegetable smoothies e-book, or if you would like to hear more from me, be sure to subscribe!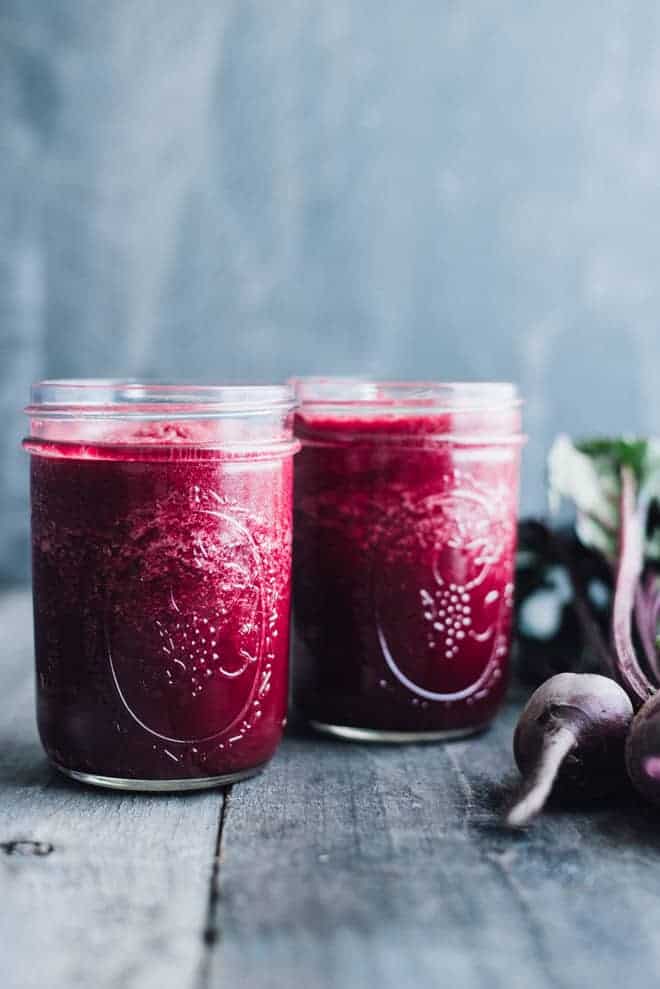 COOKING NOTES FOR THE BEET SMOOTHIE
Cooked or uncooked beets: Feel free to use cooked or raw beets, whichever is more convenient for you. I noticed that smoothies made with raw beets tend not to be as smooth, but that didn't bother me too much.
Storing the smoothies: I usually make batches of smoothies every 2 days and store them in my refrigerator for up to 2 days. Separation will occur, so give the smoothie a good shake before serving.
TOOLS USED
Using the right blender: If you're going to commit to drinking smoothies a few times a week, I highly recommend getting a high-speed blender. I used to make smoothies with a cheap blender, and I never quite got the consistency that I wanted. Currently, I use a Vitamix, but the Nutri Ninja served me very well for a long time and it's less expensive than the Vitamix. Note, these are affiliate links.)
WANT MORE SMOOTHIES + DETOX DRINKS?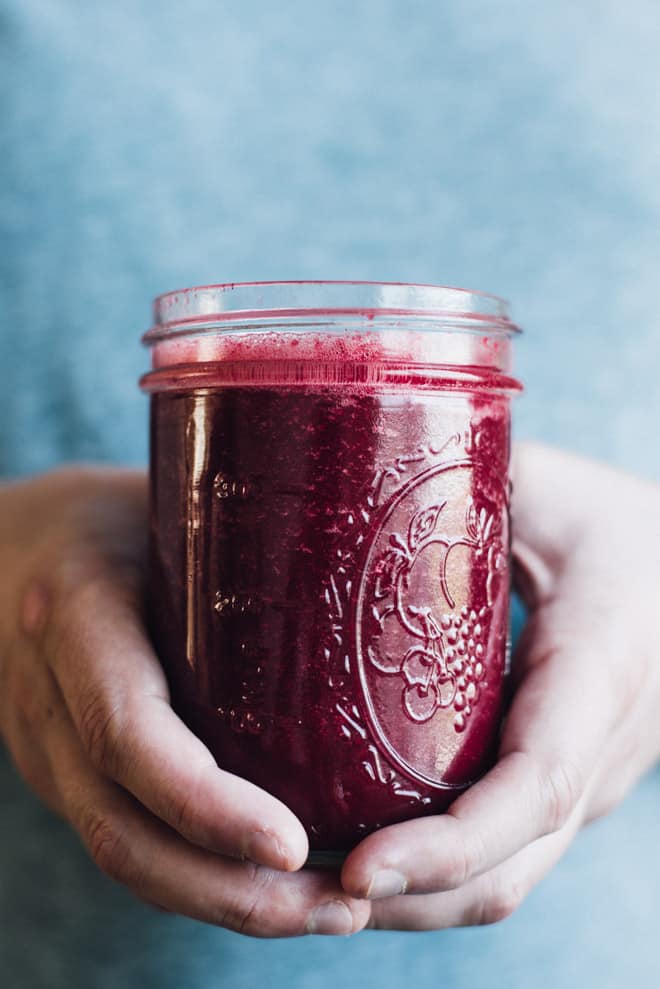 Red Beet Smoothie
Ingredients
1

small red beet

,

trimmed and peeled

1

large apple

,

cored

1

stalk of celery

1

cup

carrot juice

1

cup

almond milk

2/3

cup

frozen sliced peaches

1-inch

piece of ginger

,

peeled and sliced
Instructions
Roughly chop beet, apple, and celery.

Add all ingredients in a blender, and mix until smooth. Taste the smoothie and see if the sweetness is to your liking. Feel free to add a little more fruit if you want something sweeter. Serve immediately. You can store smoothie in a jar for up to 2 days.
Notes
NUTRITION INFORMATION: Amount per drink: Calories: 169, Total Fat 2g, Saturated Fat: 0.5g, Sodium: 213mg, Cholesterol: 0mg, Total Carbohydrate: 38g, Dietary Fiber: 7g, Sugar: 24g, Protein 4g
Did you make this recipe?
Tag @hellolisalin or leave a star rating and comment on the blog!