Like many Chinese kids, I had to drink ginseng tea whenever I ate too many fried or greasy foods. Fried foods are considered to be 熱氣 (yeet hay in Cantonese), which literally means "hot air." The idea is that if you eat too many foods that trigger warm energy your body will be imbalanced. Consequently, you need to eat things that are cool, 涼 (leung in Cantonese), to balance out the energy. Ginseng tea is a type of 涼茶 (leung cha) that has cooling properties.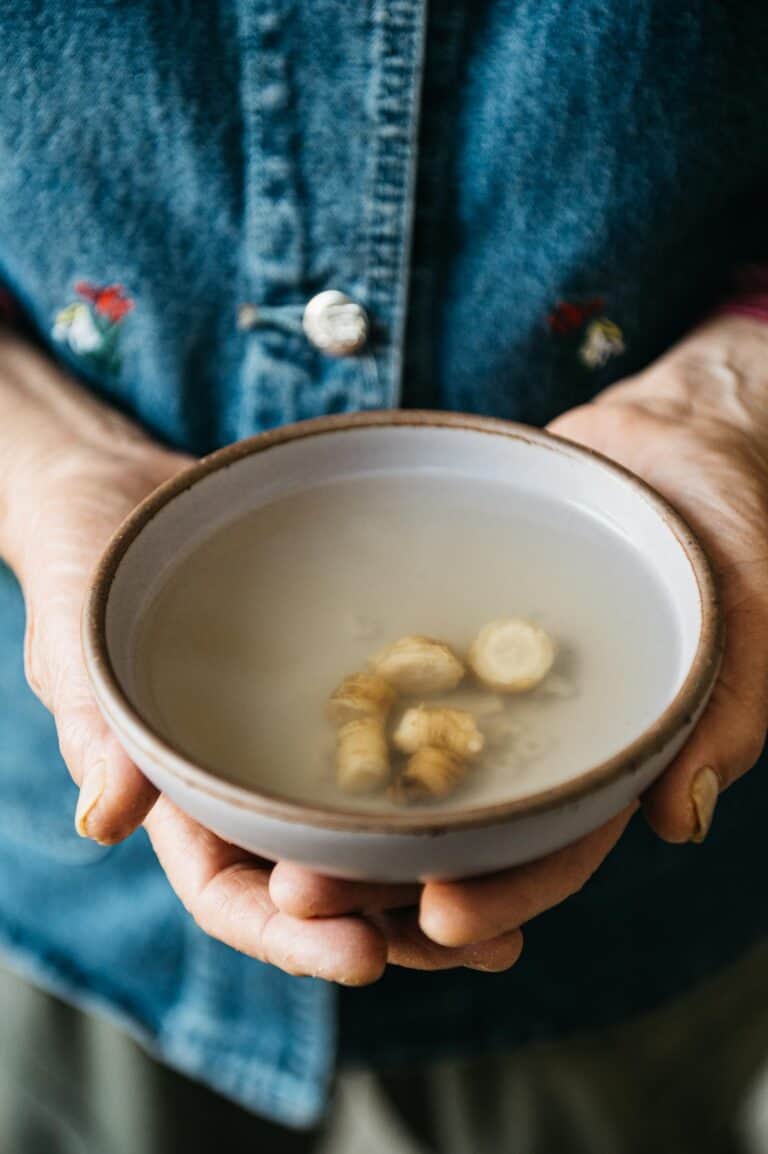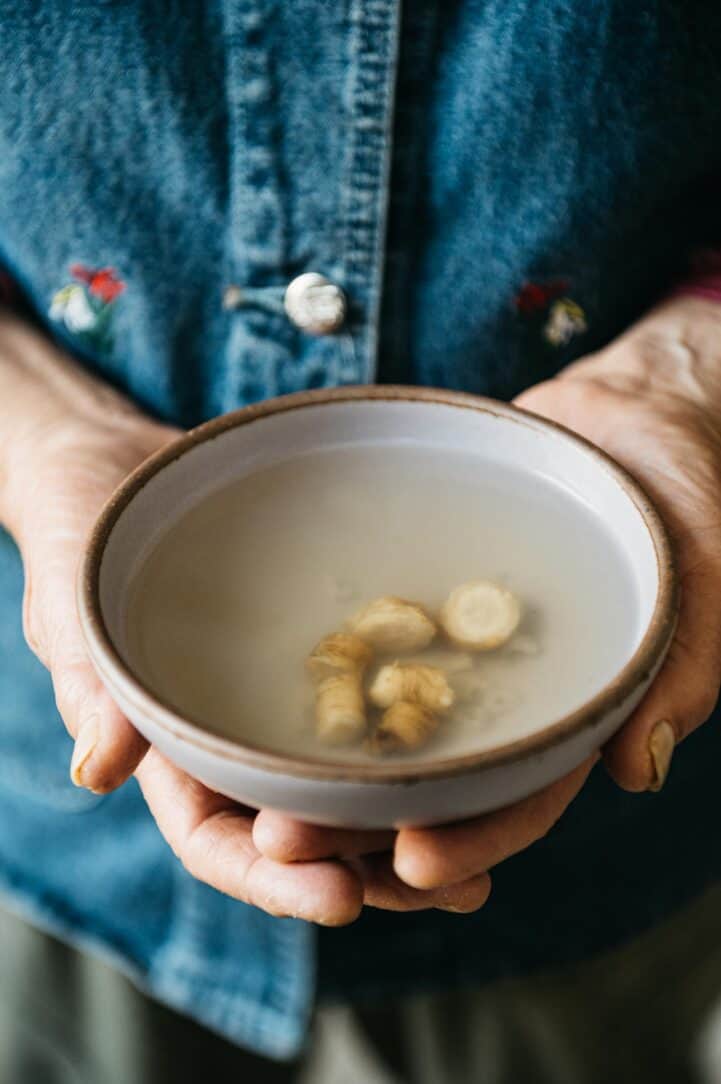 Mama Lin would boil American ginseng root (花旗參) with water for an hour or so and then pour the tea into small bowls for me to drink. Although I had an aversion to bitter Chinese herbal teas when I was young, I learned to love ginseng tea. The bitterness of ginseng is relatively mild compared to other Chinese herbs.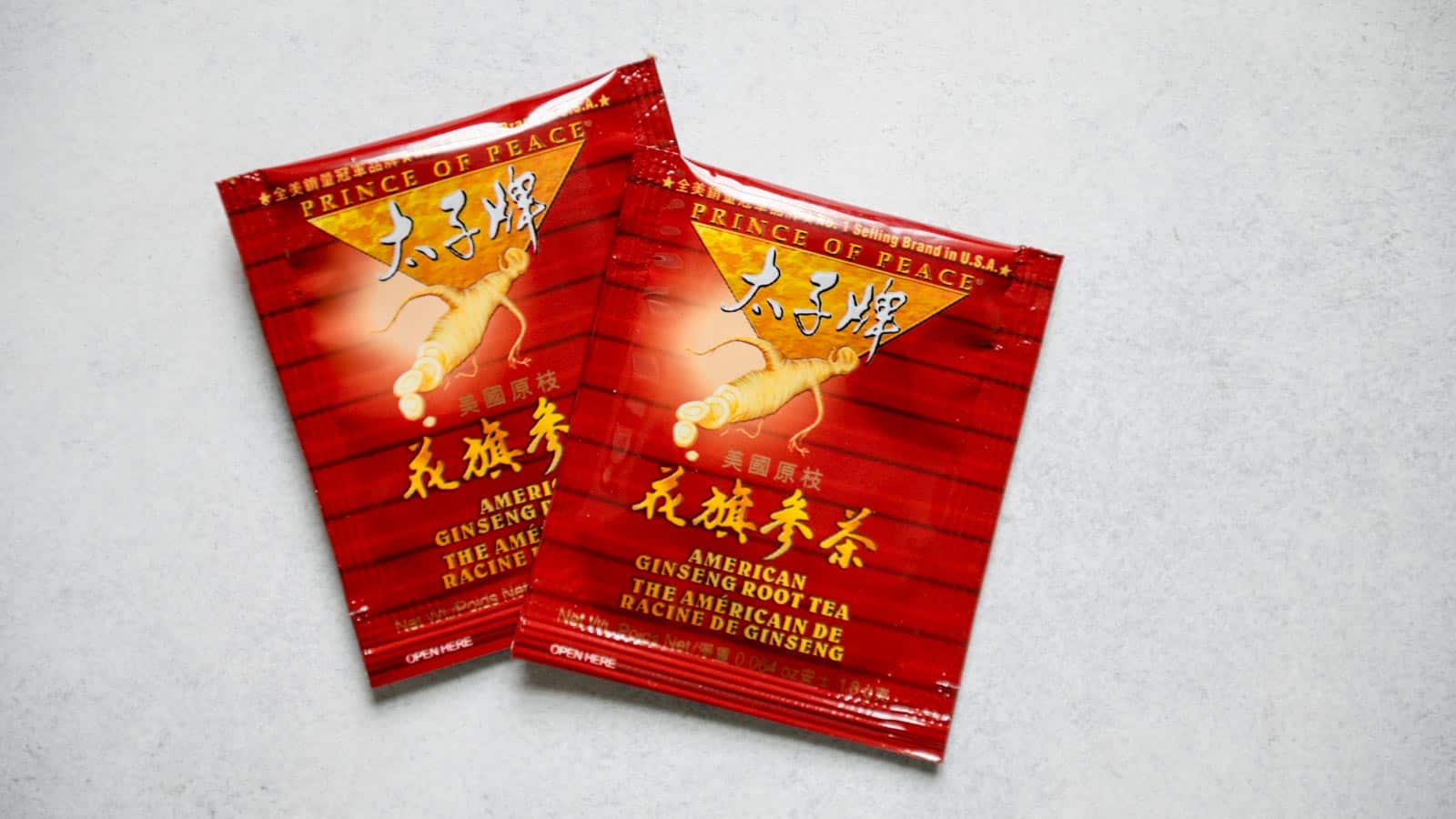 Nowadays, Mama Lin gives me boxes of ginseng tea bags that are convenient to prepare. All I need to do is steep the tea bag in hot water for a cup of ginseng tea. Although convenient, my mom insists that making ginseng tea from dried roots is better. She explained that the ginseng used for tea bags are usually the odds and ends of the larger root and are usually lower quality.
That's why I finally got her to show me how to make ginseng tea from the dried roots. After all, it was time for me to learn!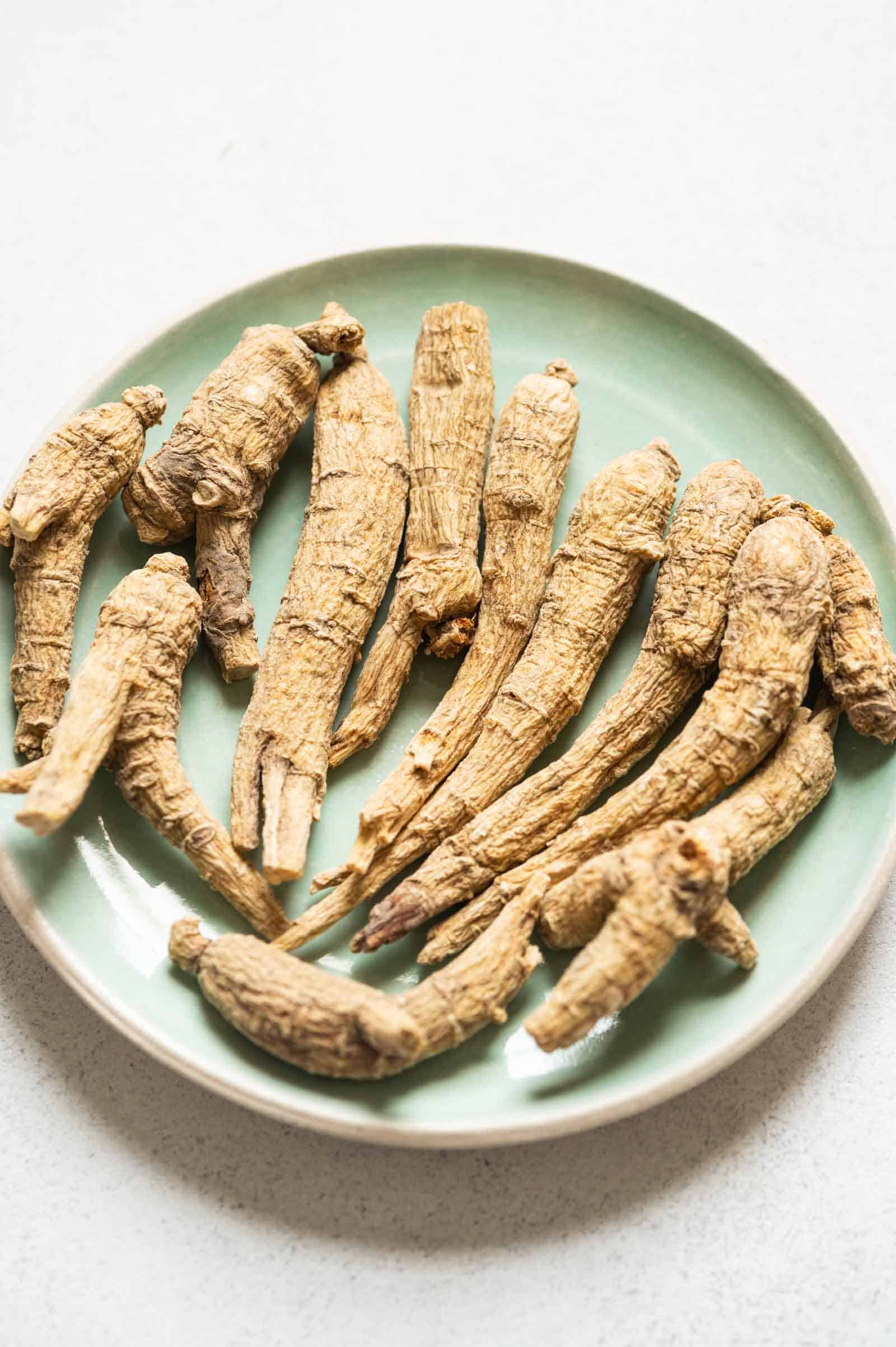 WHAT IS GINSENG?
Ginseng are herbal roots from plants of the genus Panax. The top portion of ginseng vaguely resembles a carrot but with light brown skin and white flesh. Springing out from the bottom is a network of long and thin twisting roots.
There are several varieties of ginseng, the most common being Asian ginseng (Panax ginseng) and American ginseng (Panax quinquefolius). While there are other types of roots labeled as "ginseng," they're not considered true ginseng because they don't contain the active ingredient ginsenosides.
Ginseng is generally cultivated for at least several years before it is harvested. Although the recipe below is for ginseng tea, many Asian families prepare ginseng soup made of ginseng, chicken, a few simple herbs and sometimes jujubes (red dates). Nowadays, you can also find ginseng extracts, pills, and even candy!
ASIAN GINSENG
Ginseng has been cultivated in Asia, particularly China and Korea, for thousands of years. The variety that's found in China is usually known as 人參 (yun sum, in Cantonese, ren shen in Mandarin). In Chinese medicine shops, Korean ginseng is generally known as 高麗參 (go lai sum in Cantonese, gao li shen in Mandarin). (The phrase 高麗 comes from the Goryeo dynastic period in Korea, which began in the 10th century. 高麗 is sometimes used in Chinese to describe things from Korea.)
AMERICAN GINSENG
American ginseng is generally grown in the United States and Canada. Ginseng from the US is known as 花旗參 (fa kay sum in Cantonese, hua qi shen in Mandarin). The phrase 花旗 refers to the American flag and it's often used to describe things from the US. My mom tells me that Wisconsin is known for growing good quality ginseng. When my siblings visited our ancestral village in Taishan (台山), they brought back Wisconsin ginseng as gifts to old neighbors. 
WHITE VS RED GINSENG
Sometimes you'll see ginseng described as "white ginseng" or "red ginseng." The difference between these two varieties comes down to the processing of the root. White ginseng is peeled and dried under the sun. Red ginseng is peeled and steamed before they're dried. A lot of ginseng products from Korea are red ginseng. The difference in processing affects the chemical compositions of white and red ginseng, and they may affect how our bodies react to the root.
BENEFITS OF GINSENG
In traditional Chinese medicine, ginseng has many beneficial properties: boosting the immune system, strengthening the lungs, aiding digestion, and soothing ailments in general. For more information about how ginseng is used in traditional Chinese medicine, check out Ancient Wisdom, Modern Kitchen by Yuan Wang, et. al. This book is my go-to resource for information about traditional Chinese medicine.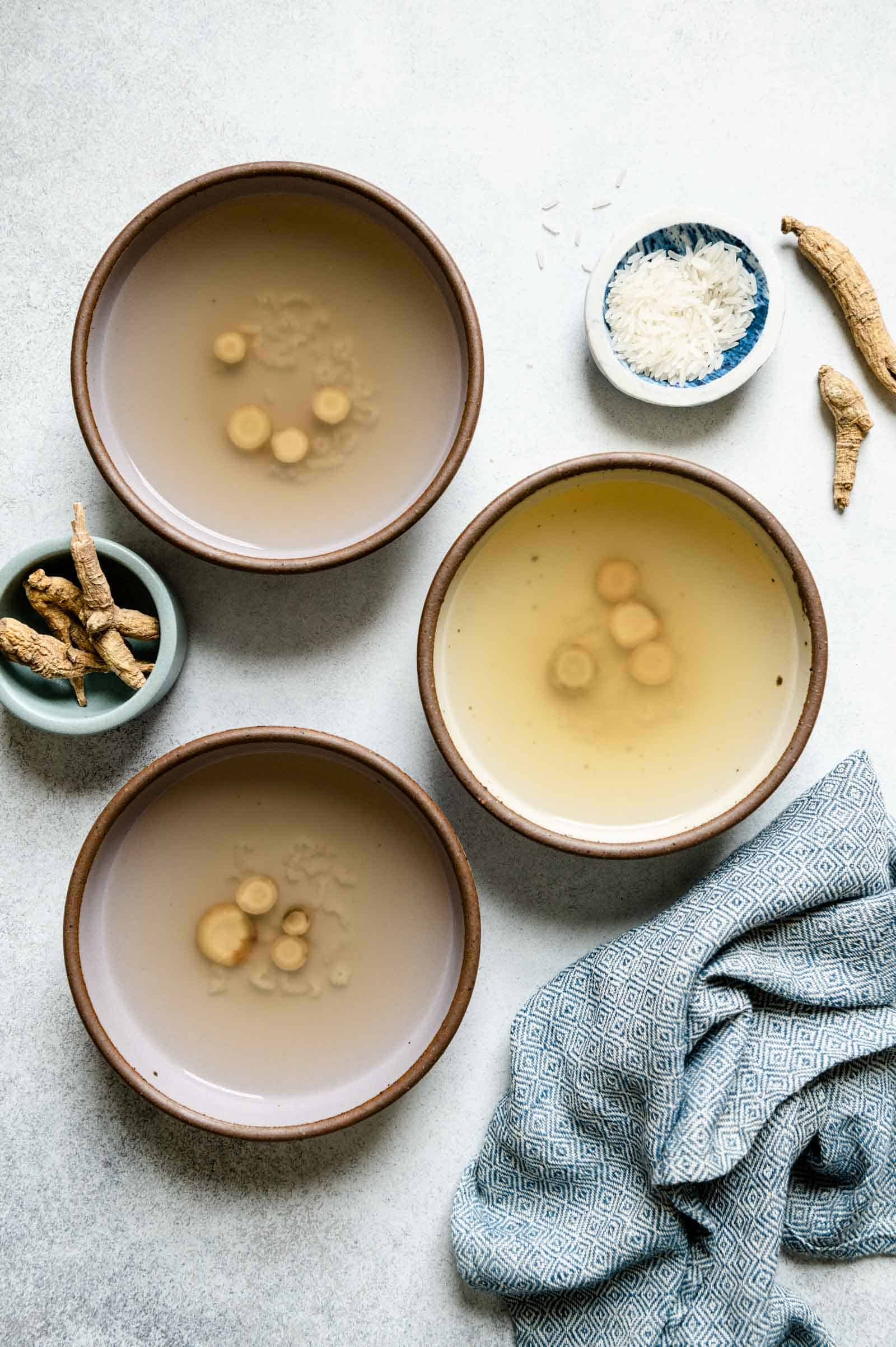 HOW TO MAKE GINSENG TEA
My favorite way to consume ginseng is to make tea from the root. I quite enjoy the mild bitterness of ginseng. Whenever my mom makes ginseng tea, she'll boil sliced ginseng with water and a tiny bit of rice. Mama Lin explained that ginseng can be too 寒 or cold for younger children or the elderly to handle. The grains of rice balances out the cool energy of the ginseng so that weaker-bodied people can process the tea. (Note: 寒 is pronounced hon in Cantonese and han in Mandarin).
Ever the Chinese mother, Mama Lin never measures ingredients precisely. She generally grabs a small handful of ginseng and muscles her way through slicing the roots into 1/4 to 1/2-inch slices. Ginseng root is very hard and banging your knives into the roots is a surefire way to dull your knives.
After my mom dented my chopping board by hacking away at dried ginseng, she told me that I could also steam ginseng for a few minutes before slicing. The steaming softens the root, making it much easier to work with. 
STEAM GINSENG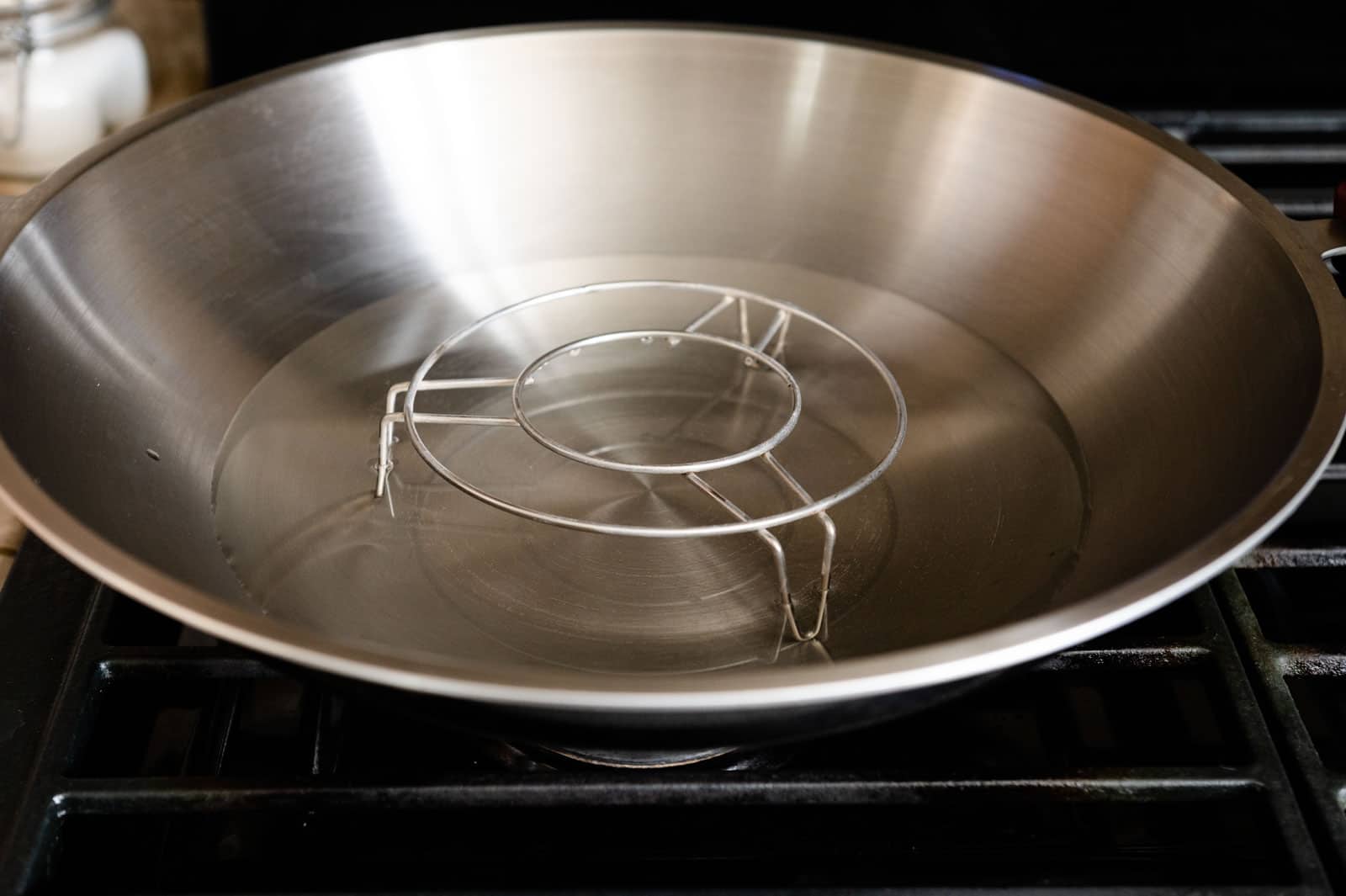 To steam ginseng, place a steaming rack in the center of a wok (or pot). Fill the wok with water, leaving about a 1-inch gap between the water level and the top of the steaming rack. Bring the water to boil.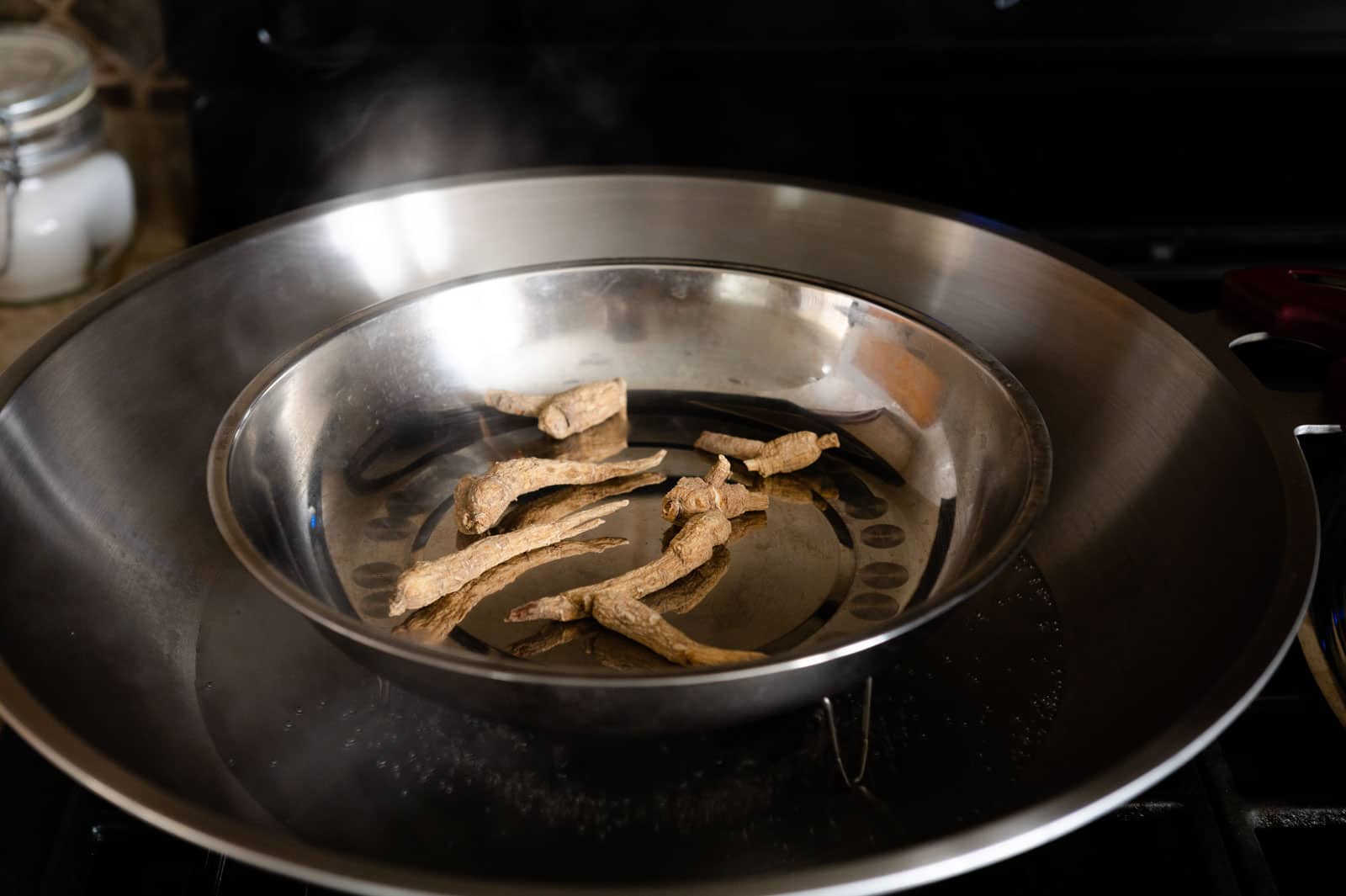 Put the ginseng on a heat-resistant plate and rest the plate over the steaming rack. Cover the wok, and steam the ginseng for 5 to 8 minutes. Let the ginseng cool for 2 or 3 minutes before slicing.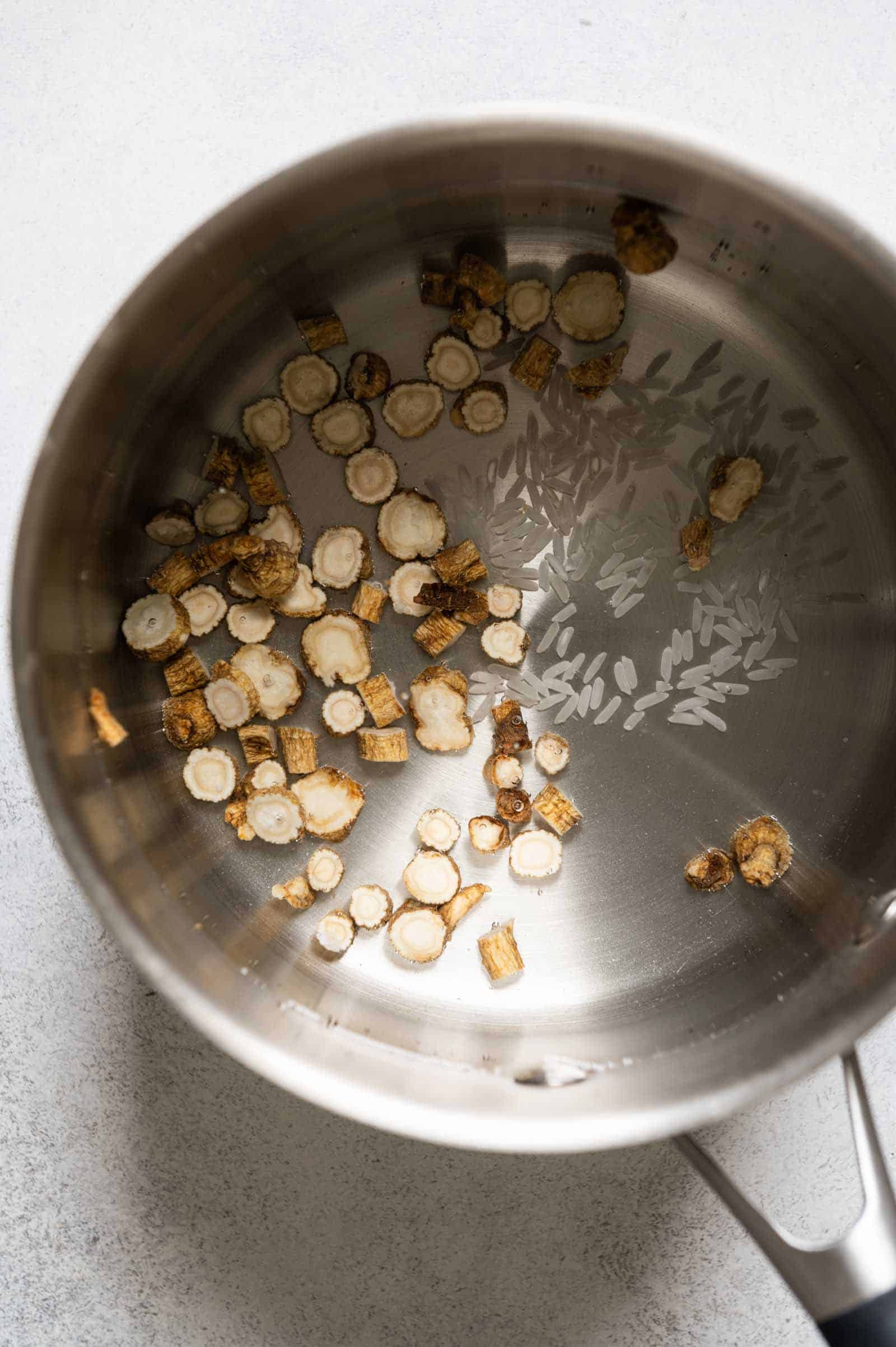 BREW GINSENG TEA
Give the ginseng slices a quick rinse and place them in a large saucepan. Rinse 1 teaspoon of rice to get rid of the starch. Then, add the rice to the saucepan, along with 5 to 6 cups of water. Bring the water to boil. Reduce the heat to a low simmer and continue cooking the ginseng tea for 1 hour.
Let the tea cool slightly before consuming. It's great to drink while it's still warm or completely cool. Store leftovers in a jar and refrigerate for up to 3 to 4 days. I like to warm up refrigerated ginseng tea in the microwave for 30 to 45 seconds before consuming.
Growing up, I remember my dad reusing the roots to make another batch of ginseng tea. Because the ginseng isn't quite as strong, he'll use less water for the second batch.
WHERE TO BUY GINSENG
You can generally find dried ginseng in Chinese medicine shops. I've seen it occasionally in Chinese grocery stores too. I've never bought them online, but I found this Wisconsin ginseng on Amazon.
MORE DRINKS TO TRY
How to Make Ginseng Tea
To make the ginseng tea, you'll need to slice the ginseng into 1/4 to 1/2-inch slices. My mom usually hacks away at the ginseng with a cleaver, but dried ginseng can be very difficult to slice through. I recommend steaming the root first to soften it slightly before slicing.
Ingredients
6

(2 to 3-inch) pieces of dried ginseng (about 30 grams)

1

teaspoon

(4 grams) jasmine rice

,

can sub with any white rice

5 to 6

cups

(1.2 to 1.4 liters) water

,

depending on how strong you want the tea
Instructions
Get your steaming setup ready. Place a metal steaming rack inside a wok, pot, or a sauté pan. Fill the cooking vessel with water, leaving about a 3/4 to 1-inch gap between the water level and the top of the steaming rack. Cover the cooking vessel and bring the water to boil over high heat.

Add the ginseng to a heat-resistant plate or pie dish and rest atop the steaming rack. Cover the cooking vessel with the lid and steam the ginseng for 5 to 8 minutes. Turn off the heat and carefully remove the ginseng. Let the ginseng cool for 2 to 3 minutes.

Slice the ginseng into 1/4 to 1/2-inch thick pieces. If the ginseng still feels very tough, you can steam it for another 5 minutes before slicing again. Transfer the sliced ginseng to a large saucepan.

Give the rice a quick rinse and add it to the saucepan. Pour the water into the saucepan.

Bring the water to boil. Then, reduce the heat to a low simmer and continue cooking the ginseng tea for 1 hour. Let the tea cool slightly before consuming. You can drink it warm or at room temperature. Store any leftovers in a jar in the fridge for up to 4 days. I like to warm up refrigerated ginseng tea in the microwave for 30 to 45 seconds before consuming.
Did you make this recipe?
Tag @hellolisalin or leave a star rating and comment on the blog!